Yay! It's Friday! I survived the first week of school with no major disasters! It's going to be a fun, but challenging year. I feel like I've hit my stride with teaching, as I've been doing this for four years. Yeah, I'm still kind of "fresh" compared to other teachers, but I feel very accomplished. I am still learning and growing and challenging myself, and that is what makes it all worth it!
Sooo..... aaaaaannnnyyyywaaaayyyyyy...
As you might have
read
, I've gotten some awards lately that I'd like to gloat about. I mean, I know you all think I'm incredible, but this goes even further to prove it!
This award I got is from Dana at
Eclectic Prep
. She's a Texas gal, like myself, and has an adorable blog! She posts on all things lovely - I really enjoy reading her blog. I might add, she pretty much has the most gorgeous family. I've got secret envy. Thank you so much, Dana for my:
"Versatile Blogger" Award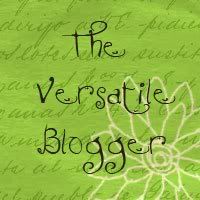 I'm supposed to share seven things about myself and pass this onto fifteen blogs.
Sooooo.... about that....
On my
other award post
, I shared some random things about myself. I can't possibly think of anything else to top my
seagull impersonation
, just like I possibly can't choose which cupcake to eat first when I visit Sprinkles.
There are really tough decisions in life when it comes to the wonder that is cupcakes.
So... I'm supposed to pass this award onto 15 people, but I am going to do 10. It's because these 10 are super duper awesome. Many of these blogs I started reading recently-- I am really enjoying them! Therefore, I pass this along and want to hear their facts about themselves! You should most definitely visit these blogs, if you haven't done so already.