Apple pie reminds me of so many things. Holidays, gatherings, potlucks. Thanksgiving, Christmas, 4th of July, backyard BBQs. It's particularly refreshing during the summer when you have it a la mode and so warming in the winter when you have it hot.
So, just because Apple Pie is a year-round indulgence for me, I thought I'd share our recipe with you. Just in time for the next holiday - Memorial Day! What's more American than apple pie?
My first and successful attempt!
Ingredients:
2 pie crusts (pre-packaged or your favorite recipe)
½ cup unsalted butter
3 tablespoons all-purpose flour
¼ cup water
½ cup white sugar
½ cup packed brown sugar
1 tsp cinnamon
6 Granny Smith apples - peeled, cored and sliced
Directions:
- Preheat oven to 425 degrees.
- Melt the butter in a saucepan. Stir in flour to form a paste. Add water, white sugar and brown sugar, and bring to a boil. Reduce temperature and let simmer. Add cinnamon.
- Place the bottom crust in pan. Fill with apples, mounded slightly.
- Gently pour 90% of the sugar and butter liquid over the crust. Pour slowly so that it does not run off.
- Cover with the second crust. Cut two diagonal holes in the crust to allow it to breathe.
- Brush the remaining butter/sugar mixture over the top of the crust. Sprinkle with a bit of granulated sugar.
- Bake 15 minutes in the preheated oven. Take pie out and cover edges of the crust with foil.
- Reduce the temperature to 350 degrees F. Continue baking for 35 to 45 minutes, until apples are soft.
Do yourself a favor, and if you can get it, please eat this pie with this ice cream: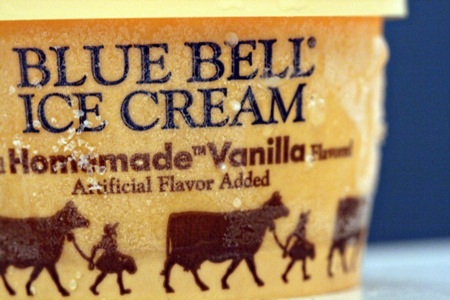 Do you have a special pie or dessert recipe you think you'll make or eat for Memorial Day?