I am a natural skin care hippy. Yeah, you read that right. I am pretty fervent on incorporating as many natural products into my skin care routine. It's like a fun little quest I am always undertaking. I also take a simple and economic approach to skin care, trying to use as few products on my skin with products that don't break my bank account. I can't really say the same for my makeup products, as that's an even more challenging quest, and gosh darn it, I like makeup. So, I'm not a complete hippy - just a cleanser/moisturizer/treatment hippy.
When it comes to the drugstore, I've almost completely given up on the skin care aisle, and head straight to the organic skin care section. There you will find products that are free from parabens, pthalates, sulfates, and synthetic chemicals. I'll explain more on another post on why you should avoid said things, because that's a whole 'nother topic for a whole 'nother time!
(In fact, if you saw me tweeting yesterday, I was very upset at how difficult it is to find natural ingredients in mainstream skin care items.)
I am acne-prone, and have suffered from it since I hit puberty. It's kind of weird and silly to be in my late twenties and having to deal with such an adolescent bugaboo (ten points for me for using awesome vocabulary, btw). The
Clarisonic
has definitely helped me keep it at bay, but ever since I got pregnant, this seems to be a never-ending fight. My hormones are working overtime, and it seems to be showing on my face more than usual.
So, in the spirit of being acne-prone and on a quest for natural skin care, I wanted to focus on two of my favorite cleansers right now. These cleansers contain a natural form of Salicylic Acid found in
Willow Bark Extract
. Salicylic Acid is known for it's blemish fighting properties and exfoliation benefits. I like both of these cleansers very much, and recommend them to anyone who battles with blemishes.
Two great things about these two cleansers:
1. Both of these cleansers can be found at your local drugstore in the organic skin care section!
2. Each of these cleansers will run you $10 or under!
I find that I go through this cleanser fairly fast, as it's kind of got a watery textrue. It has a medicinal, natural smell to it, isn't irritating to my skin and really helps to keep me clear. Overall, I really like this cleanser and have repurchased twice.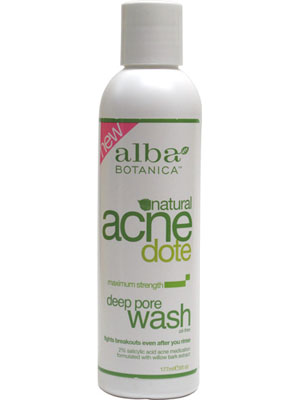 I am actually really loving this cleanser a whole lot. It was on special at Target when I got it, and was $7.99, although it looks like it runs $8.99 normally. The smell is lovely and very similar to the Burt's Bees. It is also a larger quantity of product, with a thicker texture. It foams up nicely, and I could really tell a difference in my skin after using this only a few times. I'm currently using this cleanser, and have been for a couple of weeks.
So, there you have it!
If you have any questions over anything, please feel free to ask! Hope this helps you on your journey to clear skin! If you already have flawless skin, then stop being so perfect and disregard this blog post. I'm sure you have flaws elsewhere. ;)
Also, NYC recaps start tomorrow! Holy crap, I have so many pictures- it's taking me days to sort through and edit them! Be patient with me!