Updated October 12, 2021
We visited the amazing Beaches Ocho Rios in June 2021, and we had an incredible time! Traveling at the tail end of a pandemic had me curious about a lot of things, and I hope in this Beaches Ocho Rios Travel Guide I can answer all of your burning questions!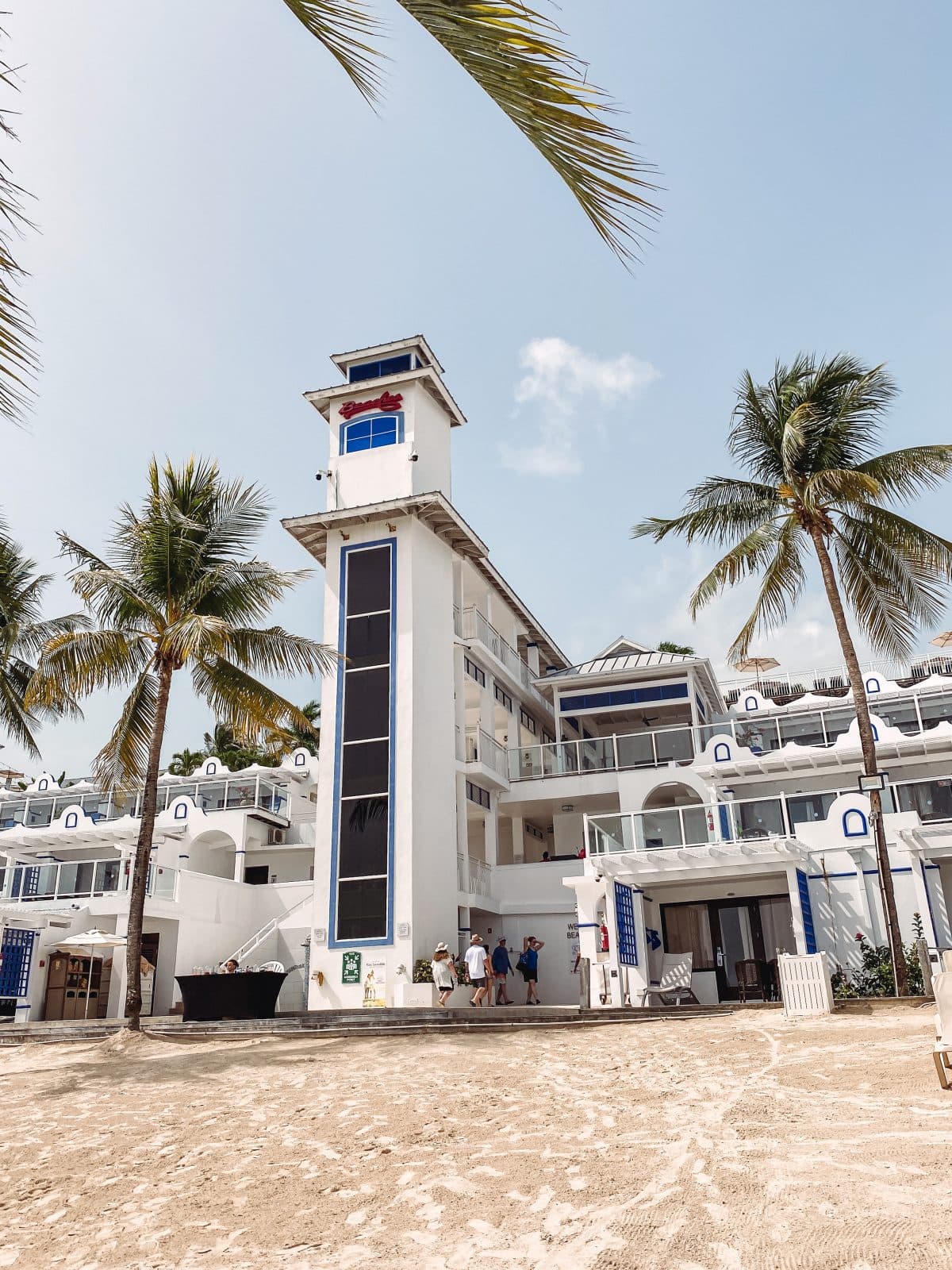 This is a really long blog post and I also did a video detailing our stay, so I am going to leave a table of contents here for you to skip and jump around.
---
Beaches Ocho Rios Review & Travel Guide Video
Make sure to watch my YouTube video on our vacation!
---
Why We Chose Beaches Ocho Rios
I have been to Beaches Turks and Caicos twice for the Beaches Moms Social Media on the Sand Conference. You can read my posts on those experiences below:
We chose the Beaches resorts brand for a few reasons:
First of all, the Sandals brand is reputable and a brand that I trust. I know that booking a vacation to any of their resorts is going to ensure a wonderful vacation.
We wanted an all-inclusive vacation for our family, but most family-friendly all-inclusive resorts do not have children's programming for kids under age 3. A lot of the resorts require the children to be 3+ and potty trained. That doesn't work for our family because our children were 1, 6, and 9 at the time of travel. At Beaches, they take children newborn and up! I took Logan when he was 2 months old and he did amazing. Childcare was a huge deciding factor for us.
The quality of care is also reputable within the kids clubs. All of the staff is international nanny certified and they are trained to work with children that have special needs, particularly autism. This is a huge draw for families who are overwhelmed at the thought of taking a family vacation but also want an adults only break.
Lastly, the other main reason why we picked Beaches Ocho Rios over the other Beaches properties is because, frankly, it was the least expensive of the three resorts when we booked. It is the smallest resort in the brand, but after lots of research we felt we made the right decision. Smaller doesn't mean "worse" is what I ended up learning (again, I've been to the Turks property twice and know how amazing it is). I felt the smaller resort was wonderful.
Travel Requirements to Jamaica from the United States
Traveling internationally during the pandemic can seem pretty intimidating and scary, but we felt very safe and found the process to be fairly easy.
I am going to assume that requirements will change as more travel restrictions lift, but it's important to check this website. Things are always changing around the pandemic, so it's important to make sure that you get the most up to date information!
At the time of our trip, these were the travel requirements to get into Jamaica:
Negative COVID test for every traveler over the age of 12 (even if they are vaccinated). Greg and I made an appointment at our urgent care and got a PCR test. We got the results not even 24 hours later. We printed out the test results and took that with us to the airport.
Submit application to travel which includes an immigration and customs form (found on this site). Each traveler needs a form filled out so it's best to do that before the day of departure. We printed these out and took them with us, as well.
Passports for every traveler.
Flying to Montego Bay, Jamaica from the United States
We flew Southwest Airlines to Montego Bay. It was an easy, 3-hour direct flight from Houston Hobby. Can't say enough great things about Southwest and how easy it was to get there. If Southwest Airlines is a choice, we will fly it.
Airports were starting to get busy in early June. Security lines were long. I highly recommend that you get to the airport early or get Global Entry / TSA Pre-Check. If one adult on the reservation has TSA Pre-check, the entire family gets to go through that line. Greg and I have Global Entry (which comes with TSA Pre-check). If you have any international travel planned in the next five years, I say just go ahead and get Global Entry. I won't travel without TSA Pre-Check anymore. Shorter lines, no more taking your shoes off or taking items out of your bags. Seriously the best, especially with families.
Our flight was completely full. Masks are enforced for every traveler over the age of 2. Our youngest child, Logan, was not 2 yet and was not required to wear one. I was a little worried about traveling with my kids internationally, but truly, the only very packed place was the airplane. My girls are used to wearing masks at school, and with the flight crew being strict about them, it gave me ease of mind that Logan would be fairly safe.
The fact of the matter is, there is always some sort of risk you assume when you go out in public. People were way less considerate about mask wearing where we live (in Texas) before vaccines rolled out, so I rarely took the kids out. I felt safer with everyone being forced to wear a mask on the plane vs. the grocery store at home.
Logan was technically the age of a lap infant (you do not need to purchase a ticket and they can sit in your lap), but we purchased him his own seat so that we were able to spread out more, and so we could strap him in. We brought a lightweight car seat on board to strap him into, and it was the best call. Young toddlers are hard on planes, but this kept him contained, haha.
Club MoBay
I read a lot of "What's Club MoBay and is it Worth It?" blog posts, and the short answer is YES!
We didn't have a lot of extra costs for our all-inclusive vacation but one extra service that we paid for was Club MoBay. Club MoBay is a VIP airport service that is worth every single penny! Here's what you get when you purchase the VIP Arrival and Departure passes.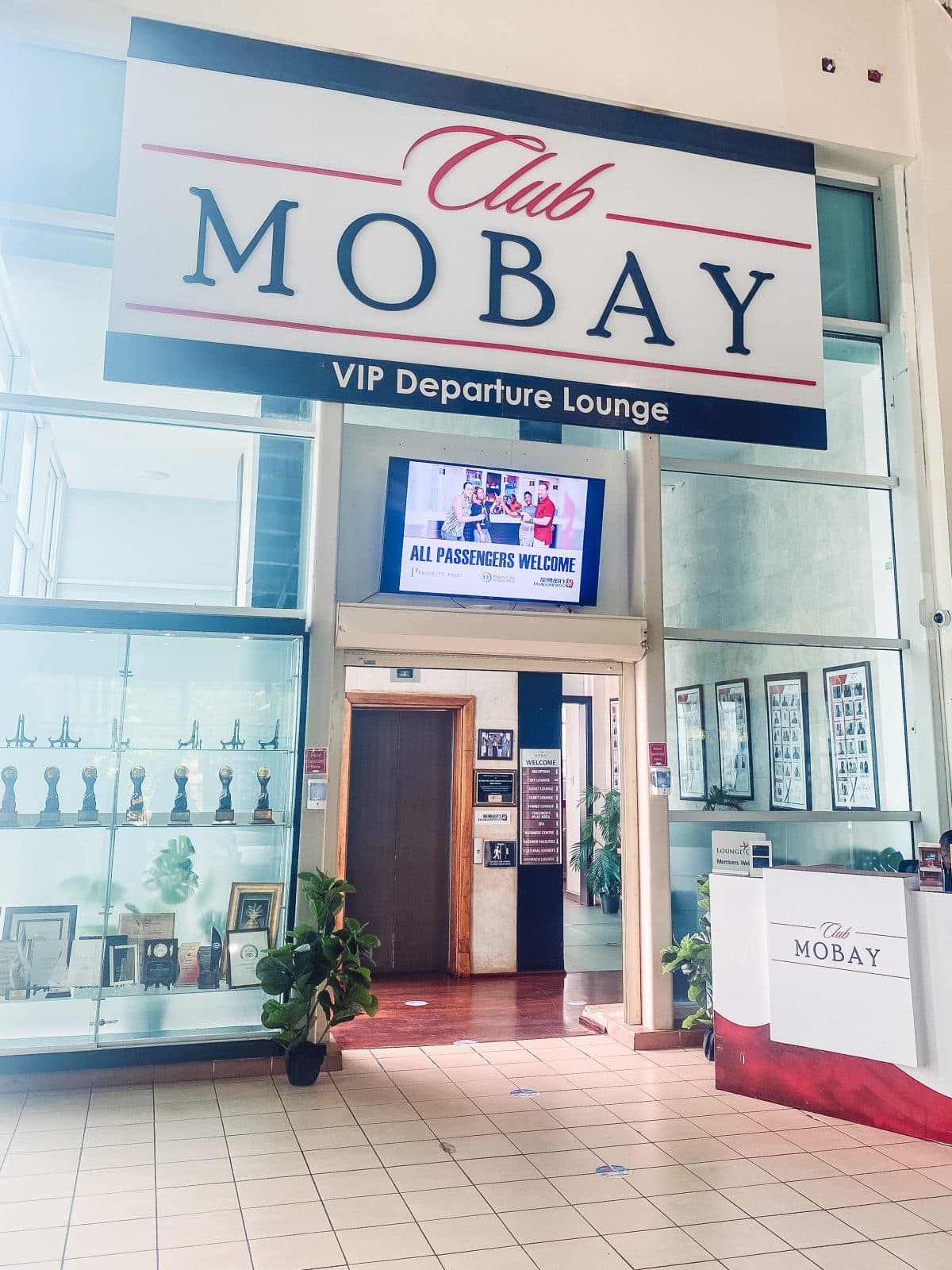 ON ARRIVAL:
You are greeted by a Club MoBay representative (who is holding a little whiteboard with your name and all – very VIP feeling, haha)
You will be escorted through a fast lane through immigration and customs, all with your representative. The immigration line at Montego Bay is insanely long, as all of the flights seem to land at the same time. Being able to skip that line with small children was so valuable to us!
You get access to the Club MoBay arrival lounge to wait for your transportation to your resort. We didn't use this lounge, but more on that in a minute (in hindsight I wonder if it would've been better than the Sandals lounge).
ON DEPARTURE:
You check in at the kiosk and have access to go through a shorter security line to get to the terminal. This line is immensely shorter and goes very quickly. (Note: it is not like TSA pre-check. You do need to remove your shoes and take items out of your bag like you would the regular security line.)
You get access to the VIP departure lounge, which was incredible! Unlimited food and beverages (including alcohol), nice restrooms/shower area, and even a kids' play area! We found this to be an amazing end to our trip.
If you're traveling to Jamaica at all, I recommend Club MoBay 100000%!
Airport Transfer from Montego Bay Airport to Beaches Ocho Rios
All airport transfers are included in your stay at a Beaches resort! You can upgrade if you wish, though. One thing I did not know (even after traveling to the Turks & Caicos resort twice) is that the transportation is done through a third party, so it's good to bring along some extra cash to tip your driver.
Before you head to your transfer vehicle, you need to stop by the Sandals arrival lounge. You will check in with a Sandals representative who will take your bags. You can grab some refreshments and use the restroom and they will call you when your vehicle is leaving for the resort. The Sandals lounge was absolutely packed when we arrived – it was really hard to get around in there, especially with a stroller. It did clear out as people left on their resort transfers, but it was kind of nuts. I think it's because all of the flights land around the same time. We probably would have fared a little better at the Club MoBay arrival lounge, but we didn't go over there.
The drive from Montego Bay Airport to Beaches Ocho Rios is about an hour and 45 minutes. It is a bit of a trek, so bear that in mind! I will say, the drive is not boring and there's plenty to look at. I'm thankful Logan fell asleep both car rides, because it's quite a long travel day.
Beaches Ocho Rios – Resort Overview
Beaches Ocho Rios is the smallest resort of the Beaches brand, in Ocho Rios. The resort is situated on a hillside overlooking a beautiful cove beach. Beaches in many parts of Jamaica are not wide and expansive coastlines – a lot are small coves. 7 mile beach in Negril is the longest span of sandy beach, so if you're looking for something like that, you may want to check out Beaches Negril.
Beaches Ocho Rios, while small, has lots to do! There are 7 restaurants on property, a few wonderful pools, a beautiful beach, and a water park!
Getting around the resort is really easy. You can walk all of it in a short amount of time. Everything is sort of stacked on top of one another, and not spread out. I really loved that almost everywhere you turned, there was a view of the ocean. I really enjoyed the small quaint vibe of the resort, especially with my children's ages.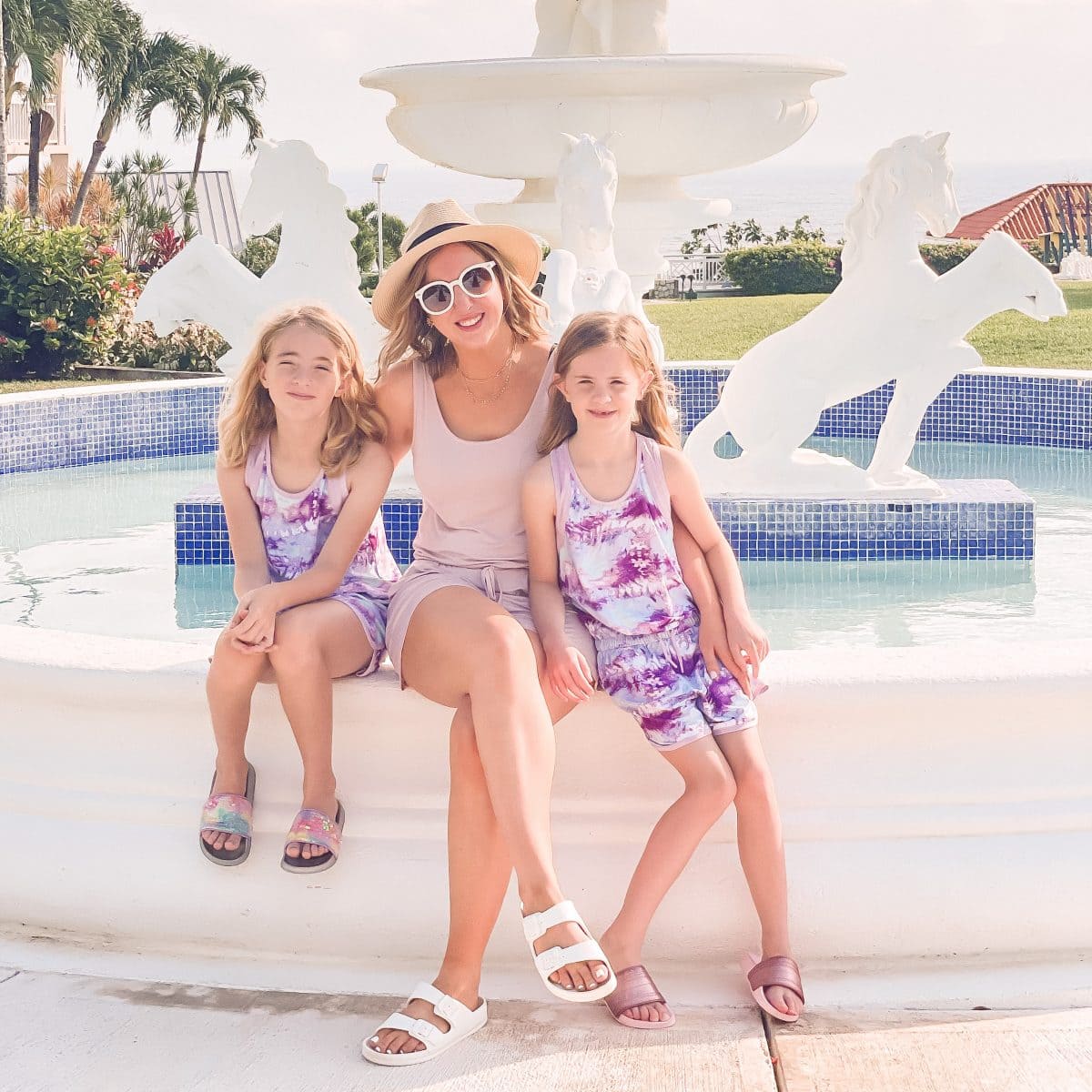 The property is well-appointed with beautiful lush plants and landscaping. Parts of it look a little older than others, but none of it looked run down. I thought it was a beautiful property.
Be aware there are a lot of stairs around the property, as it is situated on a hillside. I noticed ramps and elevators everywhere I went, but I felt it was easier to take stairs and hold Logan rather than put him in a stroller. If accessibility is a big priority, I find you'll be okay, it may just take a little longer to get where you need to be because of making sure you have elevator or ramp access.
What's Included at Beaches Ocho Rios?
Everything is included at Beaches Ocho Rios! Well, nearly everything! Here's what is included:
Unlimited dining
Premium liquors and all non-alcoholic beverages
Swim up bars
Stocked bars in every resort room (including non-alcoholic beverages)
All tips, taxes, and gratuities
Roundtrip airport transfers (but remember to bring a little extra cash to tip drivers!)
Kids Camp with certified nannies for all ages
Pirates Island Waterpark
Sesame Street character interactions and shows
Entertainment
PADI-Certified Scuba Diving
Snorkeling
Hobie cats, paddle boards, kayaks
Beach volleyball, basketball, pool tables
Teen club – Liquid
Xbox play lounge
Fitness center
WiFi
Bottom line, you won't need any additional cash while you're on property, nor will you even need to carry around your wallet. I would bring cash for the airport transfer tip, and any tips you'd like to leave for your optional vacation extras (spa, excursion tour guides, etc.).
Optional Vacation Extras at Beaches Ocho Rios
There are some extras you can add on at Beaches Ocho Rios, in case you were wanting to book some! I will go into more details about the extras we did! Here are some of the optional vacation extras at Beaches Ocho Rios:
Red Lane Spa services (and gratuities)
Candlelight dinners
Island Routes Excursions
Sesame Street packages
Beach / pool cabanas
There are more but those are the big ones.
Rooms at Beaches Ocho Rios
Beaches Ocho Rios is the smallest resort of the Beaches brand, with about 220ish rooms. There are a bunch of different room categories and are great for families of all sizes. What I like about this resort is that most of the rooms face the ocean (although there are rooms that do not). Every room seems to be close to everything, as well.
We stayed in a Caribbean Honeymoon Oceanview Concierge Suite King. Our room had a king size bed with a little room divider. On the other side of the room there was a trundle bed with two twin size beds. This room fits 5 people, and I assume that means they will roll in another twin size bed for you. We did not need that, but we did have a crib in the room for Logan. We felt we had plenty of space to spread out.
The room wasn't the most new and updated space, but it was clean, comfortable, the bathroom was fairly updated, and I loved the large balcony that overlooked the resort and the ocean. We were very comfortable.
Since our room was a Concierge category, we had a few extra perks. We got to check in at a separate concierge desk and we also had access to the concierge service and lounge whenever we wanted. The concierge staff could make reservations for us, book spa services, cabanas, and answer any questions we needed. It was nice having access to them whenever we needed help.
Dining at Beaches Ocho Rios
Dining at Beaches Ocho Rios was a pleasant surprise. I thought I would be a bit disappointed by this after experiencing the endless options of 21 restaurants in Turks & Caicos, but I was not disappointed! I found that the restaurants were decent quality and I didn't have a bad meal. Would I travel there just for the food? No. But we were happy and there was always something for everyone to enjoy. There isn't a wide variety of traditional Jamaican food, but there were a few items here and there.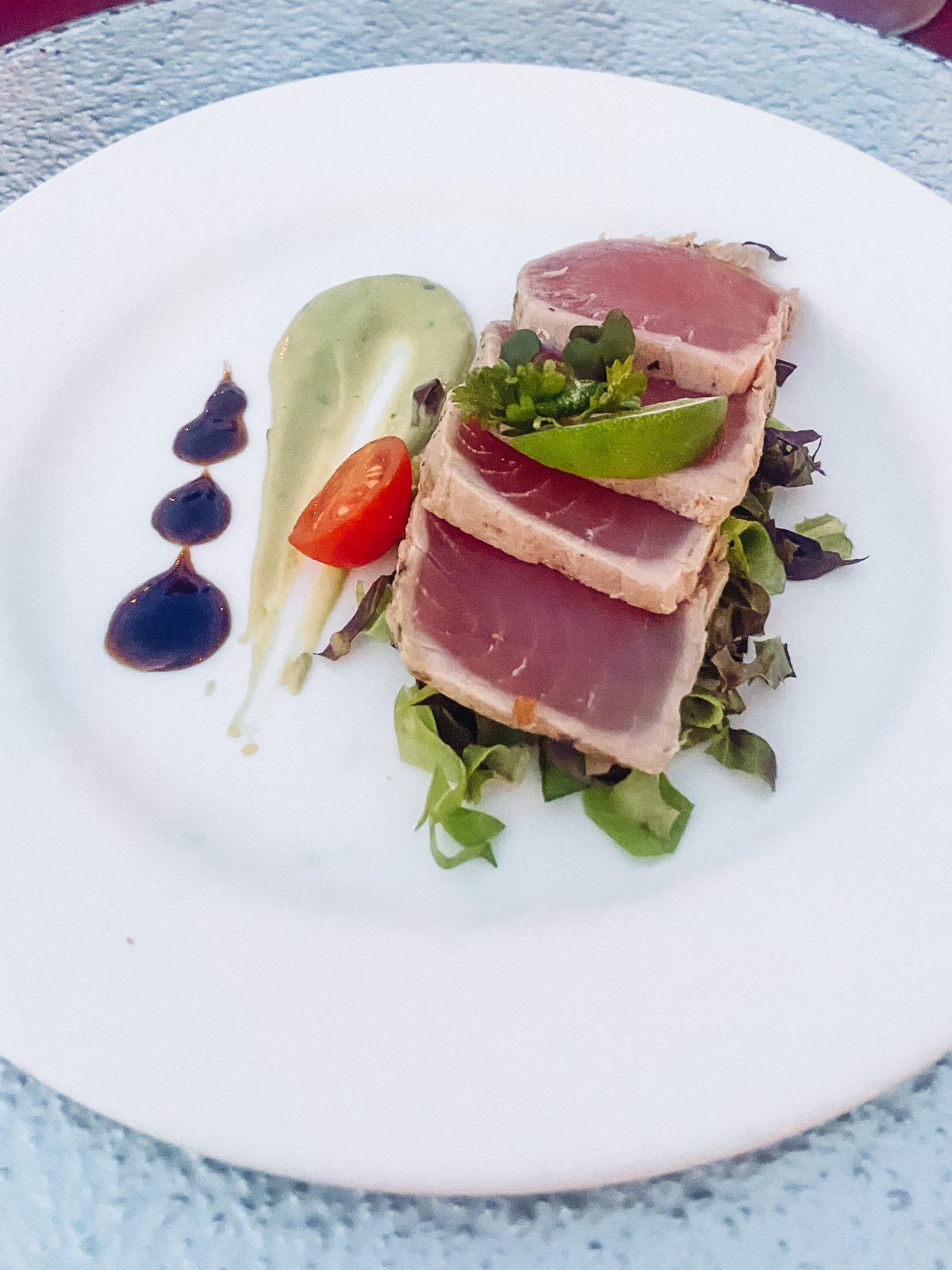 Something to note – portion sizes are fairly small meals, but this is something I appreciated. I don't like being wasteful with food. You can order as much as you'd like, so grab two appetizers if you want. Try anything on the menu.
The restaurants at Beaches Ocho Rios were:
Bayside – We had the breakfast buffet here every morning. There was a great selection and included things like a smoothie bar, fresh local fruits, omelet station, and more. There were a few Jamaican specialties to try here, too! They nailed this one. I believe there is a lunch and dinner buffet, too, but we never tried it.
The Venetian – This is their Italian inspired restaurant. We had a few meals here and enjoyed it. I found that their pasta dishes were the thing to order – super yummy!
La Parisienne – The French-inspired restaurant. I think this was probably my least favorite of the bunch, but I was not disappointed by any means.
Neptune's – The Mediterranean seafood restaurant. The actual building of Neptune's was under construction while we were there, but they sectioned off part of Bayside by the pool to offer the Neptune's menu.
BBQ Park – Great casual place for lunch. It's next to the water park and pool. There was jerk chicken here, which I appreciated!
Napoletana Pizzeria – The pizzas were good. Right next to the BBQ park.
Josephine's Creperie – You can grab a crepe whenever you like! We actually did not try the crepes but I grabbed an iced coffee here.
Out of the Blue – This was a pop-up restaurant that was operating in the evenings at the BBQ park. We did not have a chance to try this one because it opened later than the other dinner options. Our children get hungry pretty early. We heard this was pretty good!
Cleanliness and Safety Protocols at Beaches Ocho Rios
When we went to Beaches in June 2021, the resort was at about 70% capacity. Like I mentioned, it is the smallest resort in the brand, so you're not going to have a huge crowd to begin with, but we never felt like we were in a crowded area.
There is a Platinum Protocol of Cleanliness that has been implemented, and we found everything to be exceptionally clean across the board.
Masks were not required around the resort with the exception of a few spots – in shuttles/car transfers, in the Red Lane spa, and in the Kids Club areas and Xbox lounge. All staff were wearing masks, even outdoors. At the time of our visit, there was less than 10% COVID vaccination rate for the residents of Jamaica, and they heavily rely on tourism, so they were very strict about mask wearing.
Guests seemed to be polite about keeping space and not crowding, particularly if they were not wearing masks.
A lot of what we were doing was outside and we weren't around a lot of people at all, so we felt safe!
Pirate's Island Water Park
The number one thing our kids loved the most was the Pirate's Island Water Park! It was a super short walk from our room and was the spot we hung out at the most! There's lots of water slides, a pool to hang in, an adorable baby pool, and even a splash pad. Everyone was happy at the water park.
The slides at Pirate's Island were for all ages! There was an intense one for the adventurers, super small ones for the littlest ones, and slides that all ages could enjoy.
Logan loved the zero entry splash pad! He spent a lot of time playing here and loved the smaller slides.
The baby pool area is absolutely adorable and those little lounge chairs? Precious!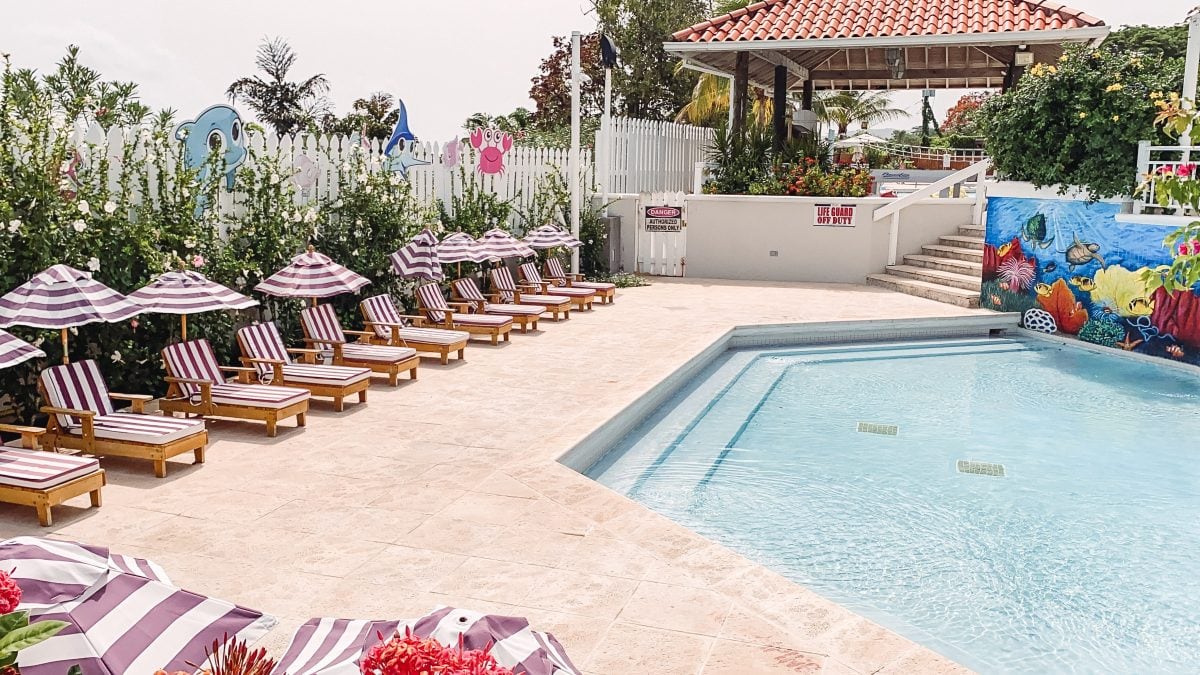 The Beach
The beach at Beaches Ocho Rios is described as a "quiet cove beach." I would agree with that. I was worried it would be too small, but honestly I found it to be perfect. We didn't spend tons of time out at the beach. Crazy, I know. I like to have a water view and be by the ocean, but we don't love to spend all day out there. If you're like us, I think you'll be happy!
There are two sections to the beach. The main area has lots of loungers and it's where you can do the water sports like sailboats, paddle boarding, etc.
If a huge, expansive beach is important to you, you may like Beaches Turks and Caicos more.
I highly recommend renting a beach cabana! We did a half day rental (this is an extra cost), and found it to be worth every penny! You get a nice shaded area and a server to bring you whatever food and drinks you want. It also has a cooler stocked full of cold drinks.
Resort Activities
Beaches Ocho Rios has a full schedule of activities to keep everyone of all ages entertained! They have DJs during the day at the pool, games, Sesame Street character breakfasts, and more! Not to mention all of the things like sailboats and water activities are included with your stay. At night they have theme nights, Sesame Street parade and shows, beach bonfires, silent disco party, and more!
We were definitely impressed with the amount of things there were to do around the resort, and I'm just scratching the surface! All of the activities and programming are listed in the Sandals app, so you can log right on and see what's going on and at what time (much like a cruise ship)!
Excursions
Excursions are an extra cost to your trip, but I highly recommend you do one or two! You can book these before you arrive, or visit the Island Routes desk at the resort. Island Routes is the official partner with Sandals and Beaches resorts, and they provide the best tours!
The first excursion we did was the Dune Buggy Adventure. They picked a group of us up from our resort and took us to an amazing park where we were guided through an adventure. It's muddy and a lot of fun! The girls loved this one (Logan stayed back at the kids club).
The second excursion we did was the Dunn's River Catamaran Cruise. We took a stunning catamaran over to the world famous Dunn River Falls, where we climbed the falls. Here's a short IG reel video of our day:
It was an incredible day. If you do one thing in Jamaica, do this!!
Kids Camp
Alright, let's get to the million dollar question – INCLUDED CHILDCARE?! Yes! Like I mentioned, this was a big draw for us to choose a Beaches resort. I have had experience with the Beaches Kids Camp before and I continued to be impressed with the professionalism and quality of care. Again, all of the nannies are International Nanny Certified and are trained to work with children of special needs, particularly those on the autism spectrum.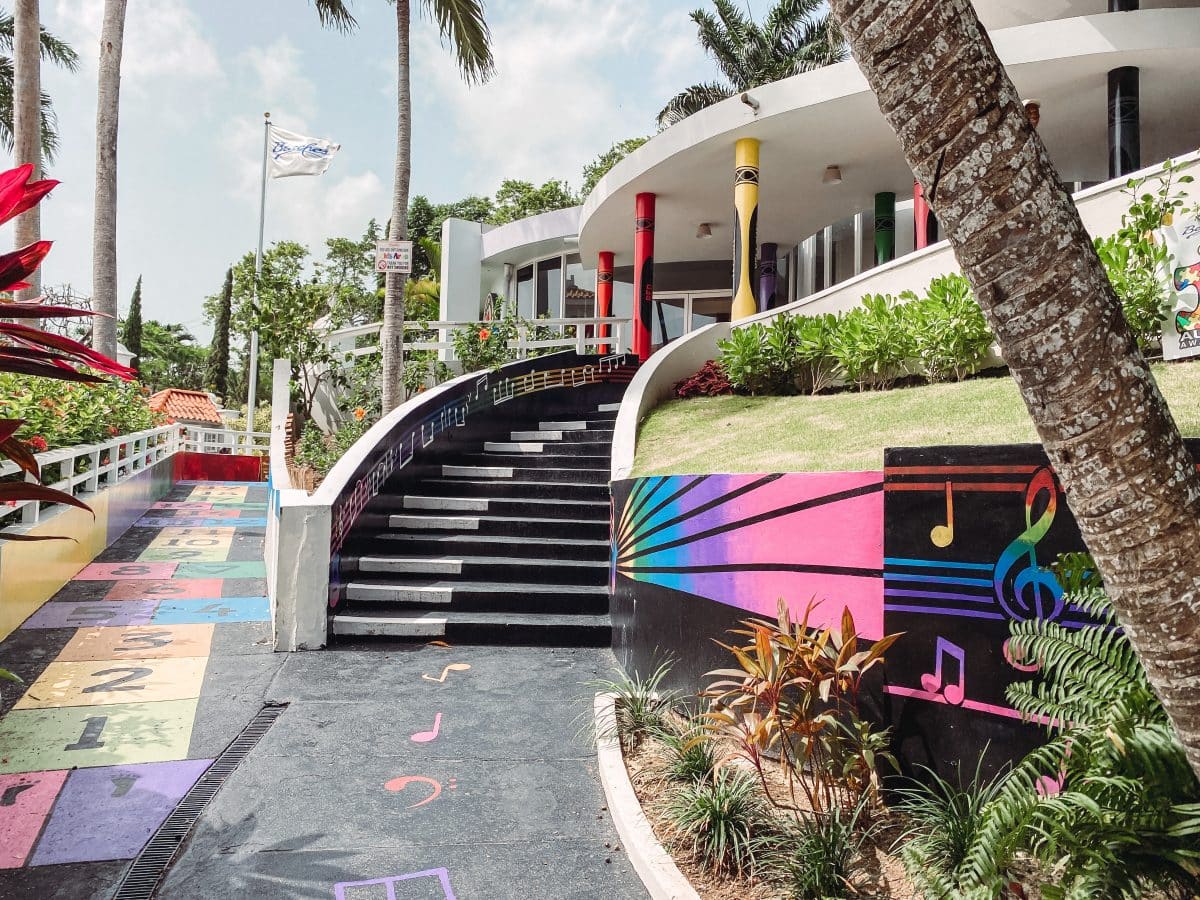 We utilized the Kids Camp quite a bit for Logan, but not as much for the girls. We wanted to be able to do things like the spa, adults' only dining, and excursions.
One thing we were not aware of before arrival is that the kids camp does take cleaning breaks (this is a post-COVID implementation). If these breaks cut into an excursion or activity you can't miss, you can have an individual nanny take over for an additional cost. Make sure you get the correct kids camp hours and cleaning break schedule from your resort.
We did the private nanny twice when we were on our excursions, and the nannies did an incredible job with Logan! They took him to lunch, had him take a nap, and gave him the best care. Another guest at the resort told us they saw Logan with the nanny at lunch and it looked like he was having the best time, and that they were doing an amazing job with him. It really gave us some peace of mind.
I understand you may be a little apprehensive to leave your child in a foreign country, but most of the times we did we were still on property. Twice we were off property at excursions.
When I attended the Beaches Moms Social Media on the Sand Conference, we got an in-depth look at the Kids Camp operations, and seeing that really made me trust the brand. I can promise you it's a really safe environment for the kiddos! They have great security measures (like a secret word to pick children up, no parents allowed inside, etc) and the women working as nannies are truly fabulous.
Red Lane Spa
We enjoyed an amazing couples' massage at the Red Lane Spa. Spa services are an additional cost, but we found it to be well worth the expense. Being able to drop the kids off at the Kids Camp and then go get a massage…. now, that's a vacation!
Private Candlelight Dinner
Another extra you can add on to your vacation is a private candlelight dinner. So worth it! We were escorted over to the dock where we had the most amazing sunset and culinary experience.
Being able to go on a date while on family vacation is truly amazing. Here's a quick little video recap of our evening:
Requirements to Travel Back to the USA
At the time of our vacation, all travelers over age 2 were required to have a negative COVID test to travel back to the United States.
Luckily, Beaches has on-site testing (no need to leave the resort). They scheduled a time for us, and all we had to do was show up and get our tests. Everyone but Logan got a test. Greg kept joking and calling it the "COVID Test Excursion."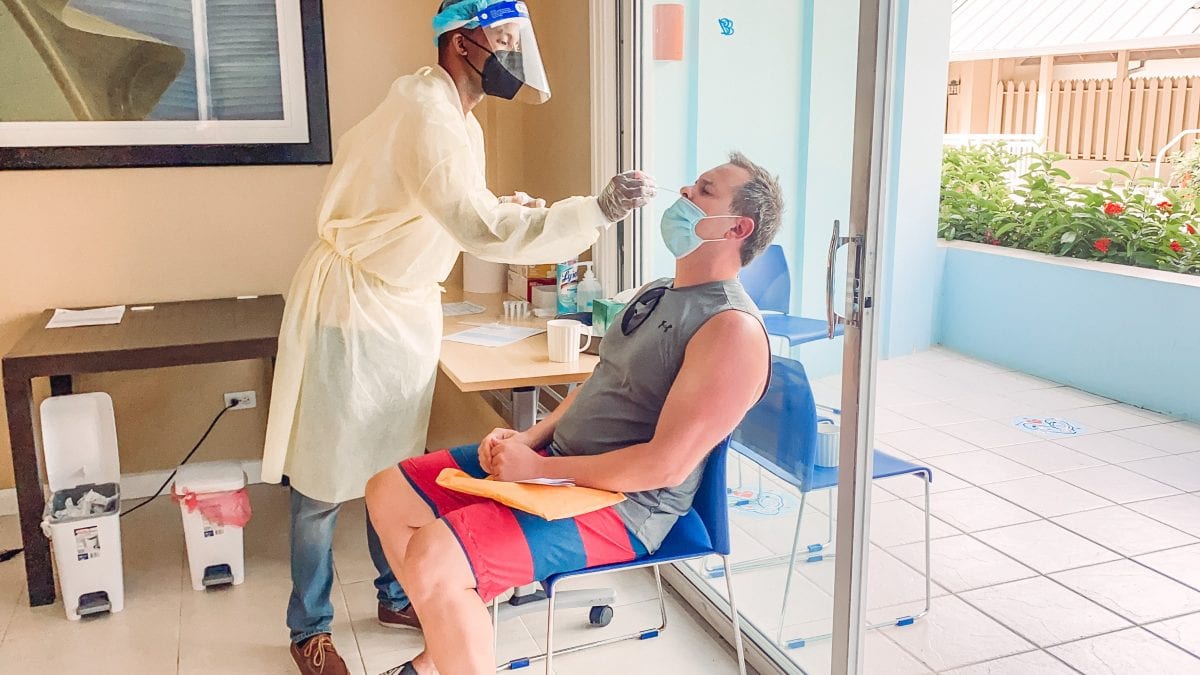 If you unfortunately test positive, they do have a section of the resort for guests to quarantine (they apparently are really strict about this). Make sure you have travel insurance and/or a plan in place. Better yet, be safe while traveling and get vaccinated before you go.
Make sure to check the latest travel requirements before leaving for your vacation!
Is Beaches Resort for All Ages?
I got this question a lot on Instagram – whether I thought this was tailored to little kids or if all ages could enjoy Beaches.
There's a lot of Sesame Street branding and programming throughout the resort, but I think it's because they really want to pull in young families to the resort. However, I will say we saw way more teenagers and college age kids than we did really young ones. There's also a lot of programming geared towards teens. One night we stumbled upon one of the games the teenagers were playing with the staff and they really looked like they were having the time of their lives.
I really think the Beaches brand caters to all ages when it comes to kids, which is another reason why it worked so well for our family. Logan is so much younger than his sisters but everyone was so happy.
A Couple of Things to Note
I know every trip comes with a couple of things you wish you knew, so I thought it would be worth mentioning them in this post. Please know that these things did not take away from our vacation as a whole, but I'm sharing this to be totally transparent!
We had amazing service from most but a few staff members weren't quite as friendly. We tried to chalk this up to the pandemic and the stress the country was feeling. I know a lot of these folks were without work for quite a long time, and I can only imagine how stressed they have been. Nobody was flat out rude to us, though.
Since I've been to Beaches Turks & Caicos, I remember not needing any cash for tips because they really emphasize this around the resort. However, I didn't realize that the airport transfers, drivers for excursions, and excursion staff are third party and it's important to tip them. Luckily the front desk had the ability for me to withdraw some Jamaican cash, but I wish I would've known this before arrival to prepare. That's more on me than it is on the resort! Please be aware of this while planning your vacation!
We also noticed that there wasn't clear communication with a few things around the resort. We had no idea that the Neptune's restaurant was moved to the Bayside location until we asked a few staff members. Maybe they told us this at check in but I didn't hear it? I'm not sure. Greg also tried to go to a workout class that was supposedly happening on the schedule but no one showed to lead the class. Again, this isn't a huge deal at all but worth noting to make sure you ask staff members if you have any questions!
Lastly, we didn't know the kids camp was taking cleaning breaks and closing during the day. This cut into our two excursions we had planned. We really wanted to be able to do some things with the girls and not have to worry about Logan. We know he was too young for a few of the activities, so we were glad we had the option of kids camp for him. These closures made us a little frustrated at first, but were relieved that they do offer private nanny service (although it does become an extra expense). Make sure to 100% confirm the kids camp hours before you plan your excursions, private dinners, and spa treatments. Also note you may have to pay a little extra for private nanny service to make sure you get to do the activities you planned.
Again, all of these things did not take away from our vacation at all. I just wanted to share in case you were planning a trip!
Overall Thoughts
After visiting 2 out of 3 Beaches resorts, I truly love this brand and would recommend it to any family looking for an all-inclusive vacation. It is perfect for kids of all ages and all sorts of family groups. There really is something for everyone!
I feel like people are more drawn to Beaches Negril and Turks & Caicos, but don't sleep on Ocho Rios. Sure, it's smaller and there aren't as many bells and whistles as the other properties, but it's an amazing vacation. It's also the most affordable option of the three resorts!
One thing this resort had over Turks is there is an ocean view nearly everywhere you go at the resort. There's a lot of ocean view rooms, as well. Since the resort is stacked on a hill, it makes for views on views literally everywhere.
If you love the Beaches brand and want a more boutique type of experience, definitely check out Ocho Rios. My kids are still talking about it and asking when we get to go back!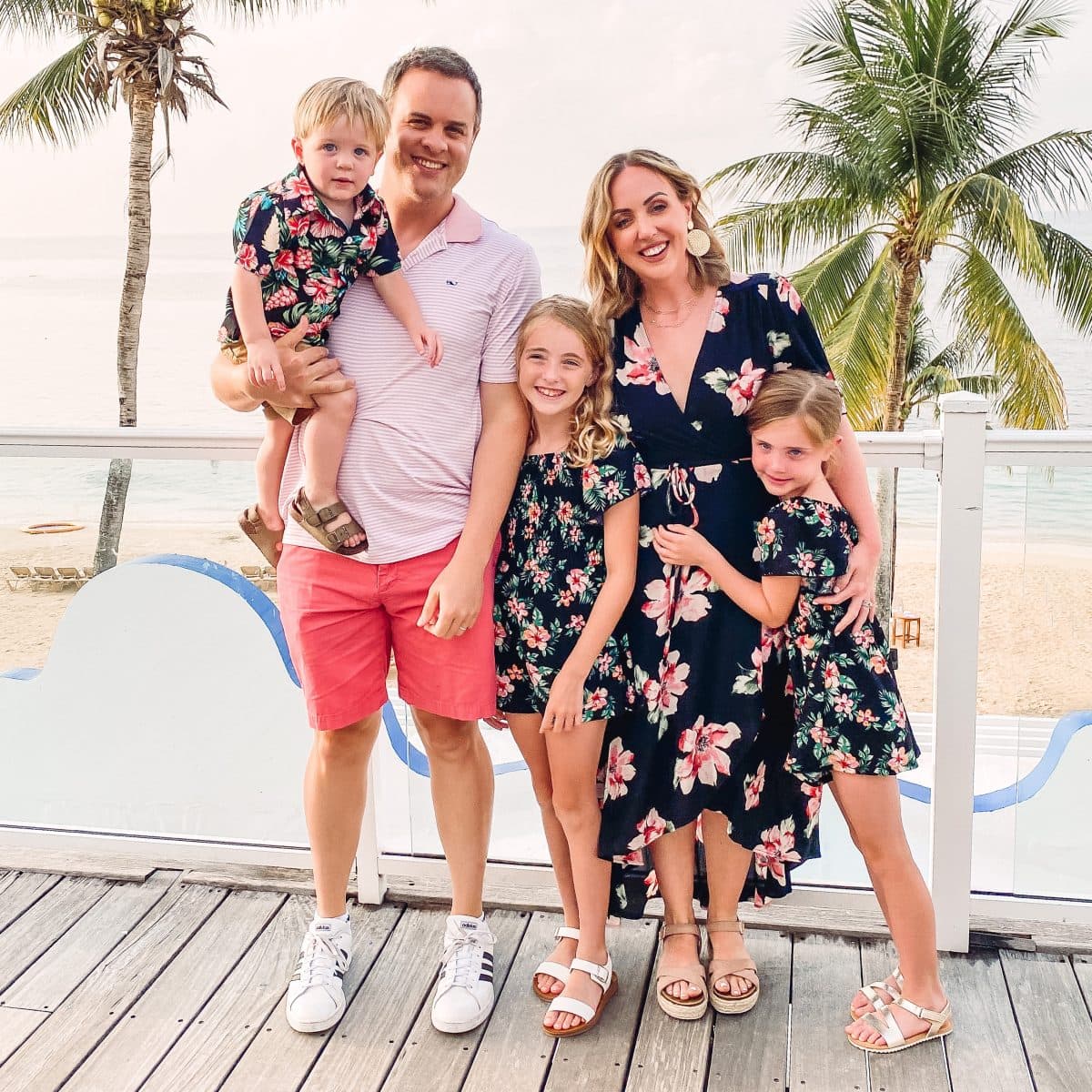 I know I couldn't find a lot of reviews and in-depth posts on this resort before we went, so I hope this helps you as you're planning your vacation!