Updated February 5, 2019
Looking for the best drugstore lipstick for fair skin? Look no further! I've got 16 drugstore lipsticks that are flattering on almost everyone, particularly those with fair skin. I am swatching 16 of my favorite drugstore lipsticks! I'm featuring glossy, satin, cream and matte finishes along with nudes, reds, corals, and pinks.
Okay, y'all. This one's a doozie! Who's ready to see the best drugstore lipsticks for fair skin? I went through my entire collection and picked out my 16 favorite lipsticks (LOL, spoken like a true makeup addict). I wanted to cover a lot of ground here, from finishes to shades, and tubes to liquid lipsticks. I've got glossy, cream, satin and matte finishes, and I'm covering nudes (a lot of nudes… it's my favorite), corals, pinks, reds and a berry. I will say that there are not a lot of pink options here because I have been wearing less and less pink. Overall I have really been preferring these types of shades so that's what I went with for this post. If you are looking for a specific shade (like a hot pink), please leave a comment and I will make a suggestion!
I've laid this post out into two parts. First you can watch my short 3-minute video with me swatching all of these drugstore lipsticks, and then below I have still images of myself wearing each lipstick and why I like each and every one. Everything is also linked for your shopping convenience!
The Best Drugstore Lipsticks for Fair Skin Video – 16 Swatches
---
The Best Drugstore Lipsticks for Fair Skin
Now that you've watched the video, here are all of the lipsticks on me in photo form with a description of why I love each and every one.
Shop the lipsticks:

These new butter lipsticks are absolutely beautiful! They have a very glossy finish to them but are not sticky whatsoever. I love the neutral coral of this shade and think it's the perfect way to wear a little splash of color.
These Maybelline lipsticks are absolutely stunning! They remind me a lot of the YSL shine lipsticks but for a fraction of the cost. I've been loving the shade Baddest Beige because it's literally a perfect light nude! Jaclyn Hill was also raving about this shade, so it must be good, right? Side note, I liked it before she did. Therefore I am cooler.
This one has been around forever and they're so good! I love the Milani lipsticks, and Nude Creme is such a perfect everyday nude shade. One of those you can throw in your purse and slap on whenever you need it.
If you're looking for a matte finish lipstick but don't want to fuss with a liquid lipstick, these Maybelline lipsticks will be your jam! I love the shade Peach Buff because it has a slight pink look to it while also staying pretty nude. This one is a little light, so if you don't want to be completely washed out, you may want to use a darker lip liner underneath. It's gorgeous, though, so I had to mention it!
Another oldie but goodie! I like to refer to this Rimmel lipstick as my "your lips but better" shade. It is the perfect rosy mauve tone that is a few shades darker than my natural lip color. It looks beautiful in photos, never makes me look washed out, and just a no-brainer shade!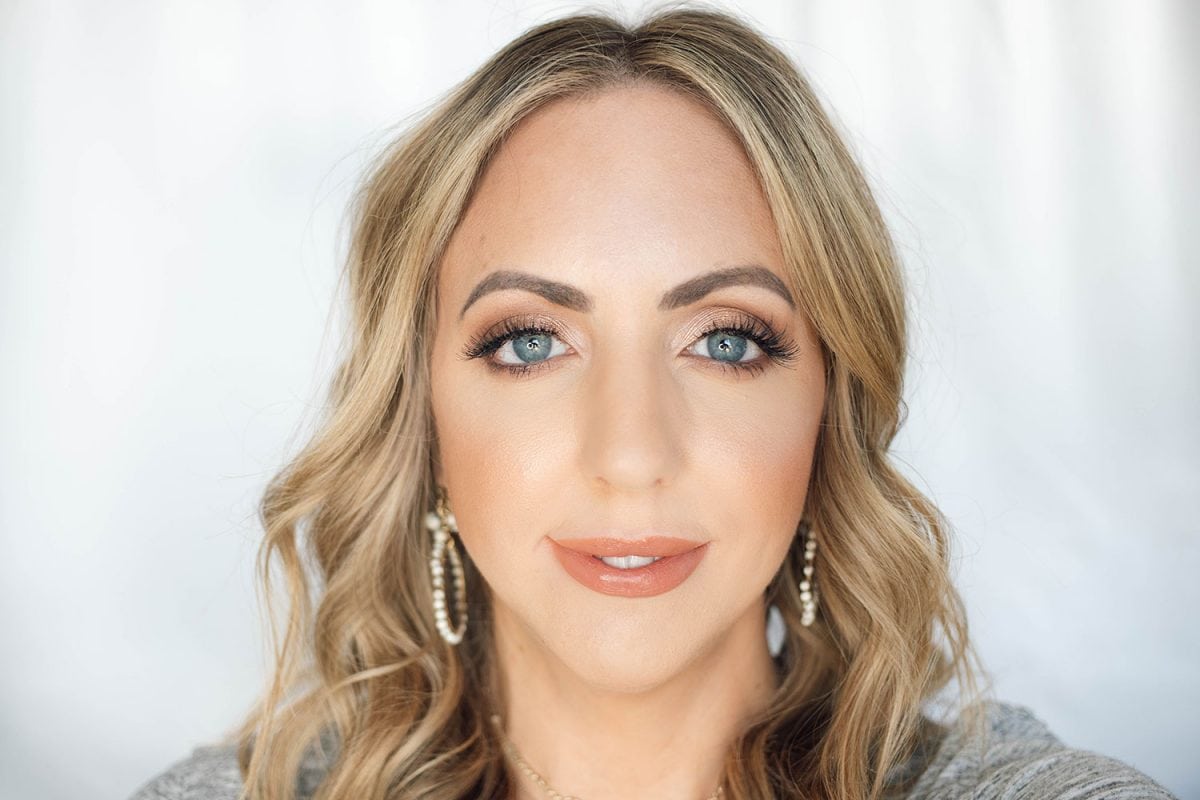 This Cover Girl lipstick has a more warm undertone to it with a cream finish. It feels nude, but has got a little something different to it. I love it with bronzy eye looks. It is so flattering!
I never thought I could pull off a brown lipstick until I tried this Almay lipstick. It is the perfect brown shade for fair skin! I love that it's not too deep and vampy, but it's got just enough brown to it to seem different and unique. This is one of the most unique lip colors I own and I love it!
Everyone with fair skin needs a few reds in their collection, and I have a few to share with you! This first Wet 'n Wild lipstick is one of the most beautiful cool toned reds. It's not a liquid lipstick, in case you prefer not to mess with that. I would go as far to say that this is almost a dead on dupe for MAC Ruby Woo. The best part? It's $2.99!
The Pixi MatteLast liquid lipsticks are some of my favorite lipstick formulas of all time. They dry down matte but stay very comfortable and healthy looking on the skin. I love the very thin, watery formula. Matte Beige is the perfect nude for fair skin, and probably my favorite shade of their whole collection.
Now, here's a lipstick you wear to make a statement! This Pixi lipstick is the perfect hot fiery orange red that is so flattering on fair skin tones (and more!). Pair this with a bronze smoky eye and you are good to go.
This formula is my other favorite liquid lipstick in the drugstore (aside from the Pixi). I adore these Physicians Formula liquid lipsticks, and the shade All-Natural Nude is another perfect nude. I know I have a lot of nudes in this list, but I am a nude lover!
I love this red Physicians Formula lipstick! It's a deeper cool-toned red that is universally flattering. It's almost got a slight berry tint to it, but it feels classic and perfect!
I discovered these Rimmel lipsticks a few years back and instantly became hooked. It was the first drugstore lipstick I found that was extremely long-wearing! We're talking bulletproof! These lipsticks are double ended, with a little gloss that you can put over your color. I have really enjoyed using the glossy side lately because I'm in love with this glossy red look. This particular shade has a brick-red tone to it, and is so gorgeous.
Maybelline Super Stay Matte Ink Lip Color in Seductress
If you get one lipstick from this entire list, make it this one. This is my top favorite lipstick formula and shade from the entire year. These are comparable to the Rimmel as far as longevity goes, but I honestly think that these Maybelline lipsticks last even longer! I've also said multiple times that they're better than Lipsense (sorry!). They're very comfortable to wear and stay looking good for such a long time. I will never be without them! And that's why there are 3 different shades of this particular lipstick on this list.
My favorite bulletproof power red. I am pretty sure I wore this lipstick the entire month of December because it is my favorite holiday red (and beyond, TBH). I always wear this red over others if I know I will be photographed or at an event simply because I know it will stay put and look fabulous forever.
Maybelline Super Stay Matte Ink Lip Color in Ruler
Last but certainly not least, this is my favorite not-quite-berry shade! I feel like so many people can pull this one off, including those with fair skin! I love wearing this with a really simple eye look (bare eyeshadow but fluttery lashes). It's sooooo pretty!
---
I hope you found this post and video helpful! I know it's quite overwhelming trying to pick out the perfect shade, so I hope this at least helps you narrow it down a little bit!
Shop the lipsticks:

If you loved this post, please pin the image below to Pinterest!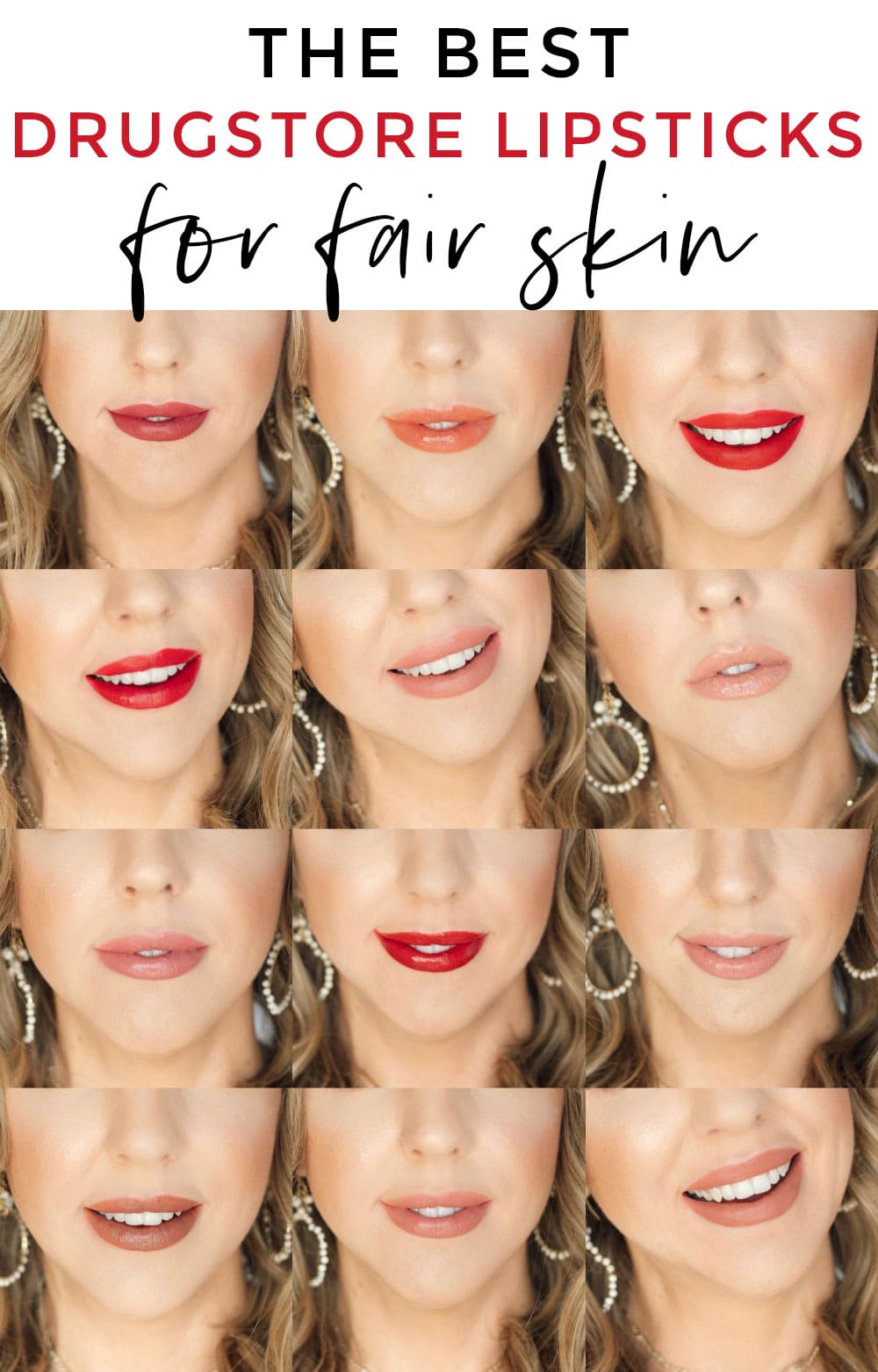 If you loved this post, check out these other drugstore posts:
The Best Drugstore Nude Lipsticks
The 5 Best Beauty Blender Dupes
The 5 Best Drugstore Translucent Setting Powders Under $8
7 Cheap Makeup Brands that are Actually Great Quality
15 L'Oreal Products to Grab on Amazon
Makeup Primer Dupes
Looking for the Best Drugstore Eyebrow Pencil? 5 Options You Should Try
…. or check out all of my drugstore posts HERE!