Updated April 29, 2019
Looking for the best face highlighter – I've got you covered! There are some amazing drugstore and high end highlighters that you are sure to love!
One thing I cannot be without is a little bit of face highlighter. I love to beam to the heavens. But I also love a subtle glow, too. Highlighter is such a fun staple to have in your makeup collection, and there are so many options! Today we're chatting all about the best face highlighter with lots of drugstore and high end options!
If I'm being completely honest here, these products are all holy grail status, and something I would recommend to anyone – beginners and season makeup lovers alike. Let's just get right into this! For the most part, I have linked all of these products at Ulta for easy shopping. We'll go over my top high end face highlighters first, and then we'll move on to the top drugstore highlighters. It was hard to narrow it down to five in each category, but I did it.
The Best Face Highlighter – Drugstore and High End Options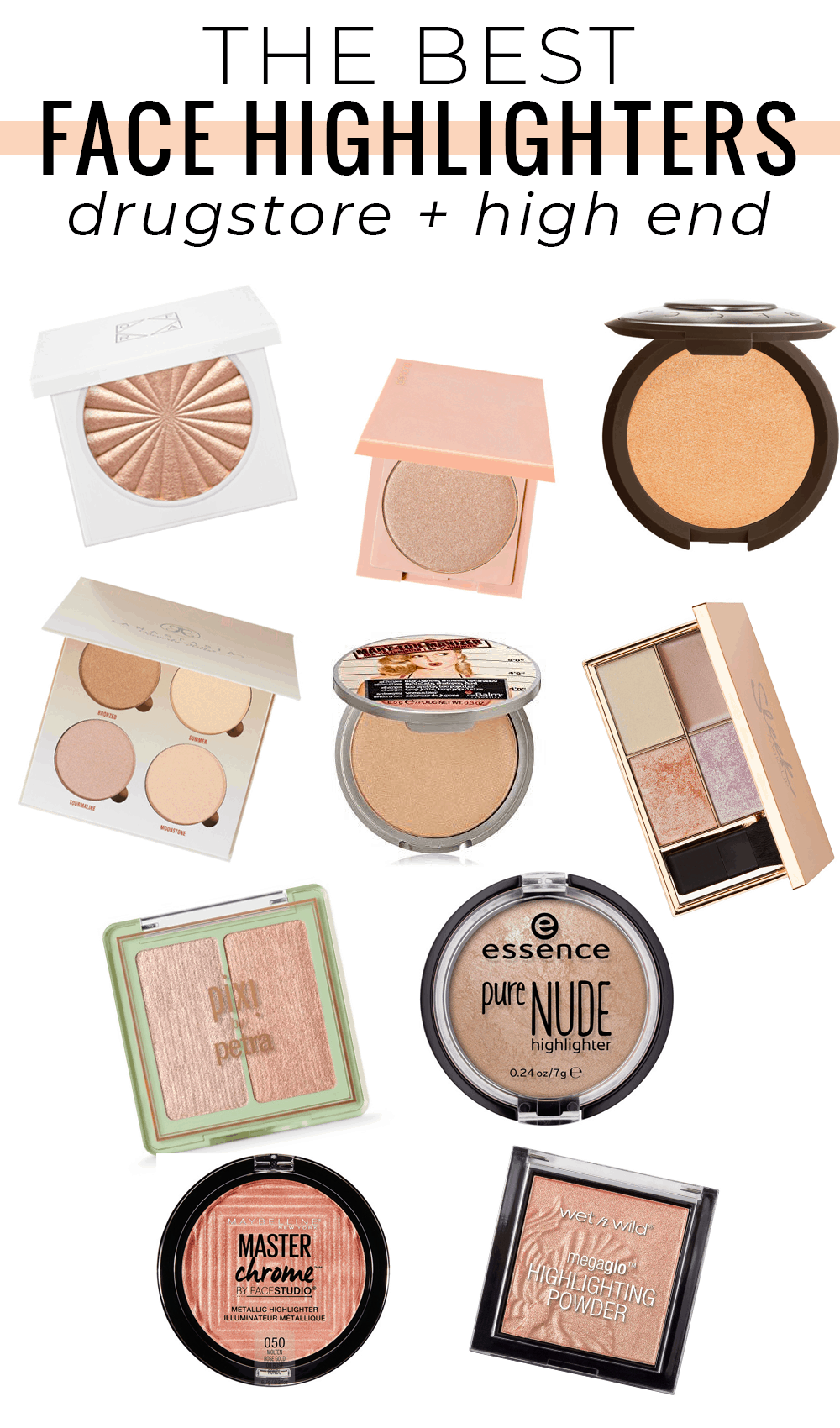 The Best High End Highlighters

1. Ofra Cosmetics Rodeo Drive Highlighter // This is my favorite highlighter of all time! I've had it for so long and haven't hit pan, and they have updated their packaging on the product since I purchased it. It has the most beautiful white gold tone to it, and it is so flattering. This one looks particularly beautiful on fair to medium skin tones. The texture is incredibly soft, it's so pigmented, and it's a blinding highlight. If you want to beam to outer space, this one should be your top pick!

2. Persona Cosmetics Cali Glow Highlighter in Zuma // This one is very similar to Rodeo Drive, but I would say just a tad more golden. It is also another blinding highlight that is incredibly gorgeous. While this is considered more of a "high end" product, the price point on this is incredible. I also love the sleek and minimal packaging.

3. Becca Shimmering Skin Perfector Pressed Highlighter in Champagne Pop // How could I write a post about highlighters and not mention this one? Impossible. This is a must-have for all sorts of skin tones – it's so flattering on mostly everyone! It has a peachy-gold tone to it, is very blinding, and simply gorgeous on the skin.

4. Anastasia Beverly Hills Glow Kit // If you prefer to buy a kit of highlighters, the Anastasia Glow Kits are the way to go. They have a bunch of different variations, and each of the individual highlighters are such wonderful quality. I'm personally a fan of the Sun Dipped Glow Kit because I love golden and pink tones on my skin.

5. theBalm Mary Lou-Manizer // This highlighter has been around forever, and for good reason. It is a cult favorite among many! This highlighter has a pearl-y white gold tone, is very blinding, creamy, and blendable. You really cannot go wrong with it.
The Best Drugstore Highlighters

1. Sleek Solstice Highlighting Palette // I would absolutely say this is my top drugstore highlighter. It's a little palette, which is even more fun. The lavender shade is so unique and so blinding – probably the most blinding out of all of my highlighters. It's intense and amazing! There is also one cream highlighter in this palette.

2. Pixi Beauty Glowy Duos in Delicate Dew // This is a newer release from Pixi, and I have been so incredibly impressed by it. Both shades of these highlight duos are amazing, but I particularly love the tones of Delicate Dew. They've got a little bit of soft pink/warm tones to them. They're so gorgeous, soft, and pigmented on the skin, and of course… blinding! (How many times can I say "blinding" in this blog post? Probably a million. Forgive me.)

3. Essence Pure Nude Highlighter // This is one product that isn't one of those in-your-face blinding highlighters. It has a really soft, natural glow that looks absolutely stunning on the skin. If you're someone that wants something a little more soft and glowy, this is the ticket. I love to use this as a finishing powder to give my face a little bit of a luminous glow even before I apply my blinding highlighter. Haha, I just love to glow. I honestly think everyone should have this in their collection, and it's only $4.49!

4. Maybelline FaceStudio Master Chrome Metallic Highlighter // All of the shades of these highlighters are gorgeous, pigmented, and glowy, but I really love the Rose Gold one. It looks gorgeous on my light skin tone.

5. Wet 'n Wild MegaGlo Highlighting Powder // This highlighter is such a steal at $4.99 and comes in lots of different shades. My favorite of the bunch is Precious Petals – a warm peachy golden tone. They are soft, glowy, and gorgeous on the skin!
Love this post? Make sure to check out my other best of beauty blog posts!
Best Drugstore Eyebrow Pencil
Best Drugstore Lipsticks for Fair Skin
Best of BareMinerals
The 5 Best Beauty Blender Dupes
Best Drugstore Self Tanner
Natural Eye Makeup Tutorial
…or browse all of my beauty blog posts HERE!