Updated July 29, 2020
Finding the perfect nude lipstick can be quite a task. I'm sharing my top five holy grail nude lipsticks – both high end and drugstore.
Today is National Lipstick Day! One of my favorite random holidays that I totally celebrate. In celebration, I thought it would be a lot of fun to share my top 5 favorite nude lipsticks, both drugstore and high end. I am not including any liquid lipsticks or glosses, just straight up tried and true bullet lipsticks. All of these are effortless, wearable, and throw-in-your-purse worthy.
I know finding the best nude lipstick is totally dependent on a lot of things (skin tone, undertones, preferences on formula, etc.), but if you're similar in skin tone to me, you'll probably like these!
I personally prefer a warmer toned peachy pinky nude. Cool toned nudes pull too gray on me, and I don't really consider mauves a nude (although I do love me a good mauve)! I don't really love nudes that are close to my skin tone (a la MAC Myth) – I prefer a nude that is similar to my natural lip color and maybe a shade or two darker. Warmer pinky/peach tones are very flattering and youthful, in my opinion!
I think a nude lipstick looks best paired with a slightly darker lip liner. I have been loving the CoverGirl Exhibitionist Lip Liner in Caramel Nude for that.
Now, let's get to the favorite lipsticks! I want to also mention there are some fun sales going on for National Lipstick Day, if you want to take advantage of some pretty good deals! Unfortunately not all of my favorites are on sale (womp), but there are some fabulous lip products on special!
National Lipstick Day Sales
SEPHORA – 50% off select lip products
ULTA – Buy One Get One Free select lip products
TARGET – Spend $15 get a $5 gift card on select products. Lipsticks are also 20% off with Target Circle!
Now let's get to my holy grail nude lipsticks!
The Best Nude Lipsticks – Drugstore and High End Holy Grails
Yes, I realize that all of these look fairly similar, but we're covering all sorts of price points and finishes!
---
1. Charlotte Tilbury Matte Revolution Lipstick in Pillow Talk

The Charlotte Tilbury Pillow Talk Lipstick is my favorite luxury lipstick. It's super flattering, a comfortable matte formula, and simply gorgeous. This one is the pinkest of all the lipsticks I'm sharing today, but it also has some nice peach tones. It also comes in a Medium and Deep shade, so I feel like it's very inclusive! Yes, I have duped this lipstick but I will always love the original.
---
2. MAC Matte Lipstick in Kinda Sexy

The MAC Matte Lipstick in Kinda Sexy has been a long-time favorite of mine! It's a beautiful warm peachy nude. I'm a big fan of the MAC bullet lipsticks, and this creamy matte is beautiful.
---
3. bareMinerals Mineralist Hydra-Smoothing Lipstick in Insight

The bareMinerals Mineralist Hydra-Smoothing Lipstick in Insight is my current favorite nude lipstick. The beige-pinky-nude is such a beautiful tone. The formula of this lipstick is amazing – it's a lovely effortless creamy formula. It has a cream finish. It's also a fairly "clean" lipstick if you're into that.
---
4. Milani Color Statement Lipstick in Nude Creme

The Milani Color Statement Lipstick in Nude Creme is an oldie but a goodie! So many people have loved this one over the years, and it definitely has withstood the test of time for me. It is a creamy formula and finish, Target also carries this lipstick but not the shade (but I definitely would recommend you try this formula – Dulce Caramelo looks like another great nude that's very similar to Nude Creme)!
---
5. Maybelline Color Sensation Shine Compulsion Lipstick in Baddest Beige

The Maybelline Color Sensation Shine Compulsion Lipstick in Baddest Beige is a fairly light nude, and very beige-y. I don't think this looks wonderful by itself, but it looks amazing over top a liner. This stuff is stunning! You can also find this lipstick at Target (but the shade is sold out online).
---
Best Nude Lipsticks – Swatches
Here are some swatches of those lipsticks! This is in natural light with absolutely no photo editing.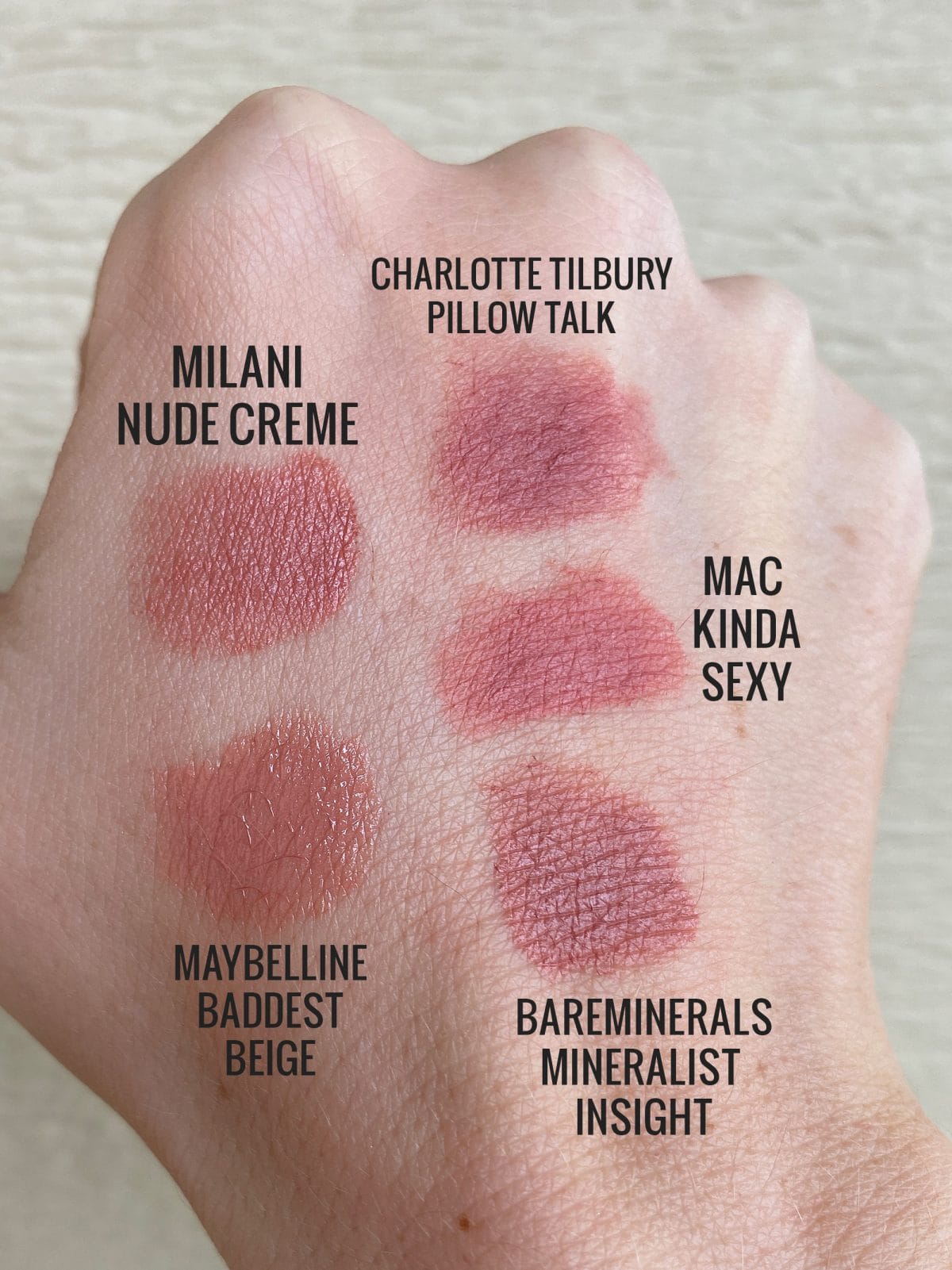 What's your favorite nude lipstick?
Shop the Best Nude Lipsticks: