Updated December 3, 2018
Thank you to Always for sponsoring today's post and for helping to #EndPeriodPoverty. The text and opinions are 100% mine. Thank you for reading and supporting my blog!
1 in 5 girls face this challenge daily.
Nearly 1 in 5 North American girls have either left school early or missed it entirely due to a lack of access to period products.
Let that sink in for a second. Did you know that this was a problem right here in our local schools? I have seen a few instances of this in my previous career as a teacher, but I had no idea how bad and widespread this problem was.
It's heartbreaking to think that pubescent and teenage girls are missing out on school and activities that build their confidence in such an impactful way. They're missing it because of something that they can't control. These years are such important years for girls to learn confidence and self-respect, and period products should be the least of their worries.
Period poverty is a real thing, and it's an issue we should care about. Having proper period protection isn't a privilege, it's a necessity.
How can we help end period poverty?
Always and Feeding America have come together to not only bring awareness to this issue but help girls facing period poverty. Their goal is to donate an additional 15 million products to girls in need through the organization's pantry program. That's incredible! Helping the cause is easy! Here's how you can get involved.
Join the conversation and raise awareness of this issue. Share this blog post to your social channels. Get on Instagram and search the #EndPeriodPoverty hashtag and jump in on the conversation. Tag some friends in posts to spark even more conversation. It's time to end the stigma around periods.
Post a throwback photo with the hashtag #EndPeriodPoverty. By doing this, Always will donate a month's supply of pads to young US girls through Feeding America. Tag @always_brand in your photo and use the hashtag #EndPeriodPoverty. Be sure to do this before September 8! Here's my thowback photo I posted. Hello, senior class pic (and bad eyebrows)!
Purchase Always Pads to trigger a donation. For every purchase of Always pads, one month's supply will be donated to girls in need. Make your purchase before September 8!
Make an in-person donation. Visit FeedingAmerica.org to find your local food bank, and make an in-person donation. You can also make your donations at a food drive. If you're purchasing Always pads, it will trigger a donation from the Always brand, and you can pay it forward even more by donating your purchases.
Be a positive influence in a young girl's life. We all know a young girl. It could be a neighbor, daughter, family member or friend. Being a positive influence on a young girl's life has so much impact. Spreading kindness and positivity will make the stigma around periods even easier to break. If girls feel self-conscious, they will suffer in silence. Let's not let that happen!
I often think back a lot to some of the teenagers I used to teach, and how crucial that time was to help build confidence. I wish more people knew how just an ounce of kindness can go a long way, especially to young girls. It very well could make the difference between asking for help in time of need or suffering alone.
Let's spread kindness by not only saying positive affirmations to ourselves, but to young girls. Here are some daily affirmations I want all girls to know, especially girls that are struggling. I made these affirmations into a PDF that you can download. Display them for yourself, or give them to a special girl in your life.
5 Positive Daily Affirmations
You have the power to create the life you desire.
You are uniquely made. Be your own kind of beautiful.
You have a voice. Use it for good.
You will make mistakes. Mistakes do not make you.
You are enough.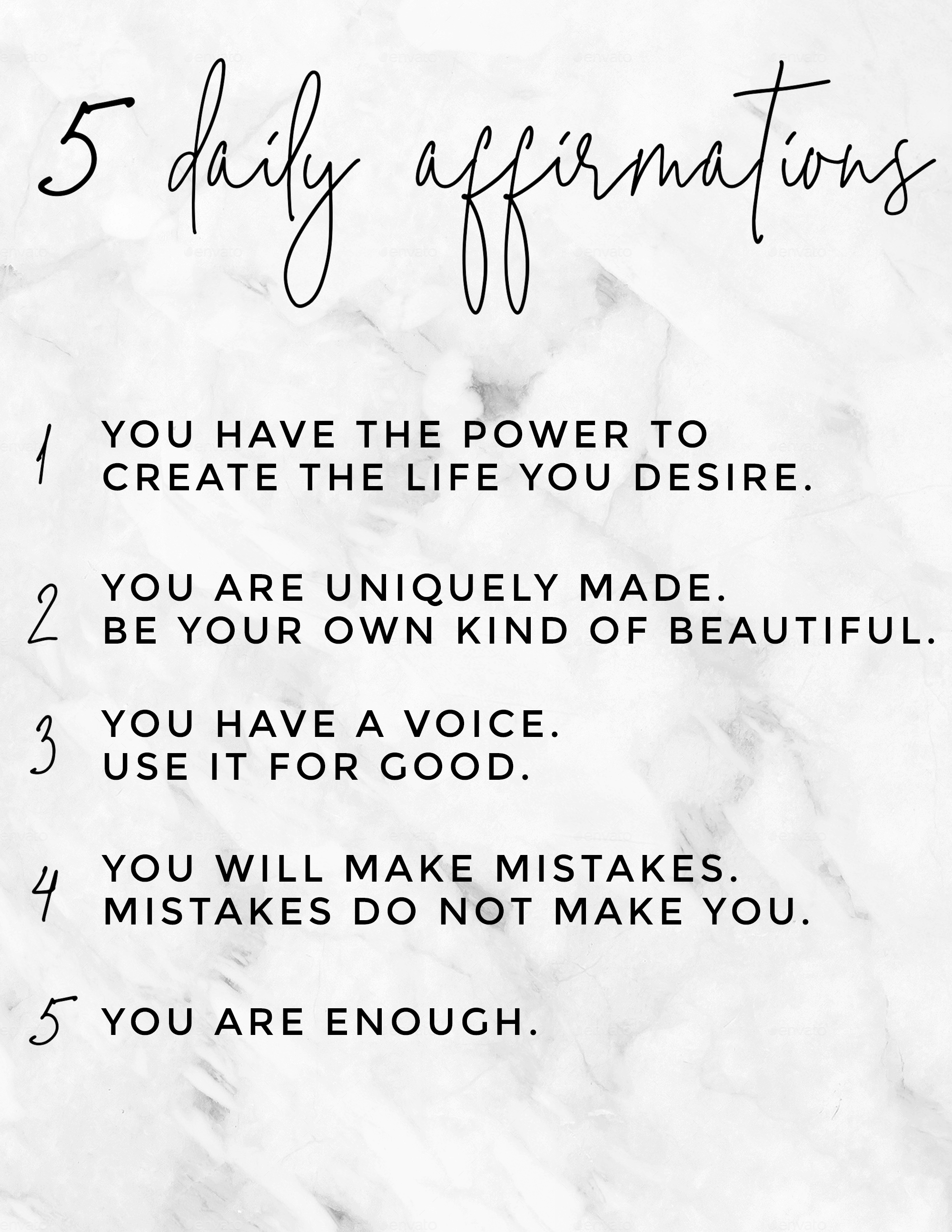 DOWNLOAD THESE DAILY AFFIRMATIONS
My hope is that kindness and positivity will help us end the stigma around periods and having those tough discussions.
There are many more ways to help and get involved on the issue of period poverty, especially in the community and local level. Any small contribution can make a huge impact. I hope you'll join me in this cause! Together, we can end period poverty.