Updated March 30, 2022
6 months ago, I made a major hair change and got Invisible Bead Hair Extensions installed for the first time! Ever since then, I've woken up with gorgeous hair every single day.
In today's blog post and video, I wanted to give an update on how these extensions are holding up. Am I experiencing any damage? How is my natural hair health? How is maintenance? I'll be going over all of these things, plus the pros and cons of getting invisible bead extensions.
Make sure to watch the video where I go into great detail about my experience!
Invisible Bead Hair Extensions – 6 Month Review & Update Video
I hope the video was helpful! Make sure to subscribe on YouTube so you don't miss out on any future uploads on this topic, plus all of the other beauty content I create!
---
Tell me again, what are Invisible Bead Extensions?
Make sure you visit my first Invisible Bead Extensions Review if you missed it! But as a short recap, Invisible Bead Extensions are a method of sew in permanent hair extensions. Hand tied wefts are sewn into the head in a very specific way where there are no metal beads exposed. Hair can flip up and down very seamlessly. Here's a visual of what it looks like when the hair is flipped up!
If you're not in the Houston area, make sure you visit the Invisible Bead Extensions Stylist Locator to find someone near you!
Houston Invisible Bead Extensions – Extend Hair Studio
I wanted to do a quick update here and tell you that my stylist, Siyan Scott, has opened up a brand new salon in Houston! I'm so excited for her opening of Extend Hair Studio! Extend Hair Studio specializes in extensions and color, so it is the place to go if you're looking for experience, quality, and the best extension method.
Siyan has over 17 years of experience and specializes not only in Invisible Bead hair extensions, but a plethora of other methods. Now she is a salon co-owner! I don't know about you, but when I am going to invest in something like this, I want the best of the best. If you give her a visit, tell her you saw my blog post or video.
Invisible Bead Extensions Move Ups and Color Maintenance
Since getting my initial install 6 months ago, I have had 3 move ups. I had my color touched up at the 4th month mark. I go in for move ups every 8-9 weeks. With this method, I can stretch it out to almost 10 weeks because of how gentle it is on the scalp. As someone who was going to the salon maybe 3-4 times a year, this is more visits than I am used to, but it's not something that bothers me at all. I find that the maintenance is honestly easy.
Siyan has my natural hair colored in a way that it looks great as it grows out. I really like the lived-in blonde look, and I'm glad that's on trend because I can avoid coloring for 4 months! This has really helped me keep my natural hair healthy.
Invisible Bead Hair Extensions At-Home Maintenance
At home maintenance of my Invisible Bead Extensions seemed a little daunting at first, but I've gotten down a great routine. I wash my hair every 5 days. On wash days, I also make sure to do a hair treatment (Olaplex, K18, Lamellar water rinse, hair mask, etc.). Oftentimes I'll saturate my hair in a good hair oil and let it sit for a few hours before washing.
I wash my hair at night, wrap it up in a microfiber towel, and then let it air dry to about 80%. I'll then go in with styling/heat protectant products, and use my hair dryer to get it completely dry.
When I wake up the next morning I will curl or style. The style lasts me pretty much until I wash again, with a few touch ups here and there. As a whole, I find the hair extensions to be low maintenance between washes.
Styling the hair is also very flexible, as I can easily put my hair up in a ponytail or bun. If you work out or have an active lifestyle, these hair extensions will fit in seamlessly! The extensions themselves are very flexible and flip up and down without any trouble.
Do Invisible Bead Extensions cause damage?
The main reason why I chose this extension method is the emphasis they put on hair health. There is minimal tension to the scalp because the weight of the extensions are evenly distributed. They felt a little heavy when I first got them installed but they do not pull on my scalp or hair.
My natural hair has experienced no damage. When Siyan takes out my extensions as she's doing the move up, I'm able to touch and feel my natural hair – it's doing just fine!
I had a pretty horrific amount of breakage last year before getting these extensions installed, and I know it's going to be a long journey to grow my hair back and get it super healthy. It's definitely getting healthier month by month and I am glad these hair extensions are allowing me to rehabilitate my hair!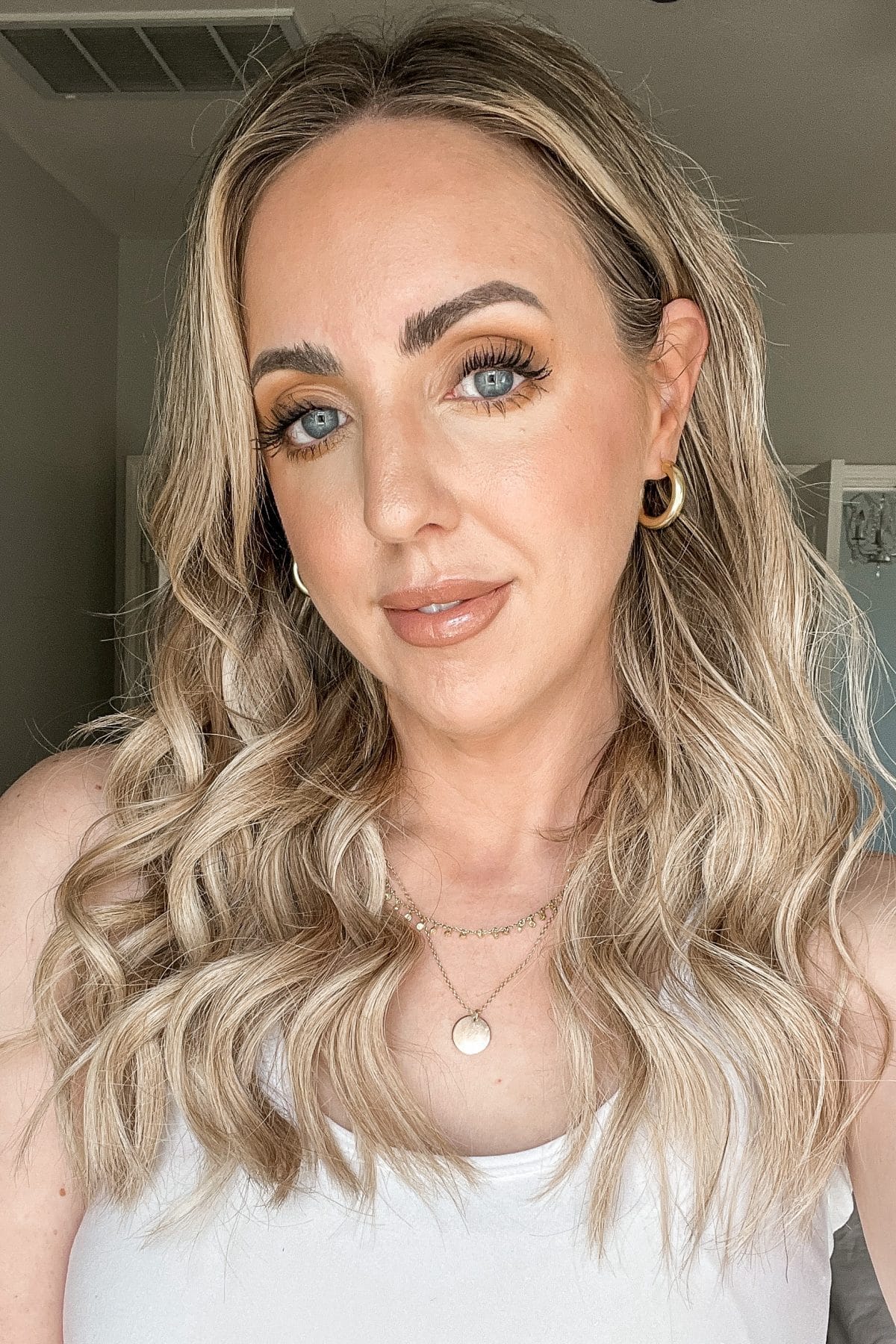 My favorite hair products to use with Invisible Bead hair Extensions
I've switched over to a lot of professional grade products and have been really diligent with taking care of my hair. Here are some of my favorite products I've been using lately! I know a lot of these products are at a higher price point, but I really think they've made a huge difference in my hair health.

I absolutely love the Pureology Strength Cure Shampoo and Conditioner. They're pH balanced and have an amazing ingredient deck to help hair grow strong.

The Olaplex Shampoo and Conditioner are two other favorites for hair wash days. They contain their special bond repair ingredients and are very moisturizing.

I use Olaplex no. 0 and no. 3 together as a good treatment before shampooing. This is an amazing treatment to help repair damage.

The K18 Leave-in Hair Mask is another great hair repair treatment. It's pricey, though, and it basically does what Olaplex does.

These are some of my favorite hair masks. The Olaplex hair mask not only moisturizes and softens, but it also has the bond repair ingredient to help with damage repair. The Kerastase mask delivers intense moisture and is great for bleached blondes. It's so good (but super pricey, wahhhh).

After I wash my hair and begin to blow dry and style, I like to use the Olaplex no. 6, smoother, Olaplex no. 7 oil, and the Kenra blow dry spray. All three products help smooth and protect the hair. Love the combo of the three of these products!

My favorite dry shampoos are the Batiste Dry Shampoo and the new Living Proof Dry Shampoo. I use the Living Proof right after I blow dry on clean hair, sort of as a "deodorant" to keep hair fresh. This helps me actually use way less dry shampoo as the days go on in between washes. I use Batiste to touch up on dirtier hair days.

Some of my other favorite styling products are the L'Oreal Elnett Hairspray (make sure to get unscented), Moroccanoil Mending Infusion, and the Moroccanoil Heat Protectant.

I like using the L'Oreal and Tressemme root sprays to concea the extensions even more as they grow out. This isn't a necessary product to have, and I use it sparingly, but I love having them on hand!
---
I hope this Invisible Bead Extensions 6 month update has been helpful for you if you are considering getting these hair extensions. Please let me know if you have any additional questions, and I'm happy to answer them!