Updated October 15, 2020
Thank you to Advanced Clinicals for sponsoring this blog post. As always, the text and opinions are 100% mine. Thank you for reading and supporting my blog.
If I've learned anything from the year 2020 and the pandemic, I've learned how critically important self-care is. We've had to adapt so much. Breaks and alone time are rare occurrences.
Take time to make yourself a priority, even if you have to schedule time with your partner or spouse – and just get a few moments to do something for yourself. Easier said than done, but worth the effort.
Also, I think it's important for everyone in the family to have an opportunity to "fill their buckets." That includes the kids. Self-care for my kids looks like quality time and fun activities. What about yours? If your kids love quality time, you'll love these ideas!
Mommy & Me Self-Care Ideas to Try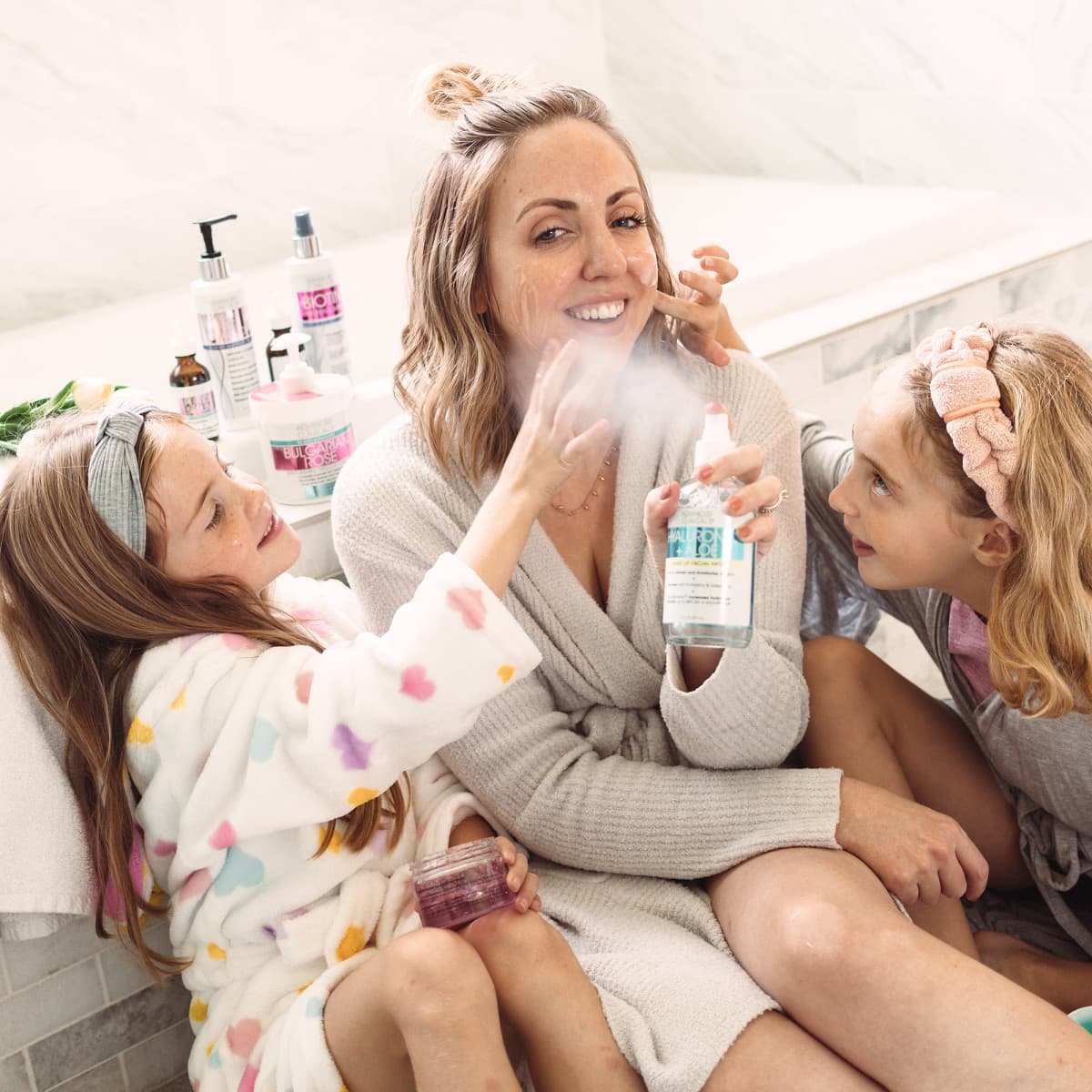 Family movie night // Schedule family movie nights where one "special kid of the day" gets to pick the movie.
Spontaneous ice cream outings // Everyone gets in their jammies, load up the car, and drive to the closest drive-thru for some ice cream. Drive around listening to the kids' favorite music and enjoy.
Fun in the kitchen // My girls absolutely love making cookies and treats with Greg and me. This doesn't have to be hard. Boxed cookie mixes, popping popcorn, or helping with pizza toppings are easy and fun!
One-on-one time // I've hardly got to spend any one-on-one time with each of the girls ever since baby brother was born, and I have quickly realized how important it is. It's a little trickier to organize during a pandemic, but it can be as simple as going through a drive-thru for a treat together, reading books away from the rest of the family, or just simply hanging out together without anyone else in the room. This is a big goal of mine for the rest of the year and moving into next.
Game night // My girls are old enough for board and card games, and they love any chance they get to play them. Setting aside even just an hour to play keeps them entertained and making memories.
Put on a show // Playing pretend is a lot of fun, but what about asking the kids to put on a show for the adults? It could be a fashion show, or a dance routine. Getting creative and having fun is always a good idea, and it could make for a very entertaining time. Haha!
Set up a faux indoor campfire // We did this a few months ago and it was a lot of fun. We made tents with blankets, made a fake fire, invited our stuffed animal friends, read campfire stories, and pretended to roast marshmallows.
Family walks // This is something we've done almost every night during the pandemic. Sometimes just getting outside for some fresh air and movement makes a huge difference. I know it's been something that's helped my mental health tremendously.
Encourage outside play // Kids really just need to "play it out" sometimes, especially after being cooped up in the house and not getting out much. Mamas, we need it, too. Even if it's sitting outside and sipping some coffee while the kids play.
Mommy and Me spa day // This is a super fun idea and very easy to do. Grab some nail polish, face masks, mists, and more. I've been trying out and loving Advanced Clinicals products, and we pulled out all of their goodies for our spa day! Advanced Clinicals is an affordable beauty brand that was developed by chemists who wanted to create effective formulations using advanced technology.
Many of the products are safe for everyone, which makes them perfect for a mommy and me spa day. The masks, hair products, mist, and Bulgarian Rose Cream are particularly good hits with the girls.
In my opinion, spa days are more fun when you let loose and have a little fun. The girls loved playing with the "gooey" masks!
Advanced Clinicals Skincare Gems
Let's switch gears to chat more about Advanced Clinicals, because I feel like more people need to know about this brand! Whether you're planning a mommy and me spa day or just need to pamper yourself, you're going to love it.
I am a huge fan of affordable yet high quality beauty products, and Advanced Clinicals is seriously one of those brands that hits all the marks for me. They have a wide range of products for hair, body, and skin. There are moisturizers, serums, hair treatments, face masks, oils, toners, mists, and even men's products! The packaging is simple and practical, and the formulation of the products are top notch.
Here are some of the products I've been trying lately and my thoughts on them! Stay tuned to the end of this post because I have a special discount code just for you!
Hydrating and Soothing Face Masks
2-in 1 Rosewater Hydra-Gel Transforming Face Mask – Infused with Vitamin E, Ginger, Blackberry, Green Tea and Pomegranate Extracts to plump the skin, and Bulgarian Rose to pamper dehydrated skin. You can either rinse this off or wear overnight as a sleeping mask. My skin looks so hydrated and glowy after using it – it's a very pampering mask and smells amazing.
Hyaluronic Acid Moisturizing Gel Mask – This mask contains hyaluronic acid, glycerin, aloe vera, and algae to maintain youthful skin by improving elasticity and firmness to create a brighter complexion. It has a nice fresh scent, and really does plump the skin up. Another super pampering mask I think anyone would love.
Haircare
10-in-1 Frizz Control – This is not only a heat protectant, but also helps eliminate frizz, enhance shine, detangles and moisturizes, and promotes strong healthy hair. I use this right after I wash my hair. Just one pump on this from mid-length to ends really does smooth the hair down without weighing it down. I have fine hair but I do like products that provide smoothing.
Biotin Thicken & Shine – This leave-in treatmeant instantly nourishes hair, supports scalp health, and leads to stronger, thicker hair. I spray this in at the root and comb it through my hair, and then use the 10-in-1 frizz control after.
Hydrating & Anti-Aging Serums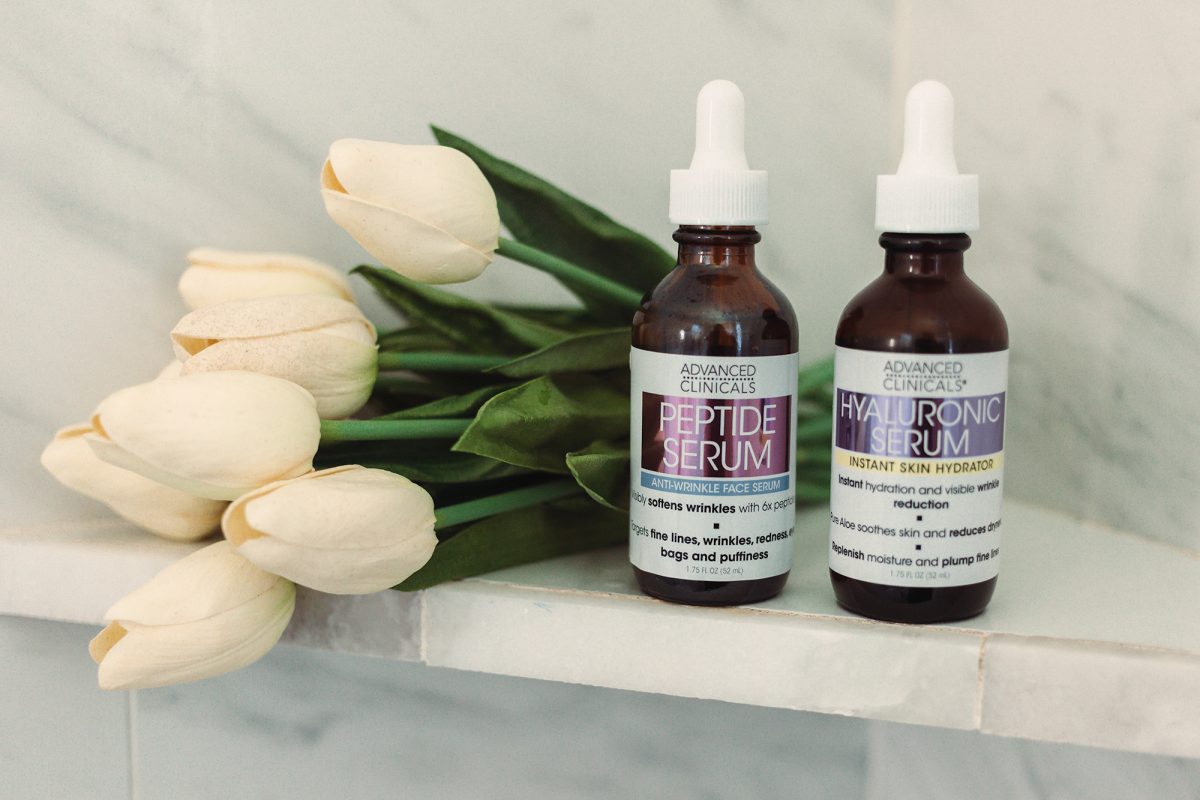 These two serums come together as the Hydro-Heroes Duo. Such a great price for two products! You can also buy them separately.
Peptide Serum – This is a great anti-aging and hydrating serum, formulated with six powerful peptides that are proven to diminish the look of premature aging and improve skin elasticity. This goes on very lightweight and can layer with any other serums, treatments, and moisturizers you use. I've been incorporating this in the evening.
Hyaluronic Serum – Hyaluronic acid is a humectant, so it draws in moisture and helps the skin retain elasticity and lock in moisture. It's no secret how much I love hyaluronic acid. I am a faithful user of hyaluronic acid serum. This one performs just as good as more expensive ones I've tried, and this one is also enhanced with aloe, apple extract, glycerin and red seaweed – more good-for-you goodies.
Creams & Mists
Hyaluronic & Aloe Wake Up Facial Mist – This facial mist helps replenish radiance and allows your skin to retain healthy moisture. It's formulated with hyaluronic acid, aloe, probiotics, and green tea. I'm in love with this mist! It's immediately refreshing, feels cooling on the skin, and truly a pampering moment in the morning.
Bulgarian Rose Anti-Aging Rescue Cream – This cream is formulated to moisturize, nourish, and restore dry skin. It is formulated with Vitamin E, Avocado Oil, and rare anti-aging Rose extracts. This immediately makes my skin feel soft and hydrated. I also love the super practical packaging. The pump makes it easy to use, but you can also screw open the lid and use up every last bit of the cream. I wish more brands packaged products like this!
Special Advanced Clinicals Discount
Advanced Clinicals was so kind to give you all a 30% discount with the code MEGO30! This is an incredible offer, especially since their products are so affordable.
Be sure to take advantage of this offer ASAP and let me know what you end up trying. I know you're going to love their products!
Cheers to all the self-care, happy family moments, and healthy skin.