Updated June 13, 2019
We were invited by Walt Disney World to experience an incredible trip geared for preschoolers and kids, and we are so thankful the memories we made! A lot of my photos in this blog post were taken on that trip, but you can read the full recap HERE!
Headed to Disney World soon and need some photo inspiration? Here are 70 must take photos at Disney World! I guarantee you will not run out of Disney World photo ideas.
If you didn't take a picture at the Happiest Place on Earth, did you even go? Photo memories are some of my favorite things about family trips. I have a terrible memory so any photo or video that's captured on vacation I cherish deeply. Perhaps that is one of the reasons why I do write this blog – I want to be able to look back on a lot of the things we've been able to do as a family.
We just returned from another wonderful Disney World vacation and I am still on cloud nine thinking about all of the incredible memories we made. I'll definitely be sharing more about that trip soon!
For today's post, I've got an incredible amount of photo inspiration. Headed to Walt Disney World? We're talking all of the must take photos at Disney World. I have 70 Disney World photo ideas sure to give you inspiration for your next trip! I know Disney can be crazy, but hopefully this post will give you inspiration and help you narrow down your must take shots.
Not only have I assembled a lot of my own photos, I have enlisted the help of other bloggers and influencers to share their favorite photos around the parks and resorts. I can't believe how many amazing photos are in this post. It makes me so happy just scrolling through it!
A huge thanks to all of the other bloggers and influencers for sharing their photos to include in this blog post! If you click on their IG name above the photo, it will take you straight to their account. Give them a follow if you like their content, and tell them I sent you!
To make this post a little more digestible, I've put together a table of contents. All you need to do is click on the subtitles and it will take you to that spot in the post. I can't tell you how much fun I had putting this together. I know I will be referencing it on our next trip.
Table of Contents – Must Take Photos at Disney World

The Castle Shot Without the Crowd
The Castle Shot Without the Crowd
Cinderella's castle is the obvious first choice of must take photos! It's just a beautiful Disney landmark, and the most photographed! However, it can be tricky to get a great shot of the castle without a crowd of people also in the shot. Here are a few photos that capture the castle without a crowd!
The key to get this shot is to go up to the very front of the castle on the lower level, and shoot at a lower angle.
This was shot on the right side of the castle (go behind the castle and start walking left), towards Adventureland. The little walkway behind the castle has a few really great spots where you can shoot a great photo without the crowd!
This was also shot on the left side of the castle (towards Adventureland). A fun idea is to have your back facing the camera!
This is another beautiful spot, which can be found in the walkway towards Tomorrowland. When you're facing the castle, turn right and follow the walkway there for some good photo ops!
A fail-safe way to get a great castle photo without a crowd is to have your camera at a super low angle and shoot upward! I love this shot!
Pro tip to get this shot: shoot this when people are starting to gather for the fireworks show. Get right up to the rope at the front of the castle and shoot upward at a low angle.
I love this tilted angle of the camera, and the classic peace signs!
[JUMP BACK TO TABLE OF CONTENTS]
Epcot Spots
Don't sleep on all of the fun photo opportunities at Epcot! Besides the big ol' ball, the World Showcase has so many amazing spots that will transport you to far off countries.
What's a trip to Epcot without getting a shot in front of Spaceship Earth? This is on the backside of the ball, walking towards the entrance. If you visit during Flower and Garden festival, you'll get some really pretty plants in your shot, too!
This is in the Morocco Pavilion in Epcot. Could've fooled me! How gorgeous is this shot?
This shot is on the front side of the ball, at the entrance. Stand up on that concrete block and shoot upward! Another shot with some Flower and Garden goodies.
This is in the Mexico Pavilion!
How adorable is this pose in the France Pavilion?
https://www.instagram.com/p/Bu2DB4EAiUa/
Another awesome shot in the Morocco Pavilion!
Isn't the Canada Pavilion gorgeous?
Pose with an iconic British phone booth in the England Pavilion!
Yummy bubbly at the Epcot Food & Wine Festival!
[JUMP BACK TO TABLE OF CONTENTS]
All the Yummy Food
Disney treats are just so epic. I am consistently impressed with all of the fun and delicious snacks they have, and always find something new to try. It doesn't hurt that these treats are also super adorable and deserve their own photo!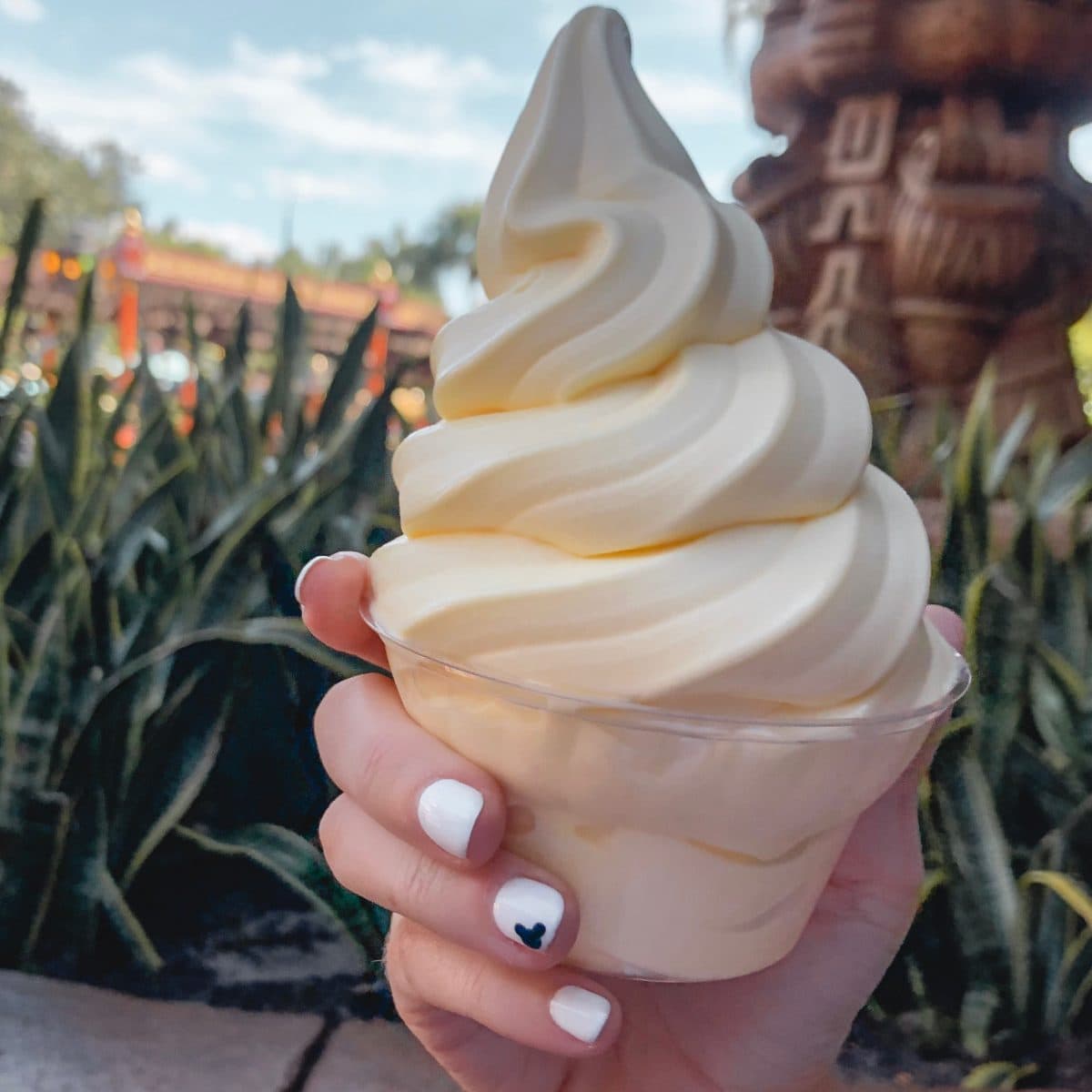 Dole whip will always be my #1 favorite Disney treat! Grab some at Aloha Isle in Magic Kingdom. If you have a Mickey manicure, it sweetens the deal.
Nothing quite like a Minnie cupcake! This is the rose gold cupcake you can find in many of the bakeries. I am not 100% sure if this particular one is still available, but there are lots of cute Mickey and Minnie cupcakes at all of the bakeries across the parks and resorts.
A Mickey pretzel is always a good idea.
So many delicious and Instagrammable ice cream treats! This is the Adventure is Out There cone and you can find it at Auntie Gravity's in Magic Kingdom.
The French bakery (Les Halles) in the France Pavilion serves up delicious pastries!
The one and only Mickey Bar. Can't beat this classic! Fact: it tastes better in front of the castle.
https://www.instagram.com/p/Bjihl-9hvKn/
If you aren't taking pictures of yourself eating said snacks, you aren't living your best life.
This is probably the most photogenic ice cream cone of them all – the Lost Princess Cone! You can find it at Storybook Treats in Magic Kingdom.
[JUMP BACK TO TABLE OF CONTENTS]
Iconic Rides
I absolutely love seeing my kids' faces when we ride the rides at Disney World. A lot of rides are indoor and a little hard to take pictures of, but here are a couple of really fun photo opportunities you can catch on the rides!
The People Mover (in Magic Kingdom) is an easy ride to take photos on (great lighting for a lot of it), and there are also a few castle views!
The teacups is a classic and adorable photo spot! Just shoot a ton and hope for the best (especially if you're spinning)!
Dumbo is always an easy and adorable ride to take photos on!
I mean…. even standing in front of the ride is adorable!
What's a ride on Toy Story Mania if you didn't take a 3D glasses selfie? Yeah, we're in the dark, but hey, it's fun.
You can snap a really great shot of Slinky Dog Dash (Toy Story Land in Hollywood Studios) just by standing in front of it and waiting for Slinky Dog to pass by!
[JUMP BACK TO TABLE OF CONTENTS]
Must-See Disney Landmarks
A shot in Pandora (inside Animal Kingdom) is a must! Such beautiful detail in this part of the park!
Before you even enter Magic Kingdom, there are photo worthy spots! Snap a photo here before you go into the park.
Mount Everest in Animal Kingdom is such a cool spot – it's so much bigger in person than what I ever expected.
This Hollywood Studios sign is towards the end of Hollywood Blvd. before you get to the Chinese Theatre, on the left.
All of Toy Story Land is just adorable!
The Tree of Life in Animal Kingdom is always a gorgeous spot for a photo. This photo was taken while standing in line for "It's Tough to be a Bug" – a great way to get a shot of the Tree of Life without the crowds!
https://www.instagram.com/p/BwVitAhA2ay/
Can't forget that shot in front of the Tower of Terror (in Hollywood Studios)!
[JUMP BACK TO TABLE OF CONTENTS]
So Many Cool Walls
There are so many awesome walls in Disney World that have become "Instagram famous" through social media. It's so fun to be able to go find them and snap pictures when out in the parks!
This wall is lovingly referred to as the Bubblegum Wall. You can find it in Epcot at Spaceship Earth, near the restrooms/exit.
This is probably my favorite wall in all of Disney World. It's a little tricky to find (I had to Google it, haha). It's in the Harambe Market in Animal Kingdom. Walk all the way back and to the left. It's in a hidden corner not in plain sight!
This one's called the Popsicle Stick Wall, and it's a new addition to the "Instagram Famous" walls. It's just so adorable and definitely worth snapping a photo at! You can find this wall in Toy Story Land (Hollywood Studios) while exiting the Toy Story Mania Ride. It's always easy to get a picture here, as the area is rarely crowded.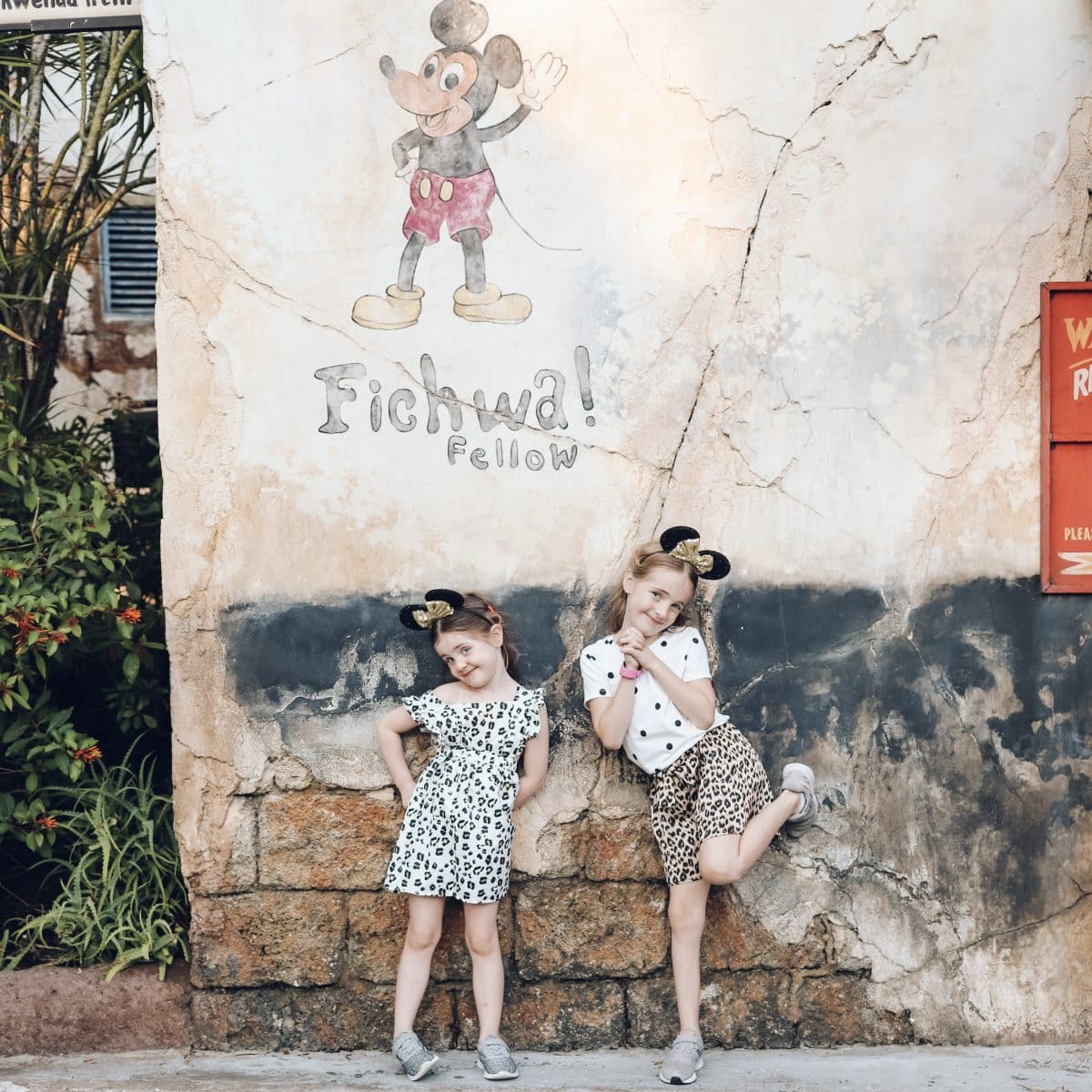 You can find this adorable wall right outside of Harambe Market in Animal Kingdom (very close to the You Are Most Beautiful wall)!
This is referred to as the Purple Wall, and you can find it in the Tomorrowland section of Magic Kingdom!
The front of Art of Animation Resort has a lot of really cool walls – some are animated characters, and some are really cool colorful patterns!
This is another wall you can find at the Toy Story Mania Ride in Toy Story Land! There's actually a lot of really cute walls around the ride, all of which are well-lit and not super crowded.
There's a new Avenue in Hollywood Studios called Pixar Avenue, and it's dedicated to The Incredibles! Walk as if you're headed to Toy Story Land but keep going straight instead of veering right. You'll find this wall over there!
This is that same wall, but a close up of one portion! Isn't it adorable?
[JUMP BACK TO TABLE OF CONTENTS]
Everyone Loves Balloons
I just love the Disney balloons! They're so iconic and a fun photo to take!
Ask a balloon handler if you can grab the bunch of balloons, and snap a photo! They're usually really nice about it and the shot comes out super cute! This was shot in Magic Kingdom on Main Street.
Love this fun close-up of the Mickey balloons!
Another cute shot holding the bunch of balloons. This is on Hollywood Blvd. in Hollywood Studios.
[JUMP BACK TO TABLE OF CONTENTS]
Share Your Ears!
Taking a photo of your ears in front of iconic spots in the parks are some of my favorite photos! Here are a few shots to spark your inspiration!
[JUMP BACK TO TABLE OF CONTENTS]
Show Off Your Resort
Don't forget to snap photos at your hotel or resort. There are so many magical touches in all of them!
The Grand Floridian is one of the most gorgeous Disney World resorts. Am I right or am I right?
The Big Blue Pool at Disney's Art of Animation Resort is one of the cutest pools you'll ever visit!
How fun is this shot at Disney's Boardwalk Resort?
Check out this epic shot in the Lion King section of the Art of Animation Resort!
Disney's Boardwalk Resort, you're pretty photogenic!
https://www.instagram.com/p/BxIYWylJQpN/
I'm telling you – so many photo ops at Art of Animation! Even if you aren't staying there, you need to give it a visit!
Disney's Boardwalk, with a little shot of Swan & Dolphin!
[JUMP BACK TO TABLE OF CONTENTS]
Favorite Disney Characters
Whats a visit to Disney World without a chance to meet some of your favorite Disney characters? Pics or it didn't happen.
You can meet Elsa and Anna in the Norway Pavilion in Epcot! It's always a must-do.
Peter Pan is always a classic! I love how this was shot. He's usually near Peter Pan's Flight in Magic Kingdom.
The Doc is in! You can meet her in the Animation Courtyard in Hollywood Studios, or at the Disney Junior Play 'N Dine character breakfast at Hollywood & Vine.
You can even take a nap and a cute picture all at the same time! You can find Donald near the entrance of Hollywood Studios.
Never forget the main mouse! He's at a bunch of different places all around 4 parks!
[JUMP BACK TO TABLE OF CONTENTS]
Hidden Gems
Here are some really cool hidden gems you can find within the parks – such pretty photo opportunities!
I had no idea that Mickey had his hand and footprints in the parks! You can find this in front of the Chinese Theatre in Hollywood Studios!
This spot is in Hollywood Studios to the right of the Muppet entrance, just before you walk into Star Wars land!
How gorgeous is this shot? This is in the Maharajah Jungle Trek in Asia, in Animal Kingdom.
You can find this adorable spot on Main Street in Magic Kingdom!
[JUMP BACK TO TABLE OF CONTENTS]
Most of All, Don't Forget…
Some of the best memories you'll make at Disney World aren't captured. Kids will be kids, and I promise you'll be laughing at all the "bad" photos you take, too.
Happiest Place on Earth? You better believe it.
Did You Love this Disney World Photo Ideas Blog Post? Pin it!