This is a sponsored post written by me on behalf of Ralph Lauren.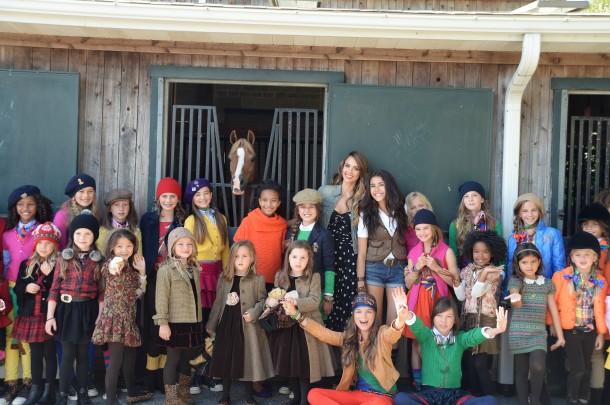 Today I am sharing something pretty darn cute. Like incredibly stylish and cute. The Ralph Lauren Fall 2013 Girls Collection.
Ralph Lauren just launched this brand new collection today! On August 5, Ralph Lauren hosted a "Day at the Stables" fashion show for moms and their daughters to view the fall and winter 2013 collections. Celebrities such as Jessica Alba, Christie Brinkley, Tiffany Thiessen and Edie Falco were in attendance with their daughters. The show was held at the Wölffer Stables in Sagaponack, NY., which was the perfect backdrop for a collection with an equestrian spirit that speaks perfectly to the classic preppy heritage lifestyle of Ralph Lauren. After the fashion show, guests enjoyed a first ever performance by Island Def Jam recording artist, Madison Beer, and activities that included an Essie Nail Art Bar, Dylan's Candy Bar, a photo booth and a hair braiding bar. How fun is that? I'm kind of jealous I wasn't invited! However, I was selected to tell y'all all about it and share some of my favorite parts of the collection.
This collection starts out with a rich combination of colorful iconic clothing perfect for back to school. It then follows with rich romantic florals and classic 1930′s menswear clothing, modernized for today's fashionista with a backdrop reminiscent of classic Downton Abbey. For holiday 2013, there was a spirit of Rustic Americana, representing iconic styles for an idyllic Adirondack Holiday. The second part of the holiday collection was inspired by the dramatic palette of black, cream and gold, accented with the holiday sparkle of glittering beading and hand embroideries throughout. Perfect for both elegant uptown affairs as well chic downtown celebrations.
Here's an excerpt of the fashion show. I can't even tell you how exciting this collection is for little girls!
By the way, aren't these girls precious? I just loved the little toddler! It makes me think how cute Kennedy would look in these clothes. And let's just talk about some of the amazing pieces from this collection.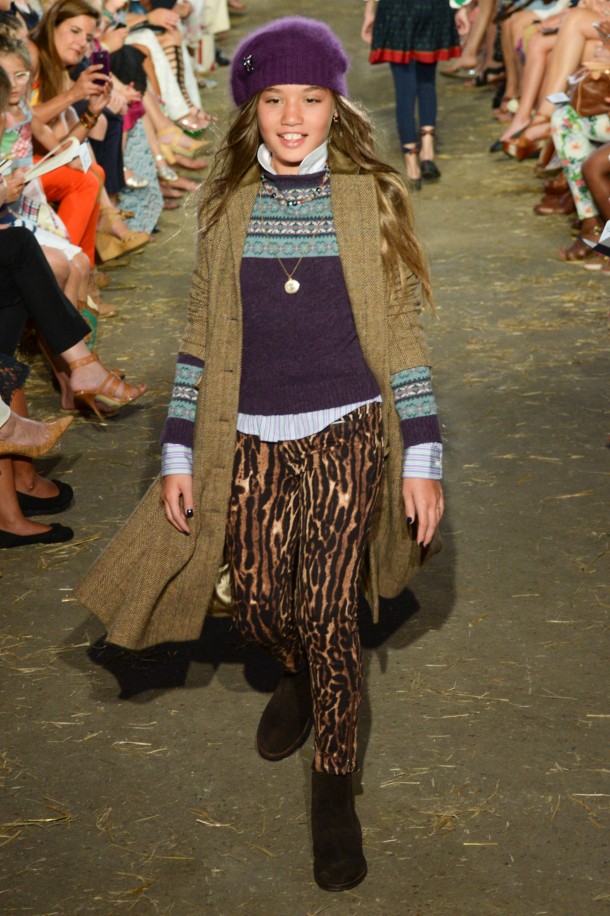 If this doesn't make you want to dress up your little girl in this collection from head to toe, I don't know what will. This fashion show looked like it was a great time for moms and daughters both. I really appreciate that this collection is such a blend of equestrian, preppy, while also having some sass and edge. Most importantly, I really think this collection is age appropriate and really catches the spirit of young girls without making them look flashy and too grown up. There is something about great clothes that are age appropriate without feeling kitschy. Heck, I would even wear this collection. Some of the trends that are really speaking to me is not only the whole equestrian menswear-as-girlswear idea, but the mix of preppy with edgy. I love the plaid with the funky zebra shoes. Or the argyle old man looking socks with leopard print sneakers. It's so fun and a great mix. Not to mention, I just love all of the elbow patches. Such a fun detail. I think it makes the collection super wearable.
The Ralph Lauren Girls Runway Show is launching TODAY, September 5th on RalphLauren.com, along with exclusive video featuring Madison Beer's first ever live performance. Check out RalphLauren.com where you can download Madison's new single, Melodies, free exclusively for one week.
Ralph Lauren offers a world of luxury and comfort in men, women's and children's clothing. For the Ralph Lauren children's fall collection, the clothing line hosted a "Day at the Stables" fashion show that incorporated many facets of the Ralph Lauren lifestyle. For more information, please visit Ralph Lauren.
This is a sponsored post written by me on behalf of Ralph Lauren.