Updated September 29, 2019
Here ye! Here ye!
I am proud to present to you our 2010 Christmas card!
Haha… just kidding.
My sister had too much fun on Photoshop editing the picture she took and gave us an "unofficial" version. I think this might surpass the "Asian Christmas" picture from last year. My favorite part of this picture is Dexter has turned into a Gremlin with lopsided ears. If the card was to be narrated or accompanied with a letter, this is what it would say:
"Hiiiii y'all! Hope y'all have a Merry Effin' Christmas! Things are a little… different this year, but we're still a-truckin' along. I told Dexter not to jump in them biohazard barrels outside the double wide but he just didn't listen t'me! He turned a lil green, but it matches the tree quite bee-you-ti-fully if you ask me! What a purdy boy! Well, now that we mention it, I can't help but think we've been bathing in that biohazard material. I thought the water smelled funny. My right eye just seems to be a little big and dear ol' Greg's forehead seems to have a mind of its own. That could have also happened with the grease fire when we were trying to fry the turkey during Thanksgiving. I told Greg not to fry it in the baby pool, but he didn't listen! That explains my nose and Greg's forehead.. problems. But after multiple trips back down to Wal-Mart, no lotion has fixed it! Not to mention, we spent so much money trying to clean up the turkey "catasrophe", Greg had to settle for the "bargain" dentures when it was time to go to the dentist. I told him that, like that quote says, 'a smile increases your face value!' So, like I done said, Merry Effin' Christmas and keep on smilin'!!!"
But in all seriousness, here's our for real card!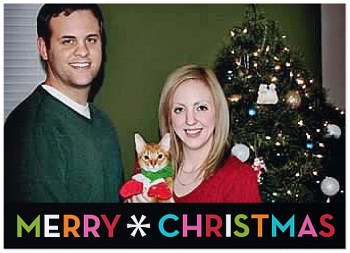 Bright Merry Cheer Christmas 5×7 folded card

Here's the inside of the card:
I have too much fun with these things. I can't wait to send them out! I love addressing envelopes, too. Something about Christmas cards are just so special!
Have y'all sent yours out yet? I'd love to see your cards!