Updated April 26, 2020
Itching to paint your kitchen but on a budget? See how I painted my entire kitchen including the walls, cabinets, and backsplash for under $250!
This past summer, I undertook the DIY project of the century and painted my entire kitchen, inducing the cabinets and the tile backsplash, by myself (well, about 95% of it by myself – but more on that in a minute). I have been itching for a renovation in my kitchen, and I just went for it.
We bought our house in 2011, and dark cabinets were all the rage. Now it feels like a dungeon in there, especially since we've brightened up so many other spaces in our house. Last year, we did a huge remodel in our home and installed wood-look tile in the entire first floor, and did a complete master bath renovation. Last year's renovations were a huge expense and we just can't finance anything else for a while.
In an ideal world, I'd love to do a total remodel in my kitchen. Reconfigure some things, knock some walls down, put a big island in, etc. To hold me over, I was determined to freshen up the space with some paint. I was about to be a baller on a budget. And I was, friends. Call me kitchen baller on a budget.
The TLDR: If I can do it, so can you. It is tedious but worth it.
How long did it take?
It took me about 3 weeks to complete the entire project. I had the kids home for the summer and I still needed to work from home. Painting the backsplash is the shortest time commitment (and also time sensitive – must be done in one day). You could easily knock this project out in a long weekend if you had help and time. I had neither (for the most part). I told myself I would finish before my daughter Caroline's birthday weekend. Well, friends, I finished ON her birthday. So I win.
What all did you paint in your kitchen?
My cabinets, tile backsplash, and walls.
Now, let's get into all of the details of each aspect of this project! I'm going to tell you exactly what I did to paint, and how I did it.
Painting the Walls
First, the easy part – the walls. I used Sherwin Williams Agreeable Gray in the space – the color we have almost everywhere else in our house. It's very neutral and almost beige-gray. I don't like grays that pull too blue, and this one never does. It always looks perfect in any lighting situation. I took my kitchen walls from a much darker taupe down to the Agreeable Gray color.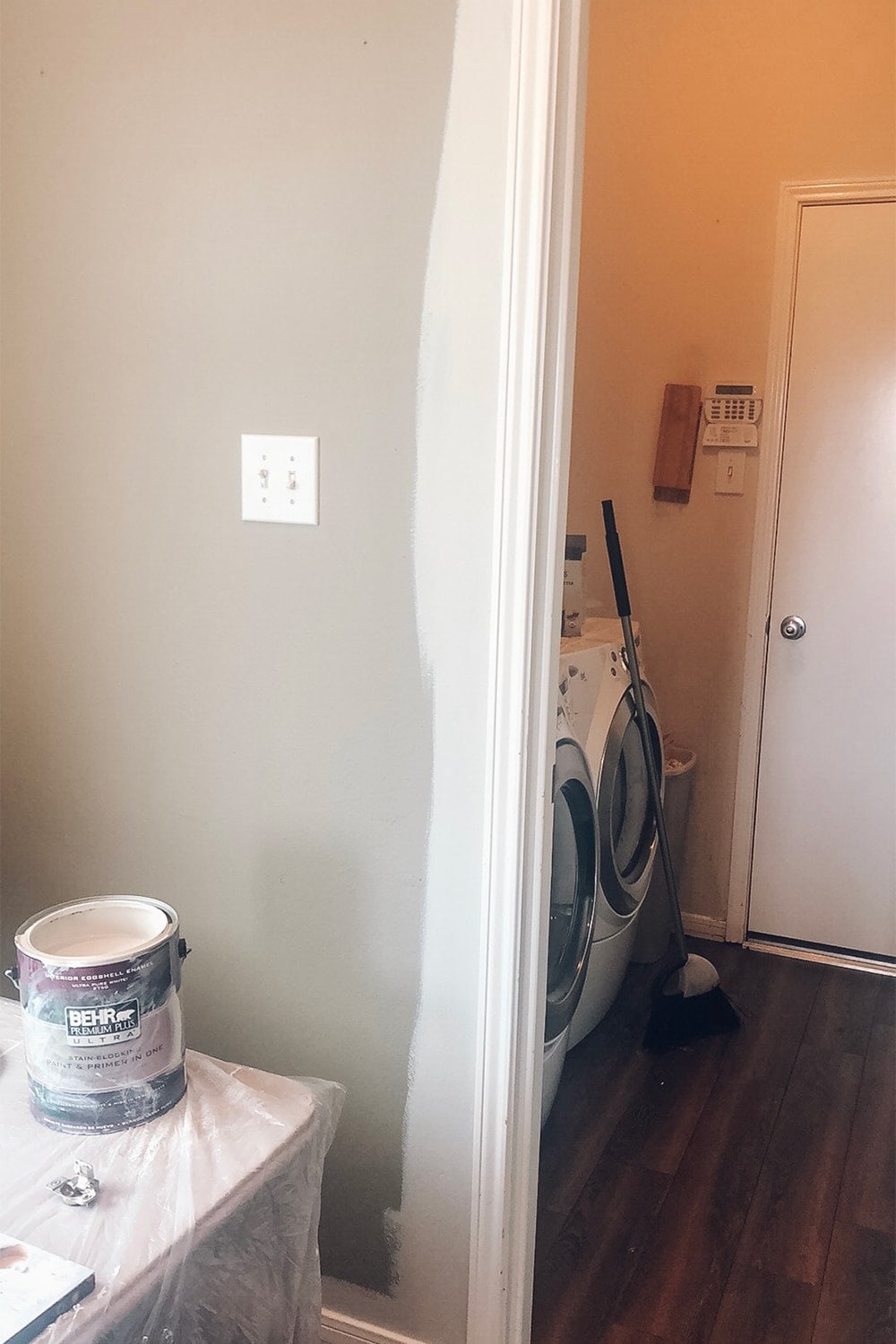 How I Painted My Kitchen Cabinets without Sanding
The most tedious part for sure was the cabinets. Here are all of the supplies I used to paint my cabinets.
Cabinet Painting Supplies
1 Gallon of Behr Premium Plus Ultra Satin Finish in Pure White
Paint brushes
Mini paint rollers and extra roller heads
Painter's Tape
Plastic tarps
Tables
Screwdriver
Rag
My Experience with Rust-Oleum Cabinet Transformations Kit
Let's first talk about the kit – the Rust-Oleum Cabinet Transformations Kit. This is a kit that comes with a deglosser (you do this first instead of sanding cabinets), a bond coat (the actual color the cabinets will be), a protective topcoat, and an optional glaze (I did not use this). The kit is very user-friendly and straightforward. I did a ton of research beforehand and watched a lot of videos on this kit before using it the first time. I definitely recommend you do this! Get on YouTube and search for people painting their cabinets dark to white with the kit.
The kit comes in various colors. You must get the bond color tinted, even if you are buying the Pure White kit (which is what I bought). If you buy it online from HomeDepot.com, you'll need to get it tinted in store. Weird, I know. Your best bet is to locate it online to make sure it's in stock and then purchase in store.
The Rust-Oleum kit was something I was familiar with. I used it last year to paint our bathroom vanity in master bath and downstairs half bath. I started out painting our master vanity white (the color that came in the kit) but didn't like the way it looked in the space, so I went and bought a small amount of Sherwin Williams Ellie Gray (actually it was the Behr Premium Plus Ultra from Home Depot tinted to match Ellie Gray), and then sealed it with the top coat in the kit. It turned out amazing. One year later, it's holding up amazing. No chips.
Our half bath vanity is holding up well with the Pure White color, too.
This gave me the confidence to use the kit on our kitchen. I knew the kit performed well for our bathroom vanities and held up, so I just went for it.
IMPORTANT: For me, the Rust-Oleum kit did not have enough bond coat paint for me to do my entire kitchen (my cabinets needed 4 coats), so that's why I went out and purchased a gallon of the Behr paint. The color and finish of Behr Premium Plus Ultra Satin Finish in Pure White matched perfectly. (Another note: I did have paint left over from the gallon I purchased.) It's a much more cost-effective way of completing this project instead of going out and purchasing another kit. I had enough deglosser and top coat for my entire kitchen, just not enough actual paint.
I didn't want my house to be a wreck and my kitchen to be unusable, so I painted all of the cabinets in sections. I did all of the work in my dining room on tables with plastic tarps, so that it was out of the way but still in the nice air conditioned house.
My workflow for painting the kitchen cabinets
I painted my cabinets in sections so that I was not taking off over 20 cabinet doors at once. I did about 8 cabinet doors at a time. This really helped the kitchen stay usable and not be a disaster. I was also able to fit whatever I was painting in the dining room, so I did not have to sweat painting outside.
Here's the order of how I painted my kitchen cabinets.
Tape off the frame of cabinets
Number all cabinets with painters tape and sharpie
Remove hardware and put all pieces into ramekins
Set up all the cabinet doors in a configuration, take the painters tape off and place next to the doors so I still knew which door I was painting
Degloss frame
Degloss cabinet doors
4 coats of paint (yes, the cabinets and frames needed a full 4 coats)
Top coat
Let top coat dry 12 hours
Put doors back on
Repeat per section
Here's how the process looked when I got to the last section of my project!
Here was my work setup in my dining room. I pulled in a bunch of folding tables and tarps and painted all of the cabinet doors in there.
One thing that was extremely helpful was to set the cabinets on small plastic cups to elevate the doors off of the table. It made life much easier to paint, wait an hour, flip, paint, wait an hour, flip, paint…
My cabinets ended up needing 4 coats of the white paint to look completely even. If they only needed two coats (like the instructions suggested), it would've taken less time.
How to Paint Tile Backsplash
I couldn't believe how unbelievably easy (yet intense) painting tile backsplash is. You use a white epoxy paint. For this part of my project, I enlisted the help of my friend, Channing, who just painted her bathtub tile. She was a huge help and it was nice to have someone there who understood how this paint works.
We used Homax Tough as Tile Epoxy Brush-on Kit. You roll it on with lint-free rollers (much easier and more even than a brush) and wait 3 hours in between coats. You must finish all of the coats in one day otherwise the paint will not cure properly. This took 4 coats to cover. I ended up doing the last two by myself and I had to stay up til 2 am to make sure it was done within that 24 hours.
WARNING: This stuff SMELLS TERRIBLE. It is intense. You have to ventilate the area you are working in and wear respirator masks when you are painting. It's best to leave the house in between coats if you can.
Tile Backsplash Painting Supplies
Before painting, you need to thoroughly clean the tile, otherwise, the epoxy paint will bubble or will not stick completely to the tile. I scrubbed the tile with steel wool and Comet, and then wiped the entire area down again with some Windex. That seemed to work just fine.
This is what my kitchen looked like when we started painting the backsplash (as you can see, I was still working in sections on my cabinets and not finished). This was after two coats. We brought in a few fans and had to keep the windows open.
Here's a close-up of how the tile looks once it's cured. It's shiny like real tile. You can't even tell that it's paint!
Overall, this was a really easy part of the project! You just have to be prepared to commit an entire day to it and make sure the space is well ventilated.
Final Product
Overall, I'm really glad that I took the time out to do this. I've gotten so many compliments from people who have come over and visited. They have told me it makes my house look bigger and that it also makes my first floor look brighter.
If I can do it, so can you. Truly. Do your research, plan ahead, and give yourself time. Oh, and give yourself lots of grace. You aren't a professional painter, and nobody is going to care if there are brush strokes on a cabinet door.
Here are some more photos of my finished kitchen. I absolutely love how much brighter and happier the space feels.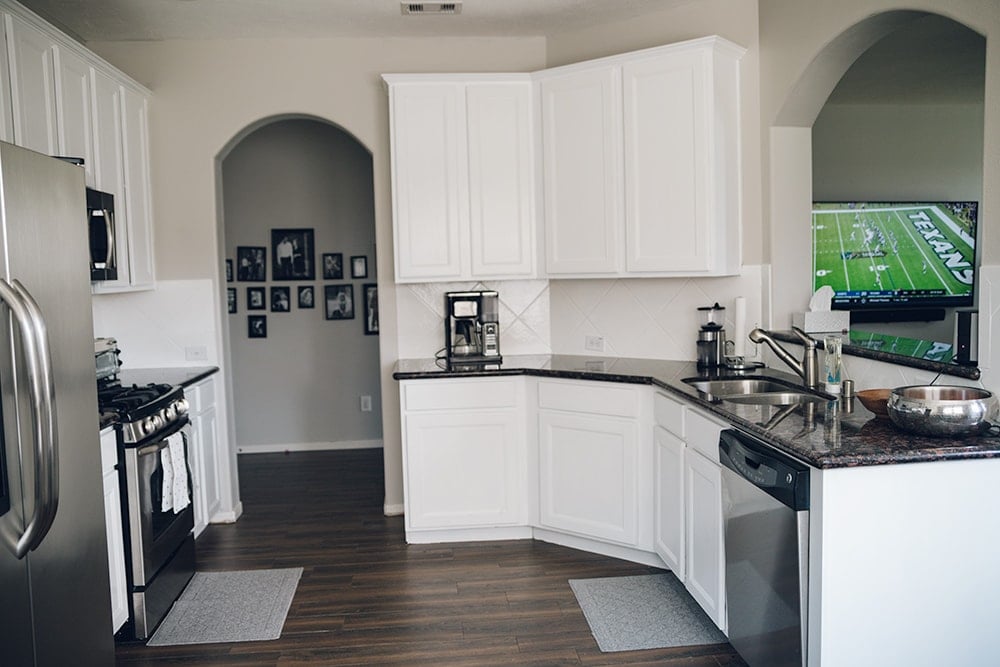 Before and After Photos
Because we all love a good before and after, right? What a huge difference!
If you're considering painting your kitchen, my word of advice is DO IT! You will not regret it one bit. And if you mess it up, just call in a professional. Haha.
Hope you found this helpful! I'd be happy to answer any questions you have, but remember I'm not a professional DIYer or Fixer Upper. Just a regular ol' girl who had an itching for some white paint.