Updated June 26, 2021
A few weeks ago we took our kids to New York City and we had the best time ever! I know you're thinking… what are some things to do in NYC with kids? LOTS! Today I'm breaking down our New York City family trip with our favorite things.
I made a fun travel video that outlines the trip so make sure you watch that first!
Things to do in NYC with Kids | New York City Family Travel Video
Just watching it makes me want to go back now!
Where to Stay in New York City with Kids
We stayed at the Kimpton Hotel Eventi in an executive one-bedroom suite, and it was absolutely perfect! The girls slept on a pull out bed and Greg and I got a spacious king bed to ourselves with a door that we could shut! Haha! Not to mention, the location was absolutely perfect.
Top Things to Do in NYC with Kids
There is so much to do in New York City, you could never get bored! While I will say there aren't a ton of children out and about in NYC, there is plenty for families to do. Our kids absolutely loved the trip!
One thing I would recommend is getting a CityPass for the adults (and older kids) of the family. Thank you to CityPass for gifting us our NYC CityPasses! A CityPass is a way to see popular attractions for one price. You get a little booklet and rip out vouchers as you visit. We had two adult CityPasses, as the girls were able to get into the same attractions for either free or a significantly reduced admission. The CityPass is great for first-time visitors to New York City, and even for those that want to see popular attractions over and over again. The only attraction we weren't able to get to was the Museum of Natural History.
One other thing worth mentioning is I'd caution you against taking kids to the 9/11 Memorial Museum. It went over Caroline's head, but Kennedy (6 years old) was asking a lot of questions. We explained what happened to her on 9/11 on a very basic level, but I do think this was not the best choice of places to take her. We ended up breezing through most of the museum, as parts of it are pretty graphic. I will say, though, it is a beautiful tribute to the victims of 9/11. It was very humbling and moving, despite having to move through it fast. I'd recommend this for the wee little ones who don't understand or ages 13 and up.
Here are our favorite places we visited in New York City!
Empire State Building
We loved the Empire State Building for the history and architecture. The views are great, too! The kids thought it was really cool!
Times Square
I'd say out of all of NYC, we saw the most kids within Times Square. You can't miss it to begin with, but the M&M and Disney Store were worth going to with kids. All the bright lights and signs were exciting for the girls!
Central Park
A great place to let the kids run around and see a little bit of green in the middle of a bustling city.
Statue of Liberty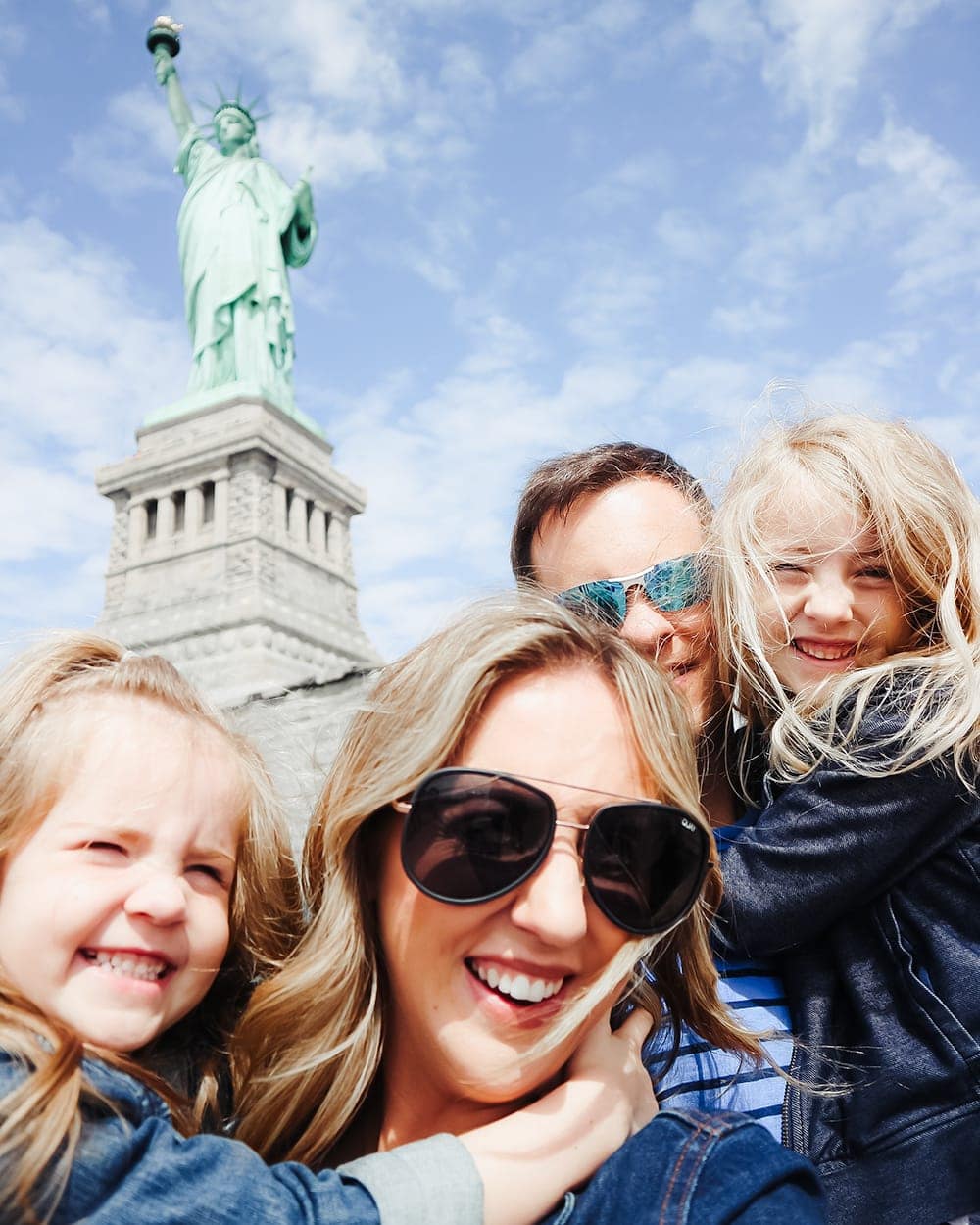 I've actually never been to the Statue of Liberty, and it was worth going to! I don't know if I'd do it again, though. I think it's a one time visit kind of thing. We didn't take the kids up into the statue because we heard it was cramped. We walked along the grounds and took pictures.
Family-Friendly Broadway Shows – Frozen
I was so excited to take my kids to a Broadway show! Most of the time, there is something family-friendly that is on Broadway. You really can't go wrong with any of the Disney musicals. Plus, it's a way to experience a little Disney magic in the middle of the Big Apple. We scored some last-minute tickets to Frozen, and everyone loved it! We were debating between that and Aladdin, but Frozen won because it was a great opportunity to see the original Broadway cast just days before the Tony Awards. I'd say Kennedy was the perfect age to see the show, and Caroline was almost perfect. She got a little restless but still loved it.
Top of the Rock
Top of the Rock has the best and most picturesque views of Manhattan! We think it's even better than the Empire State Building.
Strolling Around NYC
When in NYC, one of the best things to do is just walk around and sightsee. We walked so much – sometimes over ten miles each day! That means you can eat whatever you want, too!
Kid-Friendly Eats in New York City
I'm all about the amazing food, and when you're in a place like New York City you have to take advantage of it! We did some research to make sure we were visiting places that didn't turn their noses up at kids, and here's what we ended up eating during our trip. Honestly, we didn't do a ton of planning our meals out – we mostly got day-of reservations or walked in! Our kids aren't super adventurous with food, but we didn't let that stop us and made them try new things. They did well!
Serendipity 3 // Famous for their frozen hot chocolate, this place did not disappoint! We were able to get a last-minute reservation without any problems. Not only are the desserts amazing, the food was awesome, too! The girls loved the ravioli.
Joe's Shanghai // Greg and I visited this place the last time we were in NYC alone, which was far too many years ago! Joe's Shanghai is famous for their soup dumplings, and they are delicious! The kids ate fried rice. They weren't crazy about it but they gave it an "ok" rating. Haha!
Nom Wah Tea Parlor // Dim Sum was an absolute must for Greg and I, so I did a little research and found Nom Wah Tea Parlor. It's in the heart of Chinatown, and apparently NYC's oldest Chinese restaurant! This place is cash only, FYI. It was amazing! The girls thought the stir-fry noodles were just "ok" again. They aren't the biggest fans of Chinese food but that wasn't stopping Greg and me!
Eataly // This is a must for everyone! There's a variety of places to grab amazing food. Our hotel concierge made a dinner reservation for us at Manzo. It is one of the more upscale restaurants within Eataly, but it isn't too stuffy where the kids couldn't go. There were lots of kids while we were there. The girls absolutely loved the Cacio e Pepe! Afterward, we went to the gelato counter within Eataly for dessert.
Pizza // There was a dollar pizza joint across the street from our hotel – Greg tried it and liked it! Can't go wrong with pizza! We also ordered some pizza to go from a local place right by our hotel and ate it in our hotel room so the girls could relax after a busy morning.
Magnolia Bakery // This is a must! Their cupcakes are amazing! I acutally ordered a small cheesecake for myself and loved it. We went to the one close to Rockefeller Center – so it's fun to grab a dessert at the bakery and then walk down to Rockefeller Center to enjoy it.
Momofuku Milk Bar // This is a little gem across the street from Joe's Shanghai. Who knew it was such a highly rated dessert place in NYC? We're so glad we stumbled across it. We got amazing ice cream here, and the girls loved it!
---
What a blast! If you're on the fence about taking kids to NYC, just do it. You will have a fantastic time!
In my next post recapping the trip, I'm going to go over details on how to plan the perfect family trip to NYC! We'll go over some of my top tips for before, during, and after the trip. I'm going over things like renting a stroller, using the subway, location of the hotel, how to score last-minute Broadway tickets, how to get groceries and necessities delivered to your hotel room, and so much more!