My family and I were given the amazing opportunity to attend the Disney Social Media Moms Celebration, which is an invite-only conference for influencers. It included time both at Disney World and aboard a Disney Cruise! Thank you to the Disney Social Media Moms team for having us be a part of this incredible experience! Our family is so thankful for all of the memories we made.
My family and I just got back from the most magical trip – Disney World and a Disney Cruise! Like I mentioned up above, I was invited to the Disney Social Media Moms Celebration. Honored is an understatement of how I feel to have been a part of this experience! We were away for ten days on this amazing trip, and now I have all of the inspiration to share all I learned with you!
I have a couple of blog posts planned with tips and recapping our experience, and the first in this series is what we wore and what to pack! We're going to go over some cute and practical outfit ideas, some DIY ideas, and all of the packing tips your heart desires. Let's do this!
What to Wear in Disney World

Dressing practical and cute at Disney is totally doable! But remember, comfort is key! Bottom line, grab some super cute t-shirts and pair them with either workout leggings or shorts and tennis shoes. The only pair of pants I wore in the parks were this pair of camo joggers. They were breezy enough for me for a high of 85 degrees but not sure if I'd wear them in the dead heat of summer. I'd also throw in a pair of comfortable sandals when your feet start to get tired of being in tennis shoes.
Just to give you an idea, we walked over 20,000 steps each day we were in the parks. One day we hit almost 40,000 steps! You will be walking a lot, and it's hot. Jeans suck in the heat. Make sure your shoes are broken in. Disney is a marathon.
Before you leave, be sure to check the weather in case you need to pack layers in cooler months. Typically Disney is fairly warm (the high was 85 degrees each day we were there… in February!). Walking around the parks you will see people mostly wearing t-shirts and tennis shoes. I saw a lot of women wearing workout leggings and shorts. The kids are typically in shorts, t-shirts, and tennis shoes. My girls also wore lightweight dresses with tennis shoes. Of course, everyone has a pair of super cute ears to wear.
Even though this sounds pretty simple, you can have a lot of fun planning out your outfits and matching ears!

Cute Graphic Tees
I decided that I would first find some graphic tees for myself and the girls and then start planning the outfits around those. I bought items based on what parks I wanted to wear them to. I also scoped sales from Kohls and Macy's and bought cute little Disney dresses and tees if I saw anything on sale.
It was our first time to Disney as adults with our own kids, so I wanted to go all out. Of course, you can play this up as much or as little as you want!
Best Day Ever T-Shirt // Bought one for myself and my girls. We wore these our first day in the parks in Magic Kingdom. It truly was the best day ever, so the shirts were quite fitting! Samantha (the Etsy shop owner of Southern Salt Boutique) can do these in whatever colors you want, just message her on Etsy! The kids' shirts run big so be sure to size down.
Mama Mouse + Mini Mouse T-Shirts // Another group of shirts I got for myself and the girls from Southern Salt Boutique. These were also a hit!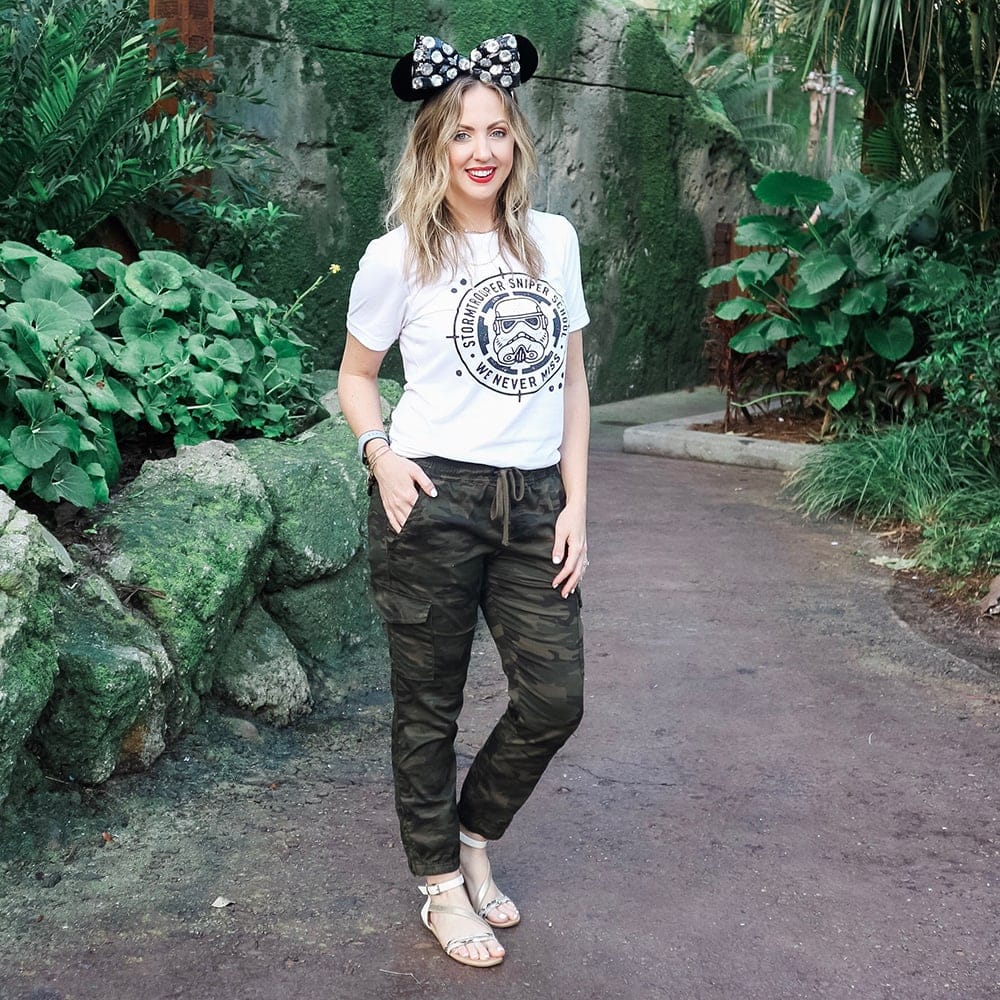 Storm Trooper Sniper School T-Shirt // If you haven't checked out It's a Magical Adventure, you must! Julie makes the cutest graphic tees inspired by Disney. Just go take a look at her Instagram, too! I adore all of her stuff. I wore this tee with these camo jogger pants from Evereve. I'm pretty sure this is my favorite outfit of the bunch!
Main Street Attraction V-Neck // Another one of Julie's fabulous designs. I got lots of compliments on this one! Seriously love her tees.
Curiouser & Curiouser T-Shirt // Loved this cute Alice in Wonderland shirt! It's on sale for super cheap right now, too! Get you one!
Kohls has an amazing selection of cute Disney graphic tees for everyone. I bought a few for myself from the junior's section, just sized up one size.
DIY Disney T-Shirts
If you're feeling extra crafty, you can DIY some of your own t-shirts! My friends Sarah and Channing made a few and I absolutely love them! Check out their posts to get inspired:
DIY Disney Minnie Ears
Wearing cute Disney ears is a fun part of the experience. Almost everyone wears a pair! They're so fun to accessorize with. After I planned out all of the outfits we were going to wear in the parks, I made matching ears.
I bought a 12-pack of blank Mickey ears on Amazon, and, with the help of my friends Sarah and Channing, I crafted a bunch of DIY Disney ears for the girls and me! The options are seriously limitless here. You can cover the ears with fabric and hot glue to your heart's content. I think my favorite ears are the ones with black and white bows and pink flowers.
If you want to see exactly how I made these, check out Sarah's DIY Disney Ears blog post. Channing also has a DIY Disney Mickey Ears blog post and shows you how to craft them with headbands, fabric and foam! Save yourself the $25+ on ears and make your own. If I can do it, you can do it!
If you're feeling DIY challenged, there really are a lot of cute Minnie and Mickey ears on Amazon. We have these silver and pink ones (wearing those in the family photo above). They come in a pack of 2 and are so cute! Still less expensive than most ears you'll see for sale.
Other Clothing Items
Here are some other clothing items I would suggest throwing in your suitcase!

Lightweight cotton dresses for little girls // I briefly mentioned my girls wore a few dresses, and these paired well with tennis shoes.
Lightweight sundresses for mom // Great for around the hotel and dinner.
Swimsuits // We didn't use these until the cruise portion of our trip, but they are great to have if you plan to cool off in the hotel pool or at any of the water parks.
Rubber Shoes // For around the pool or in case it rains and the little ones' feet get wet!
Sunglasses // A much-needed accessory! I actually wish we would have brought some for the girls, too. I wore these sunglasses pretty much every day!
Nikes // Stylish and kept my feet feeling as good as possible for all the walking!
Workout Leggings // Great option to keep you comfy if you don't want to wear shorts.
Shorts // I wish I actually would have packed more pairs of shorts. I ended up re-wearing ones similar to these multiple times. I also wish I packed more pairs of shorts for the girls!
No-Show Socks // Literally the best no-show socks I've found. Never rolled down and stayed put all day with that crazy walking. Best of all, they're on Amazon Prime!
Packing Tips for Disney World
Now that you've planned all of your cute and practical outfits for Disney and your matching ears, now it's time to pack! The key here is planning every day out to avoid overpacking.
You may know that we travel with our kids multiple times a year, and both of our girls have been on tons of flights. We're talking over 40+ flights! We have traveled with them ever since they were infants. Packing is one thing I take pretty seriously when prepping for a trip, because it will make or break your airport experience. Having too much will be a serious pain while also trying to get small children through the airport.
Know Your Airline's Baggage Policy
We normally fly Southwest Airlines, which allows us to check two bags per person for free. We definitely take advantage of that! For our ten day trip (which also included a cruise), We checked one bag per person (including the girls), an extra empty small bag (not necessary but we were told we would be coming home with a lot of swag from the conference), and we carried on two backpacks. If we were flying another airline that charged for bags, this would probably be pretty pricey. Know these costs ahead of time so it doesn't come as a surprise. I carry on my laptop and a few other personal items, and check out this blog post to see what we typically put in the girls' carry on. The key takeaway here: know your airline's baggage policy and plan accordingly.
Plan Every Day Out
Once you've booked all of your Fast Passes, dining reservations, and know what you'll be doing each day, plan your outfits for you and your family. It sounds ridiculous, but it avoids overpacking. It also helps you stay organized each day, and minimizes the stress of getting dressed each morning. If you're staying at a Disney property hotel, there are laundry rooms, so bringing an extra outfit isn't completely necessary, but I always like to bring one extra outfit per person.
I printed out an itinerary and wrote out what everyone would be wearing (myself and the kids) every single day. I even noted which ears we would be wearing. I took the itinerary with us and set out everyone's clothes the night before.
Space Saver Bags are Your Friend
Seriously, you need these space saver bags in your life. They come in a pack of 12 of medium and large size bags, both of which are large to me. I was able to fit every single piece of clothing per kid for the duration of the trip (which included Disney World and a Disney Cruise) in one bag. It also left plenty of room in their small rolling suitcases for shoes and extras.
I separated my clothes into parks, conference, and cruise clothes items in the space saver bags. That also helped me stay organized in my own luggage.
Skip on a Few Things Until You Get There
You can do Amazon Prime Now or hit up the grocery store when you arrive in Orlando, so it's unnecessary to pack snacks or sunscreen. (Side note: we went through an entire can and a half of sunscreen on our trip. You need a lot of it, so buy it there.) Our kids don't need a stroller anymore, but we rented one in the parks. One less thing to lug through the airport. Don't stress about forgetting items, because you can get it there.
Consider TSA Pre-Check
Not really a packing tip, but this is a travel tip worth mentioning. Greg and I each have Global Entry cards, which come with five years of free TSA Pre-Check. If you are going to be doing any sort of international air travel, it's worth getting because you get that plus the free Pre-Check. If not, go ahead and apply for TSA Pre-Check. The kids don't need to apply for it, just adults. It saves so much time and headaches in the airport. It's so handy when trying to get kids through the security line.
In fact, if everyone is on one airline reservation and one person has Pre-Check, the entire reservation gets to go through that line. So, if you wanted to save money, one adult technically needs to get it. Can't recommend it enough!
Don't Stress Too Much
Like I said before, don't stress about packing the perfect bags. You're going to Orlando, not the seventh circle of hell. Enjoy yourself and focus on staying comfortable in the parks!
---
Hope that you've found this post helpful! Let me know if you have any other Disney packing tips or cute fashion items! I'd love to hear your thoughts!