Updated December 3, 2018
Looking for fabulous beauty gift ideas that don't break the bank? These beauty gift ideas under $10 will impress!
I can't believe we're kicking off the holiday season, but here we are. I am determined this year to try and get the bulk of my shopping done early this year because I really want to enjoy the season. Shopping tends to be stressful but it doesn't need to be. The best kind of shopping is done in your pajamas with your feet up, am I right?
Anyway, I have a lot of fun gift guides planned this year for you! After polling my followers on Instagram Stories, I got some great ideas and requests.
We're going to kick it off with affordable beauty gifts! I've scoured the internet and found what I think are 25 of the best beauty gift ideas under $10!
All of these gifts are linked to the same retailer, so no having to bounce back and forth between websites. These gifts will make amazing hostess gifts, stocking stuffers, and gift exchange gifts! I also think if you have young women or teens in your life, they will love these, too.
I've divided everything up into categories for easy shopping. I hope that you find it helpful!
25 Fabulous Beauty Gift Ideas Under $10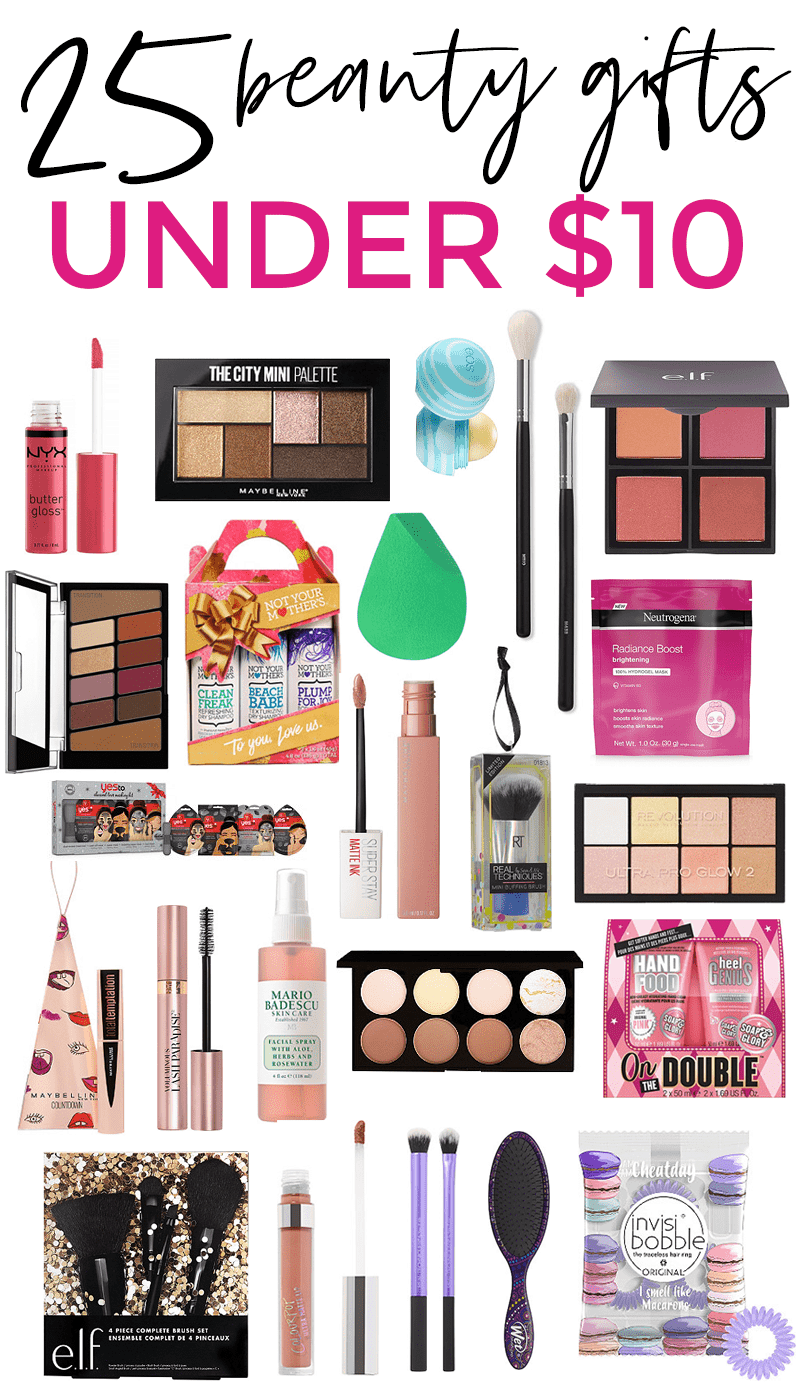 Eyes

Wet 'n Wild Color Icon 10 Pan Palette // The quality of these eyeshadow palettes are amazing, and I am not kidding when I say the price is $4.99!!
Maybelline City Mini Palette // These bronze shades are super fun for the holiday season and beyond.
L'Oreal Lash Paradise Mascara // I don't know about you, but I'm always down to receive my holy grail mascara in my stocking!
Maybelline Total Temptation Mascara Holiday Kit // I thought this was a super fun way to gift a mascara – in ornament form. I also love this mascara, so it's a win win.
---
Face

Makeup Revolution Ultra Pro Glow 2 Palette // I am consistently impressed by Makeup Revolution and their highlighters are no exception. This would be perfect for someone who wants to glow!
e.l.f. Blush Palette // You can never go wrong with blush – perfect for all ages.
Makeup Revolution Ultra Contour Palette // For the girl or lady who is starting to get serious about makeup and wants to learn contouring.
---
Lips

Maybelline Super Stay Matte Ink // My holy grail liquid lipstick that does NOT budge. I'll be wearing the red shade to all of the holiday parties!
ColourPop Ultra Matte Lippie // ColourPop is just an amazing brand and their liquid lipsticks are so fun and on trend.
EOS Lip Balm // A festive and fun lip balm is a perfect stocking stuffer idea.
---
Skin

Neutrogena Brightening Hydrogel Mask // These are my absolute favorite affordable sheet masks. Pop 2 or 3 of them in a stocking and you are officially an amazing gift giver.
Mario Badescu Facial Spray with Aloe, Herbs and Rosewater // This cult favorite rose water mist is so pampering and luxurious – perfect for anyone!
Charcoal Love Masking Kit // This kit is so fun, especially for those that love charcoal masks.
Soap & Glory on the Double Gift Set // These creams in this set are to die for!
---
Hair

The Wet Brush // If you don't have a wet brush yet, have you truly lived?
Batiste Dry Shampoo // Tired mom gift idea! Haha!
Not Your Mother's Dry Shampoo Trio Set // I also love this little dry shampoo set that gives a little variety.
Invisibobble Hair Ring Set // Have you tried these cool hair ties? They're like little telephone coils and do not leave a dent in hair whatsoever. I love these!
---
Tools

Morphe M510 Highlighting Brush // Favorite highlighter brush of all time. Just buy it for yourself and don't gift it.
Morphe M433 Eye Blending Brush // This is a staple eyeshadow brush in my collection!
e.l.f. 4-Piece Complete Brush Set // All of the brushes in this pack are great quality and worth picking up.
Real Techniques Eye Shade + Blend Duo Pack // I am a huge fan of the Real Techniques brand, and these brushes will impress!
Real Techniques Mini Buffing Brush Ornament // I also thought this brush ornament was super cute!
EcoTools Total Perfecting Blender // One of my favorite beauty blender alternatives. Anyone will love a makeup sponge!
---
Before I wrap this up, this is the last chance to enter our Nordstrom $750 giveaway!! See below…
I've teamed up with an amazing group of bloggers to give YOU a chance to win:
a $750 Nordstrom Gift Card, just in time to shop for the holidays!
Simply enter below by completing the rafflecopter.
You'll receive one entry per completion.
This giveaway is open to the U.S. and Canada only and runs until 11/9.
Winner will be announced here. Good Luck!
Void where prohibited.
By entering the giveaway you acknowledge that you are agreeing to complete each task,
which involves following, liking and subscribing to newsletter's.