Updated May 20, 2022
As a makeup, skincare, and beauty lover, I am also passionate about sun protection. I have tried a variety of sunscreens over the years looking for the best face sunscreen. After years of testing, I've nailed down a handful of the best daily sunscreens for face, and I'm going to share with you today!
Depending on your preference, I have mineral, chemical, and blend formulas on this list. All of these products contain broad-spectrum SPF, and protect against free radicals. Obviously I am not a dermatologist or cosmetic chemist, so make sure you consult with a professional if you need more help. I'm here to give you a jumping off point!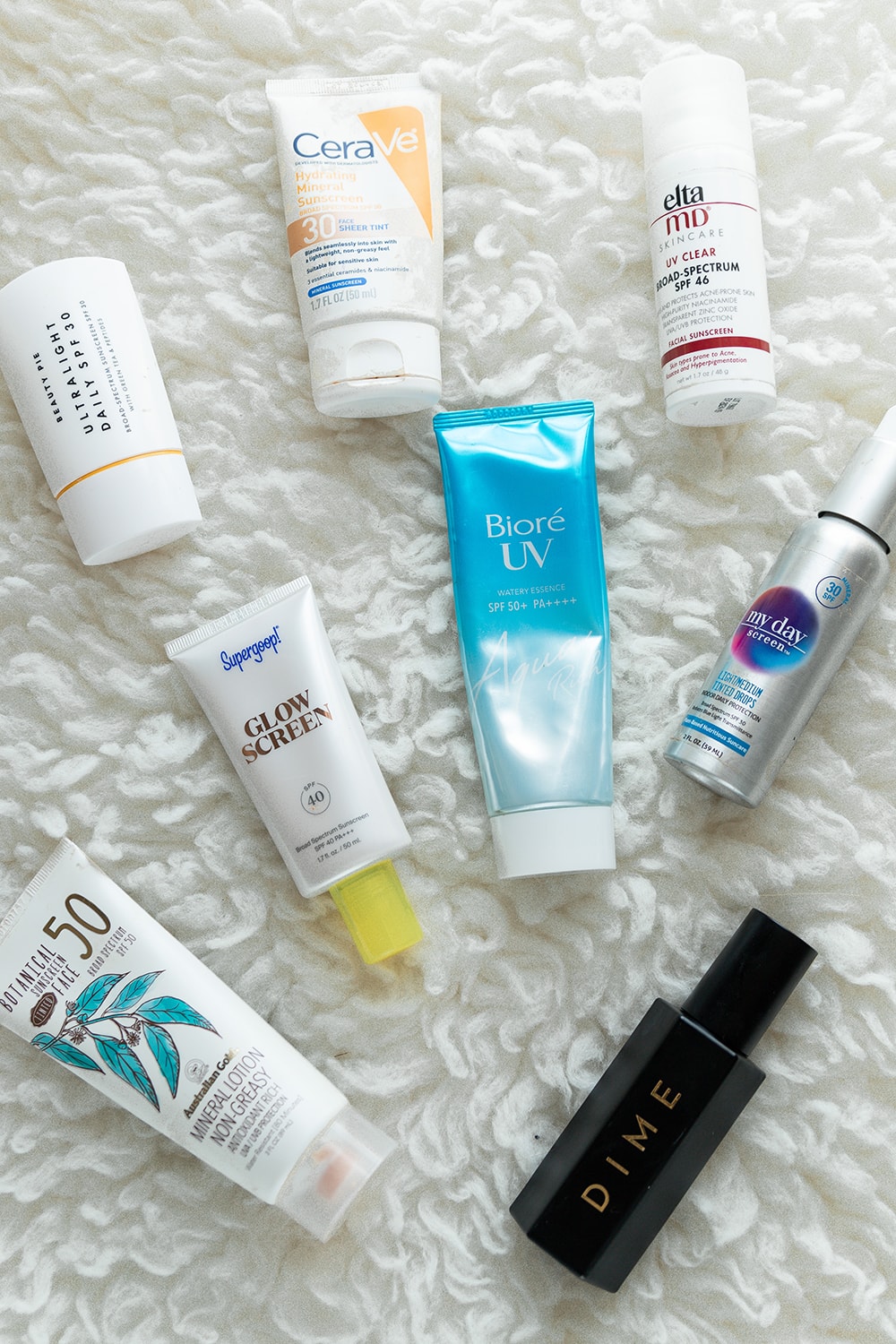 Here's a Table of Contents so you can easily navigate this blog post and find what you're looking for!
---
How Much Sunscreen Do I Need?
Generally, we are not applying enough sunscreen. First of all, you need to be applying it every single day, no matter what! The best way to prevent aging, dark spots, fine lines, sun damage, UV radiation, and skin cancer is to use an SPF every single day. Promise me you'll apply your daily sunscreen…. ya know, daily!
Make sure you are applying at least a 1/4 teaspoon to cover the face and the neck. To make that easy, that is equivalent of two fingers' length. That rule of thumb always helps me measure to make sure I am getting proper protection.
Don't rely on a foundation product of an "spf moisturizer" to get the sun protection you need. Use a sunscreen product in addition to skincare and makeup!
Mineral Sunscreens
Here are a few of my favorite mineral sunscreens! Mineral sunscreens, or sometimes referred to as physical sunscreens, usually have zinc and/or titanium dioxide in them as their active ingredients, which provide a physical barrier to the sun. Zinc oxide and titanium dioxide block both UVA and UVB rays, have broad-spectrum coverage, and are fairly stable. Those that have sensitive skin and/or are prone to breakouts typically react well to mineral sunscreens.
Since mineral sunscreens are a physical blocker, they can give a white cast to the face. Luckily, there are a lot of formulas where the white cast rubs in easily, or they are tinted to mask the white cast. Choosing a tinted mineral sunscreen is a fail safe way to avoid white cast, but also get some blue light protection. If your sunscreen includes iron oxides, you're getting additional blue light protection from screens and devices.
A lot of people love tinted mineral sunscreens because they can use them in place of a foundation or skin tint. Some provide a little bit of coverage over uneven skin tone. However, the main purpose of the tint is to reduce white cast, so they can most certainly be worn under makeup. I do love a good tinted sunscreen!
Australian Gold Botanical Tinted Face Mineral Lotion SPF 50
The Australian Gold Botanical Tinted Face Mineral Lotion facial sunscreen is at the top of my list for favorite mineral sunscreens. While it has a tint, it is very sheer and that reduces any amount of white cast. It's not something you'd use in place of a foundation or skin tint. It'll work on a lot of different skin tones! It is an oil-free formula that has a satin matte finish and is silicone-based. It honestly feels like a silicone makeup primer, which also means it wears beautifully under makeup. It is also water resistant. I wore this in the Florida Keys with much success and no burning. I love that it's SPF 50! Great for all skin types, but especially oily skin. It also contains iron oxides, which provide blue light protection.
---
CeraVe Hydrating Tinted Mineral Sunscreen SPF 30
The CeraVe Hydrating Tinted Mineral Sunscreen SPF 30 facial sunscreen is very hydrating, and would be great for those who have dry skin. This broad-spectrum sunscreen only comes in one shade, but it appears those who have darker skin tones can use this, as the tint reduces any sort of white cast. If you are very fair, this might be a little too dark for you. I have light skin and it works just fine on me, and does provide a little more coverage than the Australian Gold one does. It also works great underneath makeup. It has a hydrated dewy finish. It also contains iron oxides, which provide blue light protection.
---
DIME Beauty Wonderscreen SPF 30
The DIME Beauty Wonderscreen SPF 30 facial sunscreen has a high concentration of zinc oxide – 19% to be exact! That is excellent physical coverage. With that being said, you do have to be wary of an initial white cast. However, it does blend in and calm down once rubbed into the skin. I love the simplicity of the ingredient deck and the high percentage of zinc oxide. It has a hydrating feel to the skin but dries down and does not feel greasy. I think it will work for all skin types! Make sure to use code MEGO20 for 20% off your DIME Beauty purchases!
My Day Screen Tinted Face Drops
The My Day Screen Tinted Face Drops are a great option if you're staying inside for most of the day (yes, you still need to wear sunscreen indoors). What I like the most about this product is that they have three shades! There is a Fair/Light, Light/Medium, and Medium/Dark. Again, this is not a foundation product so it isn't supposed to act like one, but the tint is to reduce the white cast. This contains zinc oxide, and titanium dioxide, and iron oxides which will provide blue light protection. This sunscreen has a thin, watery formula. It is hydrating with ingredients like aloe vera, shea butter, and vitamin E. It initially looks pretty dewy but it dries down and stays a satin finish. It's really gorgeous, and will work for oily, dry, or combination skin types. Use code MEGO10 for 10% off your purchase at My Day Screen!
---
Chemical Sunscreens
Chemical sunscreens use ingredients that absorb the sun rays. Chemical formulas include oxybenzone, avobenzone, octisalate, octocrylene, homosalate, and octinoxate as their key ingredients. There is a lot of misinformation out there regarding the "safety" of chemical sunscreens. Without going into a long tangent, chemical sunscreens are safe, and the EWG scare tactics are not my favorite.
The downside to chemical sunscreens is they can sting the eye area, and some with acne-prone skin find that they can cause breakouts. They're worth testing to see which ones agree with your skin, but wanted to mention that!
There are a limited amount of chemical UV filters that are FDA approved in the USA, and you'll actually find a lot more in Europe, Australia, and Asia (Korean and Japanese sunscreens are very popular). For this blog post, I have one USA-based chemical sunscreen, and a Japanese one.
Supergoop Glowscreen SPF 40
Supergoop Glowscreen is the most beautiful glowy sunscreen in my collection. It's like an Instagram filter in a bottle! This product contains Avobenzone 3%, Octisalate 5%, Octocrylene 10% as its UV filters. Supergoop claims they are a "clean chemical" brand (I don't even know what that means, but I figured I'd mention it). I love so many of their products, but the Glowscreen is by far my favorite. You can use it alone and it makes the skin look gorgeous, or underneath makeup. It acts like a glowy primer. It's an emollient consistency that dries down but leaves a glow.
---
Biore UV Aqua Rich Watery Essence SPF 50 + / PA ++++
The Biore UV Aqua Rich Watery Essence SPF 50 is one of my top favorite daily sunscreens for face. This is a Japanese sunscreen that is imported via Amazon (totally legit, I promise!), and an amazing find. You can also find this product on other Asian beauty websites like Stylevana or YesStyle. They ship directly from Hong Kong, and shipping times are longer than Amazon, but it is completely legitimate and a great way to get your hands on incredible Korean and Japanese sunscreens. The UV filters this product contains are not USA FDA approved, and are newer filters on the market that skincare enthusiasts are really hoping will be in the USA soon. This product contains Ethylhexyl Methoxycinnamate, Ethylhexyl Triazone, Diethylamino Hydroxybenzoyl Hexyl Benzoate, and Bis-Ethylhexyloxyphenol Methoxyphenyl Triazine. Please do further reading on those UV filters if you're interested. I just want to make sure I am transparent about this product and you know exactly what you're using!
That being said, this sunscreen is freaking amazing. Zero eye sting. Zero "sunscreen smell" (you know what I'm talking about, right?). Most incredible watery gel-like consistency (it contains hyaluronic acid) that glides over the skin and feels hydrating, but dries down to a soft finish. Wears great under makeup. Would be amazing for all skin types and skin tones. Please try this one and fall in love with it like I have. I've worn it on two beach trips and have had great success!
---
Chemical / Mineral Blend Sunscreens
Chemical / Mineral blend sunscreens are exactly what you're thinking – they're a blend of chemical and mineral UV filters. These can be popular because they can reduce the white cast that a mineral sunscreen leaves, and can make the formula seem more "clear."
They also aren't as "stingy" to the eye area, and you won't notice that "sunscreen smell" when you're using a blend formula. You'll get great SPF coverage. It won't necessarily be better – it'll be just as good but with a different formula experience.
EltaMD UV Clear Facial Sunscreen SPF 46
EltaMD UV Clear is one of the most popular facial sunscreens on the market. It's recommended by a lot of dermatologists, plastic surgeons, estheticians and other professionals. It's a great formula that doesn't leave a white cast, no smell, and minimal eye sting. It contains 9% zinc oxide and 7.5% octinoxate. Really lovely formula that feels hydrating but dries down and plays well under makeup. Works for all skin types!
---
Beauty Pie Ultralight Daily SPF 30
The Beauty Pie Ultralight Daily SPF 30 is a really good EltaMD dupe! SPF isn't quite as high, and the UV filters are slightly different (Octinoxate 7%, Titanium Dioxide 2.5%). The way it feels on the skin and how it performs is very similar to Elta MD! It's hydrating but dries down, zero white cast, no sunscreen smell, and minimal eye sting. Beauty Pie is a membership club, kinda like Costco for beauty. You pay your membership fee and then you get access to amazing high end beauty products for affordable prices. I really love their business model. I am a member myself! You can buy their products for retail price, but it's worth joining to get their discounts. If you end up joining, you can use code MEGSENTME.
---
I'm pretty sure I wrote the longest post on sunscreens I could ever write. If you read this entire thing, you get a cookie. Are there any sunscreens on this list you have and love? I hope this list helps you find the best daily sunscreen! If you're looking for a body sunscreen for beach days, perhaps I can work on that next!