Updated November 11, 2020
I don't know about you, but having the perfect red lipstick is an absolute staple in your makeup collection! A red lip is empowering, feminine, festive, and complements almost any makeup look. Minimal makeup, a bold wing, bronze eye, or full glam? Pair it with a red lipstick.
As you all know, I'm a huge fan of finding amazing drugstore goodies – and of course it extends to finding the best drugstore red lipsticks! I've gathered five of my favorites and they're all unique! We have liquid lipsticks, traditional bullet lipsticks, a crayon, and even a balmy red! You're really going to love all of these.
The Best Drugstore Red Lipsticks – 5 of My Favorites!
You can click on any of the photos to shop the products. I've made everything very easy to shop and linking to retailers you likely love! Also, all of the photos of the lip swatches have no editing or retouching (only used a ring light when photographing) so you can see exactly how they look on me!
1. Maybelline SuperStay Matte Ink Liquid Lipstick in Pioneer

The Maybelline SuperStay Matte Ink Liquid Lipstick in Pioneer is my top favorite drugstore red lipstick of this whole post! It's a cool toned classic red that is a little deeper than the others on this list. It looks great on literally everyone. I also love how incredibly long wearing and bulletproof this lipstick formula is. It's particularly nice during the holiday season when you have events or photos to be in and don't want to worry about a lipstick smudging down your face. Dancer is another great red shade in this line if you want to try it, as well!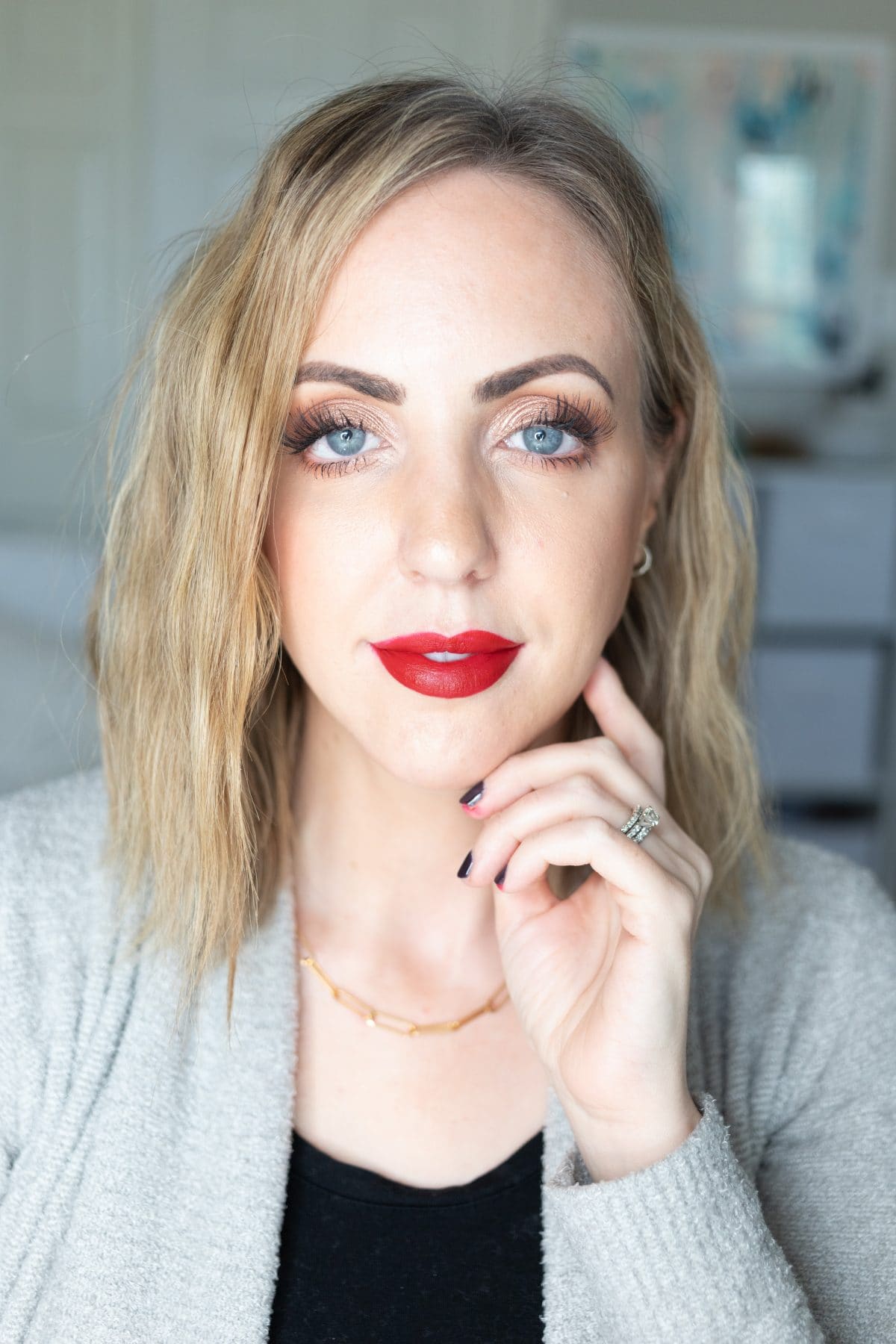 2. Pixi MatteLast Liquid Lipstick in Real Red

The Pixi MatteLast Liquid Lipstick in Real Red is another liquid lipstick that is a classic true red. It's very similar in tone to the Maybelline Pioneer one. Cool toned, classic red. The formula on this lipstick is a little different – it's a thinner formula and it feels a bit more matte on the lips. It's not quite as long wearing as the Maybelline but it does wear really well! I love these lipsticks so much.
3. Maybelline SuperStay Ink Crayon in Hustle in Heels

The Maybelline SuperStay Ink Crayon in Hustle in Heels is a beautiful red with a bit of more warm tones. It's lighter in tone than the first two but still feels classic. I always suggest the crayon formula of the Maybelline lipstick if you do not love the formula of the matte inks. They're incredibly creamy and comfortable to wear, but also have great staying power. Not as bulletproof as the matte inks, but stays really well and I'm always impressed with them. If you have really dry lips and don't like the way most matte lipsticks look on you, give this formula a try. It's like having the best of both worlds – a creamy flattering formula with a long wearing matte finish.
4. Revlon Super Lustrous Lipstick in Fire & Ice

The Revlon Super Lustrous Lipstick in Fire & Ice is a beautiful cream traditional bullet drugstore red lipstick. This is a gorgeous lighter-toned red that has a warmer tone to it (almost coral without going too coral), and has a cream finish. I love the formulas of these lipsticks – they're very easy to apply, and are comfortable on the lips. This is not a long wearing drugstore lipstick, it is more of a traditional wear. I think this is a great beginner-friendly red lipstick because you could blot this on and go light-handed with it.
5. Physicians Formula Murumuru Butter Lip Cream in Samba Red

The Physicians Formula Murumuru Butter Lip Cream in Samba Red is the most beginner-friendly drugstore red lipstick on this list. The formula of these lipsticks are almost like a balm and gloss combined. This gives a nice wash of color without it being too intense, and you can layer this nicely over a lip liner if you want to go a little bit more dramatic. This formula is a glossy balm, so it is not long wearing, but it is incredibly comfortable and nourishing on the lips. The shade on this lipstick is a lighter warm-toned red without pulling too coral. I feel like this particular one would look amazing not only for the holidays but in the summer with a bronzy makeup look.
---
Do you have a favorite drugstore red lipstick? Is it on this list? Let me know!
Shop the Best Drugstore Red Lipsticks