Updated March 19, 2018
If you've been on the internet lately, you've probably seen a multitude of posts and Pinterest pins about a capsule wardrobe. The idea is to pare down your closet to the essential items and then just mix and match them up. It seems as if the norm is to find about 20-30 pieces. Ready for a minimalist makeup bag?
I've been asked a lot how I would downsize my makeup collection if I had to. What products do I think are the best and why. It then dawned on me… I need to curate a makeup capsule and create my own minimalist makeup bag. That makes me sound super fancy because I just said "curate." I'm not fancy, but I've tried a lot of makeup. My collection is… well, huge. I feel like I have a pretty good grasp on what I would choose as my minimalist makeup bag.
I'm not saying I'm going to go down to 20 makeup products (haha, pigs would fly), but if I had to, this is what I would choose. I've narrowed it down to 10 must-haves and 10 would-be-nice-to-haves! So, ideally, if you have a super duper minimalist makeup bag, you could go with the first 10 suggestions and still have a bomb makeup collection!
Minimalist Makeup Bag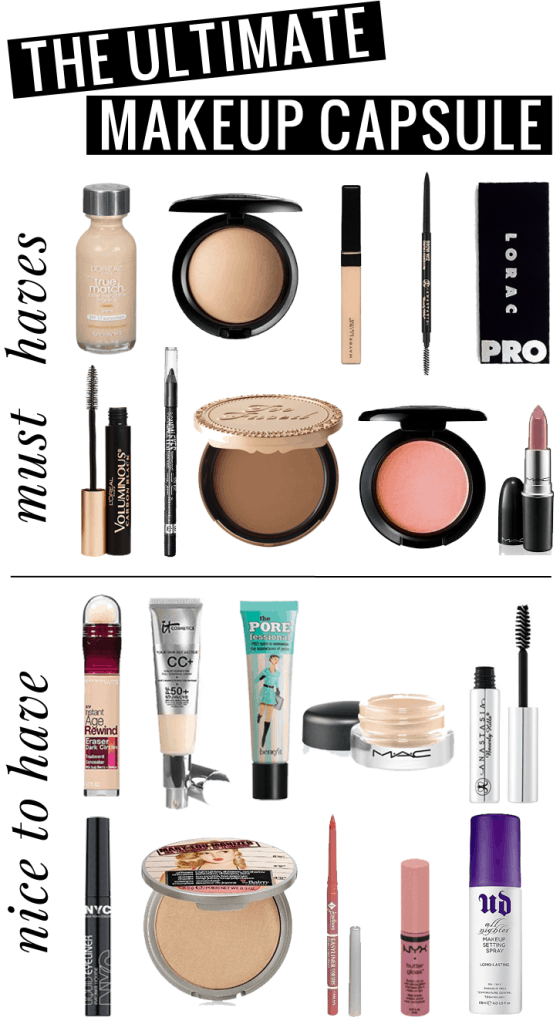 The Must-Haves:
Foundation – L'Oreal True Match Foundation – This is one of the absolute best foundations I've ever tried, and it's from the drugstore! The reason I chose it is because it is super blendable, comes in tons of shades, and can be built up for more coverage or sheered out for less.
Powder – MAC Mineralize Skin Finish Natural – I chose this powder because not only is it a beautiful setting powder (it never looks too powdery or chalky), but it can also be worn alone on top of a moisturizer almost as a powder foundation!
All Over Concealer – Maybelline Fit Me Concealer – I'm pretty much obsessed with these concealers. They can be used under the eyes or on imperfections. They don't crease or slip off the face.
Eyeshadow Palette – Lorac Pro Palette – This was a tough decision, but I chose this palette because it comes with 8 matte shades and 8 shimmer/satin shades. You do not need to reach for anything else when you are using this palette
Brow Pencil – Anastasia Brow Wiz – My holy grail brow pencil. So easy to use and can be used with a lighter or heavy hand. I haven't met many people who didn't like this product!
Mascara – L'Oreal Voluminous Carbon Black Mascara – This is a classic mascara that really does it all. It lengthens and volumizes. Both the regular and waterproof versions work wonderfully! I love the bristly brush.
Pencil Liner – Jordana 12 Hour Made to Last Liquid Eye Liner – This stuff is cheap as chips, is creamy and glides on smoothly, and lasts all day. Pretty much all you want in a pencil, right? I thought including a drugstore item for this would be beneficial because it's something you go through quickly. It can be worn on the waterline, across the upper lash line, or smudged out.
Bronzer – Too Faced Chocolate Soleil – It was important for me to suggest something that can be used for bronzing or contouring. This neutral matte bronzer is perfect! I haven't found anything quite like it and it lasts forever, so that's why it's worth the splurge.
Blush – MAC Blush in Melba – If you are going to pick out one blush, I suggest a matte blush from MAC. I chose the color Melba because it quite literally goes with any look you will create. It is a neutral peachy-pink-nude color. Like my cheeks but better. If that color doesn't work for your skintone, go and play around at the MAC counter!
Lipstick – MAC Lipstick in Creme Cup – If I were to pick one lipstick brand to stick with, I would pick MAC. If I were to wear one lipstick, I would choose Creme Cup. It is a neutral pinky-nude that goes with everything, and is a Creemsheen formula (it can go on sheer and almost glossy, or be worn more opaque – not drying at all).
The Would Be Nice to Haves:
Under Eye Brightener – Maybelline Instant Age Rewind Dark Circle Eraser Treatment Makeup – You guys know how much I love this stuff. I go through tubes and tubes of it! This is great to have on hand if you have an especially tired looking morning, and gives an extra boost of under eye brightness!
CC Cream (Tinted Moisturizer) – It Cosmetics CC+ Cream – We all don't necessarily want to wear a foundation every single day. I know I don't! Having a tinted moisturizer / BB cream / CC cream on hand is good idea. I enjoy the It Cosmetics one because it can be worn sheer but can also give amazing coverage like a foundation! Great for those days when you are in a hurry and don't have the time to take the extra steps of moisturizer, sunscreen, and then foundation.
Primer – Benefit Porefessional – I am not a huge primer fan. I sometimes don't enjoy having too many layers of product on my face. But I will say that I adore the Benefit Porefessional primer. I just use it on my T-zone to fill in some big pores on my nose, cheeks, forehead, and chin. I pad it in (not rub around in circles). I think anyone would really love this product!
Eye Primer – MAC Paint Pot – There are tons of eye primers on the market, and I own quite a few of them. The reason I suggest a MAC Paint Pot (I wear Soft Ochre) is because it really neutralizes the eyelid area, almost like a concealer, while also priming the lids. Many people love the Painterly paint pot, too, but I prefer the Soft Ochre because I feel it matches my skin tone better.
Brow Gel – Anastasia Clear Brow Gel – I have tried so many clear gels to set my brows with and this one is simply the best. I have no idea why. I think it's a valuable item to have in your collection, because if you have a day where you can't fill your brows in, you can at least groom those beasts!
Liquid Eyeliner – NYC Liquid Liner – I know not everyone loves liquid eyeliner, and I admit it can be tricky. But this one from NYC is $2.99 and one of the best I've used, including high end. Not to mention, it is very easy to use, even for liquid liner novices. I thought long and hard about suggesting this or a gel liner, and I ended up with this because you do not need another brush to apply it, and it is easy to use.
Highlighter – theBalm Mary LouManizer – Highlighting is a huge trend in the makeup world. Brushing some across your cheekbones gives you a glowy and lit-from-within look. This one is super intense, and not only do I love to highlight with it, I love it in the inner corners of my eyes.
Lip Liner – Jordana Easyliner in Tawny – Sometimes I like just applying a lip pencil for a matte look that lasts all day. I think it's a great thing to have on hand for special occasions, because it really makes your lipstick look more precise and clean. I love the Jordana Easyliner because it's cheap and works as nicely as my MAC pencils.
Lipgloss – NYX Butter Gloss – Seriously the best lipglosses around! Lots of different colors so there is bound to be one you will absolutely love. I highly recommend Creme Brulee or Eclair – both are perfect for every day!
Setting Spray – Urban Decay All-Nighter – It's not necessary to use a setting spray every single day (unless you live in humid Houston like me… no, but seriously), but is a fantastic thing to have in your collection. The Urban Decay All-Nighter is seriously like hairspray for your face. After you are finished, you give yourself a light spritzing and that makeup won't budge. Perfect for special events, girls nights, date nights, etc. Anytime you know you will want it to last.
Like I said before, I thought for a long time on this list! I really wanted to make sure all of the products in the minimalist makeup bag were ones that I constantly use, repurchase, and love. I really hope this helps when you are looking to put together an all-encompassing minimalist makeup bag that works best for you! Be sure to check out the entire Beauty Section before you go!