Updated August 2, 2022
One of my most frequently asked questions is "How do I find the right foundation shade?" With online retailers being at the forefront of how we shop, this is can be particularly confusing. I know with makeup it's best to see it, touch it, and experience it before you buy. However, buying makeup online can be a pretty painless process… if you let it be!
I am a huge fan of buying my beauty products online because I know how to find my correct shade, and most retailers have a generous return policy. Did you know that both Sephora and Ulta will let you return open and used makeup, no questions asked? Just bring it in with a receipt if it did not work out.
It can also be confusing to figure out what shade to get when you're shopping in the drugstore and there are no testers available. Keep reading to see my best tips on how to find the right foundation shade when shopping both online and in-store!
How to Find the Right Foundation Shade
Just Starting Out – Get Color Matched In-Store
Do not skip this step if you've never worn foundation or have never found a good color match!
This first step involves you actually setting foot in a store. I know I like to avoid shopping in store at all costs, but this will absolutely ease the confusion of even where to begin.
If you've never been color matched, have never worn foundation, or feel like you're wearing the wrong shade, my best advice to you is to get color matched in a store. I find that Sephora is a great place to start because of the vast amount of brands they have in store. You'll want to get color matched in a few foundations (I'd do 3-4)!
If you do not have a Sephora local to you, visit a makeup counter (MAC does a pretty great job at this) and have them match you. I've found that Ulta can be very hit or miss on this, so I would use them as a last resort.
Take Home Samples
Once you have your color match, you can get the help of an experienced associate to look at that match with different products and swatches on your skin. If you're happy with it, you're set!
Did you know that Sephora can make you a sample of any foundation they carry? Take advantage of it. You don't have to buy anything at the moment (unless you really loved a product and need it).
Play around with your foundation samples (that are properly matched to you – yay!). Do they work well with your skin? Do you find that they match really well? Now you've gotten a feel for your likes and dislikes and you're ready to shop online! Yay for never having to get dressed!
Now You're Ready to Shop for Foundation Online or in the Drugstore
Now that you've gotten color matched and have a few foundations in your correct shade, now you can shop online for foundation with ease! This is also helpful in the drugstore, because most of the time you will not have a tester available for swatching.
Shop some of my favorite high end and drugstore foundations:

Here are some of my favorite ways to find my correct shade when shopping online or in the drugstore.
Foundation Shade Finder
You may now be asking, "How do I match my foundation to other brands?"
There are a few amazing online foundation shade finder tools. With these tools, you will enter in brands and shades that you wear that you know you are a foundation match, and then they will suggest matches in other brands and formulas!
Findation.com // This is my go-to when I am trying to find a foundation match. You enter in brands and shades that you currently wear (the more you enter, the better your matches will be), and then it will give you a list of recommendations. Alternatively, you can look for a match in a specific product.
Temptalia Foundation Matrix // This tool does the same thing that Findation does, but you can also start from scratch if you have no idea what shades you wear in the first place.
Sephora Shade Finder // Go to any foundation product page, and above the shades you will see a little button that says "Shade Finder." Then you'll enter in brands/shades you currently wear and it will tell you your match for that particular product. Very handy!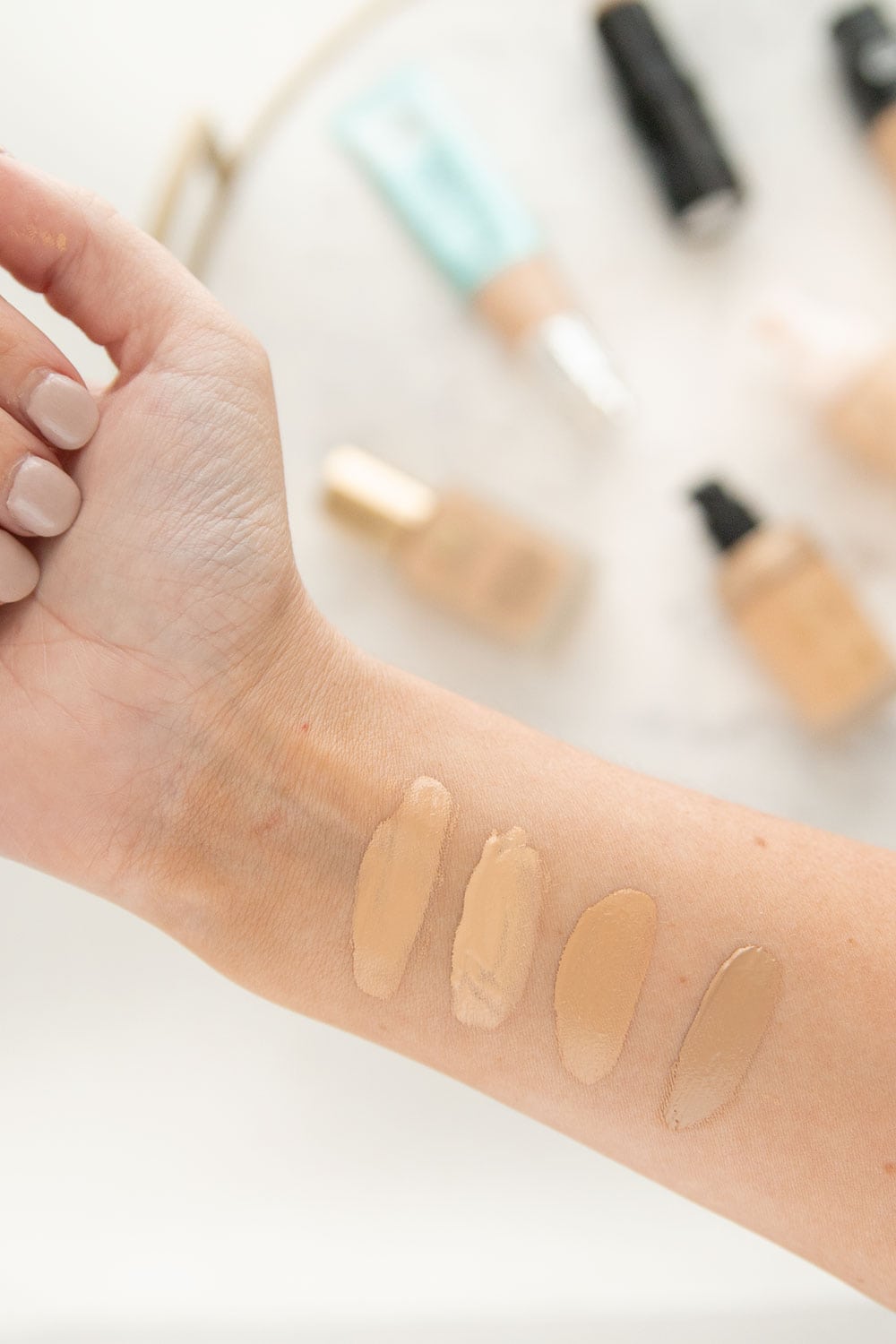 Now You have the Perfect Foundation Match!
I hope this has really demystified and simplified the foundation matching and buying process. Now you can expand your collection to include all sorts of brands, formulas, coverages, and finishes! Happy foundation shopping!