Updated September 13, 2021
If you've never tried a Laura Mericer Caviar Stick, they're the most beautiful cream stick shadows. They come in a multitude of colors and finishes. I personally prefer the metallic finishes, because they are so reflective and beautiful! I love to put them on the eyelid as a pop of metallic and brightness.
The Laura Mercier Caviar Sticks are incredibly pigmented, and super long wearing. If you've struggled with eyeshadow fallout or smudging, you'll love this formula! It's impeccable and a staple product in my collection.
I know the price point of this product is a little steep, at $29.00 a pop. While they do last a long time and I find that the splurge is worth it, I understand it's important to find a dupe! This isn't in everyone's budget, and people would rather splurge on other things.
As the self-proclaimed Drugstore Dupe Queen, I went on a quest for the best Laura Mercier Caviar Stick dupe. I combed through reviews, Reddit, YouTube, and Google, and I think we have some really great contenders!
I picked up 3 drugstore cream eyeshadow sticks, and I honestly think all three of them are great alternatives. I definitely have a favorite of the 3, which we will get into.
Laura Mercier Caviar Stick Eyeshadow Dupes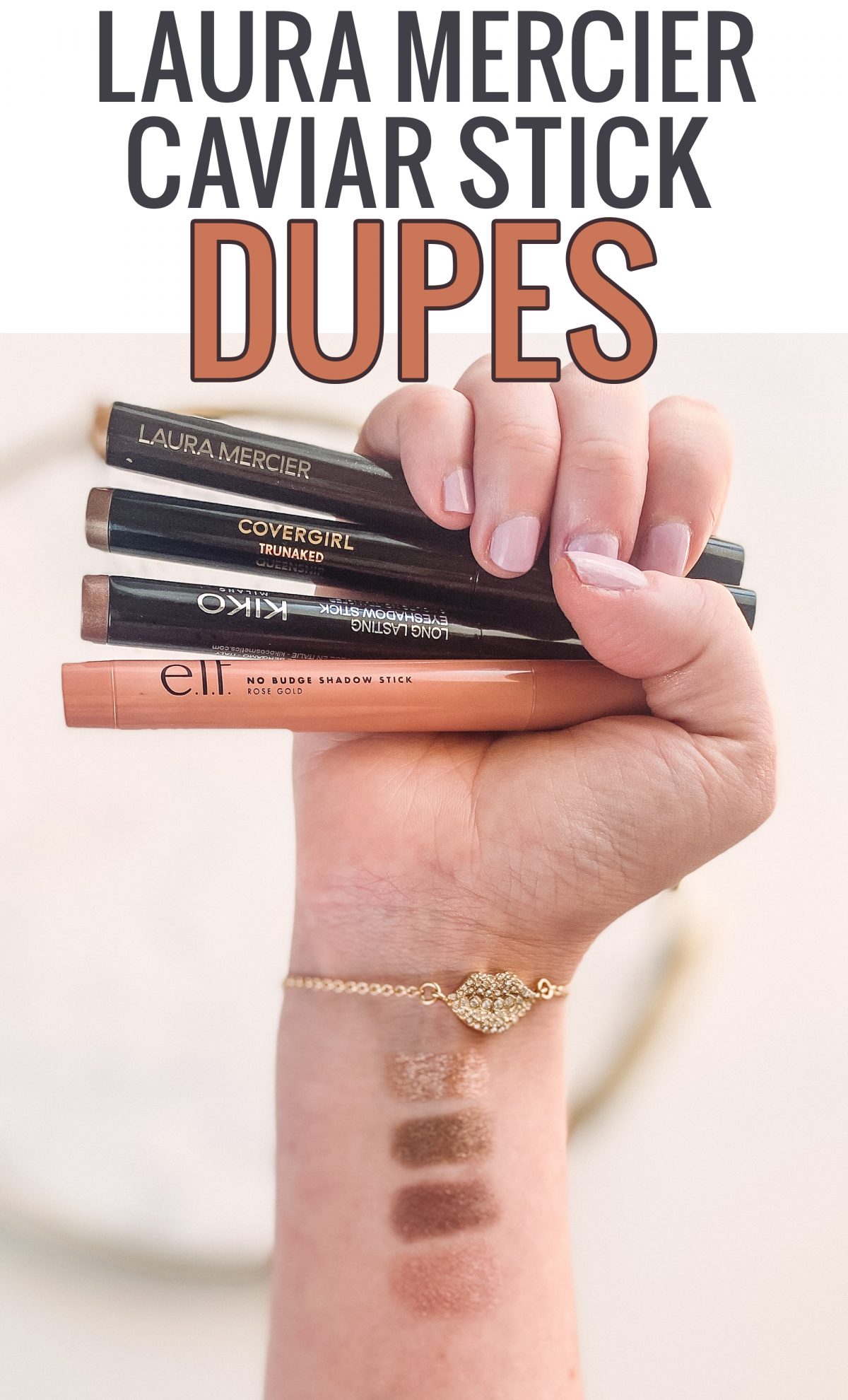 When looking for caviar stick dupe, I was most concerned about the formula, and less about getting an exact color dupe to what I own. My favorite shades in the caviar sticks are Metallic Taupe and Rose Nude, but there are tons of shades and finishes to choose from. The caviar sticks come in over 20 shades, so it's impossible to dupe every single one. Our best bet is to find a formula/similar experience dupe.
One other thing to note is I did a smudge test with all three products. I let them all sit on my hand (along with the Laura Mercier) for about 30 minutes, and then I vigorously rubbed them to see if they would smudge. You'll see my results below!
I wanted to find something that had a nice metallic finish, felt creamy and blendable going on, and is budge-proof. Here are 3 really great affordable alternatives!
---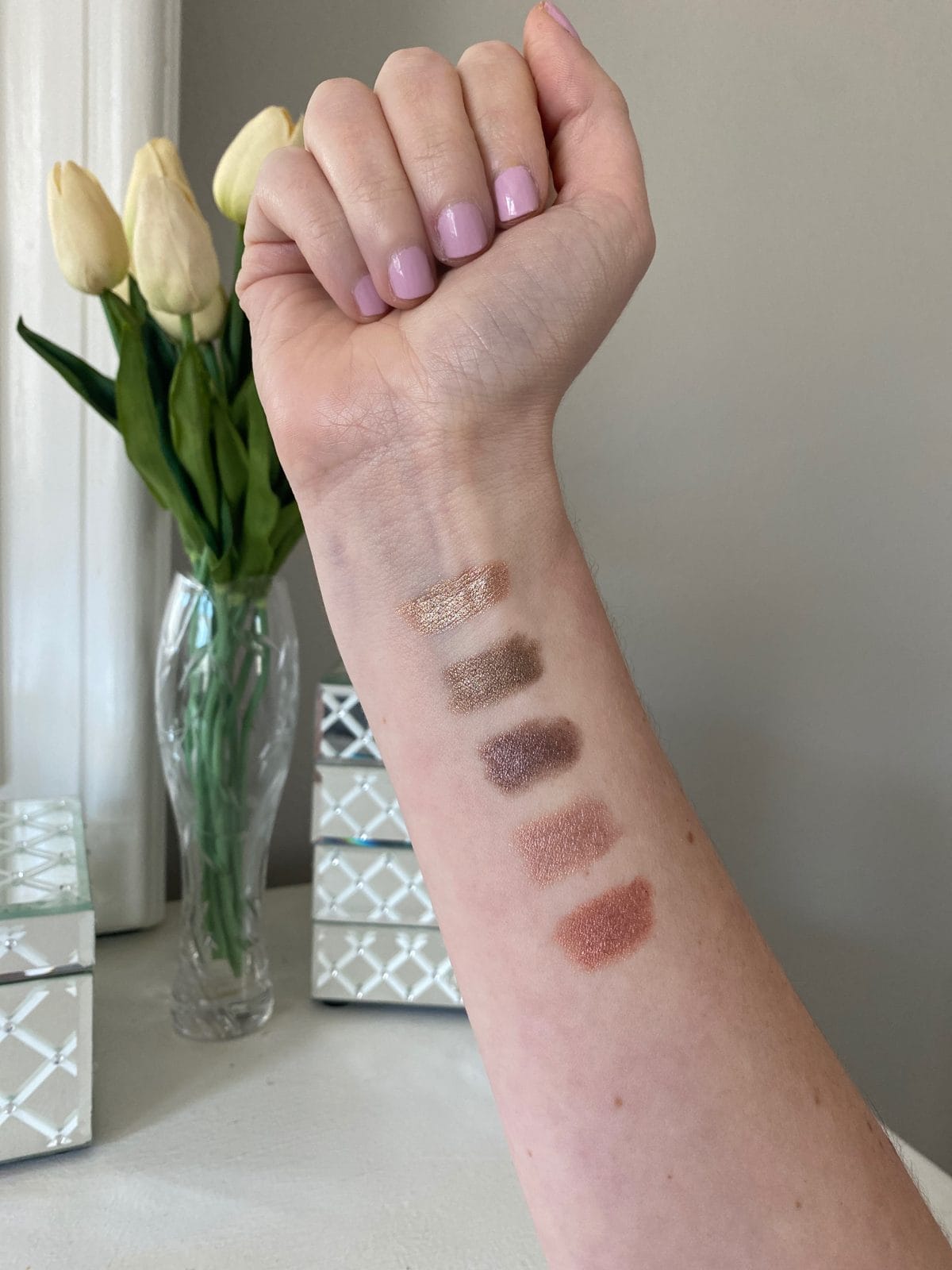 The photo above is unedited. Top to bottom is Laura Mercier in Metallic Taupe, CoverGirl in Lush, Kiko Milano in Rose Brown, e.l.f. in Rose Gold, and Laura Mercier in Nude Rose.
Out of the three drugstore cream shadow sticks I've tried, I think that this one is the closest dupe to the Laura Mercier. I have this in the shade Lush, which is a taupe metallic brown. The packaging is nearly identical, and the formula really seems the closest out of the three dupes I found. This one was the winner in the smudge test.
It comes in 5 different shades, most of which are metallic in finish. This is the one downside, if you are looking for a matte one!
It appears that this product is an online-only Ulta exclusive, and I can't find it at any other retailer. To me, it's worth ordering online. It is also the most expensive dupe on this list, at $9.99. But that's still a fraction of $29!
I've never tried anything from the Kiko Milano brand, and I, admittedly, do not even know very much about them. Apparently it's the number 1 makeup brand in Italy? I am intrigued! They have a small selection of products at Ulta.
This caviar stick dupe is my second place. The packaging and formula also seem super similar to Laura Mercier, and the metallic finish is lovely. I have it in the shade Rosy Brown. For the smudge test, it smudged far more than the CoverGirl.
This product comes in 4 shades, all of which are a metallic finish. If you're looking for a matte finish, you won't find it here. It is $9.50, which is a fraction of the price of the Laura Mercier.
This is also an online-only product, so not widely available. I've never seen this brand in stores. Since it's not quite as good as the CoverGirl, I would probably pass on this one.
I have truly been so impressed with e.l.f. Cosmetics lately. They have been killing it with their products! It used to be hit or miss, but now I feel like all I'm finding are winners. When I polled my IG audience, this seemed to be the most popular response for caviar stick dupes.
Formula-wise and smudge-wise, this dupe is third place. I have this product in the shade Rose Gold, and it's not as metallic as the other ones, but I still think this is a great product. The one big downside is this did not pass the smudge test at all. It completely wore off with rubbing. In my opinion, this makes the product not a formula dupe… at all.
HOWEVER, this product is the most accessible of the three, because it is available online and in stores. It's going to be much easier to find. It also has the most shades, but none of them are matte (most are metallic/satin finishes). It also has a built-in sharpener on the other end of it, so if you want to get a really precise line, you can! That's a big plus.
Finally, this is the cheapest dupe of the bunch, priced at $5.00. I think it's worth checking out if you want to find a pretty cream shadow stick, but again, I wouldn't call it an exact dupe.
---
Caviar Stick Dupe Smudge Test
Like I mentioned above, I swatched all of the dupes on my hand alongside the Laura Mercier ones, let them sit for 30 minutes, and then vigorously rubbed my hand. Here's the result! The CoverGirl won by a landslide!
This picture is not edited or filtered in any way.
---
Ultimately, I would recommend all three of these products as a dupe to the Laura Mercier Caviar Stick, but here is my bottom line:
If you want a nearly identical dupe, go for the CoverGirl (truly, it's worth ordering online). If you want a pretty cream shadow stick and don't want to order online, go for the e.l.f.
Hope that was helpful! Have you tried any of these products?