Updated August 8, 2019
This post has been sponsored by Healthy Essentials. All thoughts and opinions are my own.
One thing I've really wanted to focus on this year is skincare. I am 35 and I am also pregnant, which makes for some interesting skincare challenges. What I look for in skincare is simplicity, great ingredients, great brands and effectiveness.
I shared my skincare routine with you all a few months ago, and since then I've really been wanting to find more affordable drugstore skincare gems to incorporate into my routine. I know we all may not have the biggest budgets for skincare, but luckily I've found a lot of great items for fabulous prices.
We are void of seasons here in Houston, but I do find myself switching my skincare routine seasonally between warmer and cooler months. In the "winter" (I use that term very loosely), I find myself using heavier moisturizers and more facial oils, while in spring and summer, I lighten things up a bit. If you're looking to spice up your spring skincare routine, I've certainly found some great gems for you to try!
Today, I want to share with you some of my favorite affordable skincare finds for spring and how to shop for them on a budget—all are pregnancy safe!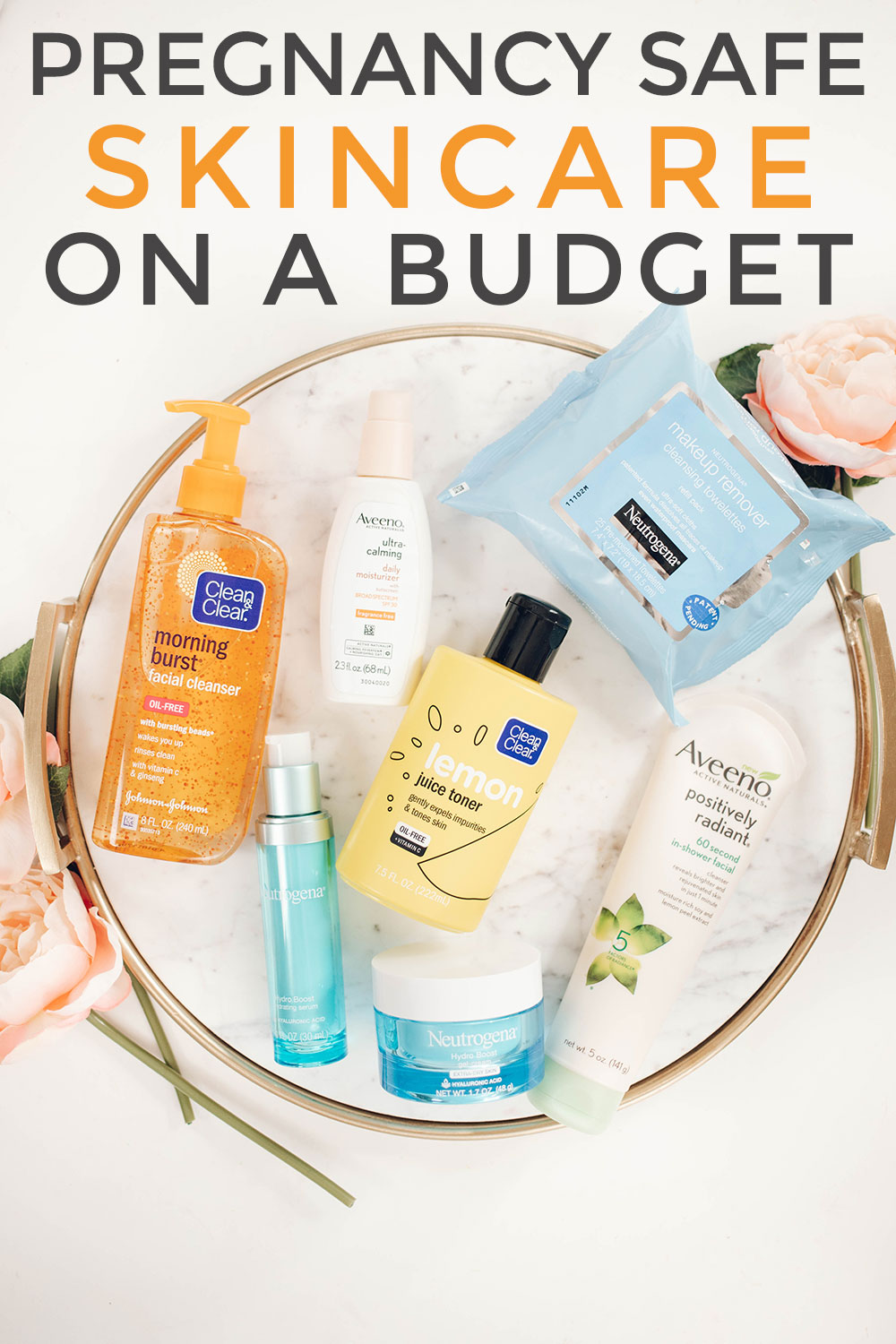 Finding Great Skincare Products on a Budget
The drugstore is your friend. So many brands have improved the quality of their products. There truly are so many great items to try, and I can get lost reading all of the labels every single time I walk into my local drugstore. I've said this many times, but I will always choose an affordable product over high end if it performs just as well. With trusted brands like Neutrogena, Aveeno, and Clean & Clear (all a part of the Johnson & Johnson family), I always know I will find a winner. So, my biggest piece of advice is to not let the drugstore scare you. Walk in, read the labels, and spend some time researching. I guarantee you'll find products that will fit your skincare needs.
My second piece of advice is to be a deal seeker. I always search for coupons, offers, and promotions. One promotion going on right now that's absolutely worth mentioning is that you can get a $10 reward from your $30 purchase of participating Johnson & Johnson Family Consumer Companies products.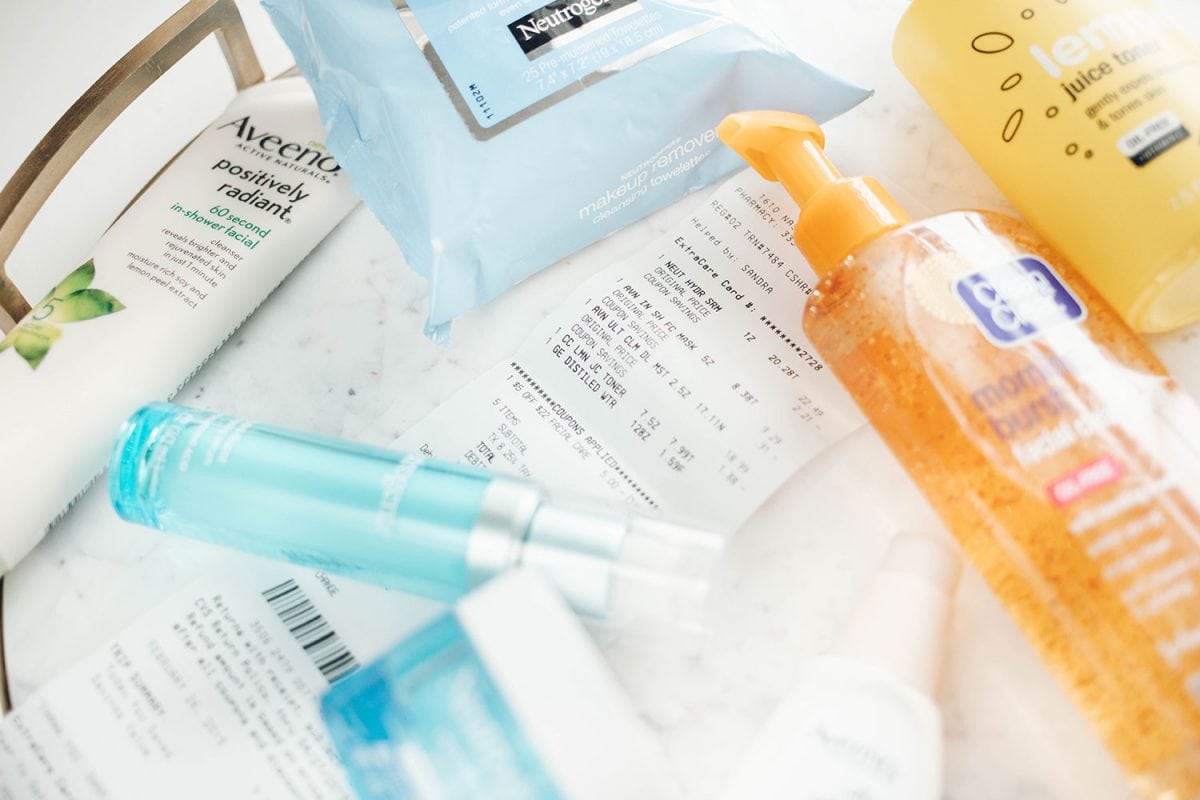 Get a $10 REWARD with your next $30 purchase (excluding tax) of participating Johnson & Johnson of Consumer Companies products. Keep your receipt and redeem your reward online.
Now that you're ready to shop, let's chat about which products you should pick up on your next trip!
Spring Skincare Routine on a Budget – Pregnancy Safe!
I have been a fan of Johnson & Johnson products since I was a teenager. There's something for everyone in the family, and I know that I will not be let down by their skincare products. Like I mentioned, Neutrogena, Aveeno and Clean & Clear are all part of the Johnson & Johnson family—all brands I consistently love and trust. Let's get down to my affordable spring skincare routine with all pregnancy-safe products!
Makeup Remover

The Neutrogena Makeup Remover Cleansing Wipes are ultra soft and remove everything—including waterproof mascara. These are extremely gentle and great for all skin types.
Cleanser
Clean & Clear isn't just for teenagers, you guys! If you're like me and still get those pesky breakouts well into your thirties, you're not alone. Also, it's not fair. I really like simple cleansers without a bunch of added exfoliants (no salicylic acid in this one) , and this one fits the bill. The Clean & Clear Morning Burst Facial Cleanser is a gentle cleanser that contains Vitamin C and Ginseng. The citrus scent is perfect for spring.
Toner
I love a good toner to remove any extra traces of dirt and makeup and to give me a gentle exfoliation. This Clean & Clear Lemon Juice Toner is alcohol free! It contains Vitamin C and lemon, which is a gentle exfoliant. Not only is this great for acne-prone skin, it's also ideal for anti-aging. Exfoliation definitely helps in both cases! Also, can we talk about how cute this packaging is? It screams spring!
Hydrating Serum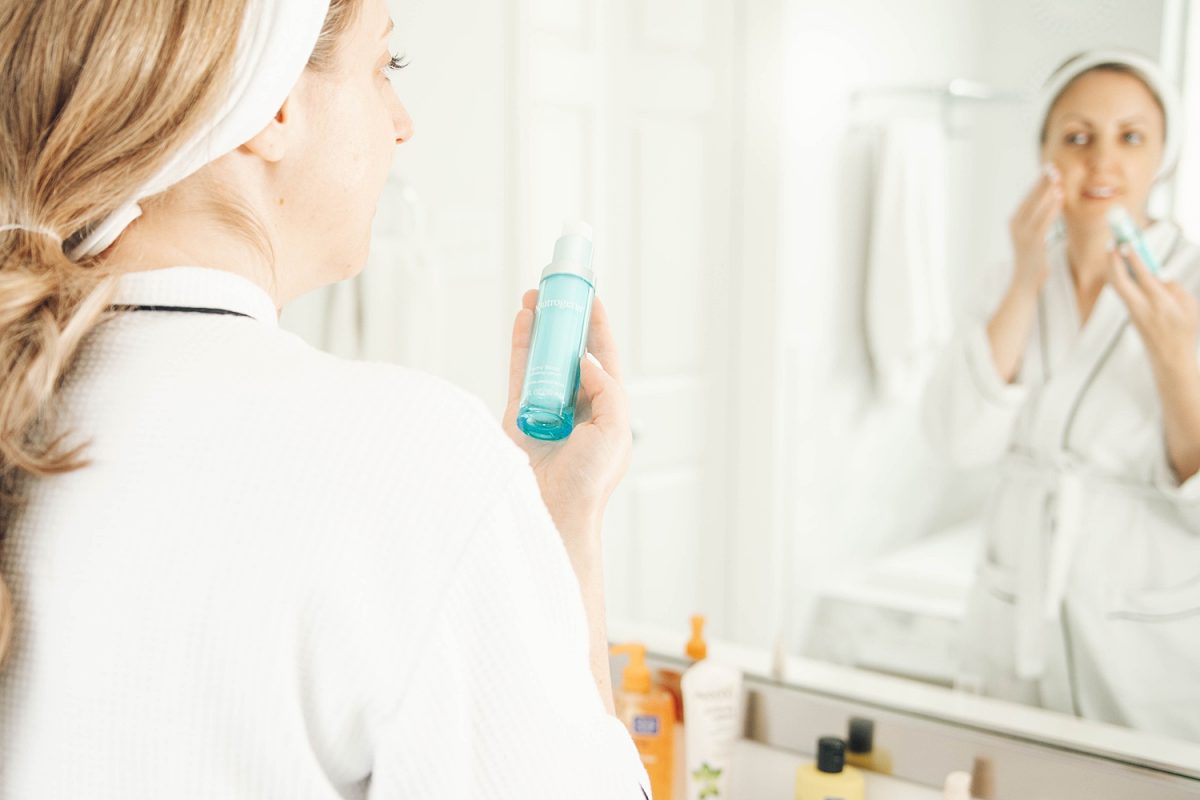 If you've followed me for any length of time, you know that hyaluronic acid is one of my favorite skincare ingredients. It's weightless hydration and really does an amazing job of keeping the skin plump. The Neutrogena Hydro Boost Hydrating Serum is a fantastic affordable option that contains purified hyaluronic acid. It's completely lightweight, not greasy, and will not clog your pores. If you move away from heavier moisturizers in the spring, this is a fabulous product to incorporate.
Daytime & Nighttime Moisturizers
I always use a different moisturizer for daytime and evening. I usually go for a more hydrating option for nighttime, and I must always have a moisturizer with sunscreen for daytime.
If you are not wearing a moisturizer with SPF every day during the day, you need to start! Spring or not, it is a non-negotiable for me. Sun protection is of utmost importance in any stage of your skincare journey. I always look for mineral SPF when it comes to my daytime moisturizers. First of all, it's safer for pregnancy. I've also found that it gets less greasy than chemical sunscreens, and you also avoid the sunscreen smell. Options can be limited at the drugstore, but luckily the Aveeno Ultra-Calming Daily Moisturizer with Sunscreen SPF 30 is an amazing option. It contains mineral sunscreen, is a very light and weightless texture, and is fragrance-free.
I've sung the praises of the Neutrogena Hydro Boost Water Gel for years! It is, by far, my favorite drugstore moisturizer. It is deeply hydrating but never feels heavy or greasy on the skin. It contains hyaluronic acid, is oil-free, will not clog pores, and perfect for all skin types. If you have very dry skin, they have an extra dry skin option that is also fragrance-free. I cannot say enough great things about this product.
Extra Treatments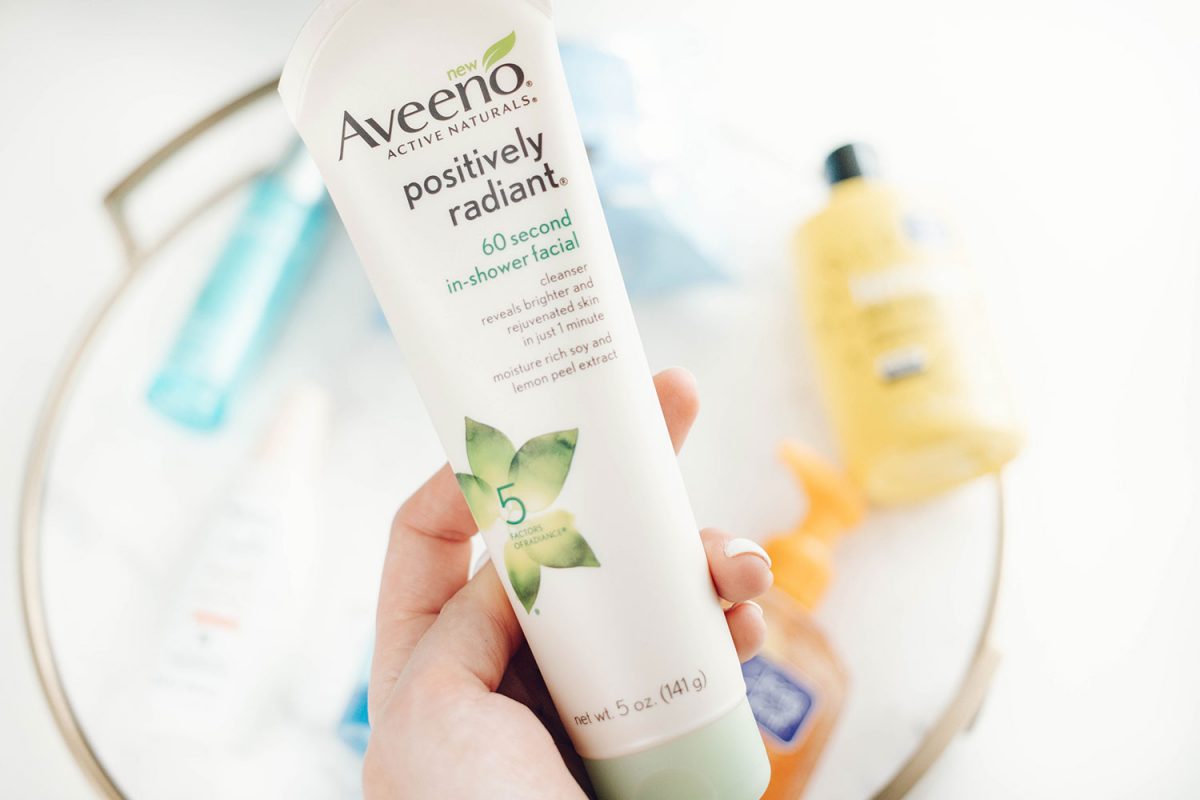 If you're looking to do a little extra exfoliation, check out the Aveeno Positively Radiant 60 Second In-Shower Facial. It's a 1-minute mask that you apply in the shower, leave on for 1 minute, gently massage, and rinse. The active exfoliant in this particular product is glycolic acid, which is generally safe in pregnancy. This product only needs to be used 1-2 times a week. It's kind of a genius product. I have never seen anything like it before. It's also so convenient that it can be used in the shower so you're not taking out any extra time for skincare treatments. I love that it tingles a little bit, and it really does make my skin feel so much softer after each use.
Since I am pregnant, I cannot use any retinols, but that is 100% something I would suggest incorporating if you haven't already (and are not pregnant). The Neutrogena Rapid Wrinkle Repair is a great affordable option that I've used in the past.
Now that I've saved a little money and "spring-ed" up my skincare routine, I am ready to rock that pregnancy glow.
I hope you found this post helpful! Luckily, there are so many gems from the Johnson & Johnson family; you'll be sure to find something on your next shopping trip.
Visit www.activaterewards.com/family either on your mobile device or your desktop computer, enter your information, and submit the image of your full receipt by 4/10/2019.