Updated March 1, 2019
Ah, I love summer break. I'm using summer to catch up on my necessary mindless/not-so-mindless entertainment. One of my summer web addictions is makeupalley.com. I think I was on that website for 24 hours straight…. for weeks. Now, I'm not sure if I'm going to get some eyebrows raised or words said at me for talking about MUA (what the gals on the site call it), since there's this whole "Fight Club" vibe about it. First rule of MUA, don't talk about MUA. Whoops. Oh well. I could really give a crap.
Anyway, I have discovered a lot of amazing tips, tricks, and products on MUA. I want to share one today with you. If you want to incorporate some natural skincare products into your beauty routine, I highly recommend this- my Witch Hazel and Lemon Toner. I've been dealing with some crazy cystic/hormonal acne the past couple months because of various things. Not to mention, I have a lot of pigmentation from acne scars (although not deep scars… just red splotchy-ness). I won't bore you with extensive details, even though I know you find my skin problems so intriguing. I was trying tons of things, from peels, exfoliating, argan oil (I'm going to talk about that in another post soon), retin-a, and benzoyl peroxide. Those things are good things, but once I added Witch Hazel as my toner, it was awesome!! Read what some of the ladies have to say about Witch Hazel on MUA here. And… then I read reviews on Lemon Juice…. yes, plain ol' Lemon Juice here. So… I decided to combine the two into one powerful toner. And….. it is amazing.
Witch Hazel and Lemon Brightening Toner
I found this Witch Hazel at the grocery store. It was cheap for this huge bottle… about $2-3.
I had some of this in the fridge. I guess you could use real lemons, but I think this is easier.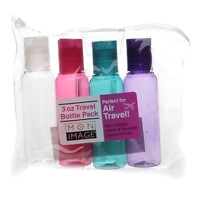 I took one of these 3 ozs. bottles I had. I suggest mixing a small amount to try it out instead of wasting a huge bottle of these things. You might like Witch Hazel or Lemon Juice on its own, so start small.
Mixing and Applying:
1. Fill your bottle 3/4 full with the Witch Hazel
2. Fill the last 1/4 with the Lemon Juice
3. Shake it, baby!
4. Wipe over clean face with cotton ball/pad in place of toner
O.'s Notes:
– This has significantly helped and control my acne flare-ups
– My oily skin has stayed more matte
– The biggest benefit I've had from this was the lightening of acne scars!!! YAY!!!
– I saw my skin brighten up in just one day (I've got some pink pigmentation). I looked in the mirror the next morning and was pleasantly surprised!
– Shake it up each time before using, as the lemon settles
– Make sure you wear sunscreen during the day!
– I never really used toner before since I didn't see any use of putting rubbing alcohol on my face. This is different and 100% natural.
I'm going to leave you with a photo of myself taken on Friday after getting my hurr did (sorry… can't ever say "getting my hair done"). Please note – I'm not wearing a lot of makeup at all!!! (My friends know I LOVE a full coverage foundation)
So happy to have this under control! Now stop staring at my radiant beauty.
Give this toner a try! I hope you have great results like I did!!!