Updated December 6, 2017
As a blogger, I feel that it's important that I am committed to the best quality of work possible. Gone are the days of just writing a few paragraphs and sticking a gif into a blog post. Blogs are the new digital magazines and editorials. Utilizing the best blog photography and videography gear are the things that are going to help you stand out. If you don't outsource it (which I do sometimes), you've got to learn how to work a camera and style a photo. Video is even harder.
You guys probably know by now that I am a gear junkie. I love all things photography and videography. Ever since I started investing more into my gear, the quality of my content has improved drastically. I've taken time out not only to purchase items that elevate my at-home setup, but learn my gear and really focus on aesthetics.
It's been quite a while since I've gone through all the gear that I have, and I felt an updated list was in order! I've made this ultimate list of 32 items that help me be a blog and video boss!
The best thing about this list is that most of these items can be bought on Amazon Prime. I should also note that I buy my camera bodies and lenses used on Amazon. I've always had a great experience buying used, and highly recommend it as an opportunity to save money. Anyway, let's get to the list!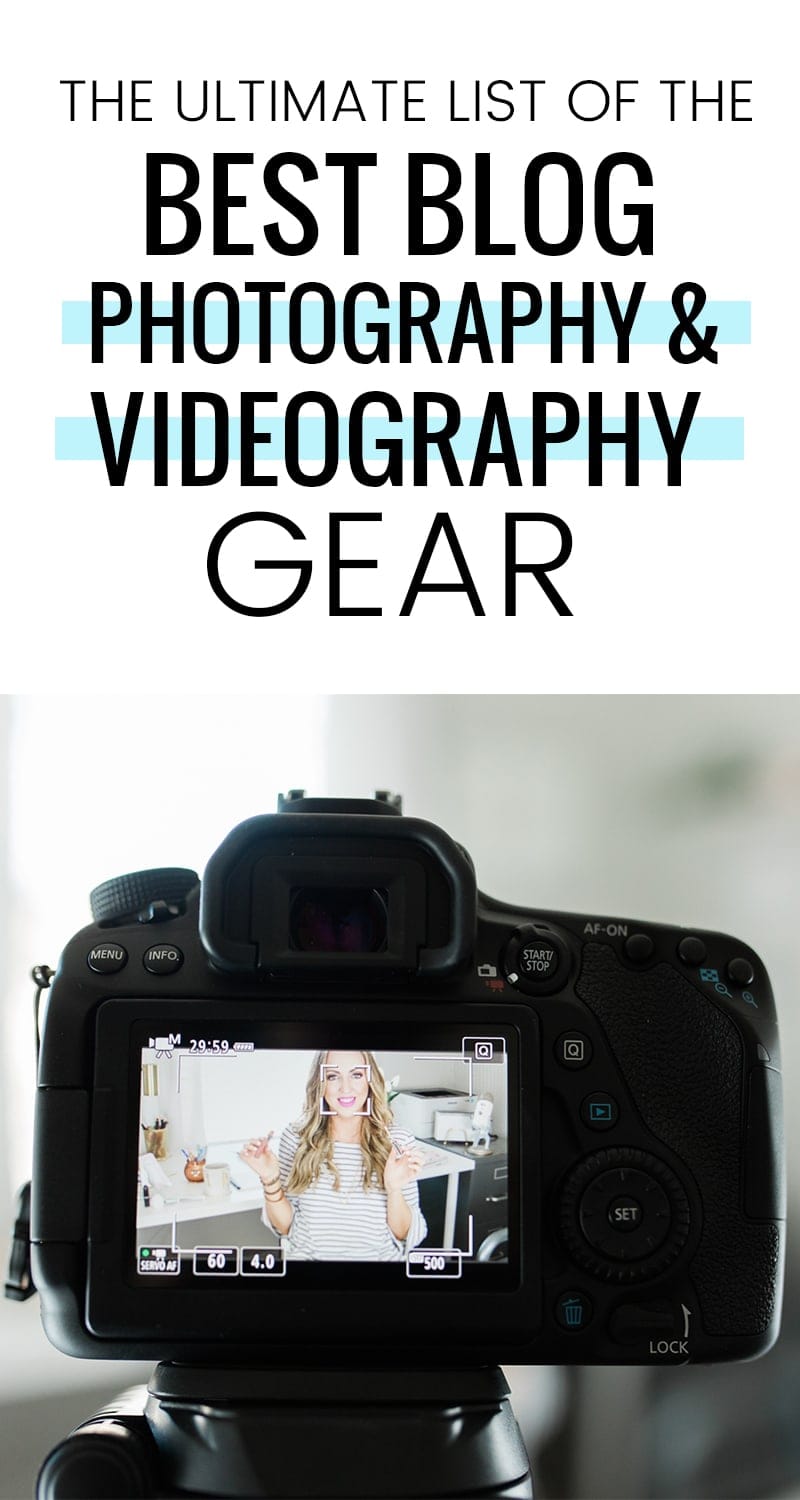 Camera Gear for the Best Blog Photography & Videography
Canon 80D Body // I recently upgraded my camera body and could not be happier. This is the absolute best blog camera I could purchase! I debated between this and a full-frame camera, and ultimately the Canon 80D won. It's got continual autofocus in video mode, which is an absolute must when you are filming. I got so tired of manually focusing my camera, and this has increased my productivity drastically. The camera also has articulating flip out screen (another great feature to have for video / shooting your own photos), and wifi built in to the camera. While this is a crop sensor camera, it is miles above the entry level DSLRS on the market.
Tamron 28-75 f/2.8 lens // This lens basically never leaves the camera body. I love it because it can do anything for me… zoom to 50mm for portraits, zoom out to a wide angle (I usually set it at 35mm for video) for filming, and everything in between. I've read many reviews that this is a "dupe" for the coveted Canon 24-70 lens, but I don't have that kind of budget. I'm extremely happy with this lens!
Canon 35mm f/2 lens // I love a good, wide angle. This is a lovely lens! Before I got the Tamron, this was my go-to lens.
Canon 50mm f/1.8 lens // This was my first big girl lens I bought when I started getting into photography and videography. I would recommend the Tamron over this one, but this is a lot more inexpensive and a great first lens to graduate to. I'll sometimes put it on my camera and play around with portraits.
Canon EOS M10 Mirrorless Camera // I bought this camera before our Europe trip last summer because I didn't want to haul my big DSLR, and I couldn't be happier with this purchase. It's now my "vlog" camera (all of my vlog style videos are shot with it) and I carry it around in my purse so I can shoot pics while out and about. You never know when the perfect photo opportunity would happen. It's extremely lightweight, has a flip-up selfie screen, built-in wifi
Tripod // Having a nice tripod makes a huge difference! This one is so amazing.
Small Tripod for Phone / Mirrorless Camera // I like to use this one with my mirrorless camera or my phone, if I'm doing a Facebook/Instagram live.
Floral Camera Strap // I found this pretty floral camera strap and snagged it. I love how cheap it is.
HDMI Mini Adapter // I've started playing around with hooking my camera up to the TV in my office, and using the TV as a monitor. My camera has an HDMI mini output, so I had to buy this little adapter so it could attach to a regular HDMI cable, in order for it to hook into the TV.
Camera Remote // An absolute must if you film or photograph yourself with a tripod.
Lighting
Softbox Lighting Kit // If you were to get one piece of lighting equipment from this list, I recommend the softboxes. They produce the best, most natural light, and fill up a big area.
Ring Light // This is great if you do a lot of beauty type tutorials, but it's not enough light just by itself.
Ring Light Stand // You need the stand if you buy a ring light. Haha.
Umbrella Lights // These lights really don't get the job done by themselves, but I'm glad I have them so I can use them for fill light. For example, I'll place one or two behind me to light up my background more.
Reflector // I use this almost every single time I shoot product photography.
Sound
Blue Yeti USB Microphone // I had another USB mic but the sound quality doesn't even compare to this microphone. It's great for any voice over work I need to do.
Takstar Camera Microphone // This is a great and affordable microphone that plugs straight into your DSLR mic input. I feel it improves the audio quality immensely.
Backdrop
Backdrop stand // This was a great addition to my gear. I have it against the wall on one side of my office and it's easy to pull where I want it and set it up.
White backdrop // I have this fabric attached to the stand at all times, and then I'll clamp a sequin over it.
Silver sequin backdrop // This backdrop looks amazing in photos and video! It's a little sheer, but I layer it over the white backdrop and it works perfectly.
White sequin backdrop // This one isn't nearly as sparkly as I had hoped, but it is a great one to have in my collection.
Clamps // A must for getting my fabric backdrops up!
Styling
White Tulips // Are you even a blogger if you don't have some fake flowers on hand?
Marble cutting board // I love this board for styling photos on. It's heavy and real marble, and photographs beautifully.
Marble tray // I recently picked this baby up at Target and it is gorgeous!
White fluffy rug // Every blogger and their dog has one, but it's such a nice background to style photos on.
Zebra trinket dish // I love trinket dishes, and this is my favorite one!
Pineapple trinket dish // So cute for spring and summer.
Turtle trinket dish // I do love this one, too.
Vanity mirror // How in the world did I go this long without having a table top vanity mirror? Makes filming a makeup look soooooo much easier!
Editing
Final Cut Pro X // I graduated from iMovie and now edit on Final Cut Pro. I've really enjoyed learning this program and I feel like it's helping me grow.
Adobe Creative Cloud // I pay monthly for Lightroom and Photoshop CC. Worth every penny.
Shop My Gear:

Whew. I hope someone finds this helpful! Who else is a gear nut like me? What are your favorite blog photography & videography gear?