Updated January 21, 2020
With so many makeup brands at the drugstore, it can be overwhelming to weed through and find the best products! I know I am always excited by the newest product on the shelves, or the neatest looking launch.
I thought it would be helpful to start a series where I would chat about the top ten best products from brands! First up: the best Physicians Formula products!
I've been a big Physicians Formula fan for a while now. They make really high quality products for an affordable price! While they are not the most affordable brand at the drugstore, I do feel it's worth paying a little bit more for the quality. They're cruelty-free, and they do not allow 150+ skin irritants into their products. If you have sensitive skin and are looking for cruelty-free products, you'll really like this brand!
Now, let's check out the top ten best Physicians Formula Products… according to me!
Top 10 Best Phyisicans Formula Products
This is in no particular order – just my top ten favorite products from the brand! (Although, I will say I do have a top favorite and have noted it.)
1. The Healthy Foundation

Physicans Formula Healthy Foundation is a medium buildable liquid foundation that has a natural satin finish. I find that this foundation rarely looks cakey. Indeed, it does look healthy! I don't find it as long wearing as some of my other drugstore foundations, but I love the medium coverage and the finish. The shade range is not the best, but it's not the worst – 15 shades in total in the range.
2. The Healthy Powder

Physicians Formula Healthy Powder is a long-wearing buildable and breathable powder foundation with a natural finish. You can use this in the traditional sense (as a powder foundation), or use a big fluffy brush to lightly dust around the face to set makeup. This product never looks chalky or too powdery.
3. Butter Bronzer

The Physicians Formula Butter Bronzer is my holy grail bronzer! It smells like a heavenly vacation, has a beautiful satin finish (never looks chalky or muddy), and has a gorgeous neutral undertone. You can contour or bronze with this product, and I also like to use it as an eyeshadow in my crease! I wear shade "Bronzer."
4. Butter Blush

The line of Butter products are all so good! The Physicians Formula Butter Blush is no exception. It is absolutely beautiful on the skin. My favorite shade is "Vintage Rouge" which is a very wearable peachy-pink neutral. It literally does go with every makeup look.
5. Rose all Day Petal Glow

Physicians Formula Rose All Day Petal Glow highlighters are such beautiful products. My favorite shade is "Freshly Picked" which is a gorgeous champagne color (works on so many different skin tones). They are glowy, pigmented, and have a lovely rose scent.
6. Killer Curves Mascara

Physicians Formula Killer Curves Mascara is a gorgeous volume-building and curling mascara. I really like the bristly brush, which gets in there and grabs all of the lashes. It also does a really great job of keeping the lashes curled.
7. Butter Eyeshadow Palettes

Physicians Formula Butter Eyeshadow Palettes are some of my favorite drugstore eyeshadow palettes that you can find! They are the same high quality as the other Butter products, and have gorgeous shade selections. My favorite palette is the "Tropical Days" palette – I love the warm tones.
8. Eye Booster Liquid Eyeliner

Physicians Formula Eye Booster Liquid Eyeliner is a cult-favorite eyeliner among many people, and has been for quite some time! Very black, very pigmented, stays put, and easy to apply. Give it a try!
9. Murumuru Butter Lip Cream

Physicians Formula Butter Lip Cream is a glossy, buttery and hydrating lip cream. It is super comfortable on the lips with medium pigmentation. It's gorgeous! My favorite shades are "Mauvin to Brazil" and "Soaking up the Sun."
10. Healthy Lip Velvet Liquid Lipstick

Physicians Formula Healthy Lip Velvet Liquid Lipstick is a gorgeous drugstore liquid lipstick. All of the shades are literally winners (there really is not a bad shade in the bunch), but my favorite neutral is "All Natural Nude." They are pigmented, comfortable, and are not too drying. They are fairly long wearing, too!
---
Shop the Best Physicians Formula Products
Shop everything mentioned in this blog post here:

---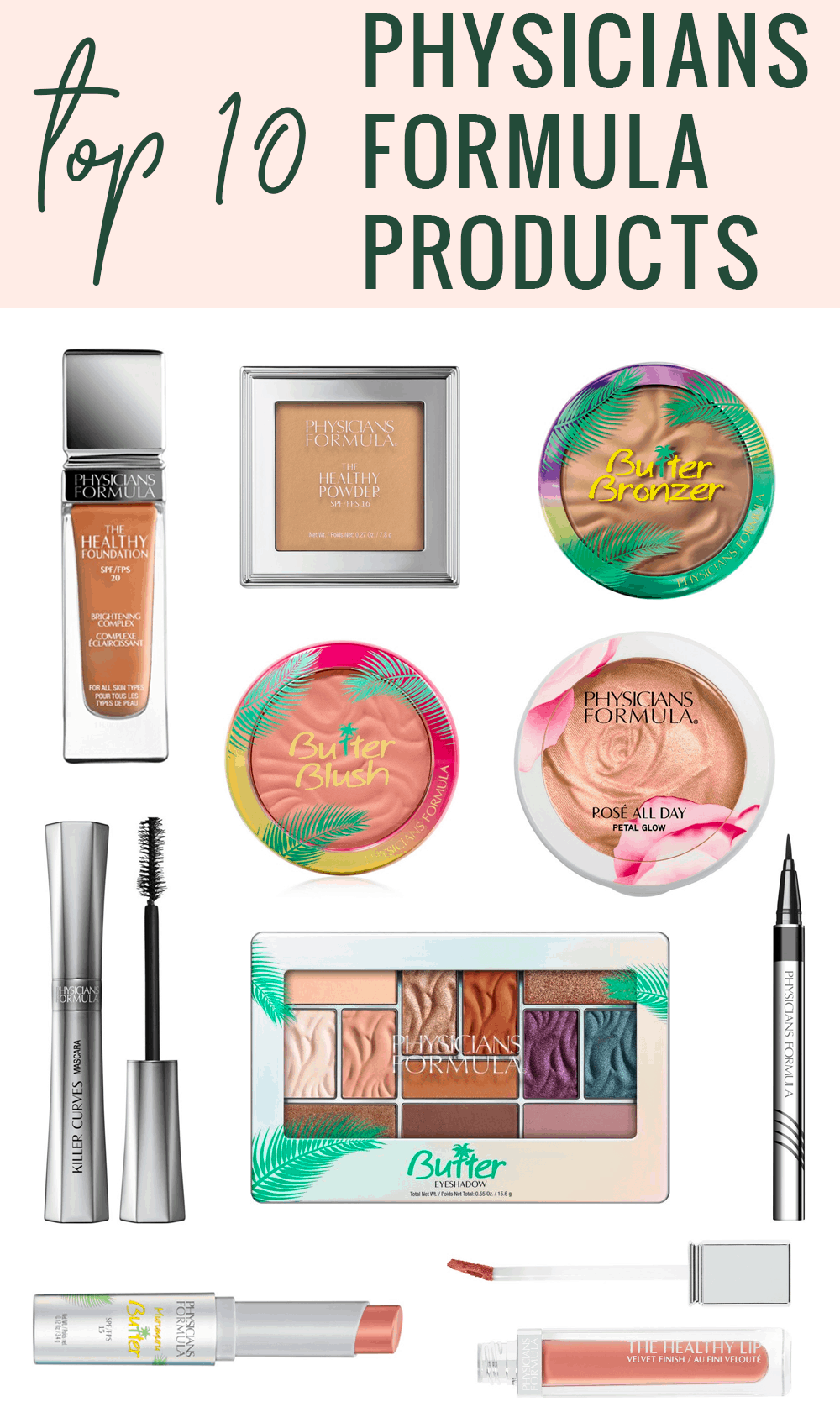 ---
---
If you love Physicians Formula, check out these other drugstore makeup posts:
Physicians Formula Butter Collection x Casey Holmes Review + Tutorial
Brows in a Flash + Easy Makeup Look with Physicians Formula
Meg O. Beauty Awards: The Best Makeup of 2018
The 5 Best Beauty Blender Dupes
7 Cheap Makeup Brands that are Actually Great Quality
15 L'Oreal Products to Grab on Amazon
…or browse all of my drugstore + dupes blog posts HERE!