Updated February 12, 2018
Disclosure: This is a sponsored conversation written by me on behalf of
Ivory
. The opinions and text are 100% mine. Thank you for reading!
Having clean beauty tools is an absolute must for me. A clean makeup sponge applies your makeup more evenly and reduces the risk of putting yucky bacteria onto your skin. Cleaning your beauty tools doesn't have to be hard work, though.
Today we're going over how to clean your makeup sponges gently and effectively, and it's something you can do in a pinch. I have tried all sorts of methods, and this definitely is my favorite because of how fast it takes and how clean the sponges get!
Before we get to the tutorial, I do have to mention a brand of cleansing products I've absolutely been loving lately.
You all probably know the Ivory brand, as it's been around and trusted for 138 years. I absolutely love the brand for its clean, pure ingredients. All of their products are 99.44 percent pure that are free from dyes and heavy perfumes. All are gentle enough for everyone in the family.
I've been keeping the Ivory Free & Gentle Body Wash with Pear & Sandalwood in my shower. The product is dye and paraben free and it's made with essential oils, which makes me feel luxurious each time I use it. It also contains the #1 Dermatologist-Recommended moisturizing ingredient. This is a new favorite of mine and I plan to continually repurchase it!
Now that you've added these products to your shopping list, let's see how I use the Original Bar Soap to clean my makeup sponges!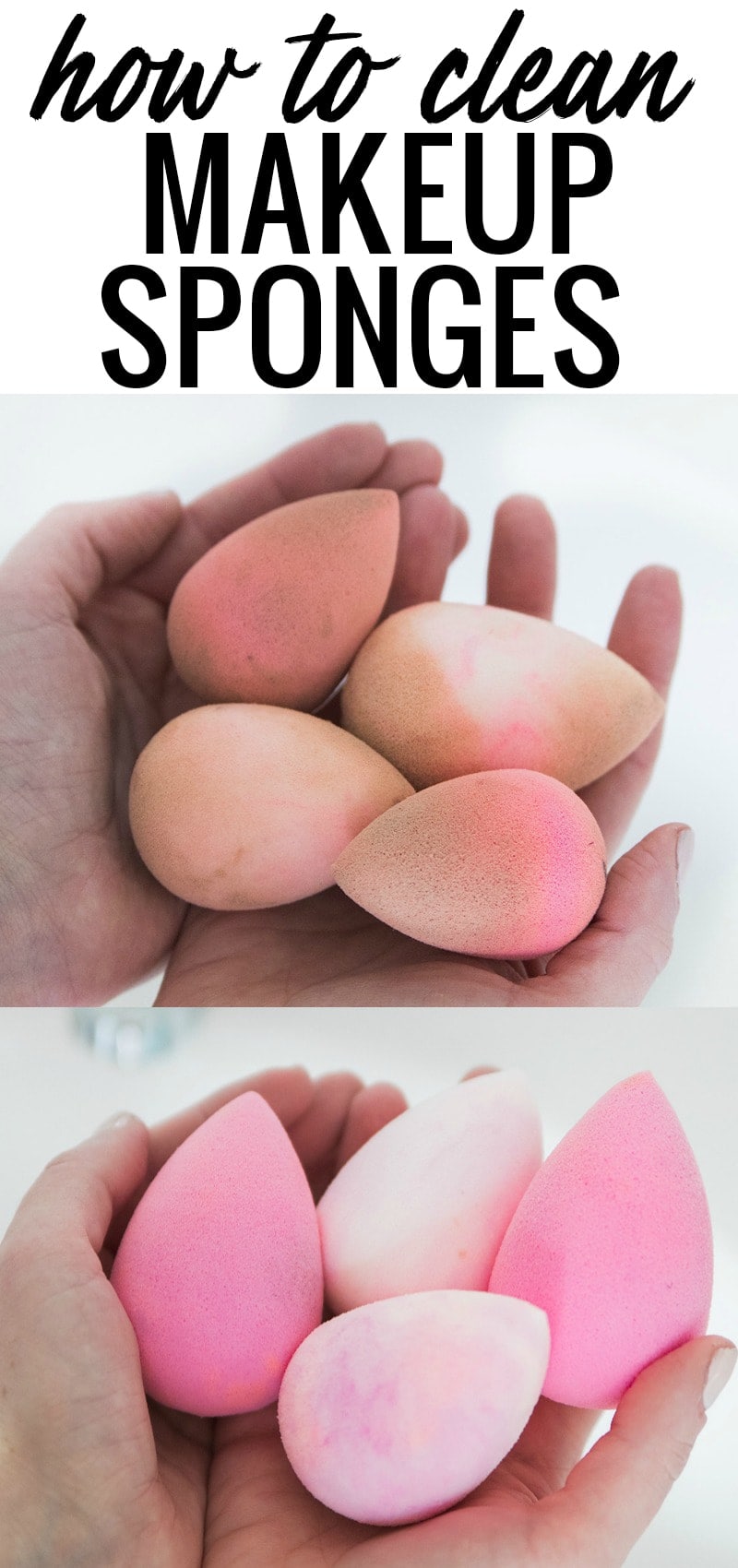 This method takes me less than a minute to do per sponge! I recommend you clean your sponges every few uses. I am a clean freak and always use a clean sponge, but I also have about five sponges on hand. What I typically do is I rotate them and clean them all once I've used all of them. So, let's get into it!
1. Use a Bar of Pure Soap
Start with a bar of pure soap. I prefer the Ivory Original Bar Soap for this because it has the simplest of ingredients, is free of dyes and heavy perfumes, and is an effective cleanser. I've been a big fan of Ivory ever since I was a little girl, and even the scent is nostalgic for me. Pure soap is really the best for this. I've found bars of soap that have added ingredients or moisturizers don't quite clean the sponges the same.
2. Run the sponge under the sink to squeeze out excess debris
I feel like this is a given, but you've got to wet the sponge before you start cleaning it! Squeeze it out quite a bit before you start working with the soap.
3. Rub the sponge along the bar of soap under running water
Rubbing the sponge along the bar of Ivory soap while the water is running is key. This is the step that will clean your sponge quickly, gently and effectively. If you take it out from the running water, you'll notice you will spend a lot longer cleaning the sponge.
Voila! You have a clean sponge!
See? I told you it was easy. Stop wasting your time on liquid soaps that take forever to wash out of the sponge.
Now that your makeup sponges are squeaky clean, don't forget about your skin. Like I mentioned, not only am I a fan of the soap bars, but I love the Ivory body washes.
Keeping your house stocked with Ivory products will always give you the purest, gentlest cleansers on hand. Your skin, kids, spouse, and makeup sponges will thank you for it.
I encourage you to go out and try some of these Ivory products, as I do think they are great for the whole family and our makeup tools. A brand that's been around and trusted for 138 years is a winner in my book!
I hope you've found this tutorial helpful. Try it out and let me know how it works for you!