Updated May 13, 2019
This is a sponsored conversation written by me on behalf of Hair Food. The opinions and text are all mine.
The summer season is upon us! Are you looking forward to the sun, pool, sand, and warm weather? I can't say that I'm looking forward to the excruciating heat here in Houston (especially in my third trimester of pregnancy), but I am looking forward to lots of fun days by the pool and day trips to the beach!
I'm a big believer in seasonal beauty routines. Our needs can change depending on our environment. What was working for you in cold and mild temperatures may not yield the same benefits in the summer months.
How to Keep Your Hair Healthy in Summer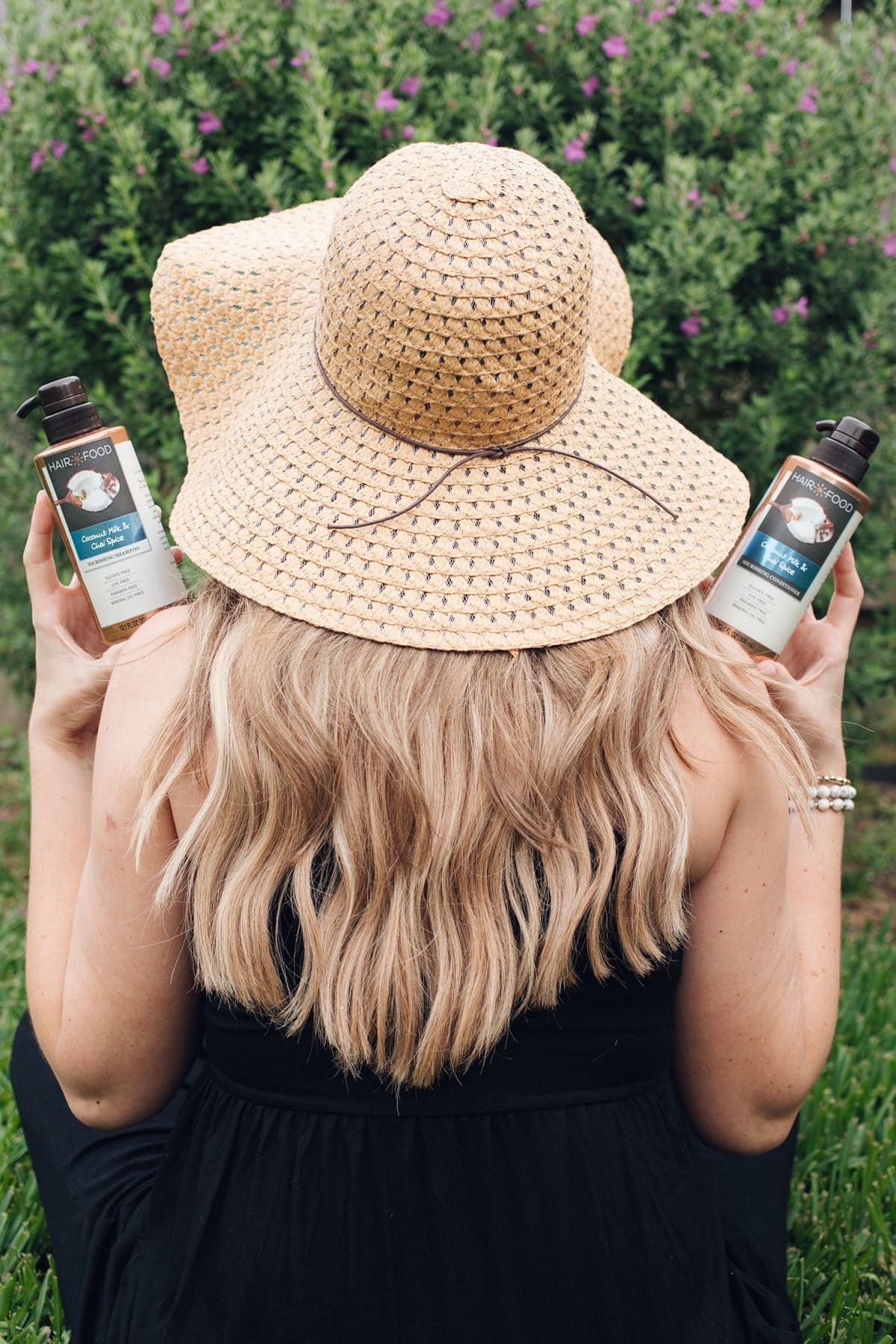 Here are a few things you can incorporate into your summer beauty routine. Let's keep those locks luscious!
Get Frequent Hair Trims
Our ends tend to dry out first. If you're noticing lots of split ends or drier ends, get frequent trims. It will not only help extend the time between your regular salon visits. My goal this summer is to get one hair trim a month!
Sun Protection
Your hair and scalp need sun protection, too! The sun and heat can dry out hair and harmful UV rays can put the skin on your scalp at risk. Grab a bunch of cute sun hats to shield your hair and scalp. Also, make sure you spray sunscreen onto the scalp. This is a super simple step that will yield lots of benefits.
Use Heat Styling Products Sparingly
Lots of styling products in the hair can cause a lot of build-up. Combine that with heat, humidity, chlorine, sand, and salty air and it could do more harm than good. If you know you'll be out in the elements, air dry your hair and use hot tools styling products sparingly.
Deep Condition Weekly
I'll likely visit the pool a few times a week this summer. Anything to escape the heat! Thanks to chlorine, we can expect our hair to feel more dry. Start incorporating a weekly deep conditioning hair mask to rehydrate. I've been loving the Hair Food Nourishing Coconut Hair Mask. It's sulfate-free and color safe, and really perfect for all hair types and textures. You only need to leave this mask on for 3-5 minutes, but if I want extra deep conditioning, I'll leave it on for longer.
Feed Your Hair with Nourishing Ingredients
On that note, I really love the Hair Food line as a whole. I prefer to reach for products that contain good-for-you ingredients and are free from a lot of harsh chemicals. The Hair Food Nourishing Collection with Coconut Milk & Chai Spice is chock full of healthy ingredients that hydrate hair to leave it soft, smooth and shiny. It also is formulated to protect hair from future damage. These Hair Food products are free from sulfates, parabens, and dyes. The Coconut & Chai Spice scent is heavenly.
The Coconut Milk & Chai Spice Shampoo and Conditioner are wonderful natural hair products. I have fine hair, but I always reach for hydrating products, especially in summer. These sulfate-free products are very moisturizing but never too heavy on the hair.
Grab the Hair Food Nourishing Collection with Coconut Milk & Chai Spice on your next Walmart run and thank me later!
Cheers to summer days and healthy hair! What are some of your best tips on how to keep your hair healthy?