Updated May 9, 2019
If you were to tell me last Mother's Day that I would be pregnant in a few short months, I probably would've laughed. I was happy and content with my status quo. I survived the baby and toddler ages. I had kids out of the house all day in preschool and elementary school. I survived potty training. My kids were turning 4 and 7. A lot of women around me were done having kids and have moved onto different stages in life. I thought I was, too.
Life has a funny way of throwing you curve balls and challenging you.
Here we are, just a few short months later. 25 weeks pregnant with a third child. And, a boy, to boot!
When we found out in December that we were expecting our third, I had a lot of negative emotions at first. Are my kids too old? Am I too old? How will I survive pregnancy again? How will I survive breastfeeding again? How will I survive on minimal sleep again?
Little do I remember that I've done this all before and I survived. I did this all before in much more stressful conditions – working full-time out of the house with ridiculous hours. I did this all before and I can do it again.
This Mother's Day is full of anticipation for the new chapter that awaits us this August. I wouldn't be lying if I said I was a little scared. I also wouldn't be lying if I said that I finally feel complete.
This Mother's Day, I'm celebrating the love around me and the love that is to come. This beautiful anticipation of carrying a baby boy is something I'll always cherish, even if there are lots of hard days in pregnancy.
Putting on a pretty dress also helps any mama feel her best. I love shopping at my local Stage store (Palais Royal is a short 5 minute drive away!) for the whole family. Mamas, I give you permission to treat yourself this weekend to a dress that makes you feel beautiful so you can be in the photo with your kiddos.
Stage is having a killer 50% off this weekend for Mother's Day, both in store and online. I recently grabbed these dresses and sandals for the girls and me, and just love the summery vibes!
Stage is a great destination for all of your fashion and Mother's Day gifting needs, and luckily there's still time to grab something for Sunday!
my dress // my espadrille sandals
Caroline's dress // Caroline's sandals
Kennedy's dress // Kennedy's sandals
I love that Stage stores have a variety of styles for spring and summer for the whole family at a great value. I always find something cute! I am also continually impressed with their selection of beauty brands and products, many of which I've featured before in this spring makeup look!
Mama's Look
I love empire waisted maxi dresses in pregnancy, because I don't have to worry about buying a maternity dress! A lot of times I wear my normal size, or will size up one. This maxi dress is perfection. Mustard is hot for summer, and I love the lace trim detail. Espadrilles are always a good choice for summer, but the further I get along in pregnancy, the less I will want to wear heels. These low platform espadrilles are perfect because they give lots of support and the illusion of you wearing heels without actually having to wear heels.
Big Sister's Look
Kennedy loves long dresses, and this ruffle tea dress is perfect for her. The rainbow pattern and ruffles are right up her alley. I love how this dress is a little bit more "grown up" while still having a child-like feel. I love the look of these rose gold buckle sandals paired with the dress – and they're so effortless. I can't believe how big Kennedy is – both in attitude and in stature. It's like having a mini teenager in the house.
Little Sister's Look
Little miss sassy Caroline looks adorable in this chambray striped ruffle dress. Lots of pretty detailing and texture to the dress, and a cute bow on the back. I love white sandals on little girls, and these white sandals are so precious! They're also very easy to put on and take off.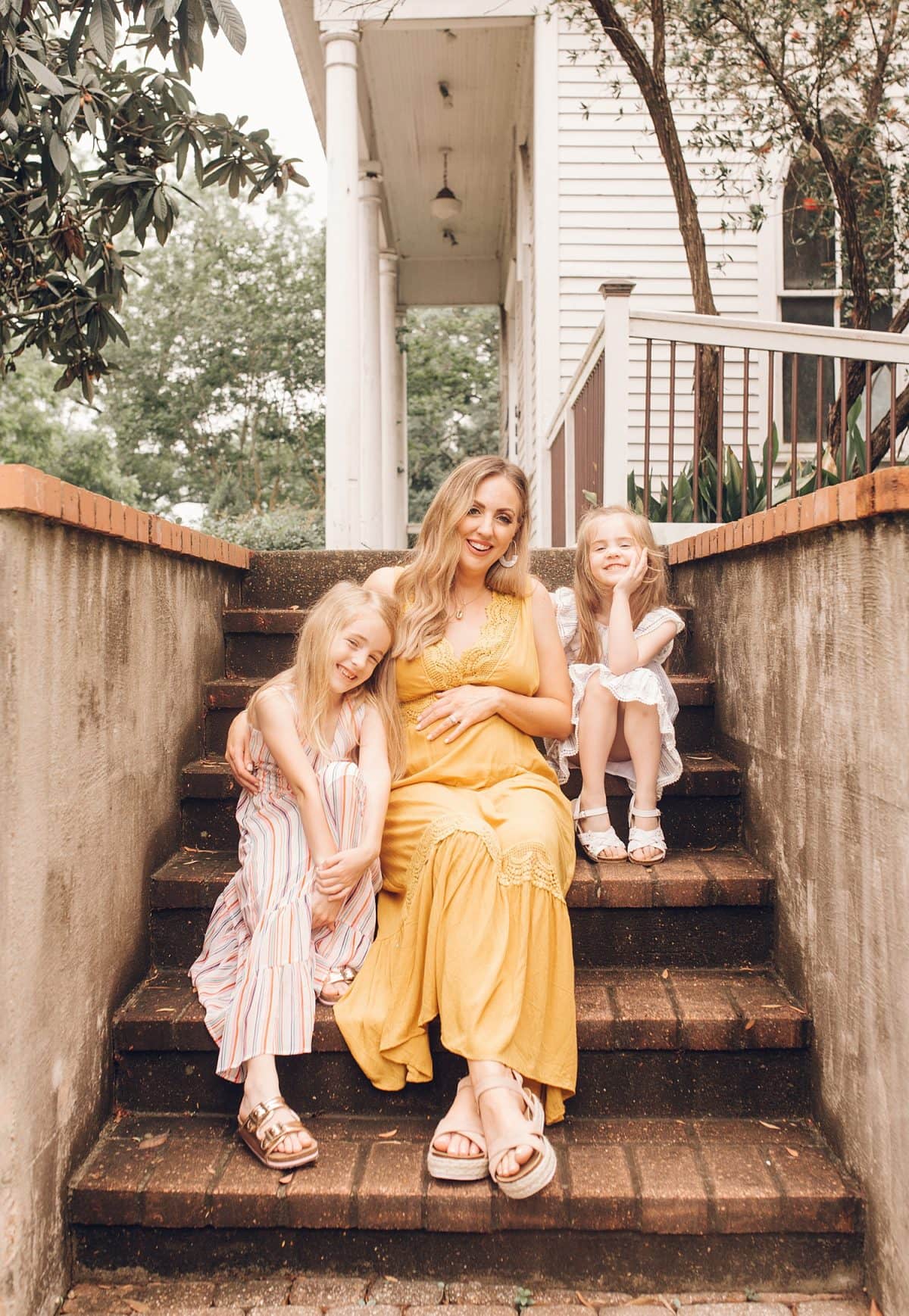 So much gratitude and anticipation this year. Happy Mother's Day, friends! I hope you enjoy the day with the ones you love most. Don't forget to hit up your local Stage store (or shop online) for some amazing Mother's Day savings this weekend!
All photos by Kate Carmichael Photography.