Updated December 3, 2018
This post is compensated by QVC. As always, the text and opinions are 100% mine. Thank you for reading!
Do you have makeup items that are nostalgic for you? BareMinerals is definitely one of those brands that bring back all the makeup memories. Their products shaped my makeup knowledge and obsession. I'll never forget how the bareMinerals Original Foundation changed the game – I was all about that swirl, tap, and buff.
BareMinerals is one of those brands that not only has withstood the test of time, but consistently releases beautiful products that are on-trend, innovative, and high quality. Within the last couple of years, I've rediscovered the brand and have been blown away by their products.
Today, we'll be chatting all about the Best of bareMinerals. I've divided my favorites up into staple items for your makeup kit, and gift ideas (especially since the holiday season is upon us). But let's be honest, all of the products will be perfect for you to keep for yourself and your own makeup collection.
Best of BareMinerals
Did you realize that QVC carries so many amazing brands with special deals and offers? BareMinerals is no exception. I've been really into looking for beauty brands and deals on QVC lately, and I am always finding awesome things. There's a wide selection of bareMinerals products on QVC – from makeup to holiday sets and skincare. Not to mention, I love that you can do easy payments.
I highly recommend QVC as a beauty and holiday gift destination this season and beyond. You will not be disappointed! Now, let's get to my favorite bareMinerals products.
As I said above, I've divided this up into staple items and gift ideas, but all products are in my current makeup collection.
Best of bareMinerals – Makeup Staple Items
Prime Time Foundation Primer // This foundation has a silky touch and finish that fills pores and lines while helping makeup last longer. I like to pat this in rather than rubbing.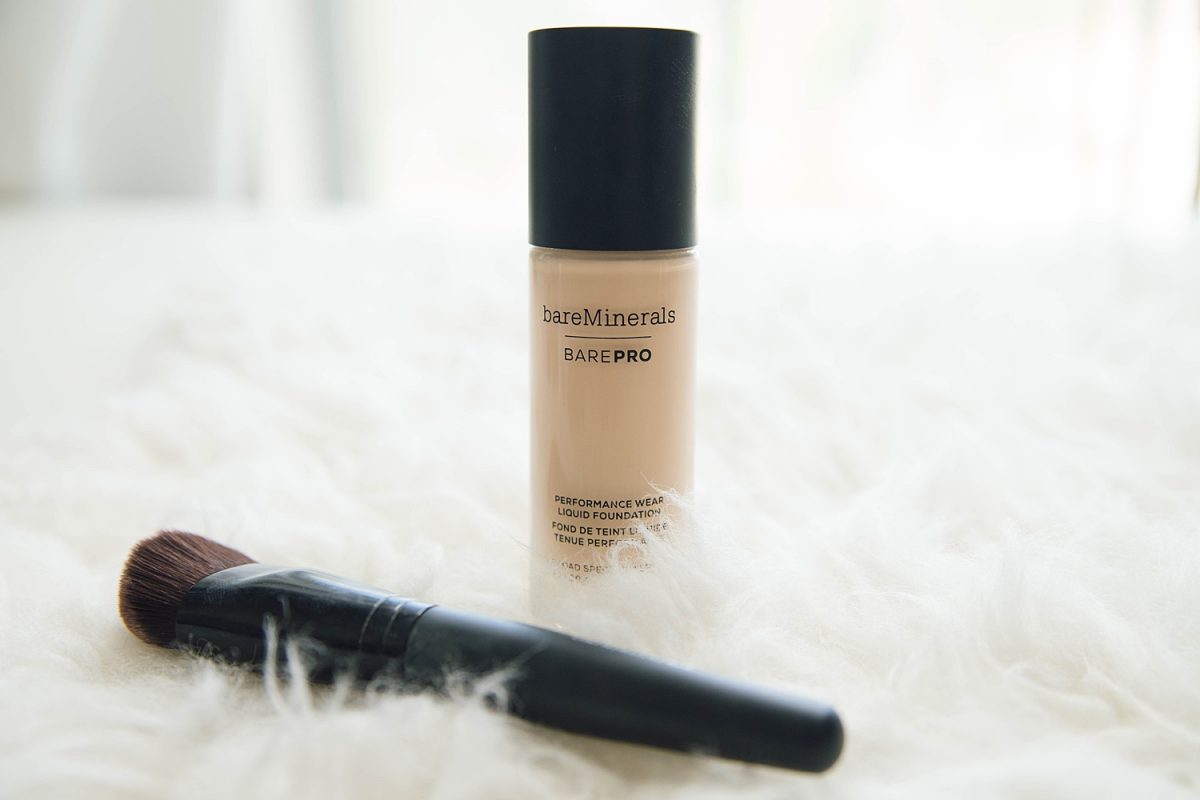 BarePro Liquid Foundation // This is a newer foundation release from the brand (just a little over a year) and I have been immensely impressed. It is a long-wearing buildable coverage. You can sheer it our for light-medium coverage or build it up to full coverage. It has a natural finish that is flattering on all skin types.
Original SPF 15 Foundation // This is definitely the OG of bareMinerals and the product that put them on the map. I recently rediscovered my love for this powder mineral foundation and remember why it's withstood the test of time. It's absolutely beautiful! You can also build the coverage and it has the most stunning natural finish. I also like to set my liquid foundations with this for extra coverage without the cake-y look that some powders can give.
Original Mineral Veil Finishing Powder // Another nostalgic product that I love! This is a beautiful loose setting powder that does not ever look dry or settle into fine lines. I like to use a little on a damp makeup sponge to set my under eye concealer and T-zone.
Gen Nude Buttercream Lipgloss in Forbidden // The glossy lip look is totally back in, and I am not mad about that. I'm not kidding when I say this is my favorite lip gloss formula of all time. It's very glossy, it's pigmented, the shades are so flattering, and it's comfortable to wear. Forbidden and Groovy are my favorite shades. I love lining my lips with a dark mauve lip liner and applying the gloss on top for a more ombre effect.
Best of bareMinerals – Gift Ideas
Any of these products would be a lovely gift idea for the makeup lover on your list. They do not disappoint!
Aurora Lights Gen Nude Eyeshadow Palette // I have been playing with this eyeshadow palette for a few weeks and I was immediately blown away by the quality and pigmentation of the shadows. They're very high quality. This palette veers more on the cool-toned side, which is a nice change from my usual gravitation to warm tones. However, the palette is perfect for those that like neutrals with some options for a pop of color. The purples/mauves in this palette are especially gorgeous!
Gen Nude Powder Blush Palette with Blooming Blush Brush // I've gotten a few questions from readers and followers if blush is still "in". Girls, it never went out! We are veering more away from the brighter-toned blushes and moving towards universally flattering earthy pinks, nudes, and corals. With that being said, this blush palette hits those trends and will look great on any skin tone. There are two matte blushes and one satin. I love them!
Crystalline Glow Highlighter Stick Trio // These cream highlighter sticks are perfect for those who like multi-purpose products. You can use them on the eyes and cheeks. I'd even use them on the lips if you want to do something fun and different! My favorite way to use these are underneath my powder highlighter. Y'all know I love a blinding highlight, and this is a surefire way to intensify the glow!
Crystalline Glow Bronzer & Highlighter Palette with Brush // I also feel like this palette is very versatile! Along with using the shades to bronze and highlight, I'd even use them on my eyes. You can also mix all three products to make a beautiful glowy blush. If you're scared of intense highlighters, you'd love this palette because it is a very natural and realistic glow.
Full Face of BareMinerals Makeup Tutorial
Now that we've gone over the best of BareMinerals, let's see those products in action! I've put together this short makeup tutorial utilizing all of my favorite products. I absolutely adore this natural and fresh-faced look.
Shop the Post:

Which product is on your wish list?