Updated July 22, 2014
Anyone else guilty of faking it? Yeah, you know what I'm talking about — your hair color. I belong to the category that fakes the light blonde. I'll admit it. My hair was a lot lighter as a child and even in my teens, and it just got darker after college. I was in the sun a lot and lightened it in the sun one summer and then my roots grew in significantly darker, so I began the process of lightening my hair with bottle dye. I then progressed to getting professional highlights last year, every 8 weeks. That quickly got super expensive. Currently, I'm doing my own highlights and toning my hair to a nice, non-brassy blonde. Once I feel confident in my method of highlighting, I'll be sure to share!
Here are photos of "virgin" hair and "current" hair to iterate my changes.
My hair color circa 2007
Current hair color. A little darker than I usually have it, but you can see the highlights (self done!) and the neutral color.
Being a "bottle blonde" isn't always easy. As they always say, beauty is pain. My biggest problem is that my hair tends to brass fairly quickly in between colorings. I just like a neutral looking blonde – nothing too ashy, definitely nothing brassy. I am always self-conscious that I'm going to end up like this: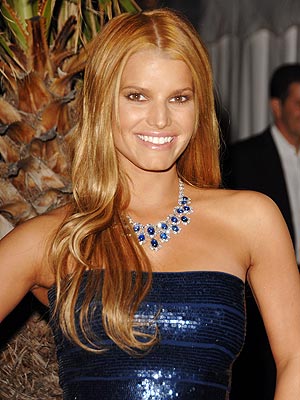 I usually love Jessica Simpson's hair, but geez, this is just wrong…
Going lighter always is a delicate process and can turn out terribly wrong or fade to the wrong color.
So, with all of this blonde coloring, comes some learning how to bust some major brass.
Here are some things I swear by:
Wash hair every other day.
I previously didn't get this at all. I used to wash my hair every day. No way, Jose! Investing in dry shampoo has definitely decreased damage and brassiness (as the more you wash, the more the color gets washed out).
Purple Shampoo/Conditioner.
I like the traditional Shimmer Lights but have also found that One 'n Only Shiny Silver (found at Sally's) is a lot cheaper and great!
Red/Gold Corrector
This stuff is awesome — you can use it for so many different things. It's a small little bottle that adds drops of this purple liquid to whatever product you want. It's meant to counteract the red and gold tones in your hair. I drop some of the Ardell Red Gold Corrector in my color/toner to really make sure I do not add brassiness when I color, but I also use it in my shampoos and conditioners, and even styling products to tone down in-between brassiness.
A blue/violet Toner.
Toners are meant to get hair to the desired tone in the color spectrum. There are warm (red, orange, yellow) and cool (blue, violet, silver) tones in hair. My brassiness has reds and yellows, so blue and violet neutralizes. This can get messy if you don't know what you're doing. Make sure you talk to someone at Sally's before trying this. I use a Wella Toner (these two are popular) with 10v developer on wet hair, leave on for 15 minutes, rinse, and condition. I make sure to use a 10 volume developer as I don't want to lift (meaning, make lighter) the color in my hair, but just deposit the neutral tones. Some people say you're supposed to use a 20v developer with toner, but that only is the most helpful when you're all-over bleaching your hair completely and need to get it from that "banana yellow" phase to platinum. The higher volume developer, the higher lift in hair. Research this more or get help at your beauty supply store if you're thoroughly confused after reading this.
Deep Condition.
I make sure to deep condition my hair once a week so that my hair doesn't lose moisture.
So there you have it!
I know this might be a lot of information on a pretty complicated topic, so feel free to e-mail me with any questions or comments! You can also check out this post for some of my other hair tips.