Updated April 15, 2019
Let's test a full face of drugstore makeup dupes! Why pay $370 for a full face of makeup when you could spend $100?
Today's post is a doozie! We're testing a full face of drugstore makeup dupes! I am applying all high end makeup products to one side of my face, and drugstore to the other side. Not only that, I do check in after about 6 hours to show you how the products wear.
This video is much longer than most of my beauty videos, but we're going super in depth here comparing products! I'm comparing formulas, shades, consistency, and even how well they were. I hope you guys love this!
Drugstore Makeup Dupes Tested – A Full Face of High End vs. Drugstore
So, what do you think? I totally think I was able to nail a solid look!
Drugstore Makeup Dupes – Splurge vs. Save

Hourglass Veil Mineral Primer vs. NYX Angel Veil Primer // $54.00 vs. $16.00 // The consistency of the NYX primer is just a little more thick than the Hourglass, but it smooths out the skin nearly identical.

Hourglass Vanish Seamless Finish Foundation Stick vs. Wet 'n Wild PhotoFocus Stick Foundation // $46.00 vs. $5.99 // Guys, this is such a dead on dupe, I can't get over it!! The consistency, the finish, how it wears- everything! If you'd like to read more in depth thoughts over this make sure you check out my Hourglass Foundation Stick Dupe blog post.

Tarte Shape Tape Concealer vs. e.l.f. Cosmetics 16HR Camo Concealer// $27.00 vs. $6.00 // I haven't really been wearing the Shape Tape concealer under my eyes much, as I have moved on to the Too Faced Born This Way Multi-Use Sculpting Concealer. However, I was really interested in trying out the brand new e.l.f. concealer – it's gotten a lot of buzz lately! I will say that it's nearly identical to Shape Tape, but I may even venture to say that I like it more. For some reason it feels a little less drying on me. You can't beat that for $6!

Laura Mercier Translucent Loose Setting Powder vs. Maybelline Fit Me Loose Finishing Powder // $39.00 vs. $7.99 // You guys have heard me talk over and over again how much I love this Maybelline loose powder – it is truly holy grail status for me. It's so similar to the Laura Mercier in the sense of what it accomplishes, but it's a less dry powder. I truly prefer this one over the Laura Mercier!

Anastasia Brow Wiz vs. L'Oreal Brow Stylist Definer // $21.00 vs. $8.99 // I wrote a whole blog post about another Anastasia Brow Wiz dupe, but that was a few years back and so many drugstore brow pencils have emerged since then! I will say that this L'Oreal one is another perfect dupe, along with these 4 other drugstore eyebrow pencils. You can't go wrong with any of them. I chose to use the L'Oreal pencil today because it's what I had on hand. I don't even see the point of buying the brow wiz anymore, now that there are so many fabulous drugstore options.

Too Faced Chocolate Soleil Matte Bronzer vs. Maybelline City Bronzer in 200 // $30.00 vs. $9.99 // I duped this bronzer in my last Full Face of Makeup Dupes video, but the dupe is a little harder to find nowadays. This new Maybelline bronzer was just launched and even the pan shape and size is reminiscent of the Chocolate Soleil. The tone is slightly different in the pan, but I really cannot tell a difference on the face.

Urban Decay Naked Heat Palette vs. Profusion Mixed Metals Peach Palette // $54.00 vs. $9.99 // You may think this dupe is a stretch, but hear me out. I was able to dupe at least 4 shades – we're talking identical shades – from the Naked Heat palette. Yes, there are less shades in the Profusion palette, but my opinion is if I can dupe a good chunk of the palette, it's a good drugstore alternative. I will say, the pigmentation of the Profusion shadows are way less intense and do take a little more time to build up, but we can obviously see that I was able to create an identical eye look. What do you think?

Too Faced Better Than Sex Mascara vs. Cover Girl Exhibitionist Mascara // $24.00 vs. $10.99 // Many people like to say that the L'Oreal Lash Paradise is a dead on dupe to the Too Faced Better Than Sex Mascara. I have found an even better dupe! This Cover Girl mascara is a newer launch and it is seriously so good. The brush/wand is identical to the Too Faced, but there are less issues with flaking (the L'Oreal is notorious for flaking and crumbling). If you try anything from this blog post, you must try this (and the Wet n Wild foundation)!!!

Benefit Dandelion Blush vs. L'Oreal True Match Blush in C1-2 // $30 vs. $11.99 // Benefit dandelion is a cult favorite baby pink blush that gives the perfect amount of subtle flush. This L'Oreal dupe is so spot on, and you get a bigger amount of product in the pan. Win, win.

Ofra Cosmetics Rodeo Drive Highlighter vs. Maybelline Expert Wear Eyeshadow in The Glo Down // $29.00 vs. $2.99 // I can't believe I was able to dupe a high end highlighter with an eyeshadow. This one still boggles my mind. I will say the formula is not quite identical (you really need to build up the Maybelline eyeshadow), and the Ofra highlighter is a little more white gold (Maybelline has a little more of a warmer gold tint). These differences are so slight I would still 100% consider the Maybelline eyeshadow a win!

Persona Cosmetics Matte Liquid Lipstick in OG vs. L'Oreal Infallible Pro-Matte Liquid Lipstick in Nudist // $16.00 vs. $9.99 // There is a $7 savings here between the two lipsticks, so it isn't a huge deal. I will also say that I will likely continue to purchase the Persona lipstick because I just love it so much. However, if you love the shade and want something similar from the drugstore, you definitely need to check out the L'Oreal lipstick! And, as you can see from the video, it lasted way longer. (That doesn't necessarily mean the product is better, it just is good to know if I want to wear it to an event or want it to last longer.)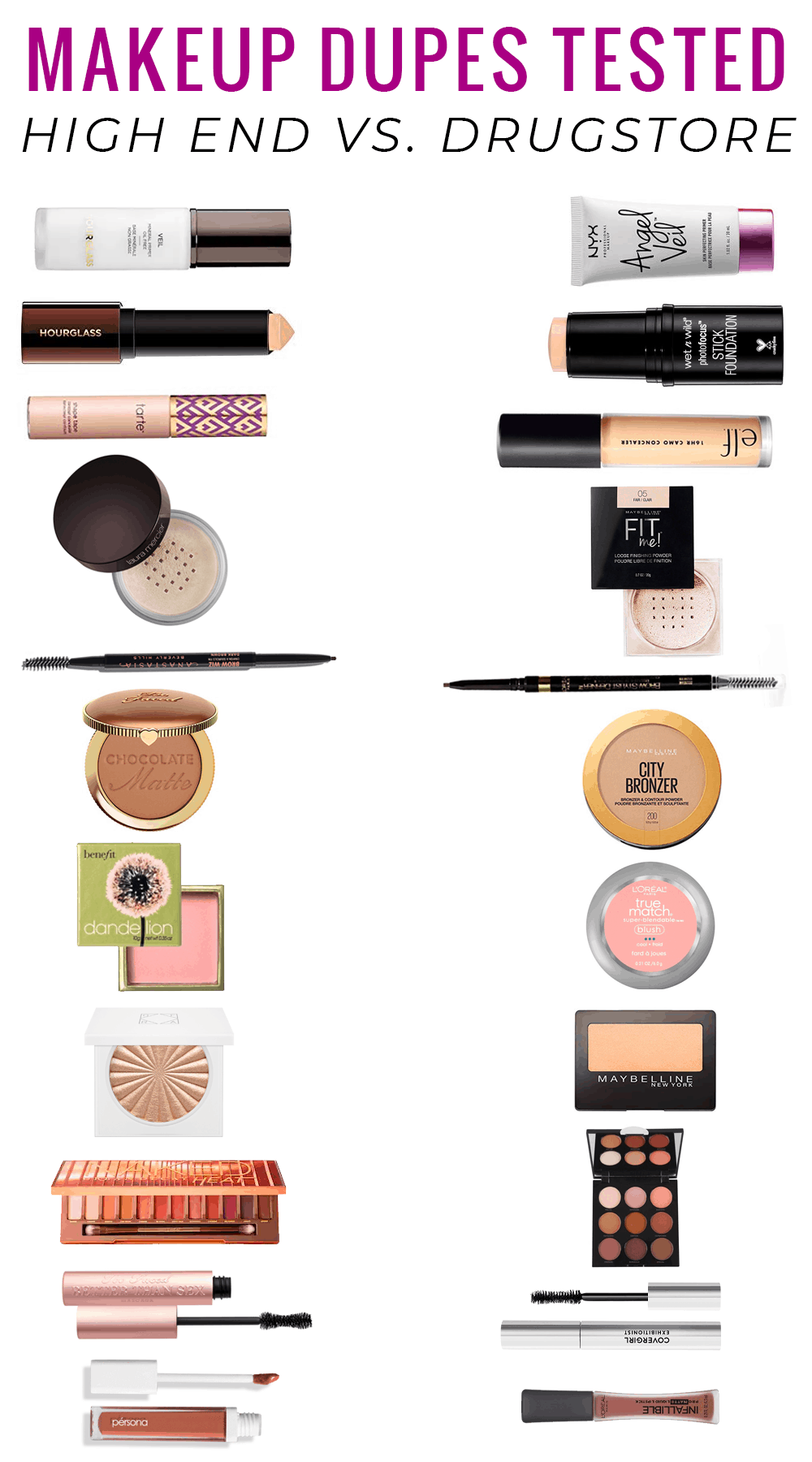 What dupe surprised you the most? Which one are you most excited to try? Let me know!
If you liked this drugstore makeup dupes post, make sure you visit these others…
Full Face of Makeup Dupes – Half High End, Half Drugstore
Makeup Primer Dupes
Hourglass Foundation Stick Dupe
Anastasia Brow Wiz Dupe
Best Drugstore Eyebrow Pencils
Kylie Cosmetics Koko K Dupe
….or check out all of my drugstore and dupes blog posts HERE!