Updated August 21, 2016
We're almost to October, so it's acceptable to start blogging about Halloween, right? Good, because I have a killer Halloween Snack Mix recipe I need to share with you guys. I can't stop eating it, and neither can everyone else in my house. It's full of sweet and salty things and full to the brim of yummy popcorn! Even better, it's so easy to make because you just literally throw it together. Fun to include the kids in the process!
Halloween Snack Mix:
BOOMCHICKAPOP Sea Salt Popcorn
Pretzel Sticks
Mini Marshmallows
Candy Corn
Chocolate Candy Pieces (we used peanut butter candy pieces – whatever suits your fancy!)
Instructions: Throw it all together, however you like!
This is perfect for the kiddos! Kennedy had a blast making it and pretty much ate her weight in it as she prepared it. What can I say? She's a perpetual snacker.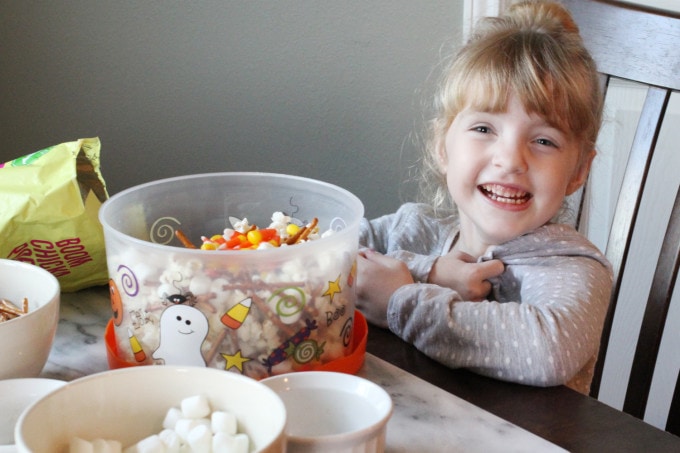 We're using BOOMCHICKAPOP Sea Salt Popcorn in this recipe. I love the name, the packaging, and the popcorn is delicious! I like the Sea Salt variety for this recipe because it balances out the sweet pieces. It's also non-GMO, and made with real, simple ingredients. Something a little healthy always helps.
It dawned on me that this snack mix would be awesome for Kennedy (and Caroline!) to take to her friends at Mother's Day Out on Halloween, in lieu of candy. So, I designed some treat bag toppers to go with it! How cute are these? The best part is, I've made it available so you can download it for yourself! They work just fine stapled over the sandwich size ziploc bags. Perfect for school friends and school parties!
Download the Printables!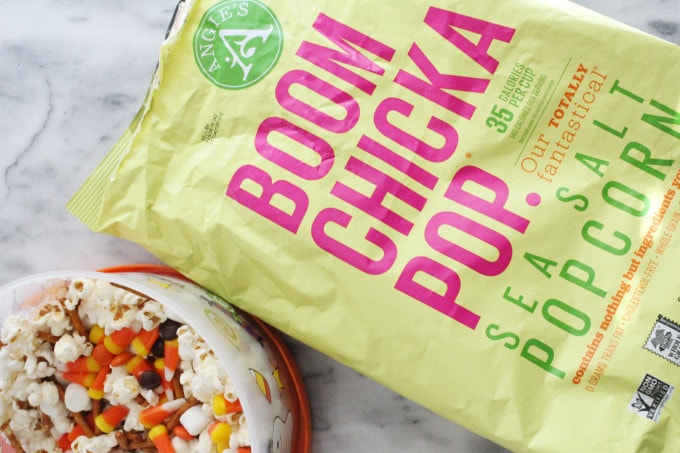 One more thing! BOOMCHICKAPOP is holding a really fun giveaway! All you need to do is share to Facebook, Twitter, Pinterest, or Instagram using the hashtag #BringTheBoom for a chance to win three Halloween kits (including an array of fun treats and prizes, and could include things such as trick or treat bags, glow bracelets, stay-at-home popcorn & bowl kits, and BOOM pumpkin carving kits), a $50 Target gift card and free BOOMCHICKAPOP! BOOMCHICKAPOP will pick the winners and mail prizes out a week before Halloween. Go enter!
Title:
Halloween Snack Mix + Treat Bag Printables
Keywords:
halloween snack mix
Last Updated:
August 21, 2016