Updated November 30, 2020
It's been a while since we've had a little toddler in our house, but the time has come again! I thought it was only appropriate we did a gift guide for him and other toddlers!
I really tried to think outside the box with this gift guide and include a variety of things here, and not super heavy on the toys. I don't know about you, but small toys just seem to collect in our house and don't get used as much as we hoped. I really thought about super fun activities and things to keep the kiddos engaged. After all, anything that can keep a toddler's attention for more than 5 minutes is worth every penny.
Most of these gift ideas are gender neutral or have multiple color options to suit your preferences. Yay!
I hope you enjoy this gift guide and find some good ideas!
Toddler Gift Ideas – Ages 1-3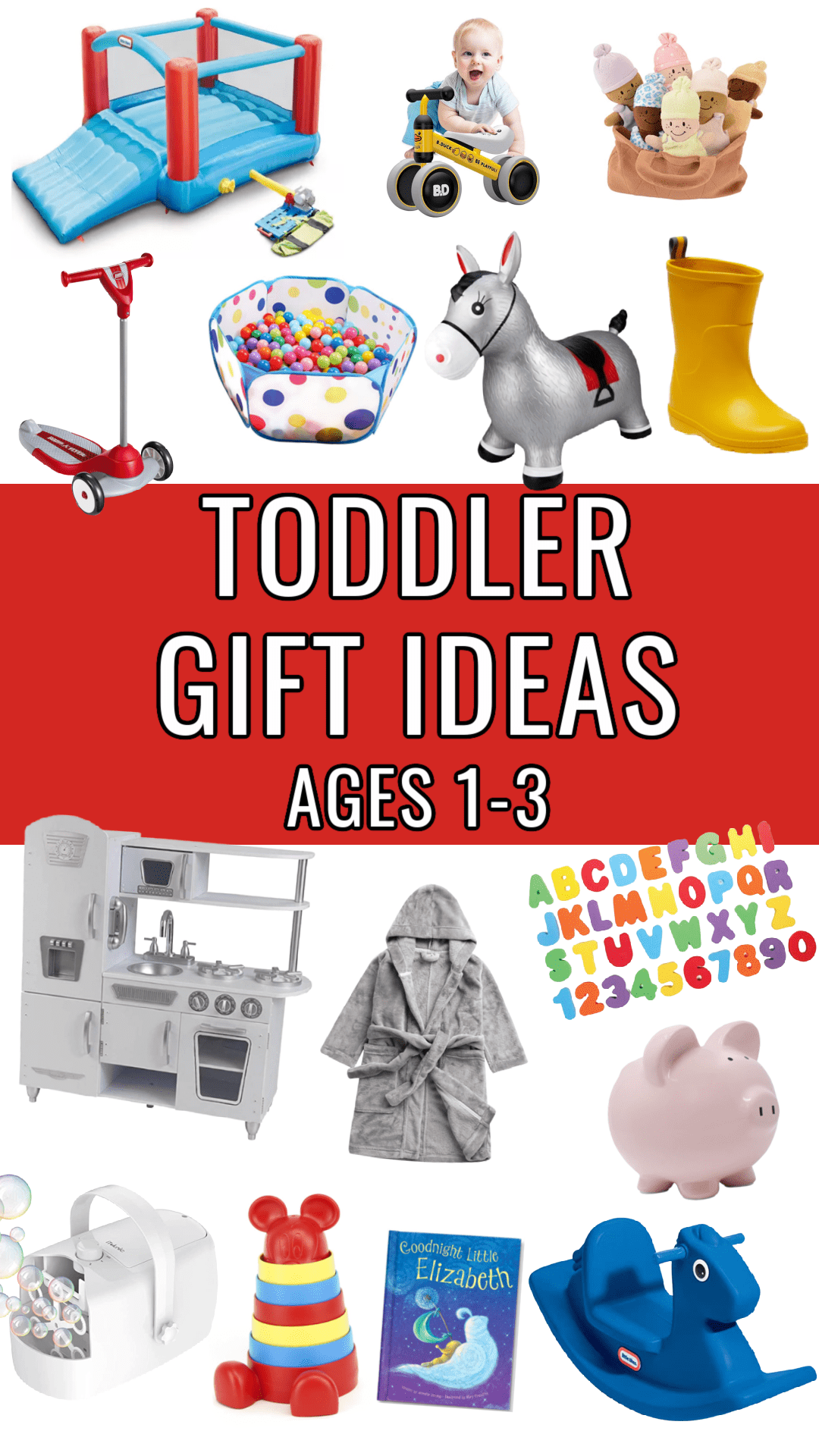 Bounce House
At the start of quarantine, bounce houses were selling out everywhere. They truly can be a wonderful thing to have for little ones who need to get out all that energy. I bought this bounce house for my girls and it really is a good find for toddlers and kids alike!
Rocking Horse
Get that energy out with a little more rocking. Plus, these are pretty affordable and cute.
Mickey Mouse Stacker
Nothing like a good stacking toy for a toddler! I couldn't help choose this one because it's Mickey, our favorite!
Small Balance Bike
I love the idea of a tiny little balance bike! This can keep really young toddlers entertained and learning how to use their feet while riding. Really good pre-bicycle training.
Basket of Plush Baby Dolls
I love how these baby dolls are diverse, and they're just so darn cute.
Foam Bath Letters & Numbers
No more moldy bath toys! Get a set of foam letters and numbers that easily stick to the tub, stay clean, and are lots of fun.
Play Kitchen
This classic play kitchen is a toddler's dream, especially for 2 and 3 year olds.
Toy Food Set
If you're buying a play kitchen, you've got to get the food to go along with it, right?
Piggy Bank
Every kid needs a piggy bank! I love the classic look of this one. It also comes in a bunch of different colors so it can match a variety of rooms.
Sleeping Bag
This is such a fun gift idea for movie nights, trips to grandma's house, and pretend camping in the backyard. Sleeping bags are just fun!

Baby Yoda Hooded Blanket
I'm sorry, but this blanket is literally the cutest. This is cute for boys or girls!

Unicorn Hooded Blanket
I know little girls love unicorns so this had to be included too. Hooded blankets are so fun!
Bath Robe
I can't think of a cuter thing than a little toddler in a bath robe. Seriously, how adorable!
Ball Pit
Yes, I realize this can be a lot, but I found the most compact and foldable ball pit I could! Haha. Note: this does not come with the balls, so you need to order some. These look promising!
Pajamas
I feel like everyone needs a new pair of pajamas on Christmas morning, even the littlest toddlers. These come in a bunch of different variations – you're sure to find something your little one will love.

Sensory Bin
This is such an awesome idea for toddlers. Sensory bins are so good for fine motor skills and are lots of fun. This small shop has a bunch of options, but I thought the Toy Story bin was super cute!

Rain Boots
How cute are these toddler sized rain boots? They're super affordable, too! If you have a Peppa Pig fan in your house, he/she is sure to love the idea of jumping in muddy puddles in them!

Acrylic Name Puzzle
This personalized puzzle is seriously stunning (Logan has one!) and also makes for great decor in a kids room. It's a super thoughtful gift idea I'm sure anyone would love.
TeePee with Lights
I'm usually one to stray away from encouraging gifts that take up a lot of space (ESPECIALLY if you are not the child's parent and did not ok the idea), but if you have the space in a play room or kids room – a teepee is a wonderful idea for endless fun! This one also comes with lights.

Little Climber
This climbing toy is from a small business and apparently a cult-favorite among many moms! Teaches kids gross motor skills and keeps them engaged with a bunch of ways to climb all over it! Another one of those gifts that take up a bit of space, so it will be good in a playroom.
Water Doodle Mat
Coloring without a mess? Perfect for toddlers. Water in the special markers make the doodles!
Inflatable Bouncy Horse
Instant way to get the wiggles out? Bounce around. These are so cute!

Personalized Christmas Plate
I love the idea of gifting personalized Christmas plates to all siblings young and older. It can be something they use every holiday season and take with them as the get older.
Radio Flyer Scooter
This is something that is going to be a good gift for an older toddler, but it sure is precious! Comes in pink and red, and is the perfect first scooter.
100 Words Book
I feel like toddlers have a lot of books, so if you're going to buy one make it really cool. This one teaches 100 words with lots of fun sounds and ways to interact.
Goodnight Little Me Personalized Book
Like I mentioned, if you're going to gift a book, make it really cool. This one you can personalize with the child's name! How precious is that?
Wooden Puzzles
I'm a huge fan of age-appropriate puzzles and these are really cute. I think they can keep a toddler busy for a few minutes! Haha,
Happy shopping!