Updated June 27, 2018
When I was packing for our trip to Europe, I definitely had to think about the amount of makeup I would pack and how to keep it at a bare minimum. It's easy for me to get carried away and think I need ALLTHEMAKEUP. I like to have choices and options, and I always am trying something new on a day to day basis. When packing, I truly did show some restraint here. I know, for some of you, this is a lot, but for me it was just enough.
For the most part, I tried to pack a lot of drugstore items, travel sized items, items with really slim or durable packaging, or items I almost have used up. There's always that "what if" of losing things or your bag getting tossed around more than you would like.
One thing that really helped with this process were my Kusshi travel makeup bags. They sent some over before we left for the trip, and these bags are a God send! They are a brand new company, with a kickstarter that launched this month. All of the bags are machine washable and are meant to do so many different things. Just watch this little video posted on their Instagram so see for yourself!
It's amazing how much I could fit in the makeup bag alone. I love how I could zip it open all the way and see everything I had in there. I thought the little mesh side pockets for my beauty blender and eyelash curler were pretty genius.
Anyway, here's what I packed!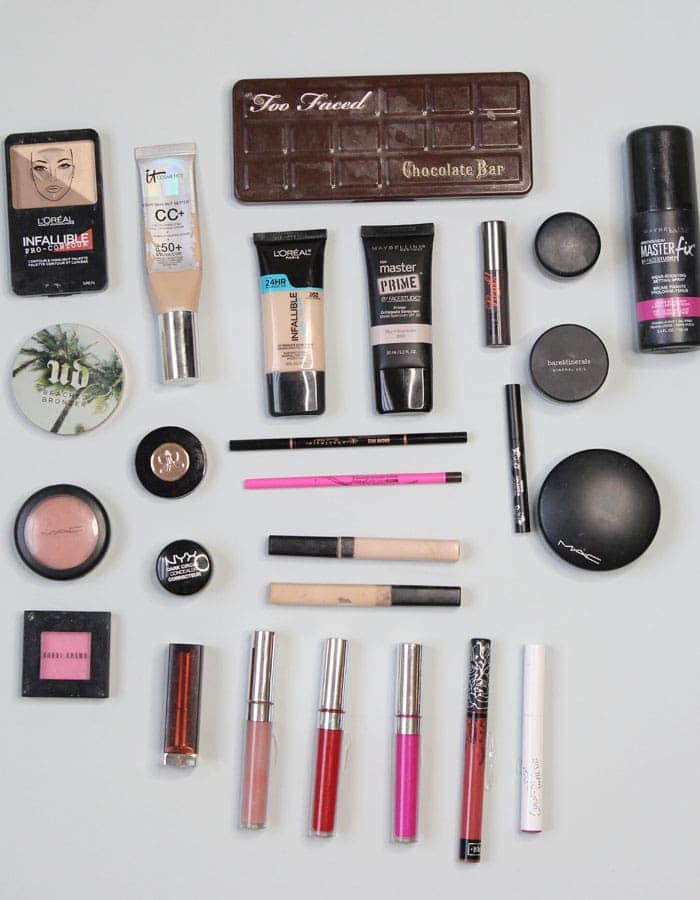 Face
Maybelline FaceStudio Master Prime Blur + Illuminate // A new primer I wanted to try out while on vacation, and I really enjoyed it!
L'Oreal Infallible Pro Glow Foundation // Another new product I was incredibly excited about trying, and I love this foundation. It has a very natural finish but also is long wearing. New favorite!
It Cosmetics CC Cream // This is a tried and true favorite, and it was especially handy to have when we were in Rome and the heat and sun was strong.
Maybelline Fit Me Concealer // One of my holy grail concealers that I knew would be perfect… and these were almost empty.
NYX Dark Circle Concealer // Great for when I was looking a little tired due to so much travel. Not my absolute favorite corrector, but it worked just fine!
MAC Mineralize Skin Finish Natural // One of my favorite powders EVER, and I was almost out of this. So if it broke, then it wouldn't be a complete tragedy.
bareMinerals Mineral Veil // I brought this to set concealer under my eyes. I noticed that when I was sweating a lot in Rome, this crusted up quite a bit, which was disappointing!
Urban Decay Beached Bronzer in "Bronzed" // I adore this bronzer, and the packaging is slim but sturdy.
L'Oreal Infallible Pro Contour Palette // I decided against bringing a contour palette, so I brought this contour/highlight duo and a bronzer instead. Took up way less space in the bag, but worked out perfectly.
MAC Melba Blush // Simple, sturdy packaging and a universally flattering blush that goes with everything. One of my favorites, ever.
Bobbi Brown Blush in 'Peony' // I thought it would be fun to take a "pop of color" blush – I didn't end up using this one a whole lot, though.
Maybelline Face Studio Master Fix Setting Spray // I love this setting spray and used the heck out of it.
Eyes
MAC Paint Pot in Soft Ochre // I don't use anything but this as an eyeshadow primer, so it went with me.
Too Faced Chocolate Bar Palette // This is one of my favorite eyeshadow palettes ever, the packaging is slim but sturdy, and it has every shade I will need when creating a look. I didn't wear a ton of eye shadow on the trip, but it was nice to have!
Maybelline Eye Studio Master Precise Skinny Eyeliner // One of my favorite liners ever! Bonus points because it's tiny and travel friendly.
Kat Von D Tattoo Liner in Trooper // Got this sample size in my Sephora Play box and threw it in for good measure. I think I used it only once, though.
Benefit They're Real Mascara // I do enjoy this mascara, although I never want to purchase. Another Sephora Play box item, and I enjoyed having this mascara with me.
Anastasia Beverly Hills Brow Wiz // Can't leave home without the holy grail brow pencil! If you're on a budget, make sure to check out my Anastasia Brow Wiz Dupe blog post!
Anastasia Beverly Hills Brow Powder // This is smaller packaging than the Dip Brow Pomade, so it went with me.
Lips
Okay, I know it's kind of ridiculous to take this many lip products, but I need options!! Haha! I actually wore them all, so I feel justified. Although I mostly stuck to the neutrals.
Maybelline Color Sensational Lipstick in Warm Me Up // One of my favorite neutral lipsticks ever. I wore this probably the most.
ColourPop Ultra Satin Lipstick in Littlestitious // My favorite ColourPop satin lippie!
ColourPop Ultra Matte Lipstick in Creeper // The best red lipstick ever.
ColourPop Ultra Matte Lipstick in Sundae // One of my favorite cool toned hot pink lipsticks.
Kat Von D Everlasting Liquid Lipstick in Double Dare // Loving this new neutral – I actually wore it a lot more than I expected.
ColourPop Sheer Lippie Stix in Whip // Sheer comfortable formula, and a totally wearable purple. I probably wore this lipstick the most!
Now let's get to the brushes. The Kusshi brush roll turned out to be an unexpected favorite travel bag. I've never owned one before, but this one seemed to have enough space for all the brushes I wanted to bring, plus a little zipper pouch for odds and ends (tweezers, nail scissors, hair ties, etc.). I think that's my favorite piece of the two bags. I could open up the brush roll and see all of my brushes right then and there when I was doing my makeup in the morning.
Eye Makeup Brushes
Morphe E36 (I think it's discontinued)
Face Makeup Brushes
Overall, I think I actually brought the perfect amount of makeup. I know this list seems like a lot of stuff, but for me, it really wasn't! Haha! And bonus, it all fit in those two small bags. Winning!
Shop the post!
I've got most items linked easily here below in this widget.