Struggling to get that summer glow? On a budget? I've found the best drugstore self tanner that gives beautiful results! We'll also go over the best application tips and tricks.
I am a self tanner junkie. I am very fair complected and will take all the help I can get without the harmful rays. I've done both professional spray tans and tried everything under the sun at home, from drugstore to high-end prices. My current favorite is an affordable self tanner, so I have to share it with you! It's such a great find. Dare I say… it's the best drugstore self tanner!
Best Drugstore Self Tanner
I have been loving the Jergens Natural Glow Instant Sun Sunless Tanning Mousse in Deep Bronze. It is a foam formula that applies flawlessly with a mitt and gives amazing color. I truly believe it's one of the best self tanners for fair skin. If you're very pale, you can go with the Light Bronze formula and it will give you a wonderful light wash of color. If you're light complected and up, go with the Deep.

My crowned winner of the best drugstore self tanner has a warm undertone to it without it looking orange. It gives a very natural and believable tan, and it seems to work well with my skin tone. Sometimes the self tanners that have a bit more "green" tones to them can look a little weird on me.
And what do you have to lose? It's a self tanner under $10!
Some other Affordable Self Tanner Options
If you're itching to try more affordable options to get a killer fake tan, here are some of my other favorites! All are under $10, as well.

St. Moriz Instant Self Tanning Mousse // A lot of people compare this one to the St. Tropez foam. I haven't tried the St. Tropez, but I can tell you this is an amazing self tanning foam. I would rank it up threre right with the Jergens!
Neutrogena Micro-Mist Airbrush Sunless Tanning Spray // You have to be extra careful when you apply this one, as it comes in a spray can. It also doesn't have the bronzer indicator on it (the product comes out clear), so you really have to pay attention where you apply it. However, the color it gives is so good and natural!
Banana Boat Summer Color Self Tanning Lotion // If you prefer a lotion formula, this one can't be beat! Goes on smoothly and doesn't streak. I also love the color it gives.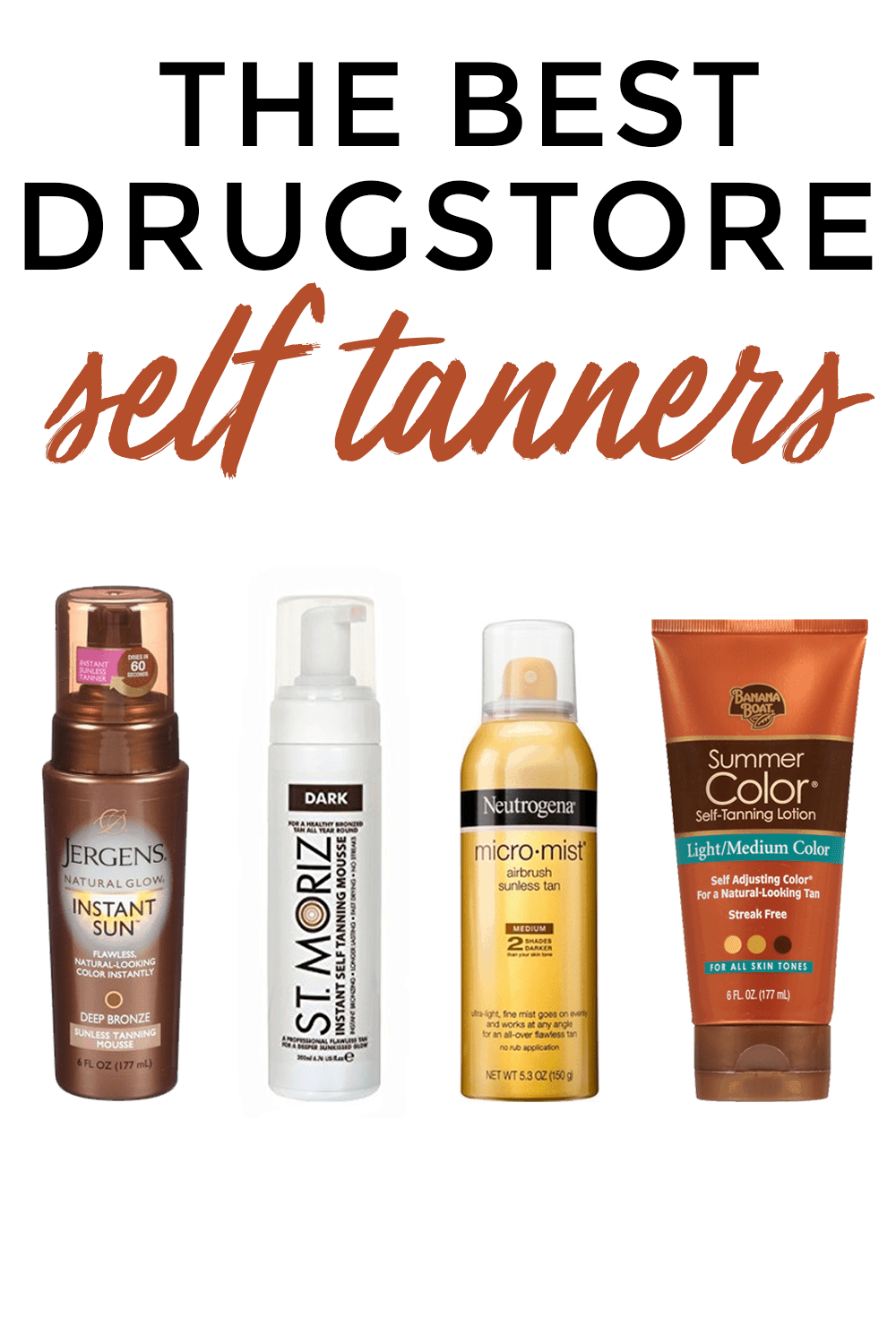 Self Tanner Application Tips & Tricks
Now let's get to some self tanner application tips! Do you loathe the thought of having to apply self tanner? Not to worry, you'll become a pro in no time!
Self Tanner Supplies
There's a couple of things I make sure I have on hand before I self tan at home. I want to make sure that my tan is realistic, even, and not streaky. Here are a few things I recommend you grab before you get started.

How to Apply Self Tanner
At home self-tanners have become much easier to apply, and anyone can do it. It's all about prepping the skin and being very thorough with your application. Here are a few tips to apply self tanner!
Prep the Skin
Prepping the skin before you apply self tanner is crucial! It will ensure an even coverage of the product and will prevent it from streaky. Here's a few things you can do to prep.
Make sure you exfoliate beforehand. Self tanners tend to attach to dry spots and make them look darker, so it is key to make sure you have an even surface with your skin. I always take a shower before I self tan, and scrub my skin with a sugar scrub or some other exfoliant.
Once I get out of the shower I make sure to use a thick body butter or lotion on my hands, feet, knees, and elbows. This helps to prevent the self tanner from developing too dark in those areas. You could also use a barrier cream, but a lotion does just fine for me.
Tips for Applying Self Tanner
Take your time applying self tanner – this isn't something to rush through! Being thorough ensures an even tan without streaking. You can do it, I promise!
Use a mitt. A mitt is a game changer. This one is cheap, on Amazon, and the best mitt I have (I have about 4 mitts and this one is my favorite).
Avoid your feet, hands, elbows, and knees until the very end.
Start with your legs and move upward. Pump the foam or lotion onto the mitt, spread across the skin, and buff out in circular motions.
I go in this order – left leg, right leg, back of thighs and butt, stomach, lower back, left arm, right arm, chest, upper back.
To get your back completely, try to get some help from your partner or a friend. If not, don't stress out too much about your back (unless you're wearing a backless dress or swimsuit).
Pump about a half pump of foam and lightly go over knees and elbows.
Wash hands and then take whatever's left on the mitt (no additional product) and lightly go over feet and hands.
I prefer not to apply self tanner to my face, but if you want to, put a tiny bit on the mitt and thoroughly buff in, making sure to blend down to your neck. You do not need to use a face self tanner, but if you have sensitive skin or break out easily, you may want to.
Let product completely dry before dressing.
Wear dark, loose clothing as the tan develops.
Rinse product off in the shower after it has fully developed.
How to Preserve Self Tanner After Applying
I want to get as many days out of my fake tan as I can, so I make sure to do a few things!
Do not wet skin while the tan is developing. Make sure it has time to develop! Most self tanners take about 8 hours. I like to apply before bed or if I will be hanging around the house all day.
Apply a second coat to your base tan after the first coat has developed. This will get super even coverage and will help you get it to last longer. For example, I'll apply my first coat at night, rinse in the morning, and then apply a second coat if I'm hanging around the house. Then I'll rinse that off in a few hours.
Moisturize frequently! This prolongs the self tanner from drying out and flaking off.
A couple of Self Tan FAQs
I had a few questions about this process over Instagram stories, so I figured I will address any recurring questions I get here! If you ask a question in the comments or on Instagram, I'll try to update this post with those answers so this post is continually helpful!
How do I avoid smelling bad?
Unfortunately, with most tanners, they all tend to give off that "fake tan smell" as they develop. It's unavoidable. That's why my best suggestion is to apply it at night, sleep in dark, loose clothing, and let the tan develop overnight. Rinse in the shower first thing in the morning, and you have avoided smelling like a fake tan in public.
Will this rub off or stain my clothes or sheets?
All of the self tanners I've listed in this post do not permanently stain any of my fabrics. The bronzer (that immediate tan color) in a lot of self tanners are an indicator of where you're putting the product, and can rub off a bit on clothes and sheets, but will not permanently stain. Make sure you're wearing loose, dark clothing after applying. I also like to apply my self tanner the night before I know I am going to wash my sheets. That way I can wash the sheets immediately! Sometimes there's a little that rubs off, but it comes out in the wash.
How often do you self tan?
About every 4 days when I really want to keep the intensity of my tan up. Every week if I'm okay with it fading.
What is the best self tanner for face?
I personally do not use a self tanner for my face. However, if you have sensitive skin or do not use a lot of exfoliating skincare, it would be worth it to use one! My friend Elly swears by the Tan Luxe the Face Illuminating Self Tan Drops. Give that one a try!
Why don't you tan your face?
I use a lot of exfoliating skincare products (Retin-A, glycolic acid toner, etc.) It honestly is a waste of time to apply self tanner because it will just exfoliate off.
How do you get your makeup to match your fake tan?
It is a waste of money to go out and buy your "tan" foundation shade. I prefer to buy a foundation that is warmer and in a much deeper skin tone, and I mix it with whatever foundation I am using. I've found that the Wet 'n Wild Photo Focus Foundation in Cocoa mixes beautifully with every one of my foundations.
---
I think that about covers it, I'll say! Let me know if you have any questions, or if you've found an amazing drugstore self tanner I need to know about!
If you love this, check out these other beauty blog posts:
Or browse all drugstore beauty posts
HERE
!