Updated August 8, 2018
This is a sponsored conversation written by me on behalf of
Dr Pepper
®. The opinions and text are all mine. #PickYourPepper #Walmart
Last month I turned the big 3-5. It's super weird to think I'm officially in my mid-to-late thirties, but I'm here to rock it. I don't feel "old," I am the most confident I've ever been (there are swimsuit photos in this post!), and I feel like I've found my groove with life. I fill my life and head with positivity, I don't sweat the small stuff, and I try as hard as I can to work hard and hustle.
If this is what aging feels like, bring on more years!
To celebrate, I invited a few of my girlfriends to hang out with me for a fun pool party. I'm all about stress-free and fun parties. I love a good photo op like anyone else, but I'm not about to stress myself out over details.
Yes, I threw my own birthday party and it was the best time. Here's how I look at it – everyone is so busy and we rarely have enough time to get together and connect, and we're at the point in our lives where we do need to schedule friend time. Anyway, here's all the details of my fabulous ladies-only birthday pool party!
How to Throw a Fabulous Ladies-Only Birthday Pool Party
Parties like this can come together in a pinch. They're easy to do, aren't costly at all, and look fabulous!
Find a pool that makes you feel like you're on vacation
I'm all about little escapes right here in my hometown. It makes you feel like you're on vacation without having to hop on a plane. For my party, the Residences at Kirby Collection so graciously offered their incredible rooftop pool for me to host a few of my friends. Such beautiful views of the Houston skyline, and it is stunning at sunset! You could reserve a cabana at a hotel pool or country club, hit up your fancy friend with an awesome pool, or just head to the beach!
Invite Your Girlfriends
In my experience, it's easy for your other mom friends to escape on weeknights, so that's when I planned my party. Sometimes events and other parties with the kids can get hectic, and I just wanted something chill and zero-stress. Something where I could visit with my friends, laugh, and enjoy relaxing. Like I said before, if I want to see my friends, I've got to plan it.
We're all such busy ladies, so being able to escape for a few hours is a breath of fresh air!
Don't I have the prettiest friends? I assure you they're gorgeous both on the inside and out.
Bust out the Fun Pool Floats
Fun floats are an immediate way for a pool party to look cool and Instagrammable. They're also so easy to find and are super affordable!
Flamingos, donuts, angel wings, oh my! The options are endless and so are the photo opportunities!
Just Wear the Suit
I mentioned before that this is the most confident I've felt about myself. I think we all struggle thinking about going to a pool party, having to wear a swimsuit, and know that your photo will likely be taken. At the end of the day, we are all gorgeous creatures. I can criticize every lump, bump, and roll, or I can just have fun at the pool with my friends. This year, I chose to just wear the suit. (Check out my friend Carly's Instagram hashtag to give you even more motivation!)
Keep it Simple with the Food & Drink
The great thing about pool parties is the food and drink doesn't need to be elaborate. A couple trays of snacks, sandwiches and sweet treats are just fine.
Can't forget the Dr. Pepper – the perfect drink for summertime parties with friends!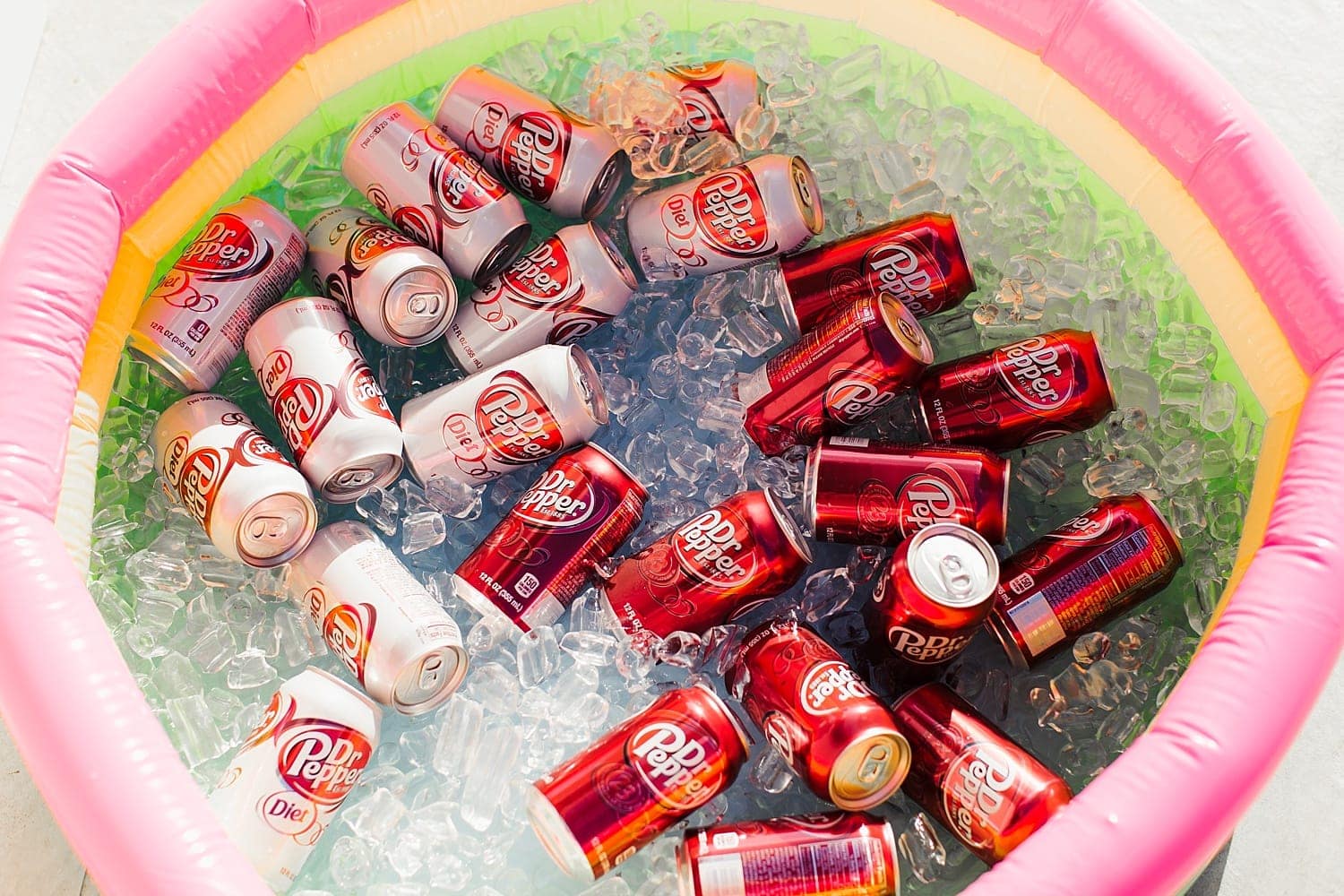 I love this idea of filling up a kiddie pool with Dr. Pepper and ice to serve as a cooler. It was a hit!
If you're planning a pool party this summer, make sure you look for the fun Pick Your Pepper packaging on your favorite Dr. Pepper. You can find it all summer long, from June 15 to August 15. I love how the packaging is unique and designed by millennials, for millennials!
When you purchase any variety of Dr. Pepper this summer from June 15 – August 15, you can upload your receipt here to get a fun prize, such as:
Spend $5 get 5 bottles = Dr. Pepper Retro Specs (pictured above!
Spend $10 get 10 bottles = Dr. Pepper Copper Lined Mug
Spend $20 get 20 bottles = Dr. Pepper Bluetooth Speakers
Spend $30 get 30 bottles = Dr. Pepper Pool Float
Are you planning a pool party this summer? Those adorable Pick Your Pepper cans will be a hit with your guests.
Cheers to great friends, one year older, and sipping on Dr. Pepper all summer long!