Updated July 29, 2019
Thank you to Horseshoe Bay Resort for providing our family with accommodations.
It's taken me forever to share all the details about our family getaway but this trip was too fun not to share! Last month we went out to the Texas Hill Country on Lake LBJ and had a wonderful time visiting Horseshoe Bay Resort. There is so much to do any it was a wonderful place to relax and have a great time.
Here's everything we did! The video has a lot of the details on our trip but I also have a few photos and highlights to share in case you were planning a trip there. I highly recommend it for families or anyone that wants a fun getaway without having to drive too far in Texas
Horseshoe Bay Resort Texas – Travel Video
Take me back!
Horseshoe Bay Resort Property Details
Where is Horseshoe Bay Resort, exactly? Horseshoe Bay Resort is located in the Texas Hill Country near Marble Falls and situated on Lake LBJ. It's about 55 miles northwest of Austin, and a fairly short 1 hour drive. From Houston, it's about 215 miles and a 3.5 hour drive. Not bad for a worthy getaway!
Let's first chat about the property. It's so gorgeous, all recently updated. We were really impressed with the lush landscaping, the pools, and the overall vibe of the resort. It's very relaxing and feels like you've truly gotten away.
They also have a really impressive collection of exotic birds on property! The girls really enjoyed looking at and talking to the birds.
All of the details on property are just gorgeous.
The resort is spread out quite a bit with different areas, and the Yacht Club over on the lake has a beautiful pool, restaurant, and bar. We really enjoyed spending our last afternoon relaxing here.
We were there for two nights and ate the first night at Ventana, which was delicious. The second night we drove into Marble Falls and ate because we wanted to venture out and see the town.
Horseshoe Bay Resort Hotel Room – 2-Bedroom Villa
Our family stayed in one of the Palms 2-Bedroom Villas, which are situated next to the main tower. Our unit was 2 stories. The master had a king bedroom, the second bedroom had a queen (each with their own full bathrooms), there's a pull out bed on the downstairs couch, and a half bath downstairs. It also has a full kitchen which is super convenient! We hit up the H-E-B in Marble Falls and got plenty of snacks, bottled water, and breakfast items to save money on meals.


If you've got a big family or want enough room to spread out, we highly recommend one of these villas. This pregnant mama really loved having all of the extra room to spread out and relax.
Resort Amenities
There are so many amazing amenities at Horseshoe Bay Resort, I can't even recall them all! They have a fabulous spa, a kids club (so mom and dad can have a break!), pools, lake activities, restaurants, and so much more. You will not get bored here!
Things to do at Horseshoe Bay Resort
There are so many things to do around the resort – they even have a calendar of activities! It's especially packed full of things to do during the summer. There are also concerts, yoga, wine tastings, and so much more! When we were there, they were doing nightly s'mores, and that was a lot of fun for the kids.
We decided to spend the majority of our morning/early afternoon with a boat rental to explore Lake LBJ. My father-in-law rented a pontoon boat and we had a lot of fun venturing out!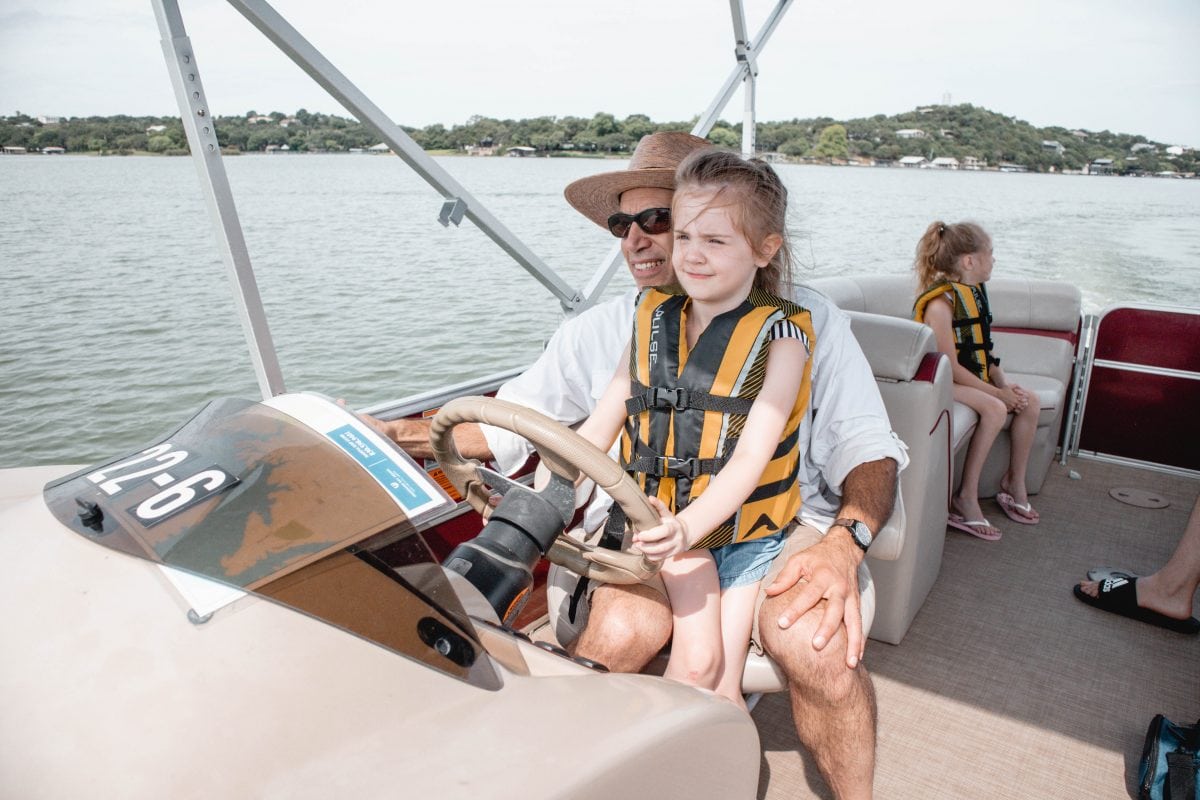 We spent the rest of our full day by the Yacht Club pool enjoying the views of the lake and the resort.
If you're looking for a family-friendly fun Texas getaway, add Horseshoe Bay Resort to the list! We will definitely be back.