Updated August 20, 2018
Thank you to Mazda for sponsoring this post and road trip in Pacific Northwest. As always, the text and opinions are 100% mine. Thank you for reading and supporting my blog!
If you've never been, the Pacific Northwest is a beautiful place to visit. Last summer, we visited Seattle and Vancouver as a family and I have wanted to go back and explore more. I had no idea it would be sooner rather than later.
I was presented with an amazing opportunity to head back this summer to Oregon and drive an epic road trip in a 2019 Mazda MX-5 Miata up to Seattle. The icing on the cake? Driving it with one of my best friends, Katie.
Mazda assembled a crew of incredible influencers and planned a drive for us all to experience. Each day we trekked to a new city, experienced delectable dinners as a team, and rested our heads in fabulous hotels. It was such a fun trip with lots of memories made.
Honestly, I'm ready to go back again. In the meantime, we'll all have to reminisce in this recap!
Our Road Trip in the Pacific Northwest
I put together a video of our trip that I hope you enjoy! Keep reading to see more details of our itinerary and drive.
Day 1 – Eugene, Oregon
We all arrived in Eugene, Oregon – a quiet and quaint town that's the home of the University of Oregon. We had a fabulous dinner at Marche and settled in for a restful evening. Little did we know how packed the next few days would be!
Day 2 – Eugene to Portland
Up bright and early, we grabbed some yummy breakfast in the Provisions Market Hall. Once our bellies were full and we were caffeinated, we were handed the keys to our 2019 Mazda MX-5 Miata (gray hard top convertible!) and immediately felt like a couple of rock stars. Katie and I decided we would take the long route to Portland and drive the Oregon coast. I am not exaggerating one bit when I say this was the most beautiful drive I've ever done in my life.
This Texas girl is used to flat land and concrete, so the mountains, trees, rocky coast, and water were unbelievable. We felt like we were driving in a movie. Having a convertible makes everything that much better – from the wind through your hair to the perspective of the drive.
The first stop we made was a look out at the Sea Lion Caves. We didn't make it into the caves but stopping for the view alone was well worth it.
We then went on to Heceta Head, where you can hike up to a lighthouse or stroll along a beautiful beach. (Apparently, you can also stay in this lighthouse!) At this point, I'm still thinking, "Is this real life?" It was insanely beautiful.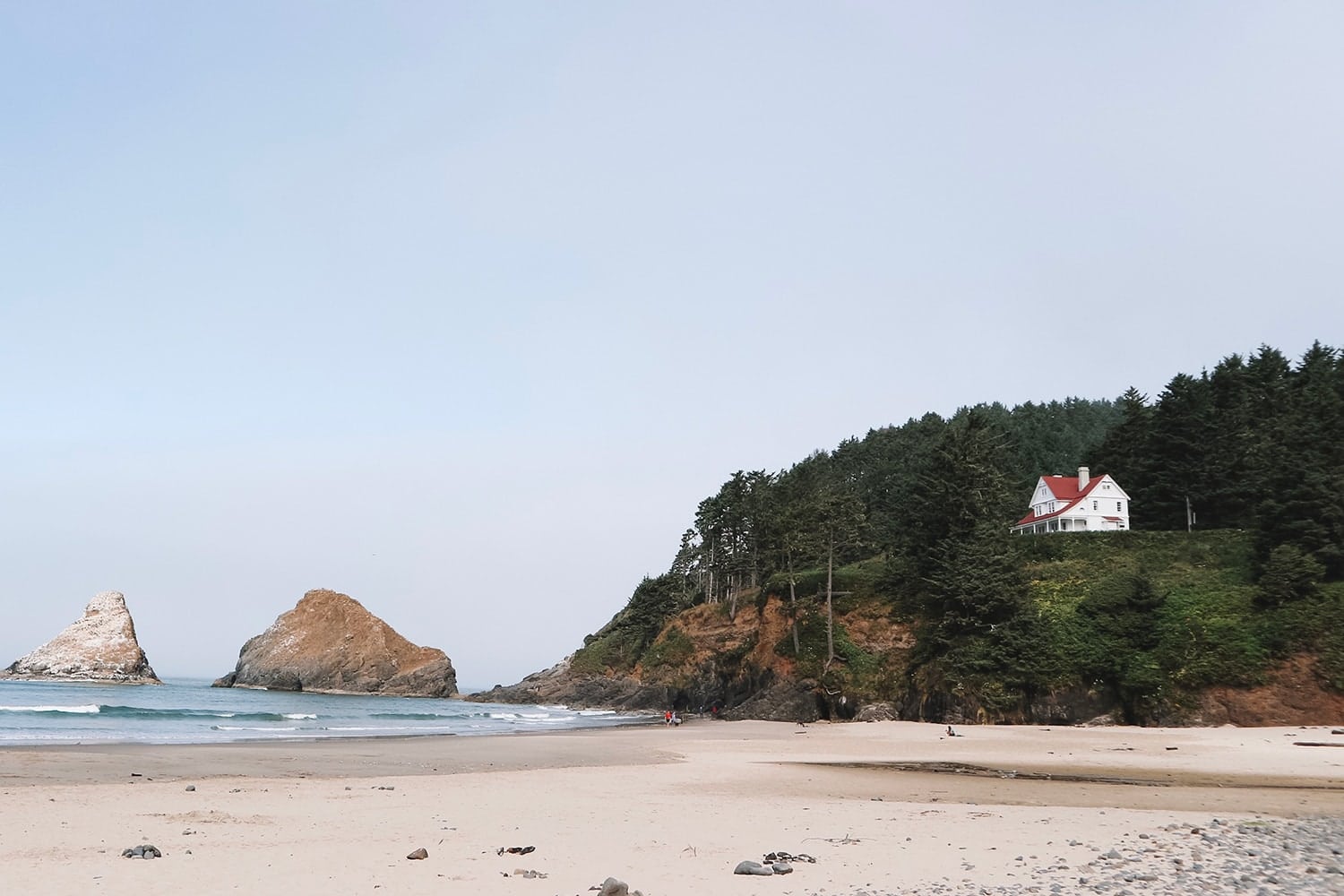 After that, we headed on to another scenic viewpoint on Cape Perpetua. We walked among volcanic rock to an area where Thor's Well is. We were there at (I think) low tide, so we weren't able to see the huge hole, but we did see a lot of water coming in and out of the volcanic rocks and other smaller holes. It was incredible.
Lunch was at in Luna Sea Fish House in Yachats. Fish so fresh it was literally coming off the boat. Best fish and chips I've ever had (outside of the UK, of course)!
We then made it to Portland and headed right back out to meet some Oregon blogger friends. They were so sweet to come and visit us while we were in town. Afterward was a gorgeous dinner at Urban Farmer.
Day 3 – Portland to Seattle
After some well-deserved rest, we were ready to take on the second leg of the drive.
For this drive, we were able to experience a red soft-top convertible. We decided for this day we would try to get to Seattle as quickly as we could, but not before making a scenic stop on our way out. We visited Latourell Falls right outside of Portland, and it did not disappoint. Heck, the drive to the falls was incredible. We may or may not have stopped the car in the middle of the road for a photo op we couldn't pass up.
After our visit to the falls, we headed straight to Seattle. On the way, we made sure to have plenty of karaoke jam sessions in the car.
Upon arriving in Seattle, we went to my favorite spot to view the city – Kerry Park. It is not super crowded as it is in a residential area, and the views are amazing.
After that, we took a short visit to Pike Place Market, where we met another blog friend and meandered through the market. We took that time to eat cheese curds from Beecher's and macarons from Le Panier. As touristy as it may be, the flowers, fish markets, snacks, and foods are all worth experiencing.
Our last evening of the trip was a Mazda Miata Club event, where Miata owners from all around came out to socialize and show off their fantastic cars. It was a fun event and a gorgeous evening.
Post-Trip Thoughts
The trip ended early the next morning with a flight back home. What an adventure!
The 2019 Mazda MX-5 Miata made the drive even more memorable. Like I mentioned, having a convertible changes the whole experience of the drive. You can see and feel it all. Not to mention, the Miata is such a fun car to drive, and is thoughtfully designed. As someone who normally drives around a big mom-mobile, this was a driving experience that will be hard to top.
If you have not visited the Pacific Northwest, put a road trip on your bucket list. Immediately. It will not disappoint.