Updated February 17, 2023
As many of you know, we are huge Disney Cruise Line fans. I've sailed with other cruise lines in the past, but Disney makes it so much fun for the entire family. They are 100% worth the money, and I really feel you get what you pay for.
If you love the magic of the Disney parks but want to feel super relaxed and carefree? Book a Disney Cruise! I'm serious.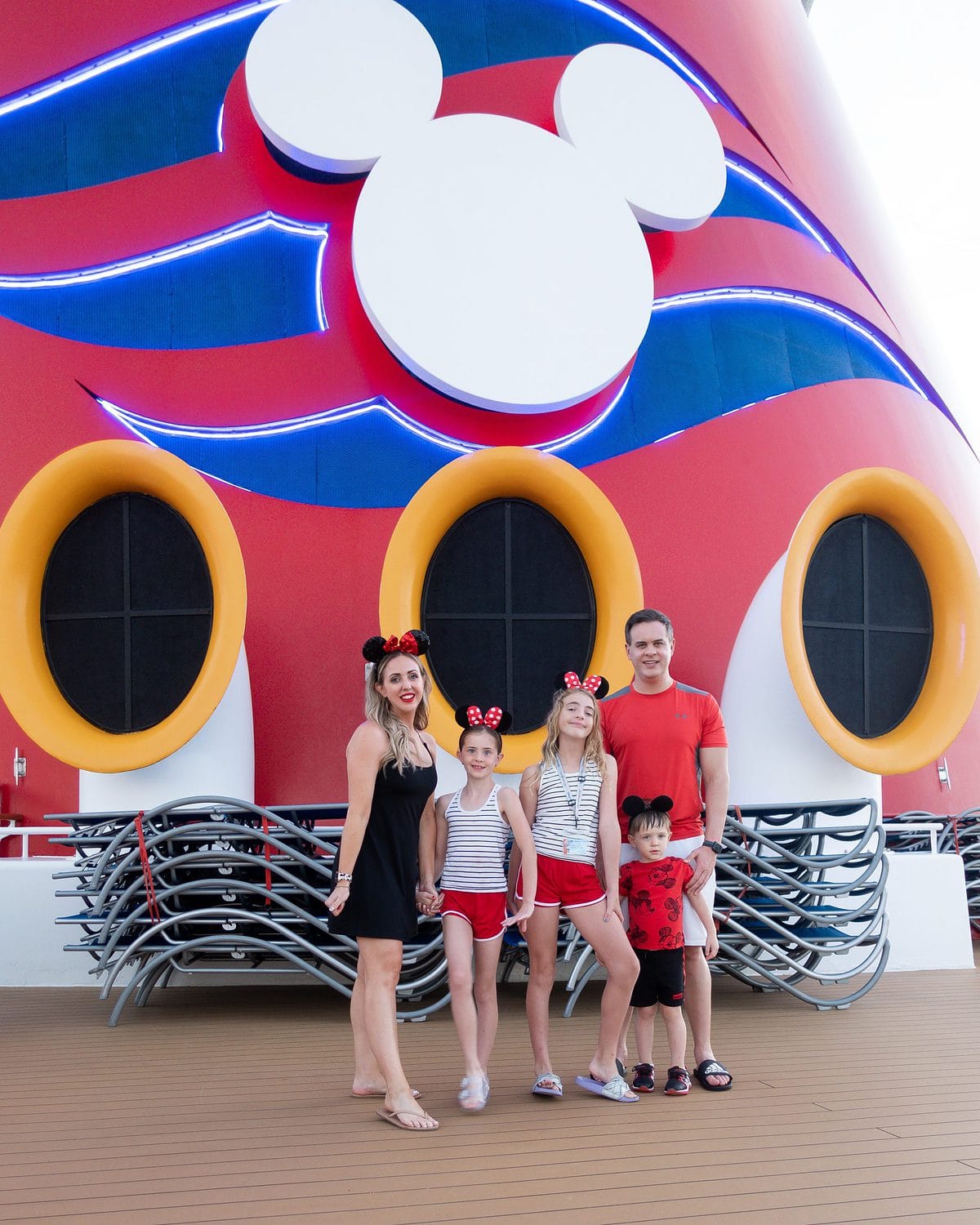 This past November we sailed on the Disney Magic cruise ship for our fourth Disney cruise in the last 4 years. This time we brought Greg's parents with us, and it was their first cruise! We all had the best time.
We have previously sailed on the Dream and Fantasy, and have never sailed on any of their smaller ships. I was very curious how we would like the Magic compared to the larger ships, and we were pleasantly surprised! We had the best vacation and were thoroughly impressed.
In this blog post and video, I'm outlining our trip and some of the things I feel everyone should know about cruising with Disney. I have written a few other blog posts on this topic, in case you want to read about our other sailings:
What to Expect on Your First Disney Cruise
Disney Cruise Line – There's Something for Everyone! Our 7-Night Sailing on the Disney Fantasy
Here's a table of contents on what I'm going over in this blog post, if you'd like to jump around!
---
---
Disney Magic Cruise Ship – 6-Night Sailing from San Juan to Galveston, TX
Make sure to watch the video to get the full view of our experience!
---
Cruise Itinerary – A 6-Night One-Way Cruise!
We found a unique cruise itinerary and did a repositioning cruise! It was a one-way cruise from San Juan, Puerto Rico, and ended in Galveston, TX. We really loved this itinerary! The itinerary was:
Day 1 – Embark and Depart San Juan, Puerto Rico
Day 2 – St. Thomas, USVI
Day 3 – At Sea
Day 4 – Falmouth, Jamaica
Day 5 – At Sea
Day 6 – At Sea
Day 7 – Disembark in Galveston, TX
We live 30 minutes north of Galveston, TX so it was amazing to get off the boat and be home by 9:30 a.m. We loved that we only had to get one-way flights to San Juan and were able to explore San Juan a little bit before the cruise. It made the start of the journey even more fun! San Juan was a place we've never been to before, and it was gorgeous! While this did not include a stop at Castaway Cay (Disney's private island), it was an incredible itinerary.
We personally love having a few days at sea, because it gives you a lot of downtime, relaxation, and the ability to experience all the ship has to offer. You can do Palo, the spa, beverage seminars/tastings, character meet and greets, shows, classes, bingo… there is literally always something going on!
Now let's get to our accommodations!
---
Our Stateroom – Deluxe Family Oceanview Stateroom with Verandah (Category 04B)
For this sailing, we stayed in a Deluxe Family Oceanview Stateroom with Verandah. This is Category 04B. We stated in room 8586, which is near the Aft elevators/stairwell. This location was awesome for it because it was one floor up from Cabanas and the top pool deck.
This stateroom comfortably sleeps 5 guests. There is a queen bed (it honestly feels much larger than a queen to us), a bunk bed, and a pull-down murphy bed for the 5th sleeper. There's plenty of storage (we had 4 large rolling suitcases and all of them fit under the bed) and the room is very comfortable! They have a split bathroom – one has a toilet and sink, and the other has a shower and sink. Very thoughtfully designed for families!
If you're going on a Disney Cruise, don't forget to grab some magnets for your stateroom door! Disney cruisers love to decorate their doors. I grabbed this personalized set off of Etsy.
---
Dining Options Aboard the Disney Magic
There are lots of dining options aboard the ship, and you won't go hungry! Like the other ships, you will be in a rotational dining for dinner. There are 3 dinner restaurants you'll rotate through and your servers will follow you! We love this aspect of the cruise, because our servers almost became like family by the end of the trip.
The dinner restaurants aboard the Disney Magic are Lumiere's, Animator's Palate, and Rapunzel's Royal Table. We had exceptional experiences at every single restaurant. I definitely looked forward to it every evening.
Along with the dinner restaurants, there are other options for food! You will not go hungry! The other options for dining are:
Cabanas – The buffet! On deck 9
Duck in Diner – Quick service near the pool on deck 9. Lots of Middle Eastern inspired foods, along with classic American items.
Pinocchio's Pizzeria – Quick service near the pool on deck 9. Pizza!
Eye Scream Treats – Where you can get that unlimited soft serve on deck 9!
Frozone Treats – Another spot on deck 9, where you can get specialty cold treats like smoothies and dole whip. Most of this is for an additional cost.
Cove Cafe – Specialty coffee shop on deck 9. Most of these items are for an additional cost.
---
Kids Clubs
Just like all of the ships in the Disney Cruise Line fleet, the Disney Magic has its own amazing kids club! The Oceaneer Club & Lab is where kids ages 3-12 can hhave a blast while parents can enjoy a date night, spa treatment, or just a little alone time.
All 3 of my kids LOVE the Oceaneer Club. They're constantly keeping the kids entertained, characters will hang with the kids, and so much more.
Best of all, this is included with your cruise and no additional cost! Whoop whoop!
If you have a kiddo under 2, they can go to It's a Small World Nursery. This is available for children 6 months old – 3 years. We used the Small World Nursery when Logan was 6 months old (on the Disney Dream), and it was absolutely fabulous. It does come at an additional cost, but we found it to be worth every penny. They did amazing with the littlest ones.
For pre-teens and teens, there are hangout spots where they can go!
Edge is for ages 11-14, and it has its own activities and programming tailored to young ones in that age group.
Vibe is for ages 14-17. It is chaperoned but as unrestricted as it can be for that age group.
I don't have any feedback or experience for the pre-teen/teen hangouts but I can update you on this when we go again in 2024!
---
Disney Magic Adults-Only Activities
Disney Cruise Line does an amazing job of making sure everyone in the family has a wonderful, relaxing vacation. They do not skimp on the adults only experiences!
There is an entirely private pool deck and bar, the spa is adults only, and Palo (extra cost restaurant) is on board.
There are various bars and lounges across the ship that are adults only, and plenty of spaces to to get away from the children. While I will say, don't go on a Disney Cruise if you don't want to see kids (lol), you can still escape them in certain areas!
You can also partake in Mixology classes, tastings, and so much more. We did the Mixology class and the Chocolate & Liquor tasting and absolutely loved both! These classes are at an additional cost, but we felt like it was worth every penny.
Leave the kids at the Oceaneer Club and enjoy your time alone!
---
Disney Magic Cruise Ship vs. the Larger Ships
Bigger ships doesn't always necessarily mean better when it comes to the Disney Cruise Line fleet. What I will tell you is they really try to make each and every one of their ships special, no matter the size! While I do want to experience the Wish (their newest and largest ship), I would say do not sleep on the Magic. It's AMAZING. There are some things I think are worth noting, though!
Here's what I think is important to know about sailing on the Magic vs. the Dream/Fantasy
The boat itself is noticeably smaller but it does mean less passengers and a more intimate feeling. It is easy to navigate and get wherever you need to go quickly.

Although the boat is smaller, the staterooms are the exact same as the Dream and the Fantasy.

The atrium and common spaces are smaller feeling but nothing we ever thought felt cramped or outdated.

The ship was taken care of and immaculate. When we were at ports, I noticed crews taking care of the exterior of the ship (painting, cleaning, etc.). This boat was absolutely well-maintained and did not feel "old," despite it being the oldest ship in the fleet (it was "born" in 1998!).

The theatre where they perform the stage shows is smaller, but the quality of the shows is the same. Each boat has their resident musical, and the Magic is home to Tangled: The Musical.

There is no Remy on board the Magic. We've actually never been to Remy, so this isn't something we missed.

Palo was the exact same dining experience as aboard the Dream and Fantasy. Top notch!

The adults-only bars and lounges were a lot smaller and not as unique as the Dream and Fantasy (both of which have really cool areas). However, we are not really into spending a ton of time in bars and lounges, so it didn't matter to us. We did really enjoy the seminars (extra cost) that were offered in this area – we did a chocolate & liquor tasting and a mixology class. The bars and lounges aboard the Magic were fantastic, they just weren't "extra special and unique" as the ones on the Dream/Fantasy.

Dinner rotation is very similar to the Dream and Fantasy. You have Lumiere's (which is Similar to Royal Court/Palace on the larger ships), Animator's Palate, and Rapunzel's Royal Table (unique to the Magic). I have to say, Animator's Palate aboard the Magic is even better than the larger ships. It's a similar experience but just up a notch. I also think Rapunzel's Royal Table was incredible because it's dinner and a show (which you don't get on the Dream and Fantasy). I have to say, the rotational dining aboard the Magic was the winner in my book!

Food options on the top pool deck are about the same as the Dream/Fantasy. Lots of grab and go options, endless soft serve, etc.

There is no AquaDuck on the Magic, but there is the AquaDunk. It is a slide where the floor drops out from under you and you plunge down. It's over very quickly and is very thrilling, lol.

There is a Mickey slide on the Magic that is similar to the Dream/Fantasy, but I think it may be a little bigger.

There's a splash pad and hot tubs on the Magic just like the Dream/Fantasy, just situated a little differently and a little smaller.

Adults-only pool/deck area seems about the same to me, just a little smaller.

Senses Spa is smaller and there aren't a lot of rooms with water view. There are also no hot tubs facing the ocean, so the Rainforest room area is a bit different. But if you book a "couple's choice" treatment, you get an amazing suite with a hot tub and quite a view. We thoroughly enjoyed Senses Spa aboard the Magic, it was just a little different.

Activities, character interactions, and things to do around the ship seem about the same aboard all three vessels.

Pirate night was a little different on the Magic – there was only one show (vs. the two aboard the Dream/Fantasy) but it was epic because Mickey flew in on a zipline and orchestrated the fireworks. It's kinda like they combined the two shows of the Dream/Fantasy into one but it was amazing. Fireworks were still just as great!

Cabanas (the buffet) is identical!
I'm sure there are more similarities and differences between the Magic vs. the larger ships, but those are the biggest ones that stood out to us.
---
Port Adventures / Excursions
For this cruise, we did excursions (otherwise known as Port Adventures) at both ports we stopped at. This itinerary had a lot of days at sea (which we love!), and I'm glad we did something when we docked.
In St. Thomas we did the Magen's Bay Beach Break. It was a short drive over to Magen's Bay where we hung out all morning.
Falmouth, Jamaica we did the Fun and Exclusive Beach Break. This was another short ride over to a beach! But this excursion was over at Puerto Seco Beach Club. It also included some fun inflatables, a pool, and an awesome lunch set up.
I recommend both excursions for those who want a chill beach day. My kids loved both of them! This cruise did not include a stop at their private island, Castaway Cay (which is amazing), but we still had an incredible time.
Definitely consult with your Disney planner for Port Adventures recommendations – they are very knowledgable! If you're going to book an excursion, I do think it's best to book through Disney.
---
Activities & Entertainment On Board
There are so many things to do on a Disney cruise, and you will not get board. Everything going on will be in your Disney Cruise app so don't stress that you're missing out!
Some of the things you can do are…
Character meet and greets
Trivia
Bingo
Adults only classes (mixology, tastings)
Towel folding
Cooking classes
Parties
Karaoke
Silent DJ dance party
Deck parties
Fitness classes
Fitness center
Movies (any movie the Disney company has released and currently in theatres you can watch on board!)
Bibbidi Bobbidi Boutique
Spa Services
That's just scratching the surface! The nightly entertainment on board is also incredible. Disney takes their position as an entertainment company seriously. They produce Broadway-style shows, have a comedian, and other nightly entertainment. The signature show on the Disney Magic is Tangled: The Musical, and we loved it! They also have Twice Charmed and Believe, which were also incredible. My girls particularly loved the show each night. They're 100% worth catching.
---
Pirate Night
Pirate night is our favorite evening on a Disney cruise! Everyone (well, mostly everyone) gets dressed up in some sort of pirate gear, goes to dinner, and then enjoys a fun show and fireworks on the top deck. Yes, there's fireworks! Disney is the only cruise line that does fireworks at sea. There's something so special about it! All of the deck parties are fairly different depending on the ship, but we loved the one on the Magic!
---
Overall Thoughts on the Disney Magic Cruise Ship
We absolutely loved this cruise! We enjoyed the smaller, more intimate vessel that is the Disney Magic cruise ship, the experiences, the food, the shows, character interactions, pirate night… it all was absolutely incredible! I say do not sleep on the Disney Magic if you're considering a cruise. You will have the best time!
---
Ready to Plan Your Disney Cruise?
If you're looking to plan a Disney Cruise and not sure where to start, definitely work with a Disney planner! For this trip, we used Stephanie at Traveling Ears Vacations. She was absolutely wonderful throughout the COVID rescheduling and all the rebooking we had to do. Hiring a Disney planner means they can help with so much, and much more you'll even realize! They can even book excursions, on board activities, specialty dining, spa treatments, and more. They're free to use and really are so valuable!
Before you get on board, make sure you download the Disney Cruise app. It'll be the way you get the daily schedule on board, be able to message your travel party, book experiences/dining/activities, and more.
Want More Disney Content?
I hope this post was helpful as you plan your next Disney adventure! If you're looking for more Disney content, check out these other posts I've written:
Summer Disney World Outfits and Must-Haves for Florida Weather
Visiting Disney World with a Baby
Disney World for Kids: The Best Experiences for Preschoolers and Beyond
Must-Take Photos at Disney World – 70 Instagram-Worthy Ideas!
Our Family Babymoon to Disney World
Benefits of Staying at the Swan and Dolphin Resort in Orlando
…or check out all of my travel content HERE!