Updated March 3, 2019
Disclaimer: We were given a discounted media rate for our stay at the Dolphin for four nights. We paid full price for our first night at the Swan resort. Thoughts and opinion are always 100% honest!
We just got back from a super fun family Disney trip, and I got a lot of questions on Instagram Stories about where we stayed! All but the last night, we stayed at the Walt Disney World Swan and Dolphin Resort. I am doing dedicated post to this hotel because we really loved it and found that there were lots of benefits of staying at the Swan and Dolphin.
We stayed the very first night at the Swan (the Dolphin was sold out) in a double queen room, and then the next four nights we stayed in a King Resort view with Balcony (this room has a pull-out bed). We prefer staying in rooms with king beds and pull-out sofa beds because our girls sleep fine on those and we get to spread out a little bit more in king bed.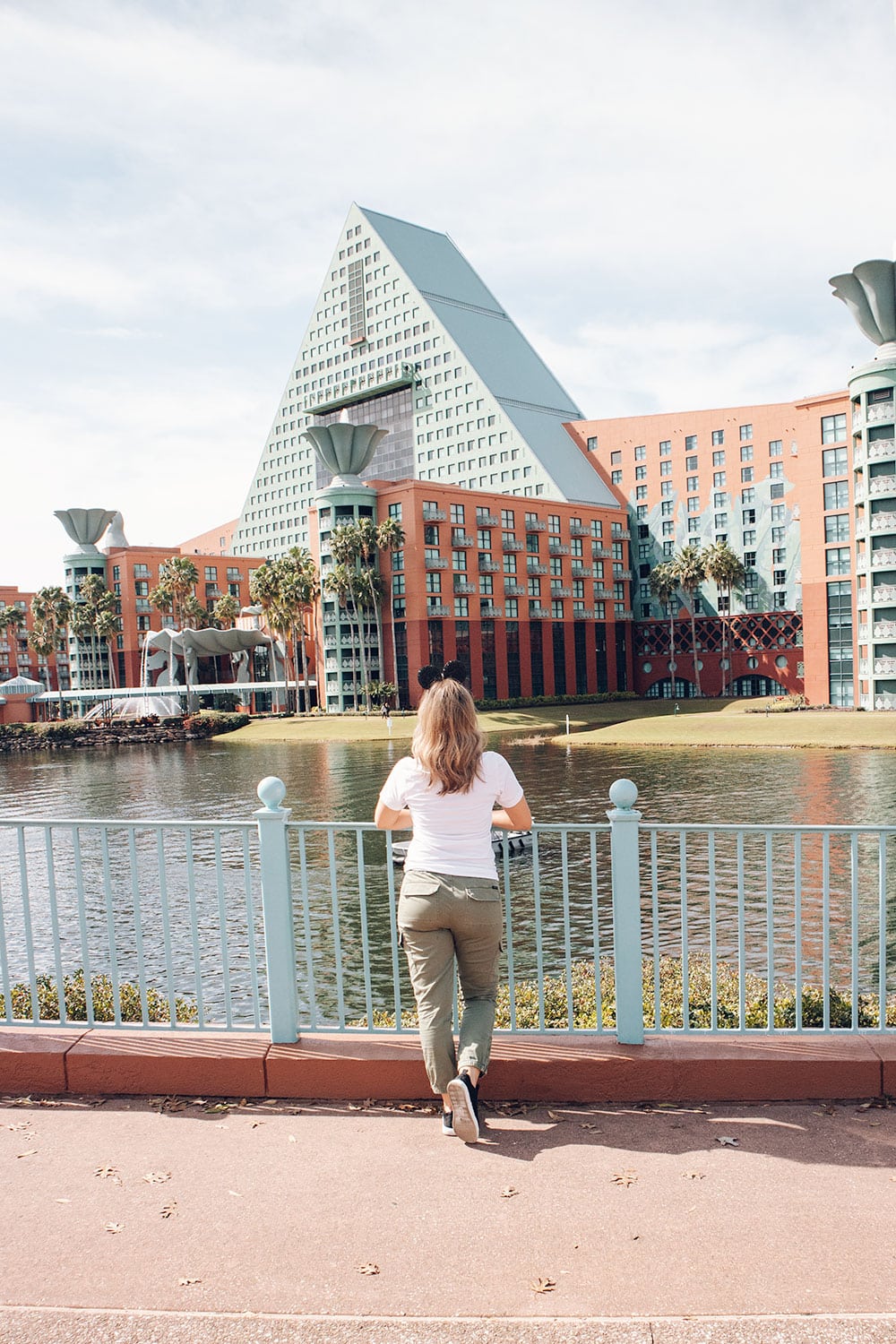 Swan vs. Dolphin
It ultimately does not matter whether you stay at the Swan or the Dolphin – both are part of the same resort and you have access to all amenities. Both properties have been recently renovated in the interiors and rooms, and are really lovely and modern. The Dolphin is a bigger property and has more restaurants, but the Swan has the big character breakfast (but it's a short walk if you stay at the Dolphin). Like I said, I don't think it matters where you stay. If views are a big deal to you, you'll probably get better views at the Dolphin (we had Epcot firework views from our balcony!), but we could also see the Tower of Terror out our window at the Swan. It's a toss up for me!
I'd say out of the two rooms, we definitely preferred the King bedroom with the balcony and resort view. The room was a little bigger and the views were absolutely spectacular. Not to mention, it's like being at at deluxe Disney resort without the price tag.
Swan and Dolphin Tour
I made a video of our trip to Disney World, and if you want to see a room and resort tour – check out the first couple minutes of the video! And at about 5:00 in to the video, you can see a few clips of the character breakfast offered at the resort.
A few Hotel Room Photos
Guest rooms are comfortable, completely renovated and modern, and plenty of room for families.
Is the Swan and Dolphin a Disney Resort?
This resort is technically on Disney property and called the Walt Disney World Swan and Dolphin. However, it is a Marriott property and not technically a "Disney" resort. The resort itself does not employ Disney cast members, but they are Starwood/Marriott employees. Don't let that deter you because the staff was absolutely amazing and we received Disney-level customer service!
What You Don't Get Staying at the Swan and Dolphin Hotel (and why it didn't matter to us)
Magic Bands. This didn't matter to us because we had our own and linked them to our park tickets before leaving. If you don't have your own Magic Bands, you can order your own fun colors on ShopDisney.com, in Disney Springs, or even in the parks. It's not a necessary thing to have. It's just convenient to wear when entering the parks and tapping for Fast Passes.
Magical Express shuttle service. This could be a big deal for some families, especially very large families. However, this wasn't a big deal for us. Our thought is we were saving on our hotel costs (even if we were to pay full price for our room, it'd still be less than the deluxe Disney resorts) and were still saving more money even with the transportation expense. There are other transportation options (shuttles) for an additional cost, or you can Uber straight to the hotel for about $30-50.
Disney Dining Plan. This was another thing that didn't matter to us. After tallying up how much we spent on food while at Disney, it was significantly less than what we'd spend on a dining plan (even the quick service option). I honestly think the only way I'd do the dining plan is if it were in a free dining or discount package deal. Or if I planned to drink alcohol.
Benefits of Staying at Swan and Dolphin
LOCATION, location, location. This is quite literally the best location you can get without having to spend hundreds more on a Disney deluxe resort. It is situated right in between Epcot and Hollywood Studios, right next to Disney's Boardwalk. This is a huge benefit. Huge.
Park Transportation Options. Official Disney transportation buses run to and from this resort. No need to rely on a third party shuttle that runs on their own times. When we stayed in the Disney Springs area this is one thing I did not care for – the transportation was a little unpredictable. The buses run to Magic Kingdom, Animal Kingdom, and Disney Springs very frequently. We never waited more than 10 minutes for a bus to and from parks and Disney Springs. Along with the buses, they have Water Taxis (technically called the Friendship Boats) that run to Epcot and Hollywood Studios.
Epcot and Hollywood Studios are Within Walking Distance. This is a huge one! We were able to walk to both of those parks within 15-20 minutes. It's a nice walk that is not crowded at all. Because of the short distance, we were able to visit these two parks more frequently and very leisurely. It's not a big ordeal or event to get over there. Want a nice dinner over at the world showcase? Walk to Epcot! We really enjoyed this the most about the resort. It's so convenient.
I took this photo walking back from Hollywood Studios. Not crowded with tons of people, and a nice walkway!
Extra Magic Hours. Yes! You can take advantage of extra magic hours in the parks when staying at this resort. For those that don't know what I'm talking about, it means that you can have early access to different parks on different days before they technically open to the general public.
Early Fast Pass+ Selection. Staying at the Swan and Dolphin gives you the benefit of being able to schedule your Fast Passes 60 days in advance, much like the other "on property" Disney resorts. If you stay off property then you can schedule 30 days in advance. This is really big benefit, especially when planning far in advance!
You Can Earn and Redeem Marriott Points. We have been Marriott rewards members for over 10 years, so being able to get points for our stay here is a huge bonus for us. (Side note: Marriott and Starwood merged so it's all one rewards program now.) If you are frequent travelers to multiple destinations, this could be a big benefit for you. Also, why doesn't Disney have some sort of rewards program without having to do Disney Vacation Club? That would be genius.
Deluxe Style Resort for Less. I know I've mentioned this a few times already, but it really is like staying at one of the Disney deluxe resorts but for less. There are lots of room options and suites for different family needs. Rooms are extremely comfortable (the beds were amazing!), we did not feel cramped at all, and absolutely loved it. Like I mentioned before, we stayed in a King Resort View with Balcony. It has a pull-out couch bed which was perfect for our kids and plenty of room for Greg and I to spread out. We loved the fireworks and resort view from our room and felt super special.
Lots of Resort Amenities. There are lots of restaurants on property, coffee shops, a beautiful resort pool area, swan boats, a sandy beach, spa, and much more. We kind of wish we had one day where we didn't go to the parks so we could enjoy the resort more and take advantage of more of their amenities.
Great Dining Options. There are a multitude of restaurants on property, including a character breakfast that is offered Saturdays and Sundays. That was really nice because it was a much slower pace than the parks but we still got to meet Goofy, Pluto, Chip, and Dale!
Complimentary Parking in the Parks. I don't know why you would want to take your car to the parks when the transportation options are seriously amazing, but if you did, you can park for free.
Would we stay at the Swan and Dolphin again?
100% yes! Even if we weren't paying a media rate we would choose this resort again over others. And, remember, we did pay full price the first night of our stay at the Swan. All of the benefits I listed above makes it a total winner in our book. I'd say our number one favorite thing about the resort was the location and how easy it was to get to the parks.
I hope this blog post on the Walt Disney World Swan and Dolphin Resort in Orlando was helpful! Feel free to leave a comment or email me if you have any additional questions about the property and our stay.
If you want to save this post for later, be sure to pin this image!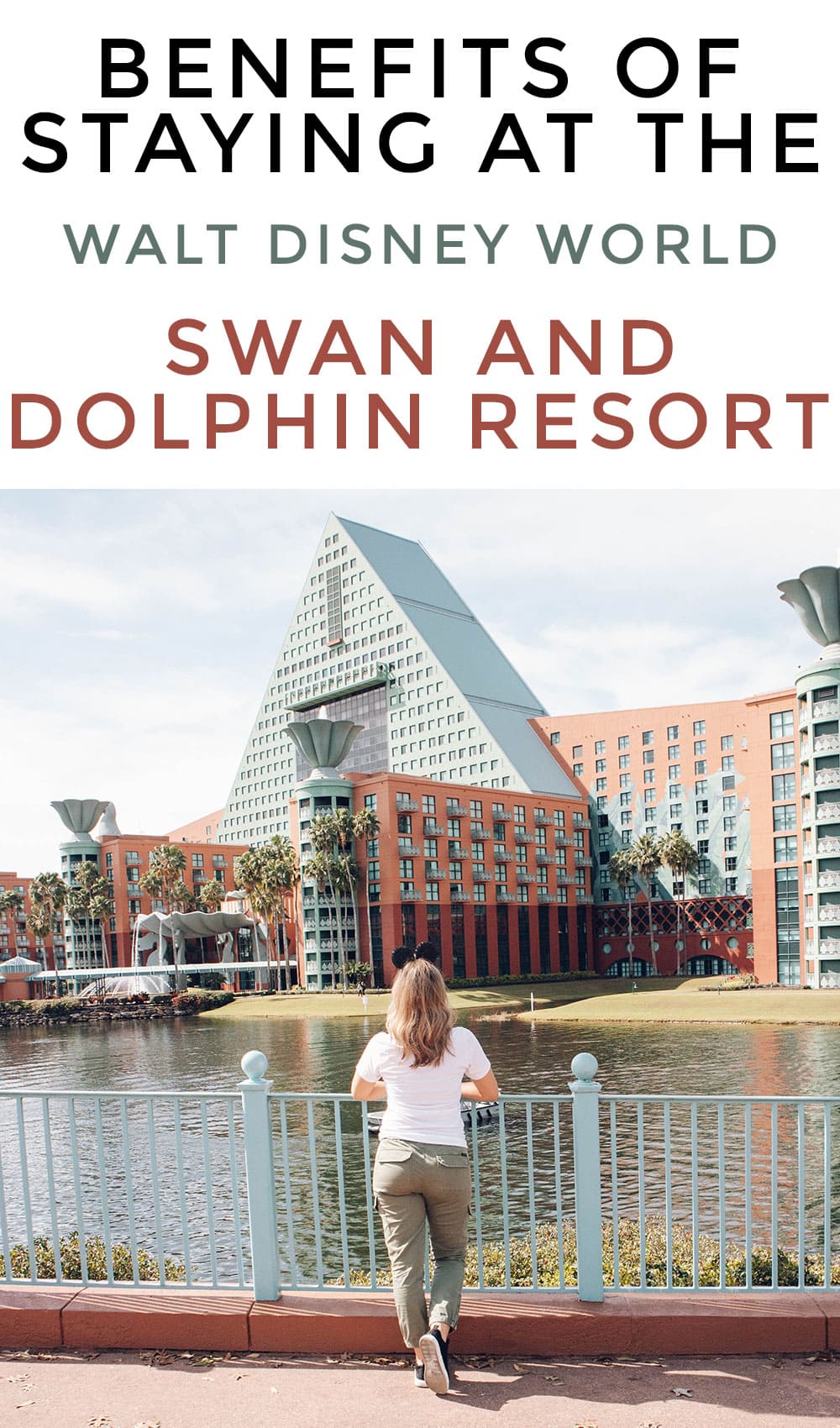 If you like these travel tips, be sure to check out some of my other posts:
Disney Cruise Line – There's Something for Everyone!
What to Expect on Your First Disney Cruise
What to Wear in Disney World + Packing Tips
Disney World Tips for First Timers
…or check out all of my travel blog posts HERE!