Updated March 3, 2020
My family and I were given the amazing opportunity to attend the 2020 Disney Creators Celebration, which included a resort stay, park tickets, exclusive park experiences, and a sailing with Disney Cruise Line. Thank you to Disney for this unforgettable experience. All thoughts and opinions are always my own.
In the last two years, my family and I have found ourselves in the Happiest Place on Earth four times. And, all of a sudden, we are Disney freaks. We have made the most incredible memories as a family, and we are hooked! Disney just does it best. They truly cater the experiences in the park to everyone – no matter the age.
When we had the opportunity to return to Disney World, we didn't bat an eye. Of course, we were going to bring Logan (who just turned 6 months old at the time of the trip) along! Sure, we were a bit nervous on how he'd do, and we had a couple of reservations, but at the end of the day, we are so happy we brought him.
Logan was a champ in the parks. He had many a stroller nap, and was happy in the baby carrier when I took him on rides. He just did whatever we did, and I'm so glad he was a part of this experience.
In this blog post, I'm going to break down a lot of the questions I had before bringing a baby to Disney World, and go over some of the things that helped us have the best possible time in the parks.
Bringing a Baby to Disney World
What is the best age to bring a child to Disney World?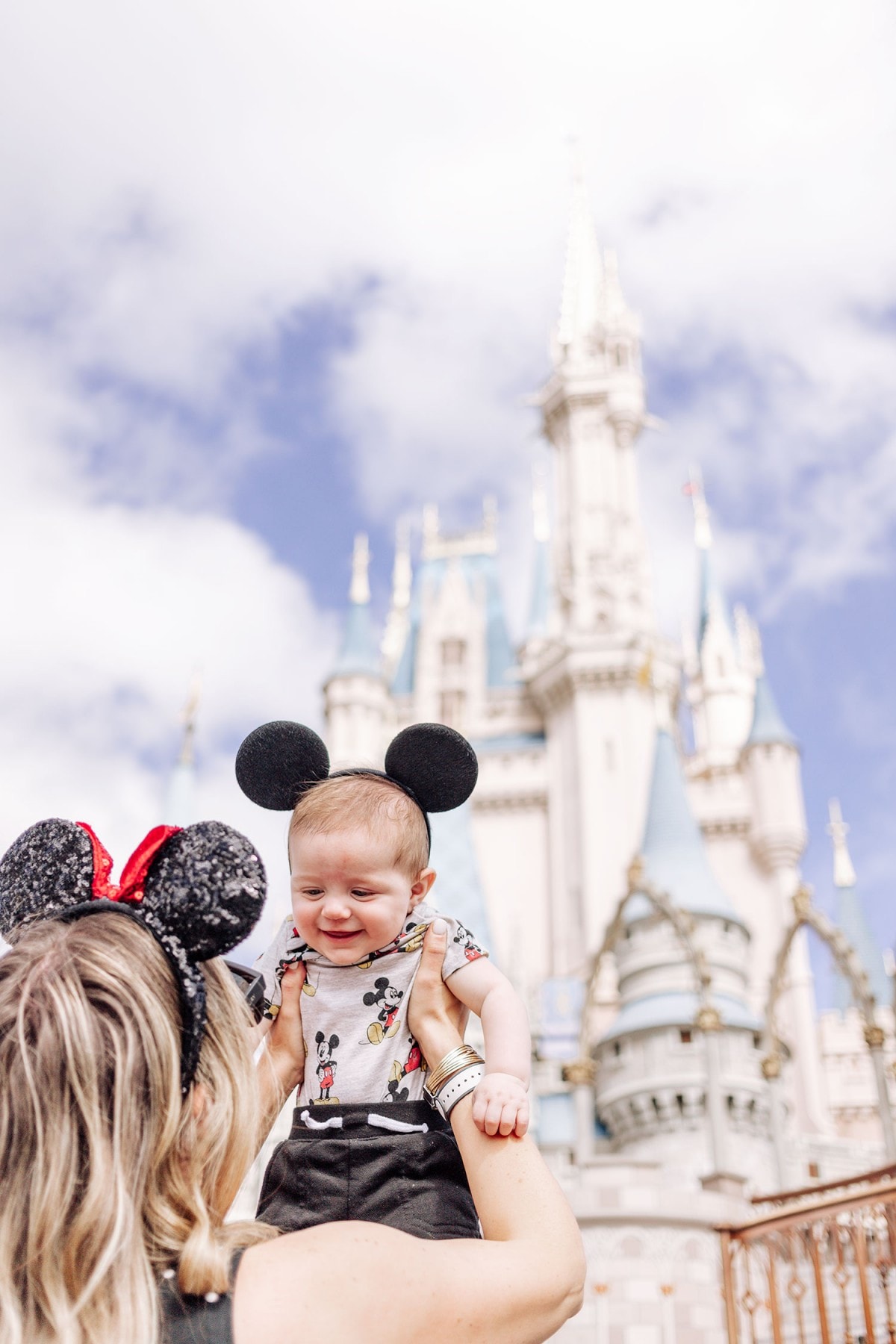 After taking the girls when they were ages 3-8, and then bringing Logan at 6 months, I feel like there really is no right or wrong answer here. We've had a really great time at all of these ages. Once kids are over 3, they will likely be tall enough for a lot of the rides – so, if that's your priority and you have thrill seekers, you may want to wait.
Since we have a pretty big age gap with our kids, it is easier for us to say yes to adventures like these (even though we've been traveling with our girls since they were infants). Having the baby tag along felt right to us.
I know many of you may be in the same situation – you have older kids and want to bring them, but are not sure whether or not you want the baby to tag along. My opinion with Disney vacations is that they're so catered to family fun, no matter the age. Unless your baby is just not adaptable and a very difficult baby, you most likely will not regret bringing him/her along!
Sure, it's harder to coordinate and anticipate baby's needs while on vacation, there's a lot more to pack, and there are more moving parts to consider. It's definitely not easier by any means, but I promise you it's still a lot of fun.
My biggest piece of advice is to bring realistic expectations with you. If you are a stressed out traveler, you will never be able to relax. Disney days are long and tiresome (and simultaneously magical), so don't get bent out of shape over the small stuff. If we had to cancel a dining reservation the day before because we didn't think we could make it, no sweat.
If we didn't get to do all of the rides we wanted to, it's okay. Another wonderful thing about Disney World is that you can continue to visit and have a completely different experience every single time.
Must-Haves for Babies in Disney Parks & Resorts
Packing the right essentials for baby can really help enhance your experience at the parks and resorts. Here's what came in handy for us while in the parks!
Stroller (We have the UPPAbaby Cruz, and also have had great luck renting from Kingdom Strollers in the past)
Baby Food
Breathable muslin blankets (for nap time, nursing, cuddling, etc.)
Change of clothes
Diapers
Wipes
Sippy cup (I would recommend this if you have a baby older than 6 months)
Bibs
Baby spoons
Small toys to attach to the stroller
Stroller fan (if you're going in really hot months)
Sleep Sack (hotel rooms can be really cold!)
Extra changes of clothes (I packed 2 extra outfits but our resort had a laundry facility so I also packed Tide Pods to run one load of laundry while we were there)
TIP: Pack a day and a half's worth of diapers/wipes and purchase the rest when you arrive. Frees up a lot of space in your suitcase!
Using Grocery Delivery
To ease my mind with how much we need to pack for the baby and our kids, I always make a grocery order to our hotel when we arrive. I had a pretty bad experience using Amazon Prime Now this last visit, but Shipt did an amazing job (If you use my link, you can get $50 off your annual membership, which is worth every penny. We use it at home, too!). We ordered:
Diapers
Wipes
Baby food (pouches and jars)
Fruit
Bottled water
Breakfast items
Snacks
Do babies get in free at Disney World?
Children under three can get in for free at Disney World! They do not require a ticket at all. Logan was listed in our My Disney Experience account because of the resort reservation. He also got a Magic Band, but we never needed to scan it when going into the parks.
The child under three can do whatever everyone else is doing! If you're making a FastPass reservation for the ticketed children and adults, the baby can come along with the family (if, of course, it's a ride for all ages).
Which leads me to my next question…
Can babies go on rides at Disney World?
Yes! Babies can go on any ride that is labeled as an Any Height attraction! That is a lot of rides and attractions!
Rides Logan rode:
it's a small world
Dumbo
Peter Pan's Flight
Buzz Lightyear
Mad Tea Party
Spaceship Earth
Frozen Ever After
The Seas with Nemo and Friends
Toy Story Mania
Kilimanjaro Safaris
Na'vi River Journey
Again, when you are scheduling your FastPasses, you do not need to schedule one for the baby (because they do not have a ticket). They can tag along on your FastPass reservations!
I found that having a baby carrier made things a lot easier while waiting in lines and on the rides themselves. I recently purchased a MiaMily carrier and it is my favorite carrier I've ever used! Logan was super secure in the carrier and it was nice to be able to experience the rides hands-free but also keeping him safe.
TIP: Utilize Rider Switch! Many rides offer this service where one parent can watch the children not tall enough to ride while the other parent rides, and then they can seamlessly switch without having to schedule another FastPass+ or wait in the standby line. Follow that link to learn more about it and which rides offer it.
Is there childcare at Disney World?
I did a ton of research on this topic, because we needed to hire a babysitter for one of the mornings during our trip. I had a day where I was in a conference and thought it would make the most sense to have someone stay with Logan so Greg and the girls could go to a park without having to juggle the baby. (I can imagine it's much harder to tackle a park with a baby without a second parent.)
There are a few options for childcare in Disney World! Let's go over some of the offerings.
There used to be a handful of kids clubs throughout the property, but it seems the only one that's open is Camp Dolphin, which is located within the Swan and Dolphin Resort. Camp Dolphin is open 5:00 p.m. – midnight and accepts ages 4-12 (potty trained). There is an hourly rate charged per child (not advertised on their website). We have never used this so I am not sure how well I can recommend it and how much it is, but wanted to share that in case you wanted to have a date night.
Kid's Nite Out is a third-party babysitting service Disney lists on their website, I suppose as their official partner. I took a look at their website – they offer resort in-room babysitting, in-park help, and other various services. They're $20 an hour with a $10 travel fee. If you want them to come to the parks with you, you need to purchase a ticket for the sitter in addition to the hourly rate and travel fee. That can get pricy!
As I mentioned, I did a ton of research on the various babysitting services in Orlando that come to Disney resorts and parks, and I ultimately ended up going with Extra Hands. They had lots of positive reviews from real people on their Facebook page (that's what really sold me). They are one of the most affordable babysitting services, too.
We had a sitter come to our hotel (the Riviera) at 8:00 a.m. and she dropped the baby off to me at the Contemporary Resort at 2:00 p.m. (where the conference day was taking place). The sitter was super professional, texted me throughout the day, and was wonderful with the baby. (Alexandra was our sitter, and she did an amazing job!) Totally put my mind at ease and this was worth every single penny!
We paid $15 an hour with a $10 travel fee at the time of our vacation, but make sure to check out Extra Hands and get the most up-to-date quote. They also offer in-park help (without you having to purchase a theme park ticket!!), and other various services. I'm kicking myself that I didn't hire them to come to the parks one or more days with us as extra help, and then they were all booked out.
TIP: If you're considering in-room childcare or an in-park helping hand, book as early as possible and check out Extra Hands!
Baby Care Centers
There are Baby Care Centers in all 4 parks, which makes life a little easier! If you need a break or a quiet air-conditioned area to feed your baby or to take a quick break, you will love this. They have quiet feeding areas with rocking chairs, plenty of changing tables, and baby care supplies for purchase.
Oddly enough, I didn't utilize these centers as much as I could have. Logan was pretty happy and easy going so I just went with his cues. We also never spent the entire day in the park. I think if the weather were hotter and if he didn't nap well in his stroller, I would be in there more.
Breastfeeding and Pumping in Disney World
I found that everyone was pretty chill with me nursing whenever and wherever I needed to. I had a breathable muslin blanket with me and used it to cover up a little. I nursed Logan on the buses, in restaurants, and on benches in the parks! If he was hungry while we were on a ride, I totally could have nursed him on rides like Small World, Ariel, Nemo, Spaceship Earth, etc. People are way more chill about breastfeeding in public now than they ever have been, especially in a place like Disney World. Just do it when baby's hungry and don't feel bad about it.
I did not pump in the parks, but from what I can gather – they are incredibly accommodating for pumping mothers! Visit the Baby Care Centers and get yourself taken care of. I would also call your resort to make sure there is a mini fridge in your room to store your milk. They will take care of you!
I did pump one time at night after the baby went to bed in order for him to have enough to eat on conference day (once that day was over, I stopped pumping at night). I brought my Elvie pump with me and was able to store the milk in the mini fridge. No issues at all!
TIP: Make sure your resort room has a mini fridge for you to store any milk. Call ahead to request one if you room does not come with one!
Where else can I rest and take a break in Disney World?
Getting in a little mid-day rest back at your resort always helps the entire family recharge. This trip we did a lot of that.
I know you also may want to utilize your time in the parks and stay as long as you can – and I understand this game plan, too! Here are a few of my favorite spots that are out of the sun, and chill.
Baby Care Centers, obviously!
Hall of the Presidents in Magic Kingdom – Dark show in a cool theatre. Caroline always has napped through this, haha!
The People Mover in Magic Kingdom – This is a smooth ride around Tomorrowland that is a really nice break, and there's rarely ever a long wait to get on it.
it's a small world ride in Magic Kingdom – a long indoor boat ride in the dark. Logan napped in the carrier on this one!
Festival of the Lion King Show in Animal Kingdom – indoor show with seating for everyone
Sa'tuli Canteen – Most quick service restaurants are small and jam packed full of crowds. This is not only the best quick service food in all of Disney, but it's a huge space with plenty of tables.
Spaceship Earth in Epcot – it's a long ride in the dark. Caroline fell asleep on it one time!
Living with the Land in Epcot – We joke about this ride being so outdated and odd, but it's super chill and hardly anyone ever rides it.
Frozen Sing Along in Hollywood Studios – Another indoor show with plenty of seating
Food and Restaurants
You can bring your own water and food into the Disney parks, which saves a lot of money (especially with snacks and bottled water). We brought in our own baby food and gave him water when it was particularly hot.
Babies and toddlers under 3 can dine for free any buffet or family style restaurant! For la carte restaurants they are welcome to eat off of your plate or you can purchase them a small side item or something.
I scored a breakfast reservation to Cinderella's Royal Table, and for that particular restaurant you pre-pay to go. I did not pay anything for Logan, but our server was so kind to bring Logan a Mickey waffle to chomp on! He had a blast gnawing on that with his two teeth.
I've found that a lot of restaurants are super sweet and accommodating to the little ones!
The Sleeping Situation at the Resort
I know it may be a bit nerve wracking to get the baby to sleep in a hotel room. My biggest piece of advice is just to be gentle on yourself. You are doing an amazing job! Be consistent!
Logan was so exhausted the first day from travel and days in the parks, he just passed out at night and didn't really need much help adjusting. I know that's a fluke and not every baby is like that!
Do as best as you can to make the room comfortable and familiar. We brought his sleep sack (did not wash it beforehand either, so it would smell like home) and the white noise machine. There were a few nights where he didn't do as great but he went right back down. Everyone was so exhausted by the end of the day, sleep came easier.
A few people I know swear by the SlumberPod, and it's certainly something I would get if I had a baby who was less adaptable. It has so many great reviews!
When it comes to visiting Disney World with a baby, the bottom line is…
Have low expectations, lots of patience, and take things slow. You'll have a magical vacation, I promise!
Like I said before, I'm so glad we brought our baby. We know he's only a baby for such a short window of time, and we loved sharing the experience with him.
Is there anything else you'd like to know? Leave a comment or send over an email and I'll do as best as I can to answer your questions!