Updated March 14, 2020
We have been a busy bunch of travelers! We travel a lot with our kids, but it has been an especially heavy travel year. We have taken three big family trips in six months. Traveling with kids can stressful, but the girls are at such great ages and we are truly having a blast.
Our last adventure was to New York City, and we had the best time ever. I've had a lot of questions on how to do NYC with kids, and whether or not you should. I say go for it. Both girls said they loved it so much (keep in mind, they've been to Disney World and on two Disney Cruises this year so they compare everything to those trips now, haha). Kennedy even said she wants to move there, and that we live in the "boringest" place. I think that speaks for itself!
Now, let's get down to the nitty-gritty of planning the perfect family trip to New York City.
Planning the Perfect Family Trip to NYC
Before Your Trip to New York City
Stalk Google Flights. There are a lot of deal sites out there but we always use Google Flights to help us find the best airfare prices because they look at the prices directly from airlines. Pretty sure we stalk this site weekly to see what fares look like to destinations we want to travel to. I also like that you can set up alerts to track the airfare prices.
Use a travel credit card to accumulate points. I like to have a travel credit card to use towards recurring bills in our house and pay it off each month. That way we can earn points for the thing we love most – travel! We recently got an IHG® Rewards Club Premier Credit Card by Chase and have been loving the perks it offers. We can earn 2 points per $1 spent on purchases at gas stations, grocery stores, and restaurants and 1 point per $1 spent on all other purchases. There are other great perks like lost luggage reimbursement, trip cancellation/interruption insurance, no foreign transaction fees, free nights at IHG® hotels, and much more.
Book flights and hotels with a travel credit card. This is a no-brainer for us because you can earn so many points when you book flights and hotels on a travel credit card. With our IHG® Rewards Club Premier Credit Card by Chase, we can earn 10 points per $1 spent at IHG® hotels. We booked the Kimpton Hotel Eventi in New York City and absolutely loved it. More on that in a minute!
Register for Global Entry or TSA Pre-Check. Greg and I registered for Global Entry two years ago before our Europe trip, and it is worth every penny. TSA Pre-Check comes free along with it, so I recommend just going ahead and getting Global Entry if you plan to do any international travel within the next five years. Even if one person on the air reservation has TSA Pre-Check, the entire party gets to go through that security line, including the kids. It's a huge lifesaver at the airport, especially juggling children. We know we can always get through security in under 10 minutes. The most we've ever waited in that line is maybe 15 minutes. No having to take anything out of your bags, or your shoes off. We will never be without it again! The IHG® Rewards Club Premier Credit Card offers a $100 statement credit if you register for Global Entry or TSA Pre-Check, which means they reimburse you 100%!
Be a smart packer. Know your airline's baggage policy and pack within those limits. When I pack for myself and my kids, I never overpack. I plan each day's outfits out with one extra just in case. I also swear by these travel storage compression bags – I've been able to pack 8 nights worth of clothes for each child in a small rolling suitcase per child with room to spare. I also use them to organize my clothes for the trip – they certainly keep my suitcase organized before and during the trip.
Download TV shows and movies to devices. I love that you can download shows from Netflix and Amazon Prime Video directly onto devices so you do not need to rely on WiFi. Also, plane WiFi is horrible. This definitely keeps the kids entertained (along with snacks) and happy.
New York City Family Trip – Hotel Accommodations
Stay at a property that meets your family's needs. New York City hotel rooms tend to be pretty tiny. Be aware of that when booking so there are no surprises when you arrive. It can be tricky for families. However, the Kimpton Hotel Eventi that we booked using our IHG® Rewards Club Premier Credit Card was the perfect fit for us. We booked one of their Executive One Bedroom Suites which had a living room with a separated king bedroom. This was the perfect fit for us! The girls slept together on the pull out couch and Greg and I were able to stretch out on a luxurious king bed and shut the door. Haha. Your family will probably have different needs than us, but if you're a family of four with two small kids that like sleeping in the same bed, this is the perfect hotel accommodation.
Location matters. The Kimpton Hotel Eventi is in a prime location. It's a short walk from Penn Station (which is where we arrived by train after visiting Washington, D.C.), lots of other Subway stations, close to the Flatiron building, walking distance to the Empire State Building, and a million great places to get a coffee or quick bite. Staying in Manhattan really is the best if you can swing it.
Tips to Make Your Family Trip to NYC Easier
Rent a stroller, but realize it'll be a pain sometimes. We rented a Baby Jogger City Mini double stroller (same one we rented in Disney World) from BabiesGetaway.com. Greg and I like to do a lot of walking in urban cities, and Manhattan really is a walking city. Our kids (understandably so) can't really keep up (3 and 6) and Caroline will ask to be held all the time. Most days we were walking 10+ miles! The double stroller was great for walking the streets, but it is a pain in the neck on the subway. So if you're going to rent one, make sure one person is capable of lifting and carrying it up and down stairs if you use the subway. There are hardly any elevators in subway stations. It's actually baffling – I have no idea how people in wheelchairs or with disabilities use the subway.
Use the Subway. Despite it being a pain in the neck with the stroller, it's the way to go as far as transportation goes. Our kids were able to ride it free and the fares are fairly inexpensive. Much cheaper than taxis or Ubers.
Get groceries and snacks delivered to your hotel room. Instead of hitting up a local grocery store and trying to lug it all to your room, use Amazon Prime Now to get necessities delivered to your room. We ordered bottled water, granola bars, bananas, Cheerios, and snacks for the kids.
Give kids breaks. We made sure to let our kids rest at the hotel when they were run ragged. The Hotel Eventi's location made it super easy to go back to whenever we needed (another reason why I feel staying in Manhattan is ideal), and the room was so comfortable for everyone to spread out and relax.
Earn even more points on your travel credit card. You can earn 2 points per $1 spent at restaurants with an IHG® Rewards Club Premier Credit Card by Chase, so enjoy the yummy restaurants! You can also stay back at the hotel property and enjoy the spa or restaurants on-site and earn 10 points per $1 spent at IHG® hotels.
What to do During Your Family Trip to NYC
Grab a CityPass to see multiple attractions for a discounted price. The NYC CityPass is a great deal if you're wanting to see attractions like the Empire State Building, Top of the Rock, Statue of Liberty, and the 9/11 Museum. If you have small children, I'd say you only really need two CityPasses, since the kids get in free or for a significant discount. It's great for a first family trip to NYC!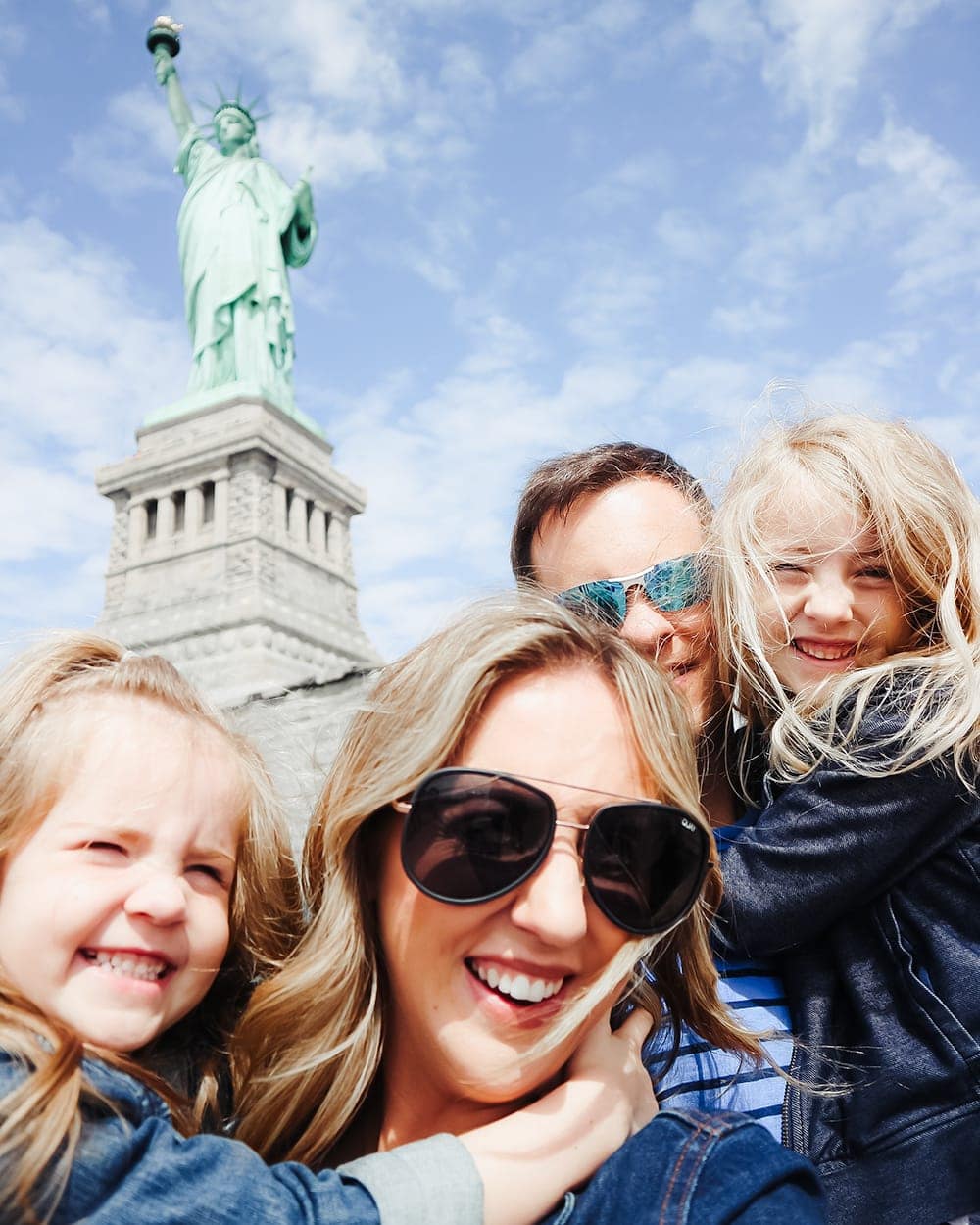 Book last-minute Broadway tickets. We used the TodayTix iPhone app to score some last-minute tickets to Frozen on Broadway. Most Broadway shows don't really require you to buy far in advance (unless you're trying to see Hamilton… good luck with that one). There are a lot of places to score last-minute deals so do your research. TodayTix and CheapTickets had some really great deals.
Enjoy iconic foods and restaurants. There is a plethora of amazing food in New York City. You can't go wrong with pizza (we even found a $1 pizza stand that was good). Dim Sum in Chinatown can't be beat (check out Nom Wah Tea Parlor – it's one of the oldest Chinese restaurants in NYC). One of our favorite experiences was the frozen hot chocolate at Serendipity 3. Eataly was also incredible and within walking distance of our hotel. And you can't forget about cupcakes from Magnolia Bakery! The best part? Using our IHG® Rewards Club Premier Credit Card, we were earning points at all of these amazing spots.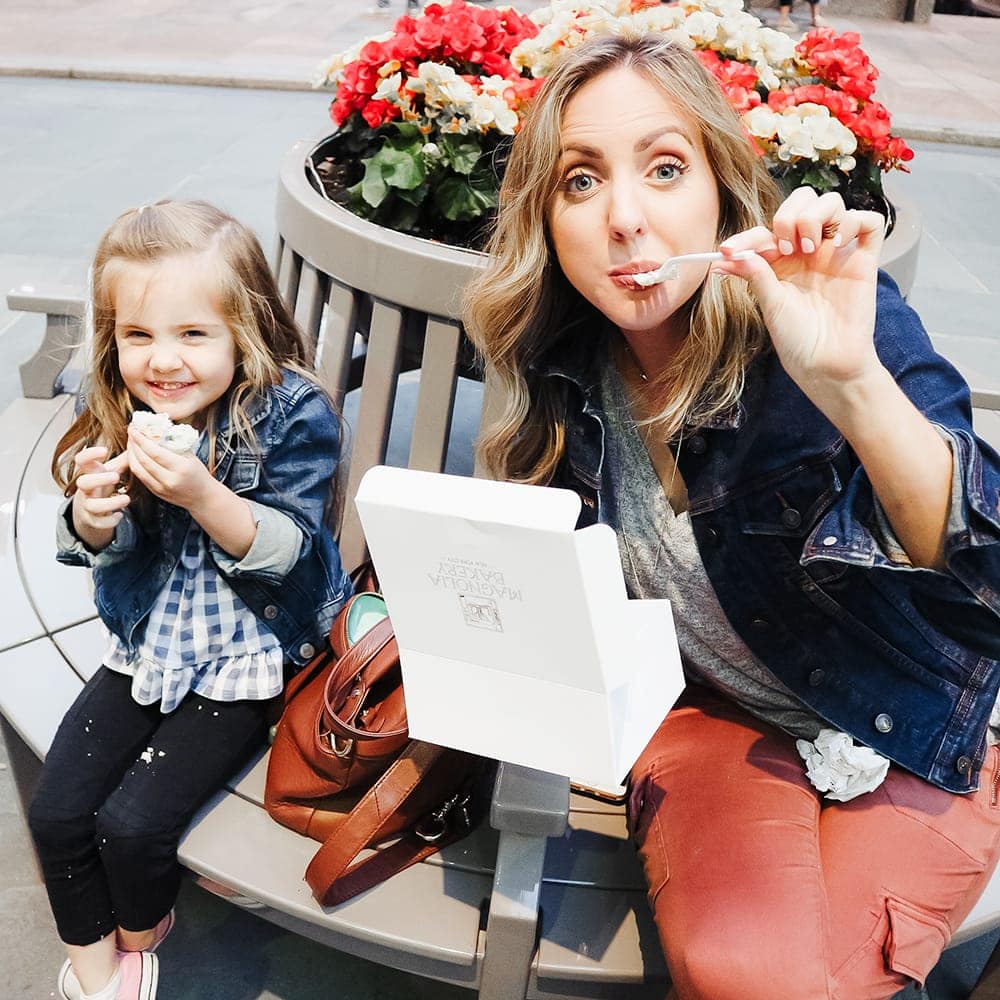 Our Favorite Family-Friendly Spots in New York City
I will say we didn't notice a lot of kids out and about in New York City, but I completely think it's worth taking your kids to visit. They loved it! Some of our favorite spots were Central Park, Top of the Rock, the Empire State Building, and Times Square. The kids enjoyed the sights so much and it was fun for everyone.
After the New York City Family Trip
New York City with our children was such an amazing time and we can't wait to go back to the city again. I don't know about you, but I'm always dreaming about where we'll go next. I'm always ready to plan another vacation! With our IHG® Rewards Club Premier Credit Card, we can use our points accumulated on our NYC trip towards our next vacation, and we get a free anniversary night at an IHG® hotel each year. I wonder where we'll earn and redeem our points next!
What are your favorite places to take family trips? I'd love to add it to our bucket list!
If you enjoyed this family travel post, be sure to check out these:
Things to do in NYC with Kids | Our New York City Family Trip
My Best Tips for Traveling with a Baby
5 Tips for Flying with Children
Visiting Disney World with a Baby
Winter Park Colorado Vacation – Ski Trip with Kids
…or read all of my travel content HERE!