Updated September 20, 2016
This is a sponsored post written by me on behalf of Sprout Organic Foods for IZEA. All opinions are 100% mine.
Packing a lunch for a picky 2-year-old can be challenging at times. Oftentimes, I will have to play it safe with things I know Caroline likes, but that seems to leave a few gaps in the actual nutrition of her lunch. Here's what I've been packing lately to make sure she gets the nutrition she needs while also giving her things she loves!
Caroline loves crunchy snacks and I'm happy she also loves fruit, but my goal is to give her a balanced lunch.
A typical lunchbox:
Peanut butter crackers
Veggie sticks
String cheese, cut up
Fruit slices (either mandarin oranges, strawberries, blueberries, etc.)
Yogurt
Sprout Organic pouch
Sprout Organic Foods pouches are what really completes Caroline's lunch. I've started adding them into her lunchbox because I know she loves them, and I love that they are completely pure, organic ingredients – ingredients that can be found right in your kitchen. They are non-GMO, no preservatives, no concentrates, and only contain whole fruits, vegetables, and grains. I also love the Mission & Values behind Sprout.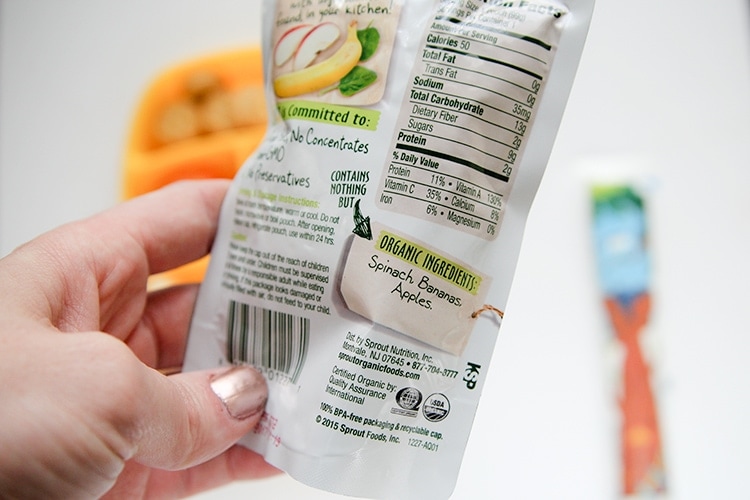 I pick up my Sprout pouches at my local Target. You can grab some Sprout Coupons to save money and try some free! What I love most is that I can flip the pouch over and see only pure ingredients. In this case, it's only three! You would be surprised how many other pouches at your local stores do not do this. I was amazed. I stood in the aisles of Target looking through so many brands of pouches and I was appalled at how many have ingredient lists with concentrates and preservatives. One other pouch I read had these ingredients listed: Apples, Mango Puree (Mango Puree Concentrate, Water), Strawberry Puree, Ascorbic Acid (Vitamin C), Alpha Tocopheryl Acetate (Vitamin E). It's a no brainer for me here. 3 ingredients versus concentrates and preservatives? No, thank you! I encourage you to flip the pouches over the next time you're in the baby aisle to see for yourself.
Try out some Sprout for yourself! Find the nearest Target that carries Sprout pouches and snacks.